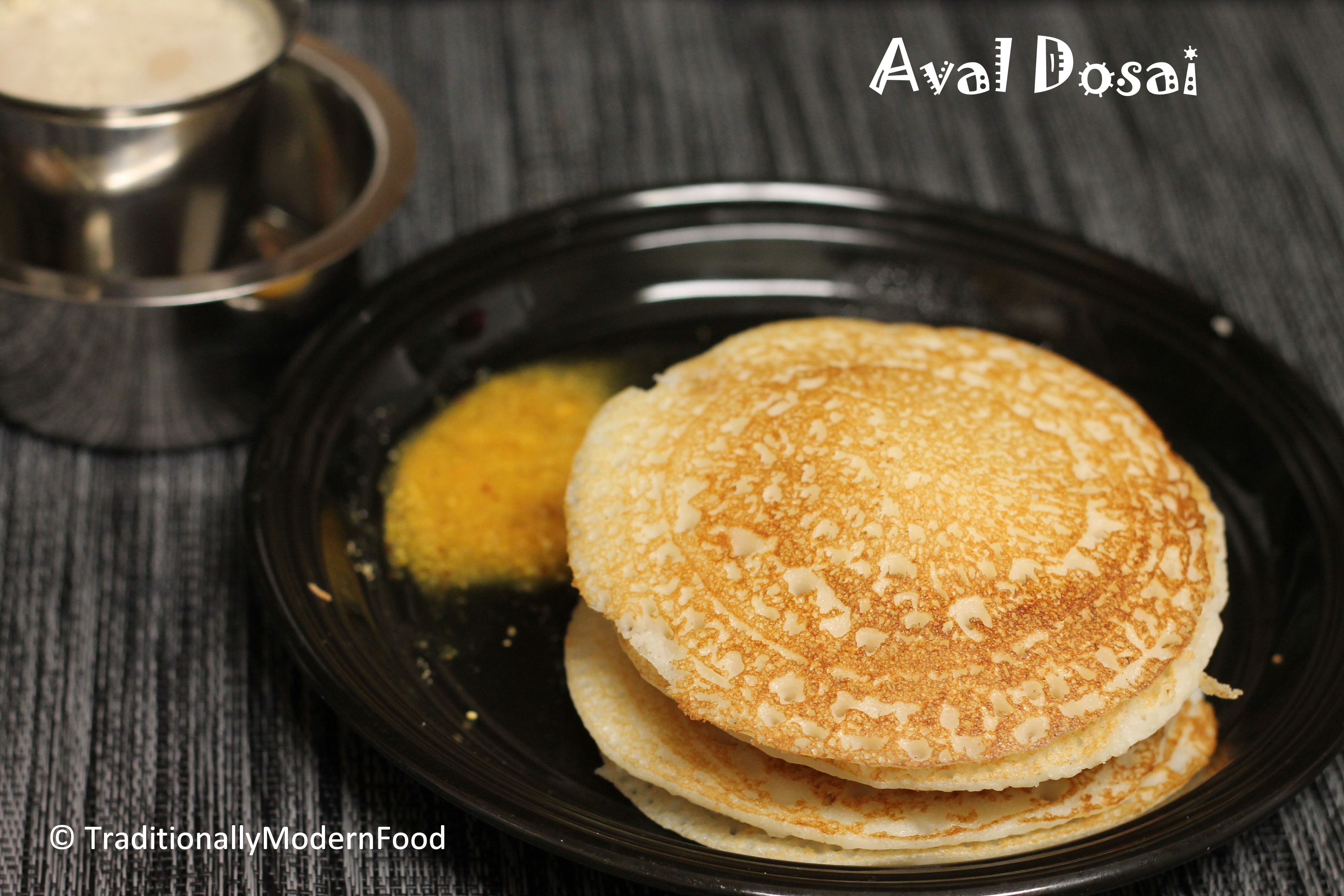 Set dosa | Aval dosa | poha dosa Super soft and fluffy Aval dosa made makes a filling tiffin. Set Dosa is great for breakfast/dinner. Flattened rice makes the dosa spongy. Usually, these dosai are served in sets hence the name 🙂
My hubby loves Dosai, even if I give dosa for all three meals a day, he will happy. One day when I was telling this to my friend, she asked me have you tried "At(t)ukula Dosa" , I said no as I was not familiar with that term. She told me its a dosa with Flattened rice and gave me the recipe. It has curd( yogurt) in the recipe.
I remember having Aval dosa growing up. Those days I rarely visit kitchen so I don't know what my Amma adds for the batter. Next day I called my mother and asked how she prepares it. She told me a version without curd. I was confused which one to follow so I combined both ways and soaked all the ingredients for preparing dosa.
When I was working with Infosys I use to have set dosa frequently in the food court. They usually pair set dosa with Veg Kurma. Those days I didn't know Aval gave that spongy texture for the dosa. Set dosa is slightly thicker than regular dosa and smaller than regular dosai. Because of its size its usually served 2/3 etc. And hence set dosa:-)One thing I like about set dosa is the pores in between dosa and the texture. It will get over in no time. This is my first fermented dosa post. Previously I have posted Bread Uthappam
Usually rice and dal are soaked separately but I always soak everything together as it saves lot of time and no change in the set dosa taste. Vendaya dosai is yet another soft variety dosai.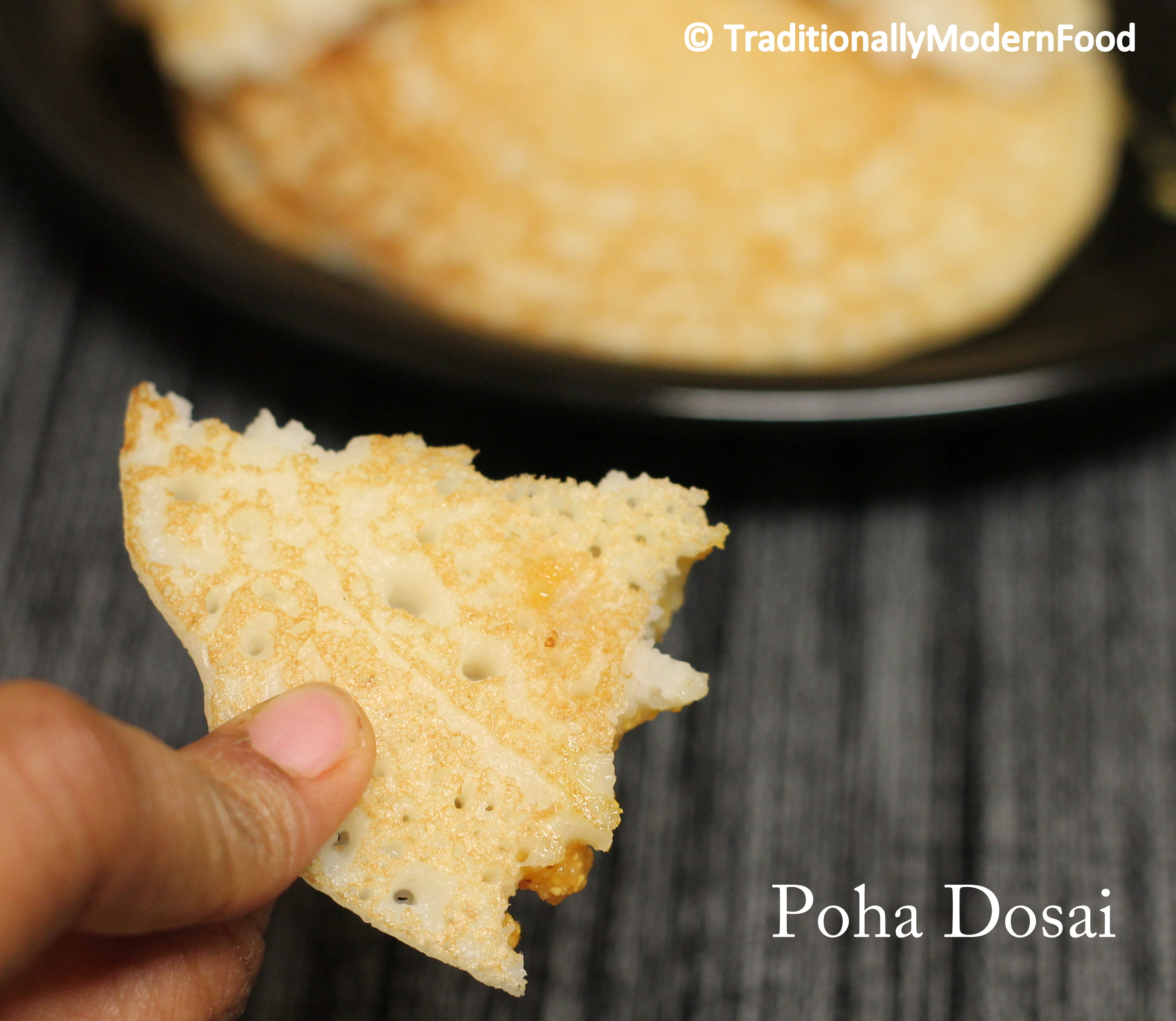 Set Dosa | Aval Dosa | Poha Dosa
Super soft and fluffy Aval dosa made makes a filling tiffen. Set Dosa is great for brekafast/dinner. Flattened rice makes the dosa spongy. Usually these dosai are served in set hence the name 🙂
Print
Pin
Comment
Ingredients
Rice - 1 cup

Poha - 1/2 cup

Urad dal - 1/4 + 1 tsp

Fenugreek seed - 1/2 tsp

Curd/plain yogurt - 1/4 cup

Water - 3/4 cup

Salt - as needed

Oil - to cook dosa
Instructions
In a bowl combine rice, urad dal and fenugreek Seed; wash well and drain the water

Add the washed rice, urad dal, fenugreek Seed and water; let it sit for 7-8 hours. Drain the water and add curd to the mixture. Add water and aval, mix well and let it sit for 30 minutes to 1 hour before grinding

Take small portion of soaked mixture and use the soaked Buttermilk to grind the dosa batter. Grind in small portions and leave time between each grinding to prevent mixie from becoming hot. If required sprinkle little water for the batter. Add salt to the batter and let it fement overnight or leave for 8 - 10 hours

Mix well the fermented batter. The batter should be thicker than regular dosa batter. If you think batter is very thick add little water. Heat the skillet on medium heat and spread some oil on it. Pour ladle full of batter and spread it to make a small and thick dosai. Drizzle oil and close with a lid. Like pancakes there will be bubbles over flip and cook other side. Serve hot dosa with onion chutney/tomato chutney/ tomato Thokku/ chow chow peel chutney
Notes
1. Curd can be skipped while preparing batter
2. Pinch of baking soda can be added for extra softness( I didn't add)
3. If you live in a cold place it might take time for fermentation. Can turn on the light in the oven and keep the batter for warm condition
4. Instead of grinding dal, rice and aval together can grind dal and rice first then add Aval and prepare batter
Ingredients:
Rice – 1 cup
Poha – 1/2 cup
Urad dal – 1/4 + 1 tsp
Fenugreek seed – 1/2 tsp
Curd/plain yogurt – 1/4 cup
Water – 3/4 cup
Salt – as needed
Oil – to cook dosa
Method:
In a bowl combine rice, urad dal and fenugreek Seed; wash well and drain the water
Add the washed rice, urad dal, fenugreek Seed, and water; let it sit for 7-8 hours. Drain the water and add curd to the mixture. Add water and aval, mix well and let it sit for 30 minutes to 1 hour before grinding
Take a small portion of the soaked mixture and use the soaked Buttermilk to grind the dosa batter. Grind in small portions and leave time between each grinding to prevent mixie from becoming hot. If required sprinkle little water for the batter. Add salt to the batter and let it fement overnight or leave for 8 – 10 hours

Mix well the fermented batter. The batter should be thicker than regular dosa batter. If you think the batter is very thick add little water. Heat the skillet on medium heat and spread some oil on it. Pour ladle full of batter and spread it to make a small and thick dosai. Drizzle oil and close with a lid. Like pancakes there will be bubbles over flip and cook other side. Serve hot dosa with onion chutney/tomato chutney/ tomato Thokku/ chow chow peel chutney