Apple crisp has a tasty Apple flavour along with healthy and crispy oats make this a delicious breakfast treat. Apple crumble can also served as a dessert with a scoop of ice cream.
After moving to US we stayed in a Suite for the initial few weeks. Everyday we have breakfast in the hotel, though they have wide spread, since we dont eat meat we picked few options in the breakfast menu.
Among the dishes the chef makes Omelete Muffin and Apple Crumble are two new dishes for me. I loved both.
I am not a big fan fruits. Jagadish can have survive a day with just fruits but I do it fruits but not like him. At times there will be fruits in fridge which I almost forgot. When he opens the fridge he reminds me to eat.
They say Apple a days keeps the doctor away but Apple everyday might keep me away from Apples. Jagadish was so surprise when I told him I liked the Apple crumble. As I was breaking my ahead for breakfast option he suggested me to try Apple crisp.
One good thing about Apple crisp is it's make ahead flexibility. Need not wake up early for making breakfast. I usually make this Apple crumble previous night, morning we had it. Breakfast tension is gone😂
The recipe we had in hotel Was with all purpose flour, it tasted yum but since we gave Apple crumble frequently I try it with oats. Fiber rich start for the day.
Though its perfect for breakfast, in our home we both love to snack the crisp all day:-)
Ingredients:
Apples – 5, peeled, cored and sliced
Apple cider Vinegar/lemon juice – 1 tbsp
Vanilla Extract – 1/2 tsp
Brown sugar – 1/2 cup (Adjust According to your sweetness)
Cinnamon Powder – 1/2 tsp
Rolled Oats – 1 cup
Butter – 1/4 cup, melted
Coconut oil – 2 tbsp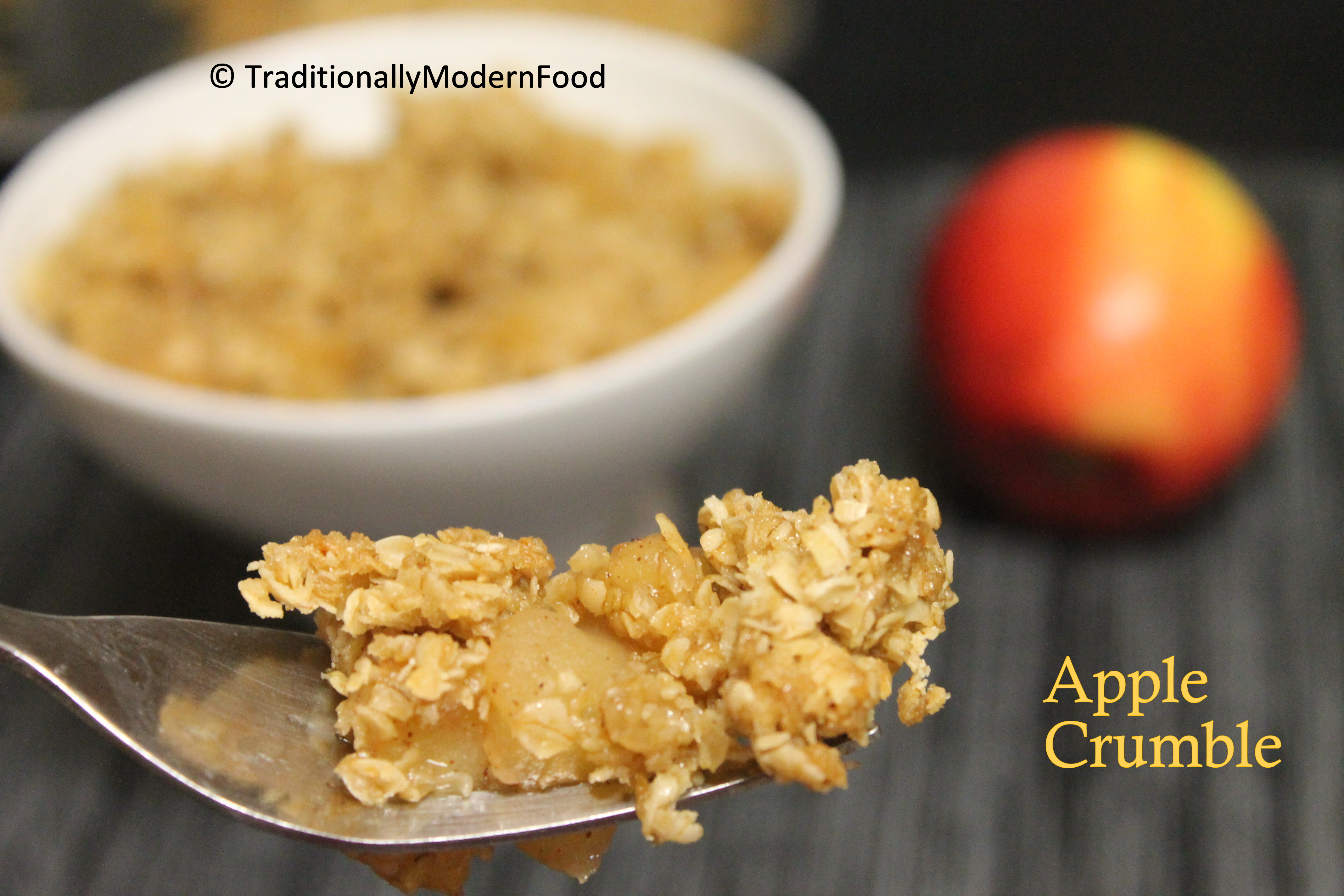 Method:
Preheat oven to 375°F. In a mixing bowl, combine apples, apple cider vinegar and cinnamon powder. Toss well to combine.
Combine brown sugar, cinnamon, butter, vanilla extract, coconut oil and oatmeal in a bowl.
Layer the sliced apples in the greased baking pan. And sprinkle the oats – sugar mixture over the apples

Bake for 43- 45 minutes or until topping looks crunchy and apples are tender.