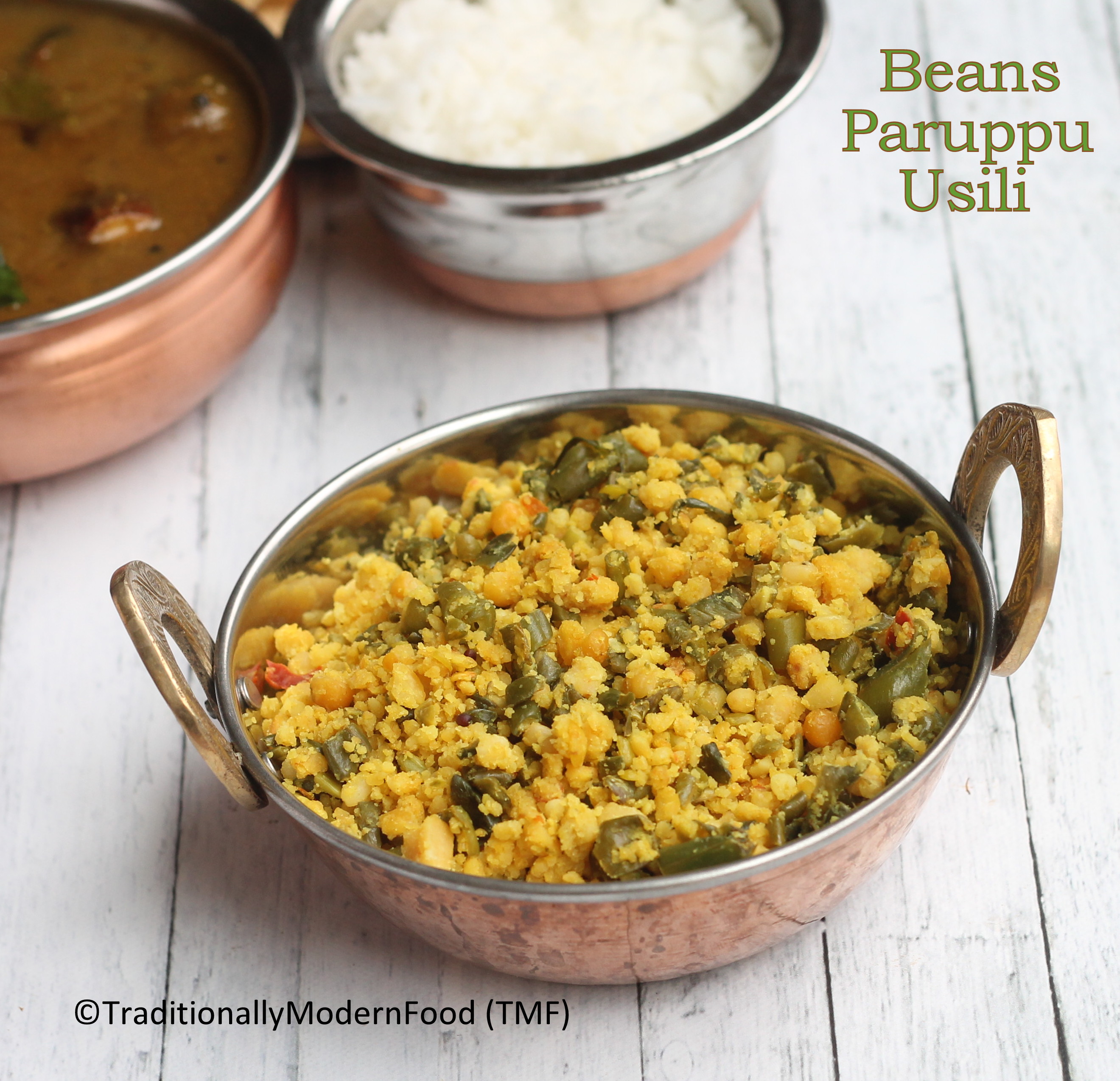 Paruppu Usili | Paruppu usili recipe | Beans Paruppu usili is a tasty South Indian side dish prepared with dal and beans. Dry side takes little extra time but tastes delicious.
Usili is one of the traditional dish prepared in our home. Though its a side dish, I like to mix it with rice. In our custom, without paruppu usili, a wedding meal is incomplete.
Beans Paruppu Usili goes well with any rice accompaniment, but my personal choice is Usili with Venngaya Vetha kuzhambu, Milagu Kuzhambu, Enna kathirika Kuzhambu and Moor kuzhambu.
Many version to make beans Paruppu usili. With Channa Dal or toor Dal. I have used Both lentils are for preparing beans Paruppu usili.
Check out a instant beans Thengai podi usili with Thengai podi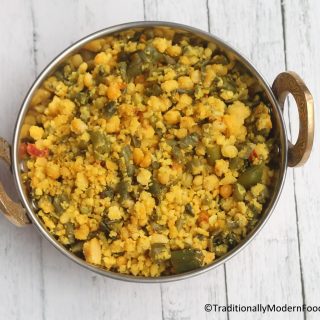 Ingredients
Beans - 2 cups

chopped

Salt - as needed

Toor Dal - 1/4 cup

Chana Dal - 1/4 cup

Dried Red Chillies - 2

Adjust according to your spice level

Hing - a generous pinch

To temper:

Coconut Oil - 1 tbsp

Mustard seeds - 1/4 tsp

Urad Dal - 1/2 tsp

Chana Dal -1/2 tsp

Curry leaves - a spring

Turmeric powder - a generous pinch
Instructions
Soak toor dal and chana dal for atleast 1 hour (I soaked them in warm water)

Wash and boil the the Beans and keep aside

Drain water from the soaked dal and grind them along with red chillies, 1 tbsp of water, salt (for Dal) and hing, to a coarse mixture.

Boil water in idli pan, grease the Idli plate and spread the coarse mixture on the plate and steam it for 6-7 minutes (like steaming idlies) and switch off

Take the steamed dal and keep in a plate, and once they come to room temperature, crumble them with your hands (Can also pulse once in mixie) and set aside.

Add oil to the pan, and once the oil is hot, add the items listed under 'to temper' and let them splutter. Add the crumbled Dal and saute till they are golden brown

Add the cooked beans and mix well. Add required salt (For beans). Cook for 3/4 mins until the dal crumble combines well with the Beans
Notes
Traditionally paruppu usili is done with cluster beans, but i have used green beans.
Usili can also be prepared with bell pepper (Capsium), broccoli, vazhaipoo, cabbage etc
If you prefer dal mixture slightly on the crispy side add little extra oil and cook for longer time
Beans Paruppu Usili:
Preparation Time : 10 mins | Soaking time : 1 hour | Cooking Time : 25 mins | Serves : 3
Recipe Category: Side dish
Ingredients:
Beans – 2 cups, chopped
Salt – as needed
Toor Dal – 1/4 cup
Chana Dal – 1/4 cup
Dried Red Chillies – 2 (Adjust according to your spice level)
Hing – a generous pinch
To temper:
Coconut Oil – 1 tbsp
Mustard seeds – 1/4 tsp
Urad Dal – 1/2 tsp
Chana Dal -1/2 tsp
Curry leaves – a spring
Turmeric powder – a generous pinch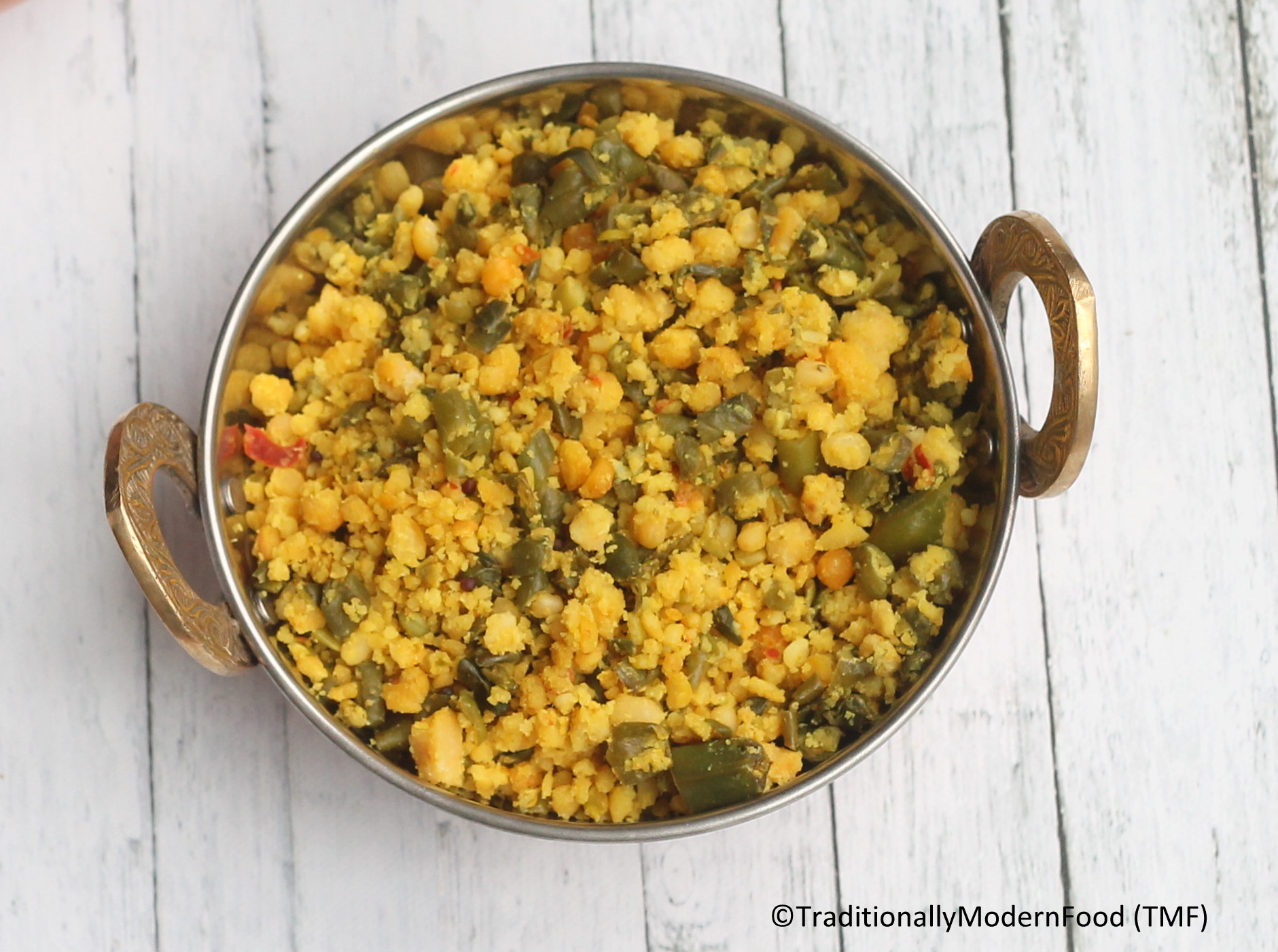 Method:
Soak toor dal and chana dal for atleast 1 hour (I soaked them in warm water)
Wash and cook the the Beans and keep aside. Can also cook like Beans Thengai usili
Drain water from the soaked dal and grind them along with red chillies, 1 tbsp of water, salt (for Dal) and hing, to a coarse mixture.
Boil water in idli pan, grease the Idli plate and spread the coarse mixture on the plate and steam it for 6-7 minutes (like steaming idlies) and switch off
Take the steamed dal and keep in a plate, and once they come to room temperature, crumble them with your hands (Can also pulse once in mixie) and set aside.
Add oil to the pan, and once the oil is hot, add the items listed under 'to temper' and let them splutter. Add the crumbled Dal and saute till they are golden brown
Now add the cooked beans and mix well. Add required salt (For beans). Cook for 6-8 mins until the dal crumble combines well with the Beans or till you get a desired dal texture