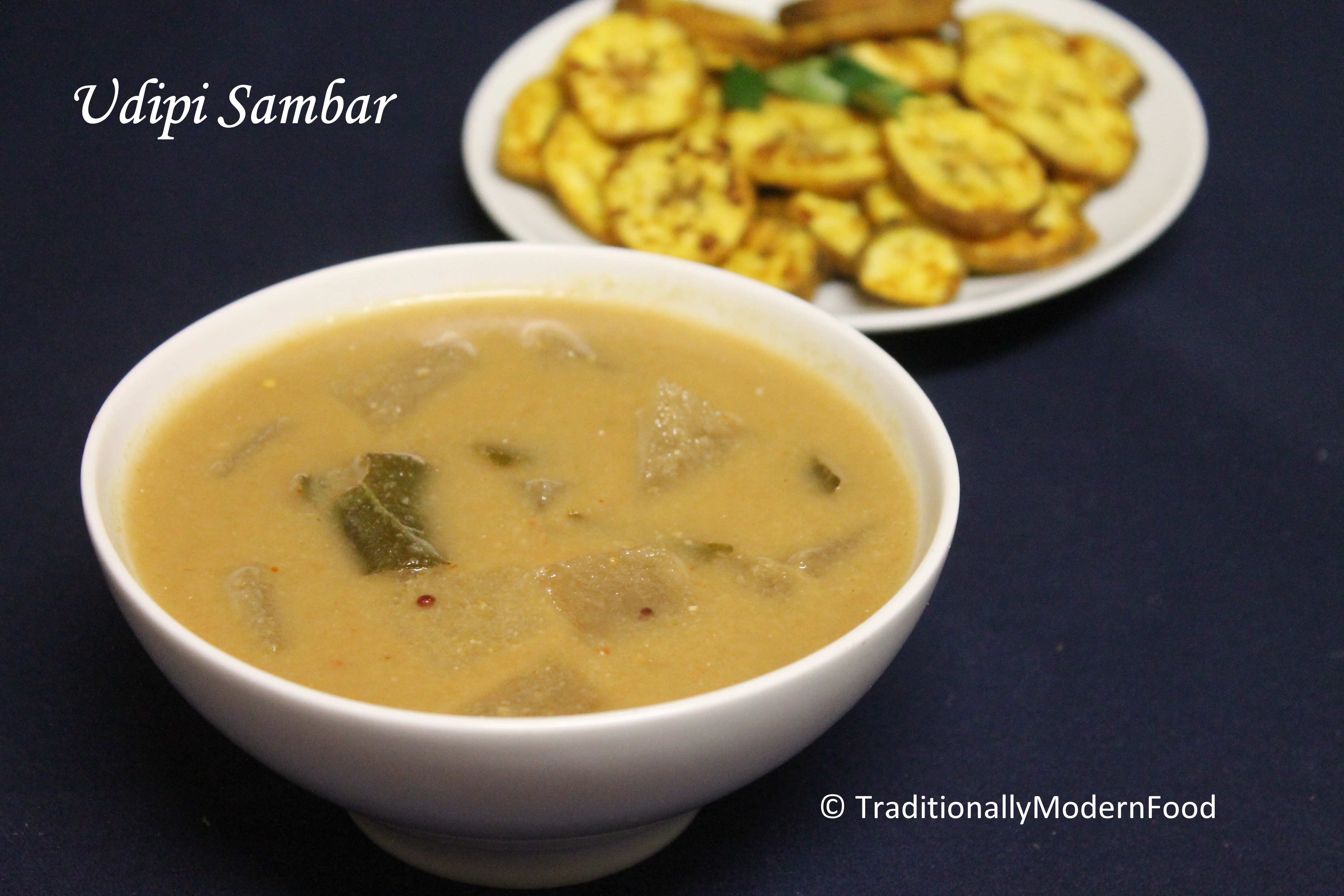 Udupi Sambar is a flavorful Karnataka special rice accompaniment without dal. Coconut Sambar can be made quickly with minimal ingredients.
Thinking what to cook as an accompaniment for rice is the biggest challenge. Though there are various possible dishes, after opening the fridge and seeing the vegetables, nothing comes to the mind. I had poosanikai, usually I make kootu with that, occasionally kasi halwa.
This time wanted to do something different and googled, I Saw "udupi Sambar" recipe in venkatesh bhat samayal samayal show. Jaggery and coconut, no wonder I liked it. Have heard a Udupi sambar recipe with dal but this was without dal. Loved the way it came out and decided to do this often in home.
Coconut gives nice flavour to the Udupi Sambar.
Udupi Sambar
Preparation time : 10 minutes | Soaking time : 15 minutes | Cooking time : 20 minutes
Ingredients:
White pumpkin - 1 cup. + 1/4 cup, into cubes
Tamrind - small gooseberry size
Jaggery - 1 tablespoon
To temper:
Coconut oil - 1 teaspoon
Mustard seeds - 1/4 teaspoon
Fenugreek - 1/8 teaspoon
Curry leaves - 1 sprig
Sambar powder:
Coriander seeds - 1 tablespoon + 1 teaspoon
Cumin seed - 1 teaspoon +1/2 teaspoon
Red Chilli - 3 or 4 (Adjust according to your spice level)
Grated cocunut - 1/3 cup
Method:
Soak tamrind in 1 cup of lukewarm water for 15 minutes and extract the pulp
Dry roast the ingredients under "Sambar powder" until the raw smell goes for 2-3 minutes and keep aside till they cool. Grind them with little water and keep aside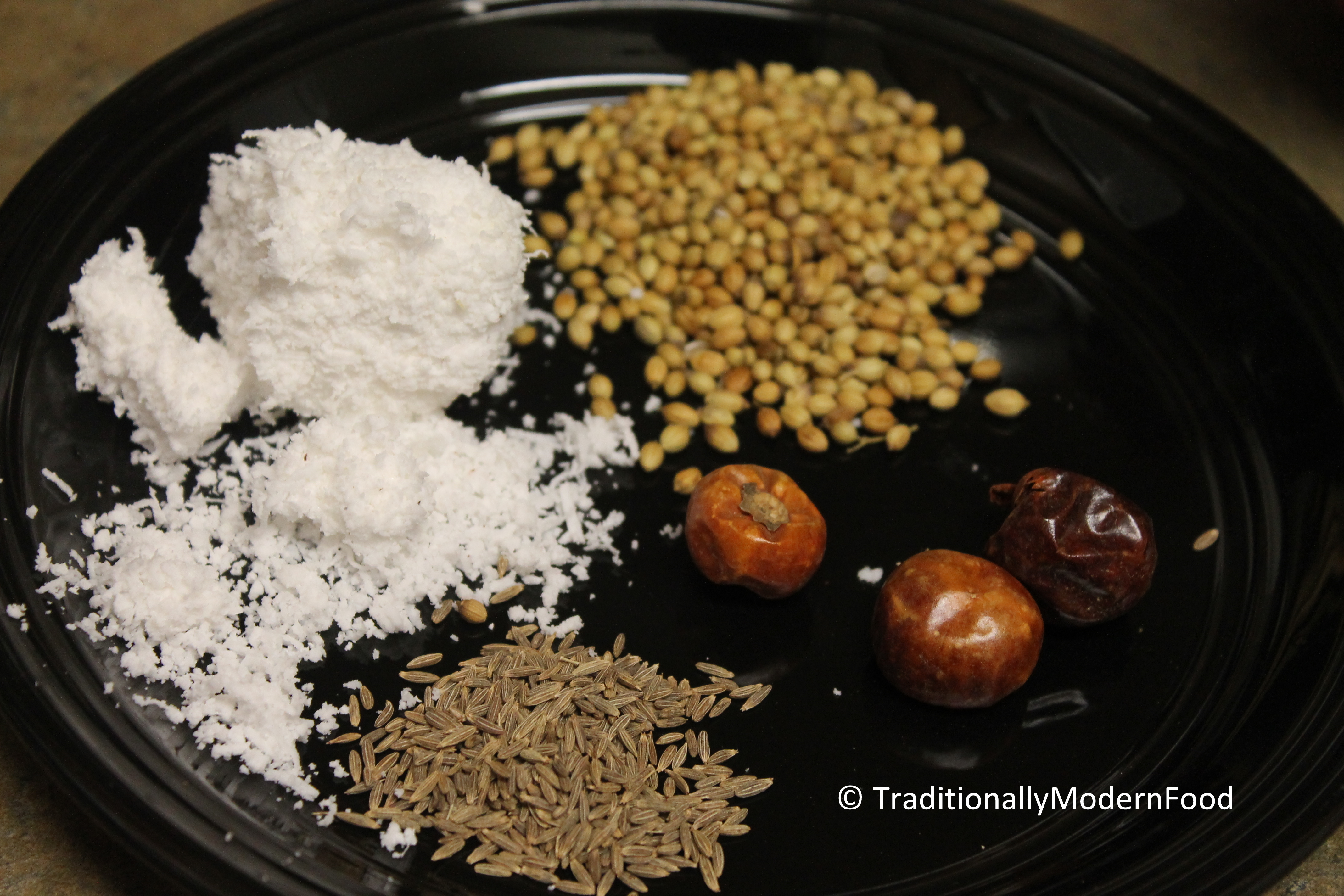 Heat the pan and add oil to it, once the oil becomes hot add mustard seeds and curry leaves. Let the mustard seed splutter, add poosanikai and saute for 2 minutes. Add 2 cups of water and cook the white pumpkin
Once the pumpkin is 75% cooked add the tamrind pulp and cook till the raw smell of the tamrind goes. Add the grind paste and jaggery; cook for 3-5 minutes and switch off
Serve with rice and varuval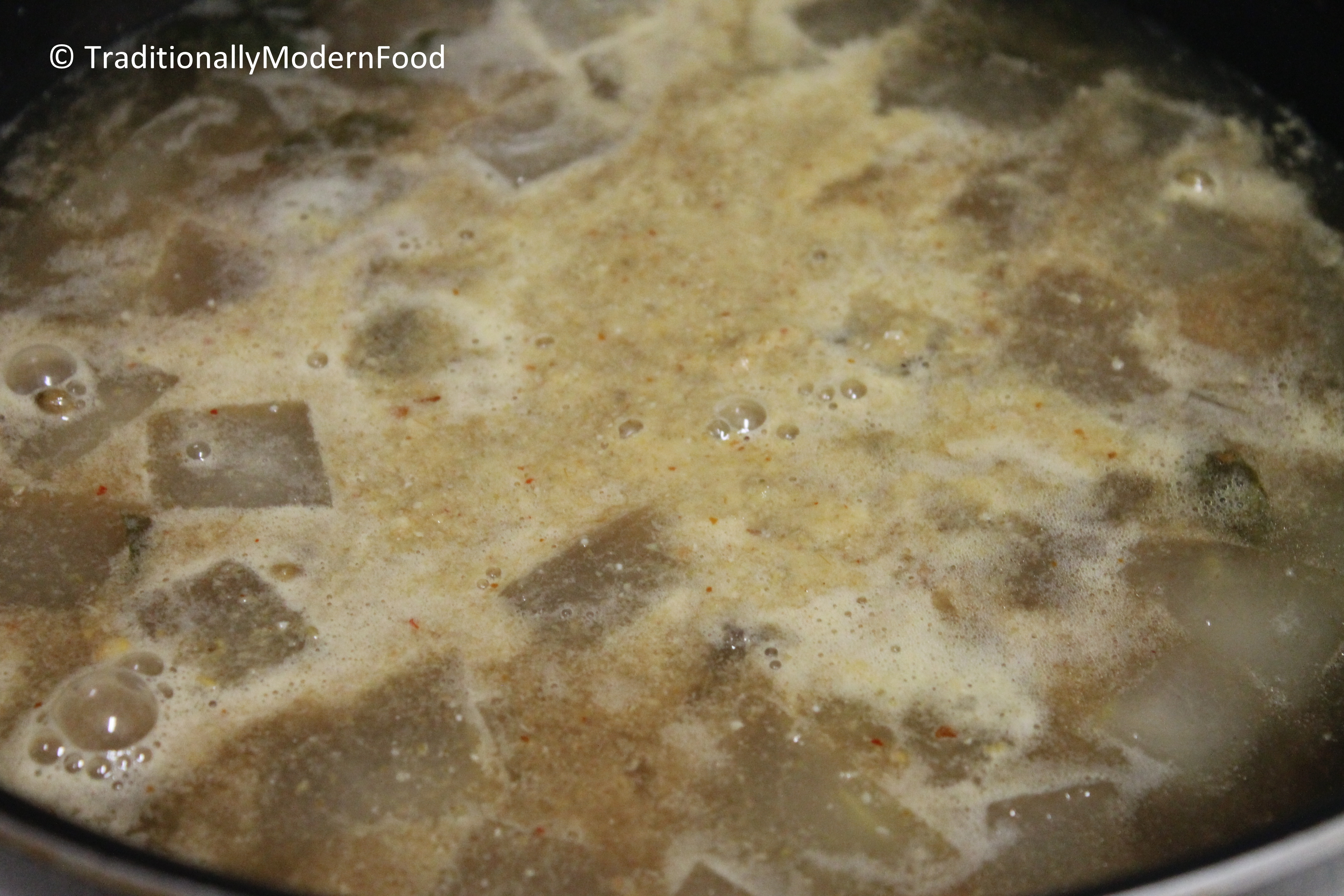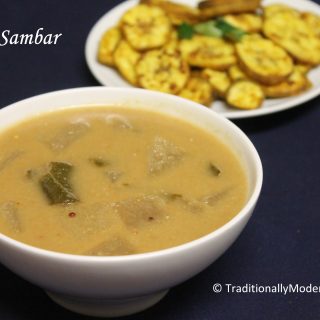 Ingredients
White pumpkin - 1 cup. + 1/4 cup

into cubes

Tamrind - small gooseberry size

Jaggery - 1 tablespoon

To temper:

Coconut oil - 1 teaspoon

Mustard seeds - 1/4 teaspoon

Fenugreek - 1/8 teaspoon

Curry leaves - 1 sprig

Sambar powder:

Coriander seeds - 1 tablespoon + 1 teaspoon

Cumin seed - 1 teaspoon +1/2 teaspoon

Red Chilli - 3/4

Adjust according to your spice level

Grated cocunut - 1/3 cup
Instructions
Soak tamrind in 1 cup of lukewarm water for 15 minutes and extract the pulp

Dry roast the ingredients under "Sambar powder" until the raw smell goes for 2-3 minutes and keep aside till they cool. Grind them with little water and keep aside

Heat the pan and add oil to it, once the oil becomes hot add mustard seeds and curry leaves. Let the mustard seed splutter, add poosanikai and saute for 2 minutes. Add 2 cups of water and cook the white pumpkin

Once the pumpkin is 75% cooked add the tamrind pulp and cook till the raw smell of the tamrind goes. Add the grind paste and jaggery; cook for 3-5 minutes and switch off

Serve with rice and varuval