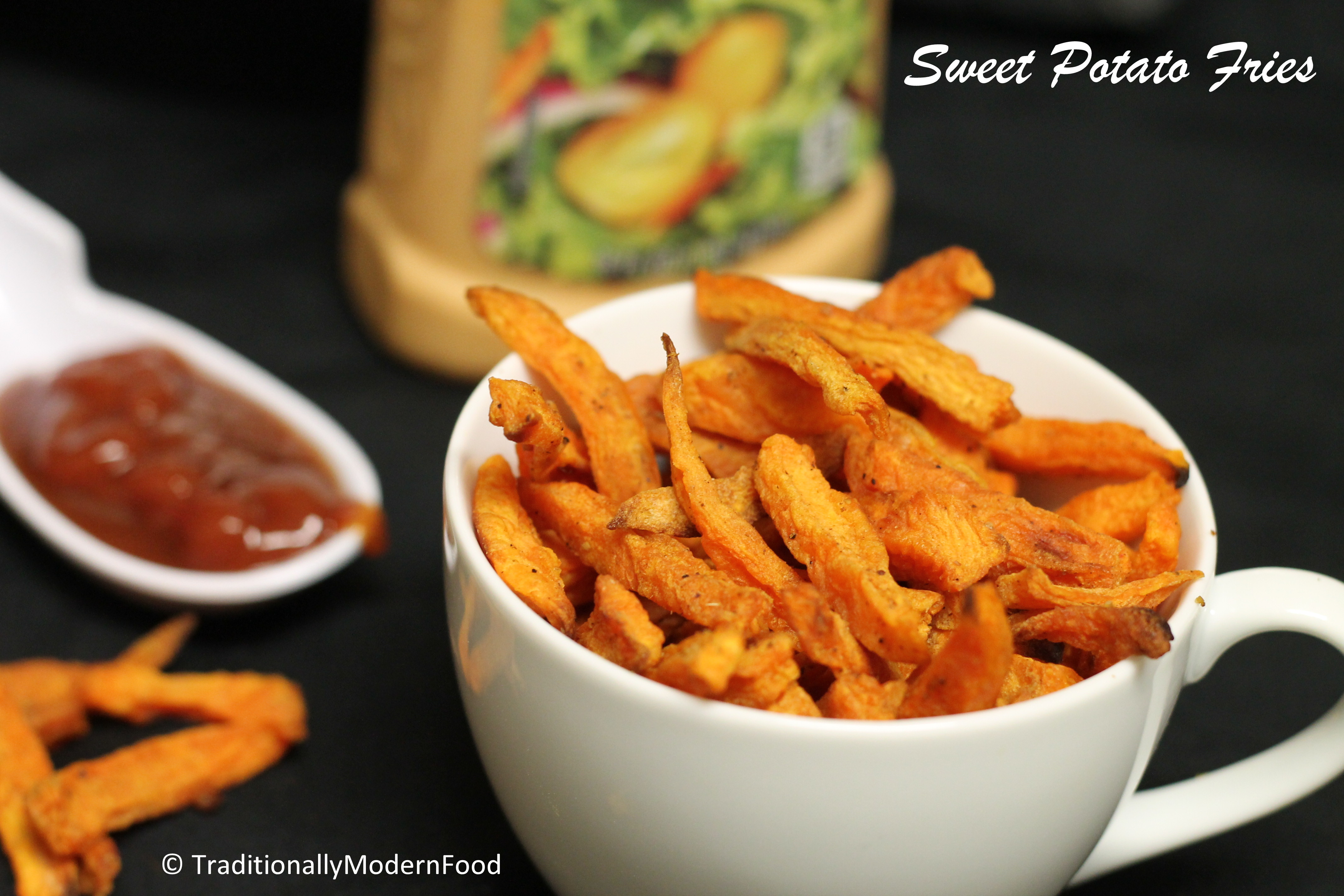 Sweet potato fries | potato fries are crispy yummy baked snacks to munch on. Is French fries your favorite snack then this oven baked fries is definite one for you😄
French Fries – can someone say no to this. Ever since my childhood I have big addiction for the fries. Even the large fries just vanish in no time. I can eat it all day without any side but at times ketchup compliments the fries well. Being a vegetarian our visits to McDonald and Burger King are always for only Fries. Couple of friends have told fries are great side with burger but I have never tasted that combo.
I used to think the fries always refers to Potato fries. Back in AR my best friend Latha stayed in the same Apartment, few houses away. Whenever we make anything special we exchange the dishes. She is my regular reader, always encourages me with her feedback.
One evening she brought a box, I asked what it is, she said fries. Hearing the word fries I got excited and opened the box. It was orangish so I was thinking what potatoes she used. She said sweet potatoes.
If you like fries try Carrot fries and potato wedges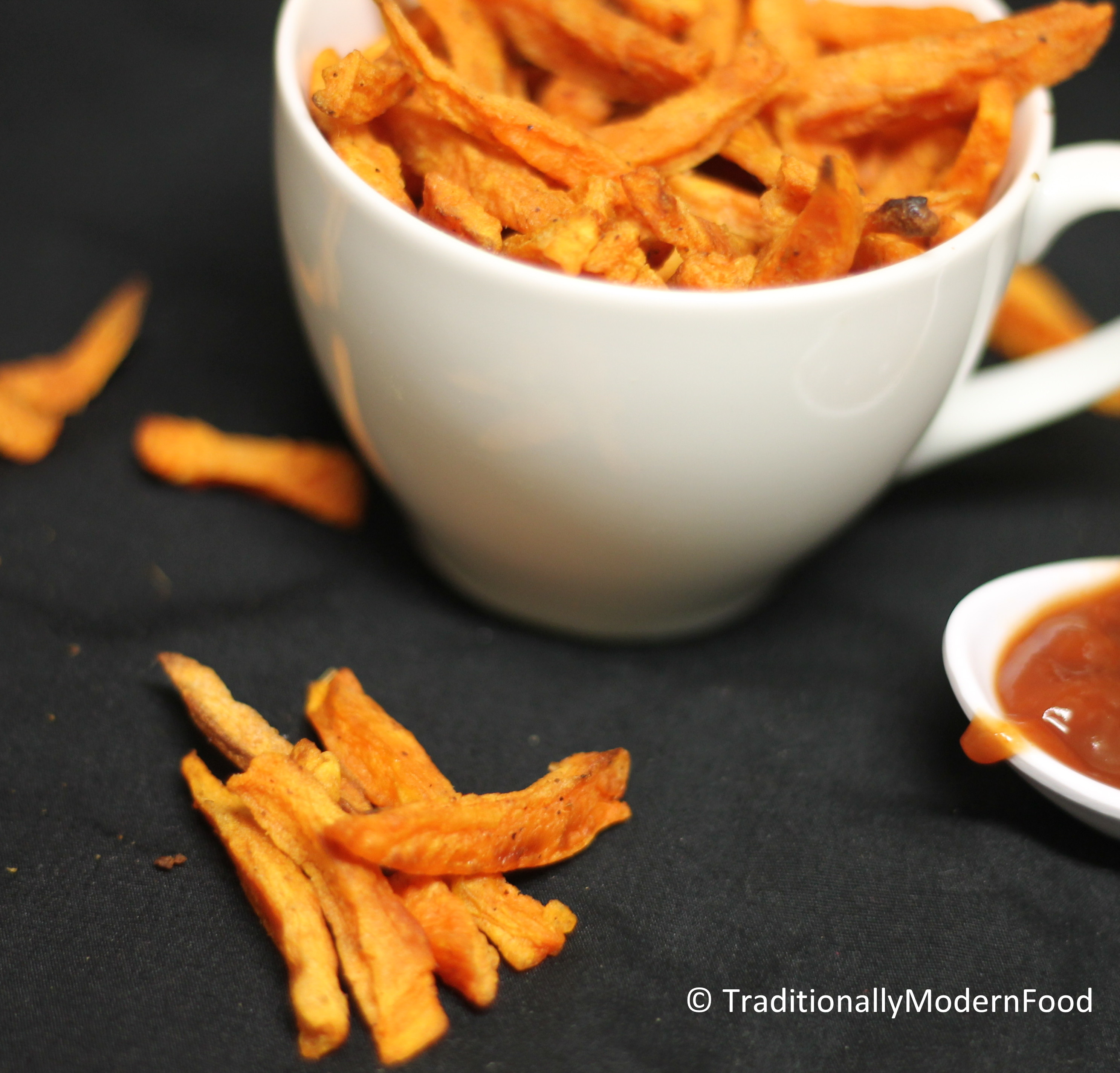 I have never tasted Sweet potato fries so I was little doutbful before taking the first bite. My hubby and me finished it in no time. The slight sweetness from sweet potatoes takes the Sweet potato fries to next level. Crispy and tasty bite 🙂 Recently I tasted Sweet potato curry in my relative's house and started doing it frequently and now Sweet potato fries
Coming back to fries, during my grocery shopping trip I got one big sweet potato. I asked for the recipe, she said that she gave me the best ones, and few of the fries turned brownish. I insisted on the recipe, and finally she gave it to me with a condition - to tell her the trick if I manage to bake fries without over browning/burning a few.
I googled but couldn't find proper answer may be I didn't search properly. That's when I remembered microwave potato chip, placing the potato in water and rinsing, it is an extra step but worth it. I did that and followed her recipe, ta-da - perfect batch of yummy fries. It is super addictive so always buy two sweet potatoes, if you are planning to do with one 😉 Enough of my blah blah lets move on to the Sweet potato fries recipe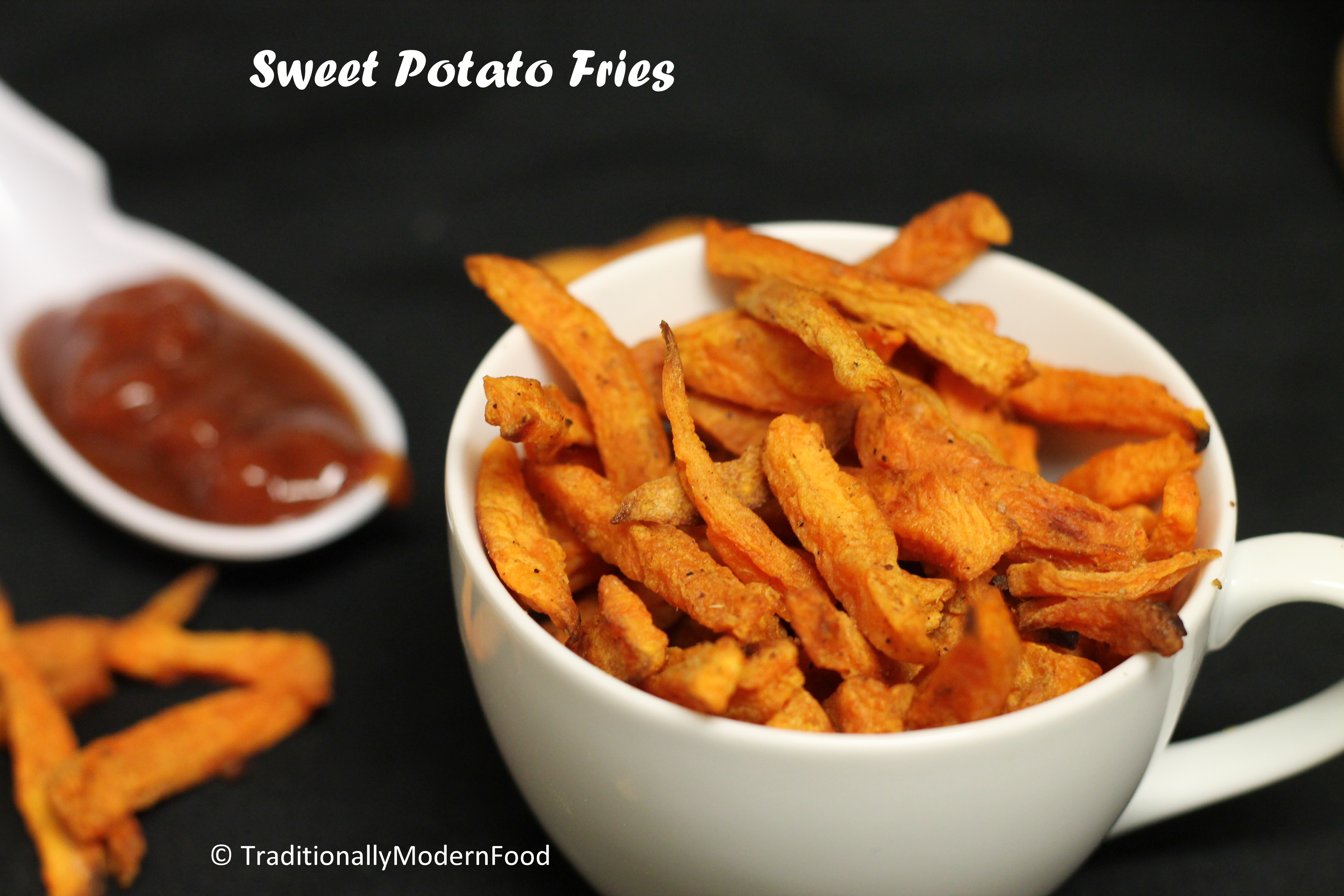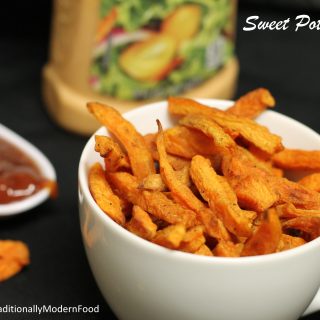 Baked French Sweet Potato Fries
Crispy baked fries with sweet potato is a yummy snacks to munch on. Is French fries your favorite snack then this is definite one for you😄
Print
Pin
Comment
Ingredients
Sweet Potatoes - 1

peeled and cut into finger shaped pieces about 3/4 inch thickness

Salt - as needed

Olive oil - 1 tablespoon + 1 tsp

Black pepper powder - ½ tsp

Corn flour - 1 tsp

optional
Instructions
Place the sweet potato in water for 10 minutes. Rinse the sweet potato under running water, spread them on a paper towel and pat to dry. Remove all the moisture

In a bowl add sweet potato, corn flour, salt, pepper powder and oil; give a gentle mix

Preheat the oven to 425 degree Fahrenheit and Grease the non- stick cookie tray with cooking spray

Spread sweet potato in such a way that there is no overlap on parchment paper. Bake them for about 10 - 14 minutes, carefully turn and bake for another 10 - 14 minutes until they crisp. Turn off the oven and after 5 minutes keep the fries again in oven for 3-5 minutes or till you enjoy:-)
Notes
Same procedure can be followed for preparing potato fries.Regular/Red/purple potatoes can be used
Garlic powder, onion powder, cayenne pepper, paprika, curry powder, red pepper flakes, coriander powder, cumin powder etc can be mixed with sweet potatoes and baked
I used non stick cookie tray. If you are not using non- stick cookie tray place a parchment paper/ aluminium foil over the tray. Cut the parchment paper/ aluminium foil according to cookie tray size, excess paper/foil may burn because of temperature
Little browning in sweet potatoes gives a mild caramelized taste not burnt smell
Dried herbs can be added for extra flavor
Fries tastes great when consumed immediately
If you are consuming after sometime. Turn off the heat and keep the fries in the oven till that. That helps in retaining the crispness
The oven time may vary. The cooking time also depends on the thickness of fries
Ingredients:
Sweet Potatoes - 1, peeled and cut into finger shaped pieces about 3/4 inch thickness
Salt - as needed
Olive oil - 1 tablespoon + 1 tsp
Black pepper powder - ½ tsp
Corn flour - 1 teaspoon (optional)
Method:
Place the sweet potato in water for 10 minutes. Rinse the sweet potato under running water, spread them on a paper towel and pat to dry. Remove all the moisture
In a bowl add sweet potato, corn flour, salt, pepper powder and oil; give a gentle mix
Preheat the oven to 425 degree Fahrenheit and Grease the non- stick cookie tray with cooking spray
Spread sweet potato in such a way that there is no overlap on parchment paper. Bake t

hem for about 10 - 12 minutes, carefully turn and bake for another 10 - 12 minutes until they crisp. Turn off the oven and after 5 minutes keep the fries again in oven for 3-5 minutes or till you enjoy:-)