Kasi Halwa is a tasty South Indian special sweet prepared with white pumpkin. Kasi halwa is widely served during tamil Brahmin wedding.
Ever since childhood days I am a big fan of kasi halwa. I first tasted kasi halwa in a wedding and loved it. Ever since it is one common sweet in home.After I started cooking I learnt the recipe for kasi halwa from my mom.
Couple of days ago Sujitha asked me to guest post for her blog. I am excited to do a guest post in Sujitha Easy Cooking blog. Like her blog name suggests, her recipes are easy for beginners. I found a wide variety of healthy recipes, yummy snacks, mouthwatering sweets, interesting cakes/ cookies and many more in Sujitha's page. With her simple steps and step by step pictures, she makes it easy to follow her recipes.
Sujitha's view on Traditionally Modern Food
Vidya Srinivasan is dedicated food blogger, When i request the guest post, happily she agreed and sent a sweet traditional recipe she is the Writer and Editor of Traditionallymordenfood, at first i have no clues from the blog tittle, when i have a look at her page, found some traditional Recipes with Modern touch.. great inspiring name i felt from her page.. She had a good collection of baking recipes, very interesting to read her simple step by step instruction, as like the sweet post, vidya is such a sweet person
White pumpkin kootu and Udipi Sambar are couple of tasty dishes with white pumpkin.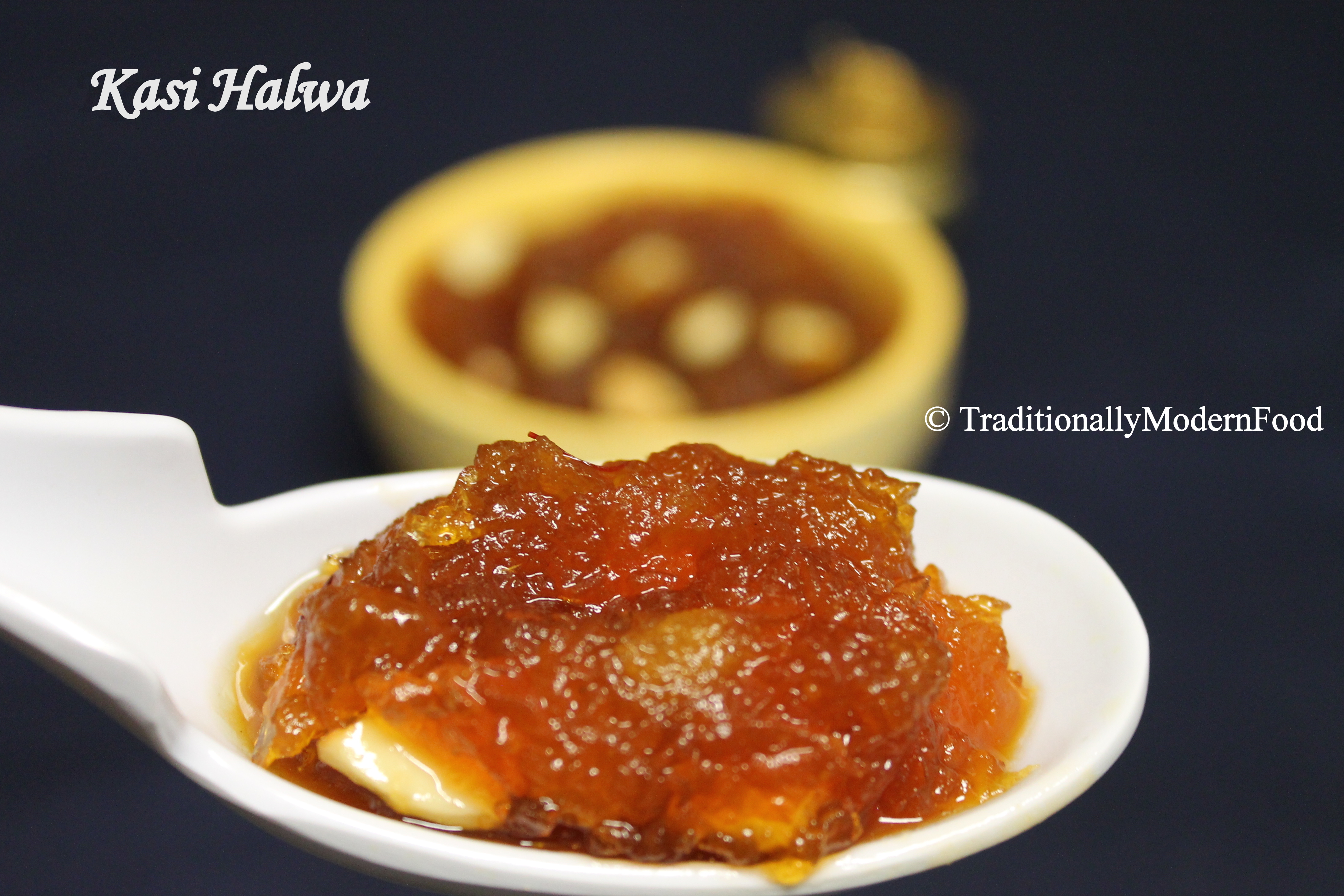 Ingredients
White pumpkin - 2 Cups

Brown Sugar - 1 cup

Adjust according to your sweetness

Ghee - 1/4 cup

Cashew and raisin - to garnish

Cardamom powder - pinch

Orange food color - pinch

Saffron - 1/8 tsp

Salt - pinch
Instructions
Grate the pumpkin and squeeze the water from the pumpkin. Keep the water for cooking pumpkin

Add ghee to the pan and sauté the cashew nuts and raisin till cashew nuts are golden brown. Keep them aside

In the same pan add the pumpkin water and bring to boil. When you see bubbles, add the grated pumpkin and cook in a low flame. Cook the pumpkin in a low flame till it becomes soft

Add sugar and saffron strands. Continue cooking in medium flame

Add food color, salt and remaining ghee and continue cooking till you see glossy texture and halwa leave the sides. Add cashew nuts, raisins and cardamom powder and mix well. Halwa is ready to serve
Kasi Halwa:
Ingredients:
White pumpkin - 2 Cups
Brown Sugar - 1 cup (Adjust according to your sweetness)
Ghee - 1/4 cup
Cashew and raisin - to garnish
Cardamom powder - pinch
Orange food color - pinch
Saffron - 1/8 tsp
Salt - pinch
Method:
Grate the pumpkin and squeeze the water from the pumpkin. Keep the water for cooking pumpkin

Add ghee to the pan and sauté the cashew nuts and raisin till cashew nuts are golden brown. Keep them aside
In the same pan add the pumpkin water and bring to boil. When you see bubbles, add the grated pumpkin and cook in a low flame. Cook the pumpkin in a low flame till it becomes soft
Add sugar and saffron strands. Continue cooking in medium flame
Add food color, salt and remaining ghee and continue cooking till you see glossy texture and halwa leave the sides. Add cashew nuts, raisins and cardamom powder and mix well. Halwa is ready to serve

Do checkout Kasi Halwa recipe in http://www.sujithaeasycooking.com/2015/01/guest-post-by-vidya-srinivasan.html