Ghee recipe, Homemade Ghee Recipe, best homemade ghee, Clarified Butter the Indian Way, homemade ghee recipe, perfect ghee recipe, nei recipe, nutty flavor clarified butter, homemade ghee in the USA, ghee using store-bought butter, How to Make Ghee (Clarified Butter), how to prepare ghee in-home, Ghee recipe Indian, how to make ghee from butter, liquid gold, desi ghee benefits, homemade ghee recipe Indian style, how to prepare ghee, how to make ghee in the home from butter, ghee making process, Indian clarified butter, easy nei recipe, pure desi ghee, How to make ghee at home, homemade ghee from butter with step-by-step pictures and video recipe. Check out the Ghee recipe and if you like the video pls SUBSCRIBE to my channel.
Ghee is a pure fat widely used in Indian kitchens since ancient times. It is considered to be very healthy and perfect for cooking and deep frying. This is a detailed post with many tips and tricks to make traditional ghee at home. This beginner-friendly ghee recipe is fail-proof. If you're going keto, here is another form of butter to make keto-friendly recipes more flavorful. It is also great for the paleo diet.
Homemade Ghee Recipe
Ghee is widely available in Indian grocery stores but homemade ghee is super easy to make. Pure unadulterated homemade ghee is the best in taste and flavor. With detailed tips and tricks, this ghee recipe is a great beginner-friendly recipe to try.
Ghee in Indian culture
Ghee is widely used for many south Indian and north Indian recipes. Be it sweet or savory, ghee occupies a special place in Indian cooking. It is also used to light diyas. It's also frequently used in Ayurveda and other healing practices. Ghee is widely known as nei in Tamil, neyyi in Telugu, neyy in Malayalam, tuppa in Kannada, tup in Marathi.

Can I add flavors to the ghee recipe?
I generally prepare the ghee with one ingredient- butter, as it can be easily used for Indian sweet recipes. Also comes in handy for rasam varieties and other Indian rice and curries. If you prefer the spicy version of ghee add red chilli to hot ghee, roast for a few seconds, and discard. You can also add curry leaves or moringa leaves and make curry leaf flavored ghee or moringa flavored ghee.
Can I use salted butter?
You can use salted or unsalted butter for making homemade ghee. I generally prefer using unsalted butter. If you are using salted butter be mindful of the salt in your savory dish. Always use creamy butter with full-fat content for preparing ghee.
Should I skim the whey off?
After the butter melts, it will start to froth and separate. It's just the whey from the butter floating to the surface. Some people prefer skimming the whey off but in our home, we generally don't do that for the ghee recipe so I skip it. You can skim according to your preference.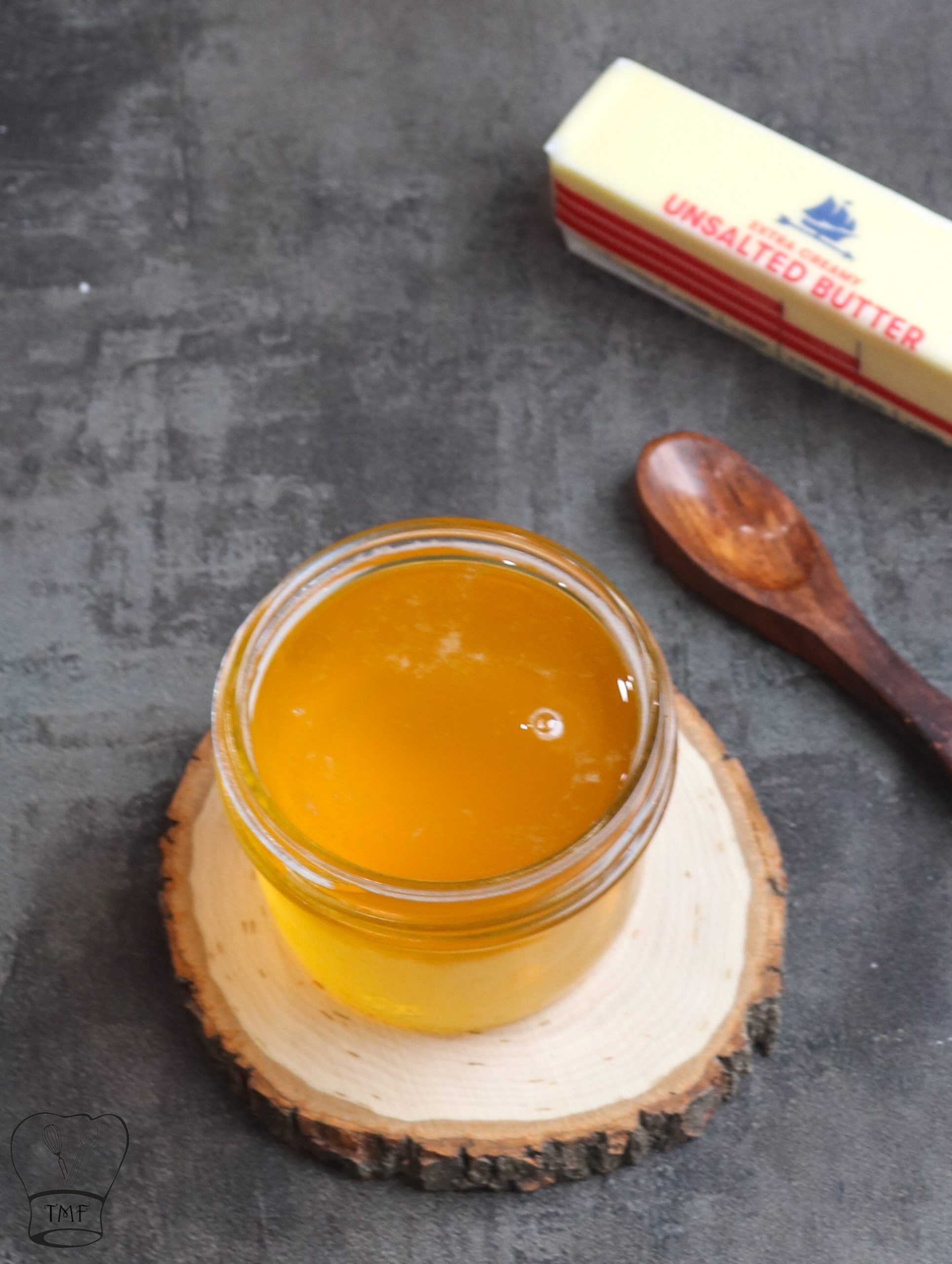 How to store ghee?
Always use a clean and dry stainless/glass container with a lid. Even if the lid is not airtight, it doesn't really matter. I just keep it in my pantry with the rest of the oils. When you pour the Ghee into the jar, make sure to close it only after it has cooled. If you close the lid while the Ghee is hot, the steam will spoil it quickly. To retain the freshness of the homemade Ghee, keep it away from water and moisture. Always use a clean and dry spoon.
The shelf life of ghee?
You can store the ghee at room temperature (away from direct light) for a few months. If you plan to keep it longer, better to store it in the refrigerator where it will last about a year.
Patience is the key to perfect ghee
It takes less time to make aromatic homemade ghee. Always avoid increasing the heat or leaving the pan unsupervised as ghee might burn. Use low to medium heat for the perfect ghee.
What kind of pan should I use while making ghee?
Always use a heavy-bottomed pan. I prefer using stainless steel pan as it is clear to see when milk solids turn brown. Preferably use a pan with a white or light-colored bottom.
Should I stir ghee continuously
No, avoid continuous stirring as it might disturb the milk solids from getting settled. To check if the milk solids are settled, stir once in a while. Always avoid keeping the ladle on the pan for a long time as the ladle will become hot and it will become difficult to touch.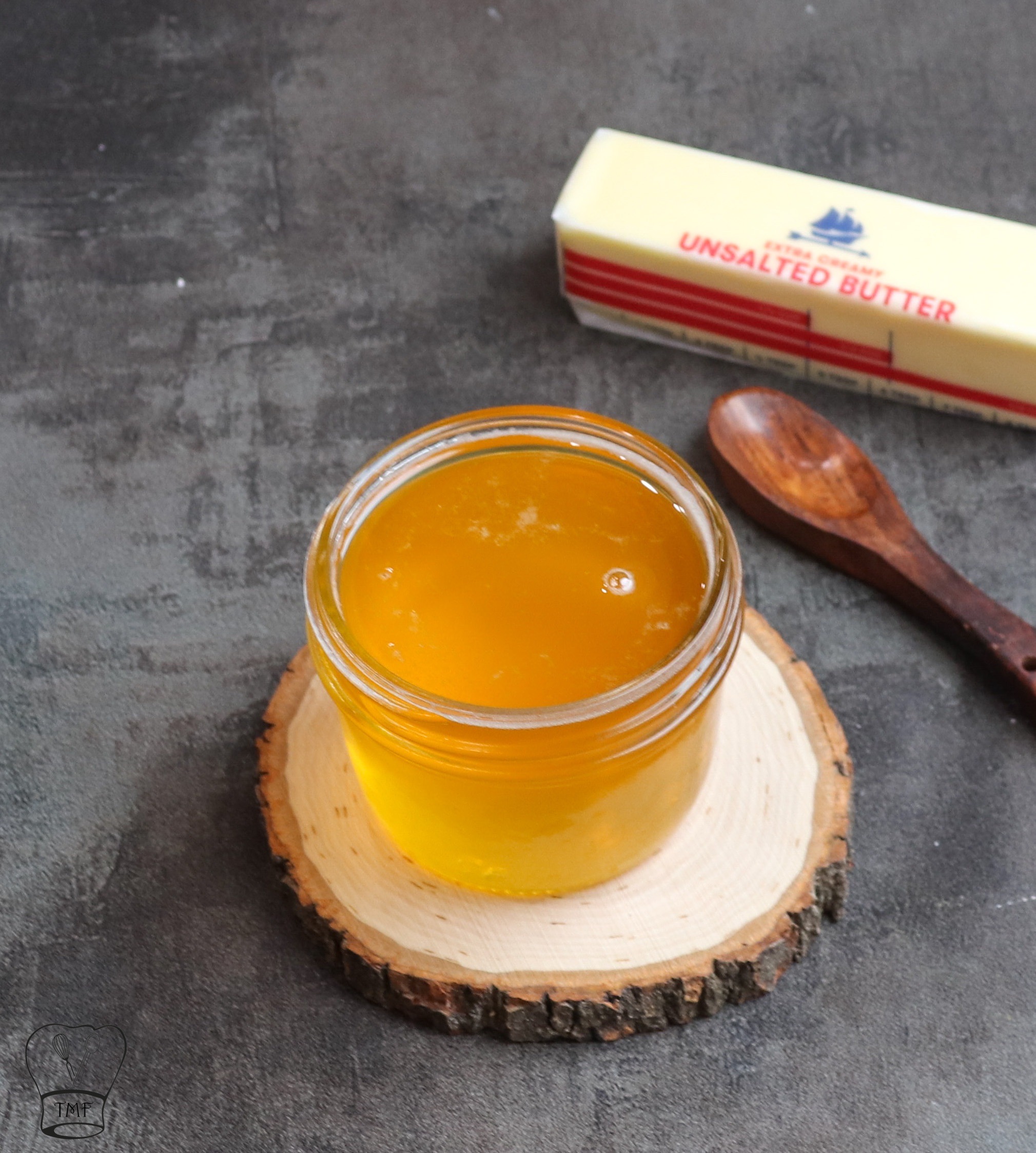 Ingredients
1

lb

butter

unsalted and softened to room temperature
Instructions
First, take the butter out from the fridge and keep it at room temperature for at least 1 hour before making ghee.

Place the butter in a wide heavy bottomed vessel and cut it into chunks. Let them sit for at least 30 minutes after cutting, till the butter turns soft

Turn on the stove to low - medium heat. Place the pan and let the butter melt

Once the butter is all melted it starts to boil

Frothy foam is seen on the top and you will hear a spluttering sound

Turn down the flame to low and continue melting

You can skim the foam if you prefer, but I generally stir them once in a while with a ladle and continue melting

As you continue melting the foam turns into bubbles

Splutter sound starts reducing and the frequency of the spluttering sound also reduces

Mix once in a while and continue melting. When splutter sound comes once in 10-12  seconds reduce the flame to a low setting

By that time, milk solid sludge sticks to the bottom of the pot

The foam's color will get pale. When the milk solids sink to the bottom of the pan and its color turns brown, then it's ready.

At that stage, you will feel the aroma of the ghee. Also, the spluttering sound goes off

It takes around 10 -12 minutes in low flame

Turn off the stove and immediately move the pan aside

Use a stainless strainer or cloth and strain the ghee into the ghee storage stainless or glass container

Let the container remain open until the ghee is completely cool

When in a liquid form, it's more transparent than regular clarified butter and has a golden color. Ghee turns light yellow as it cool
Video
Notes
Always use softened butter
Avoid keeping the ladle permanently on the pan as it will be hot to touch
Never use Ladle with moisture (water) while stirring
Always cook the ghee in low to medium flame
Use extra creamy butter for the best homemade ghee
Avoid salted butter while preparing ghee for sweets as it might make the sweet recipe bit salty
Never close the hot ghee with the lid
Cool completely then close
Use stainless/ glass container to store ghee
If you prefer yellowish ghee like store-bought ones use a pinch of turmeric powder
You can use dry red chilli, curry leaves or moringa leaves, etc for additional flavor
Never cook ghee in high flame
Always use a wide heavy-bottomed pan for making ghee
Never close the pan while making ghee
Ghee is transparent and golden brown immediately after cooking but turns light yellow grainy (sand-like) semi-solid as it cools
Ingredients
1 lb butter, unsalted and softened to room temperature
How to make homemade ghee recipe
First, take the butter out from the fridge and keep it at room temperature for at least 1 hour before making ghee.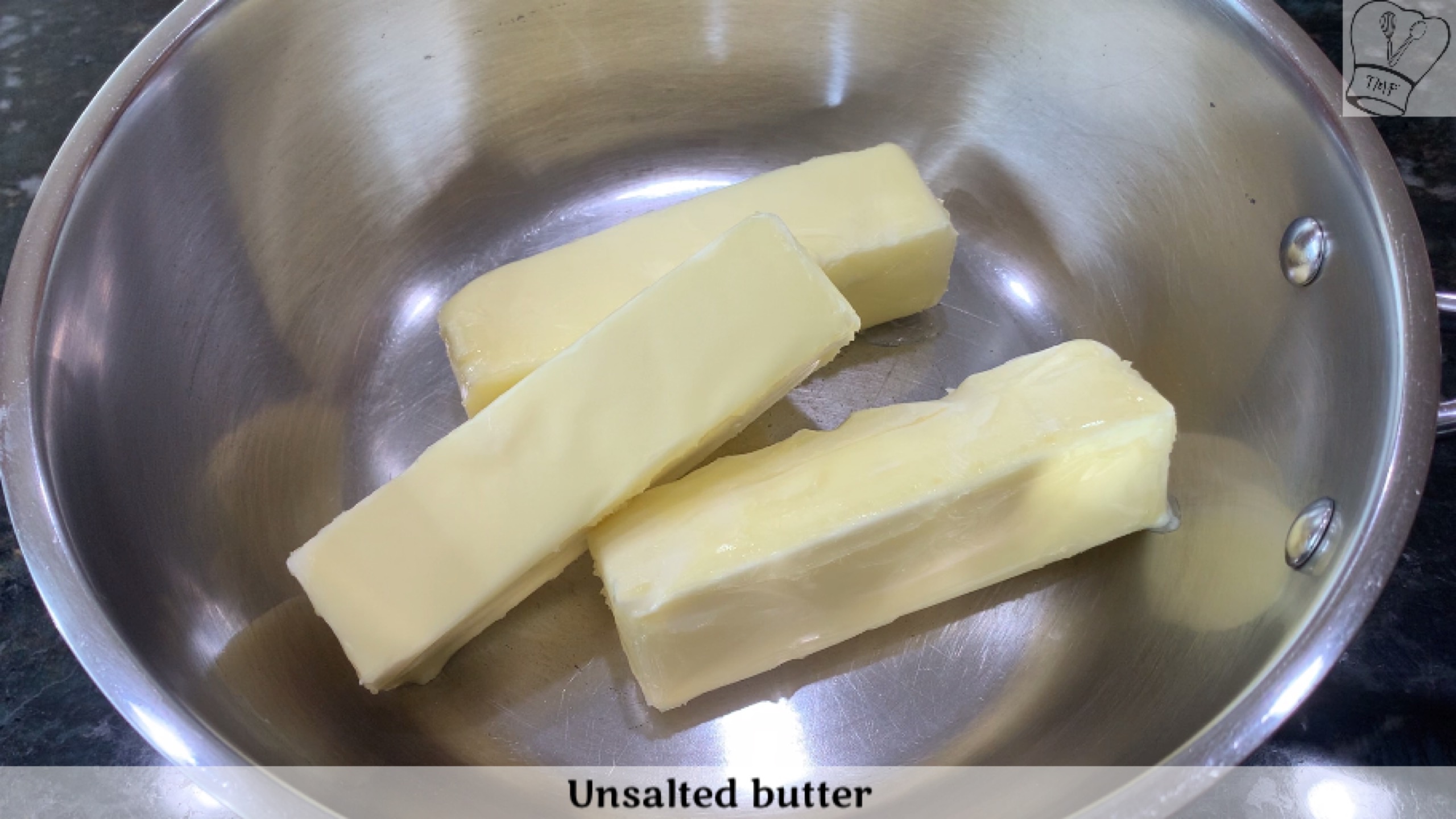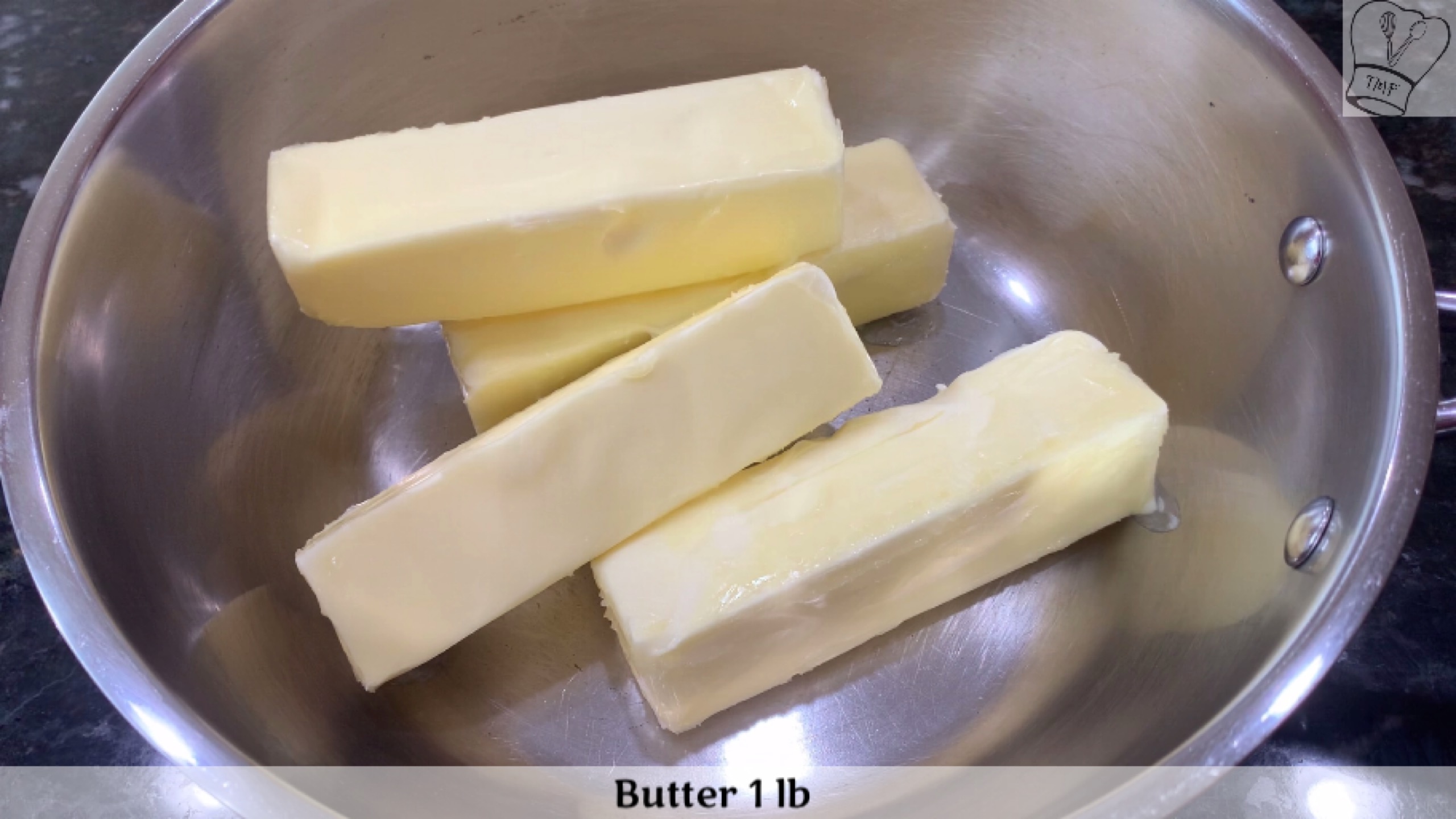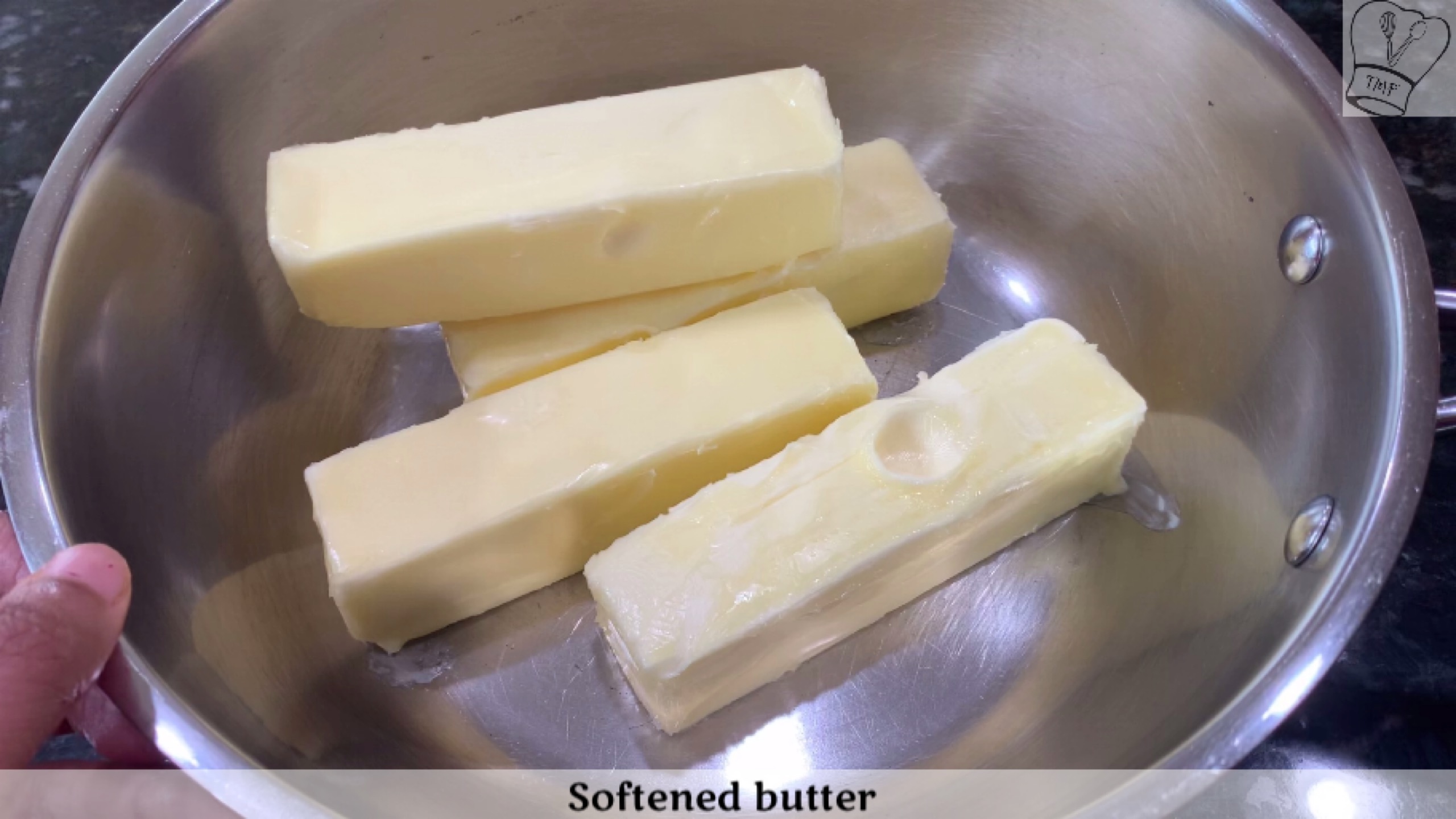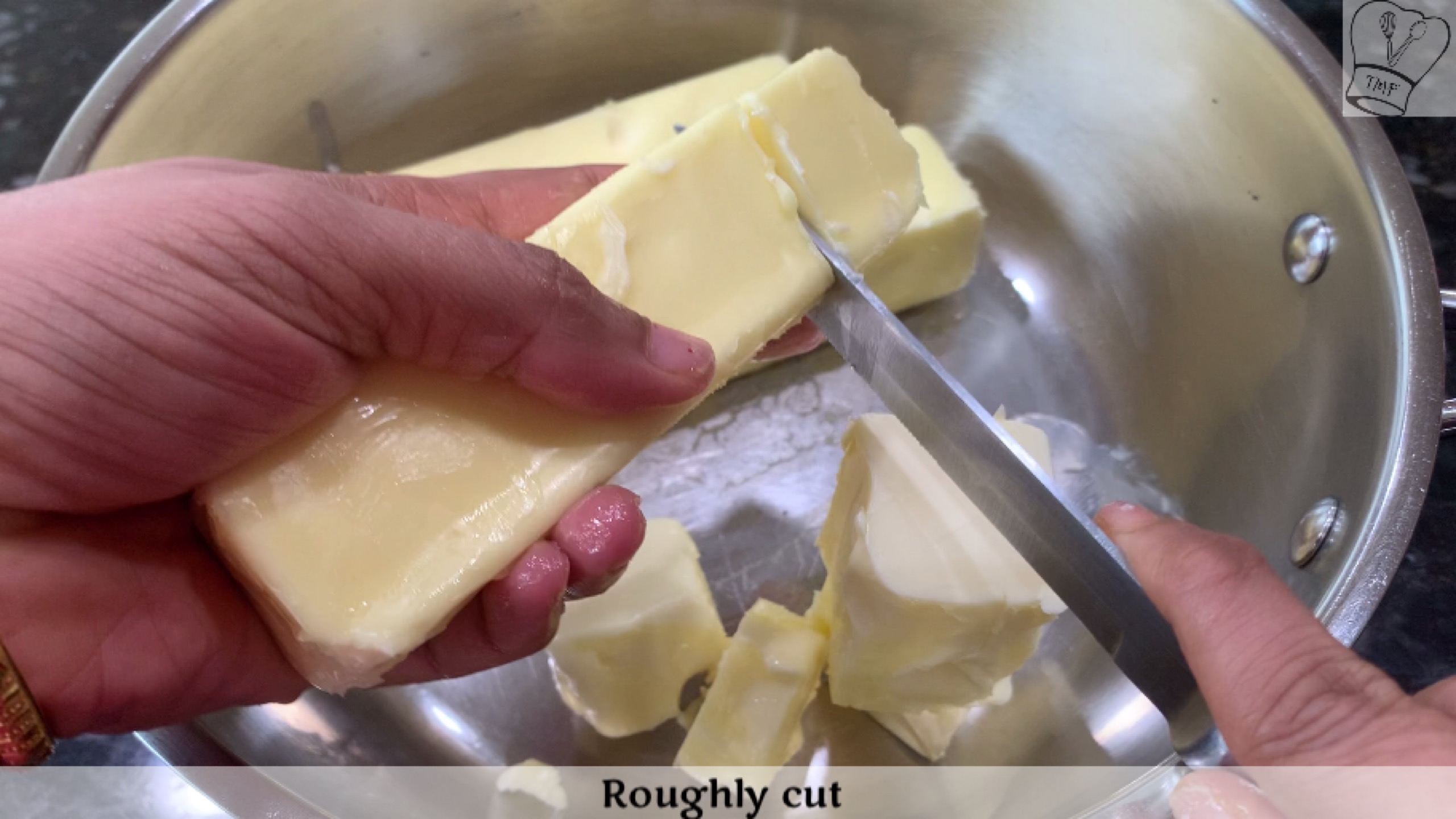 Place the butter in a wide heavy bottomed vessel and cut it into chunks. Let them sit for at least 30 minutes after cutting, till the butter turns soft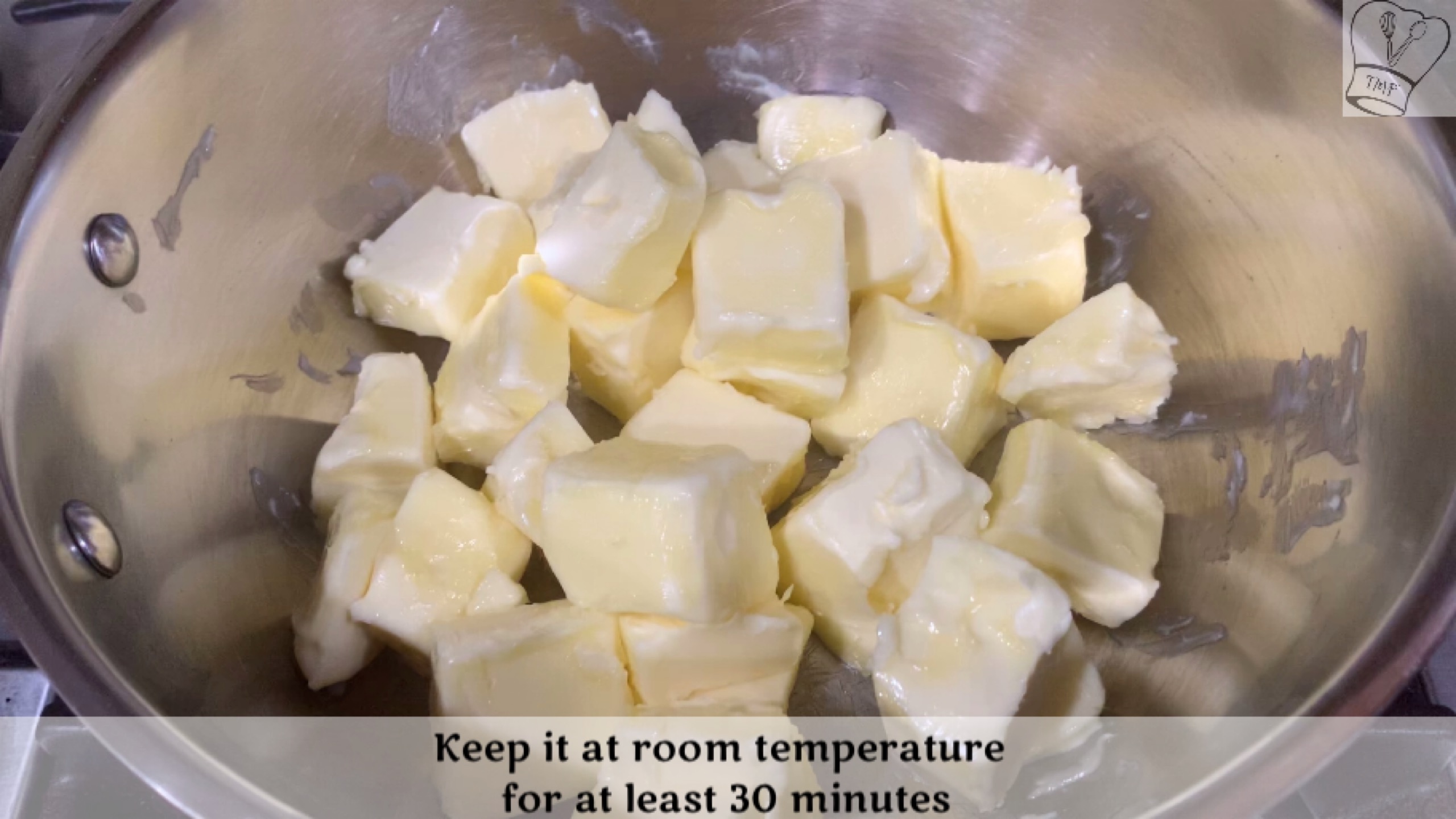 Turn on the stove to low - medium heat. Place the pan and let the butter melt
Once the butter is all melted it starts to boil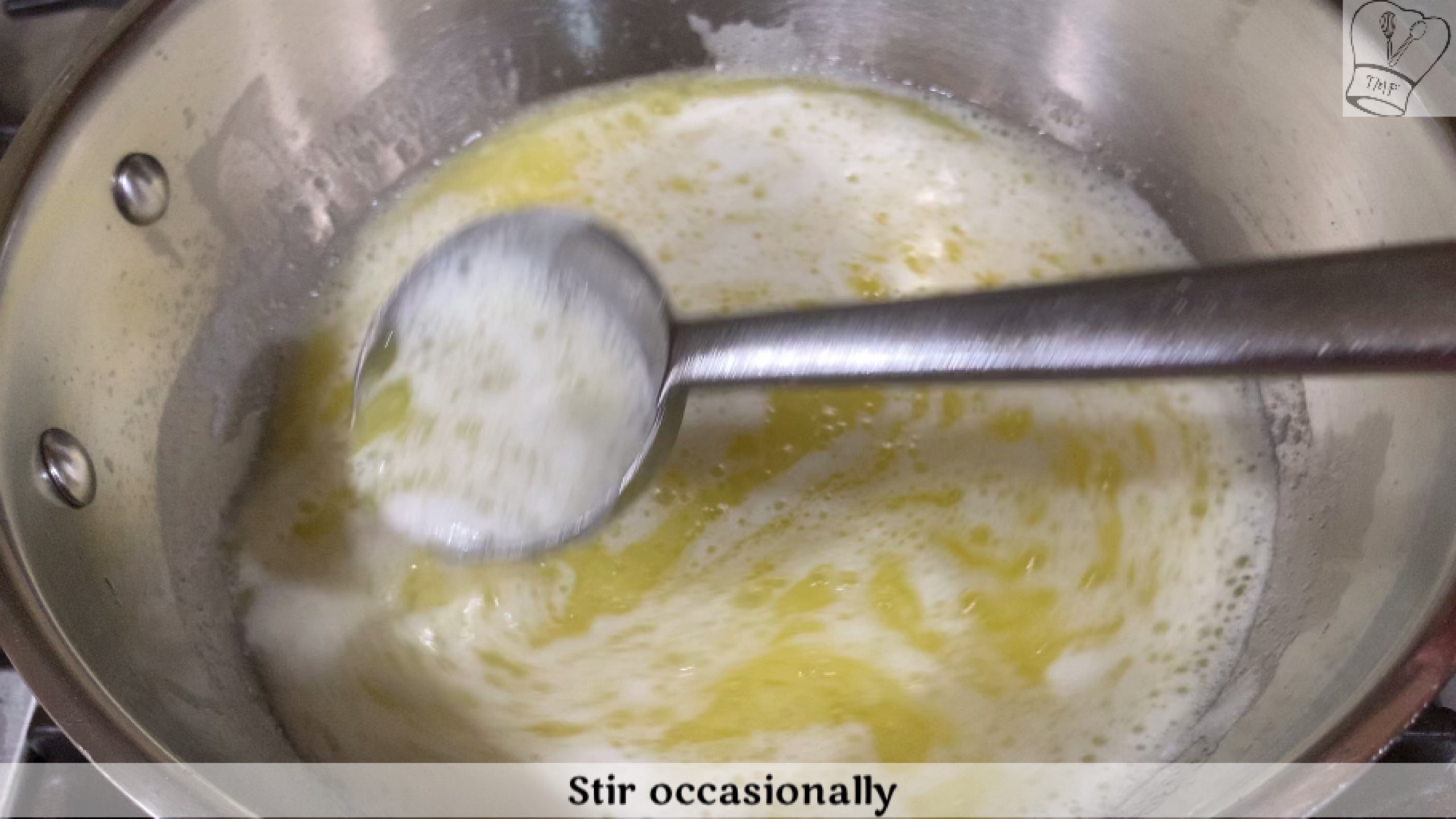 Frothy foam is seen on the top and you will hear a spluttering sound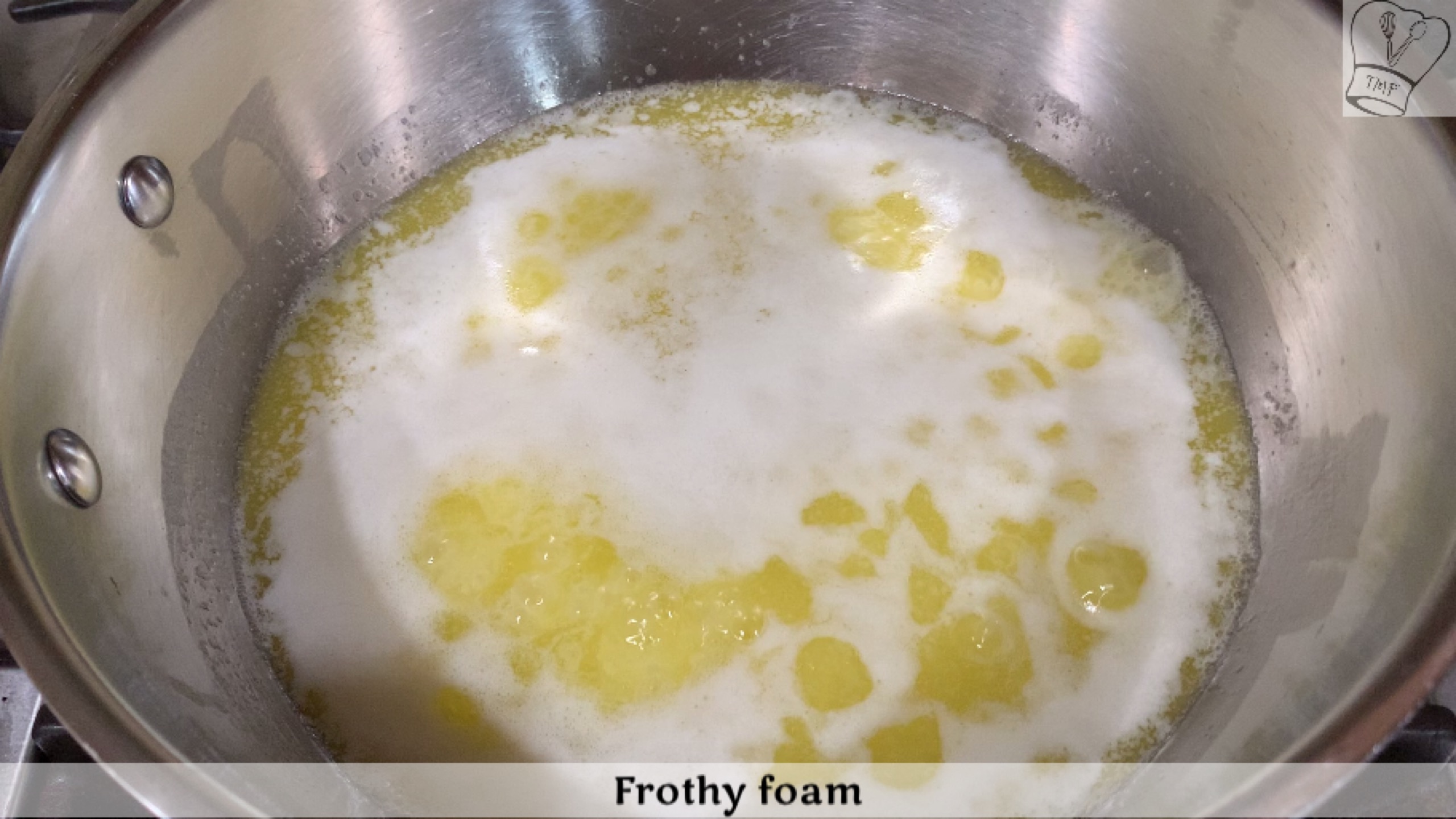 Turn down the flame to low and continue melting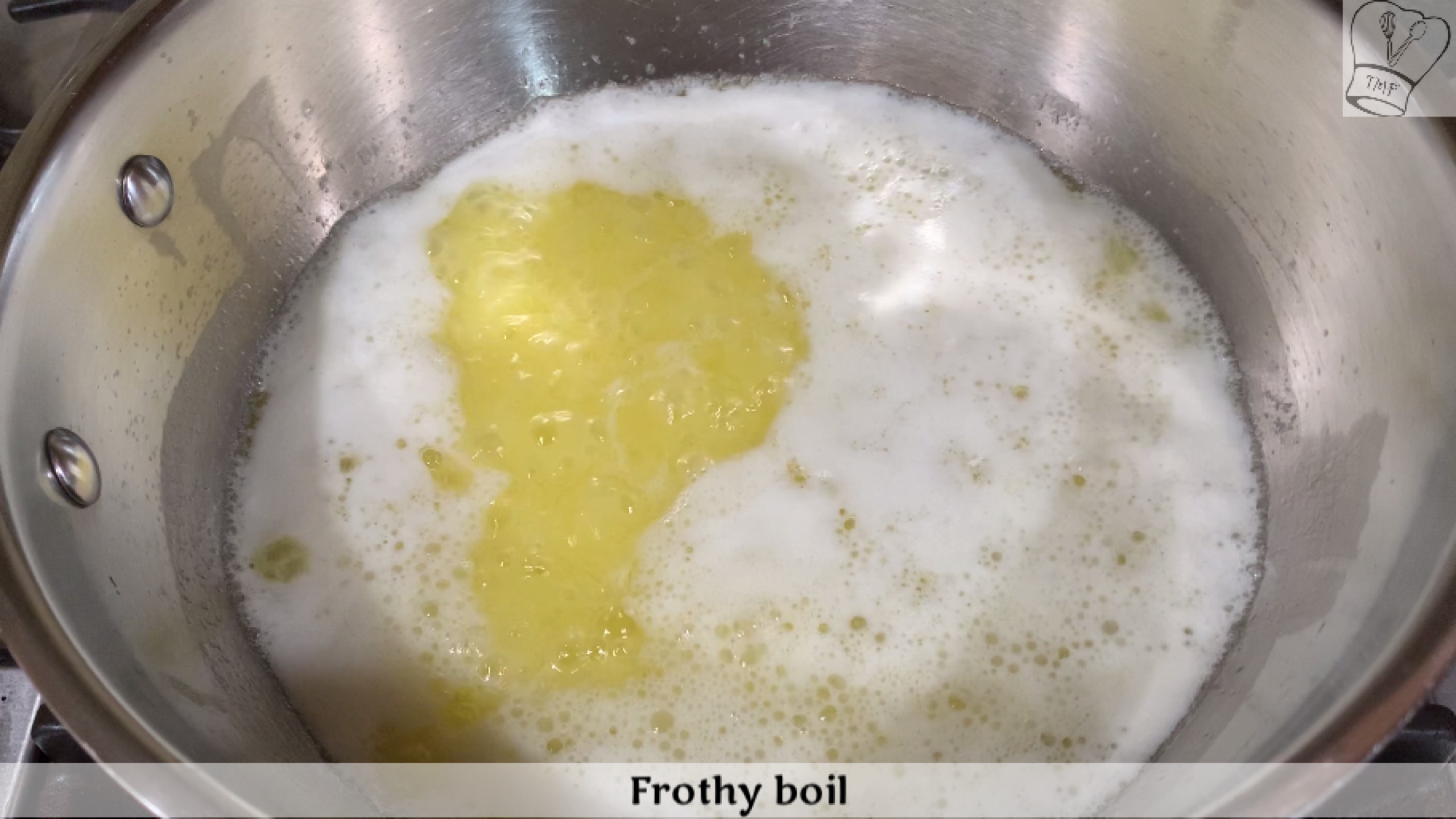 You can skim the foam if you prefer, but I generally stir them once in a while with a ladle and continue melting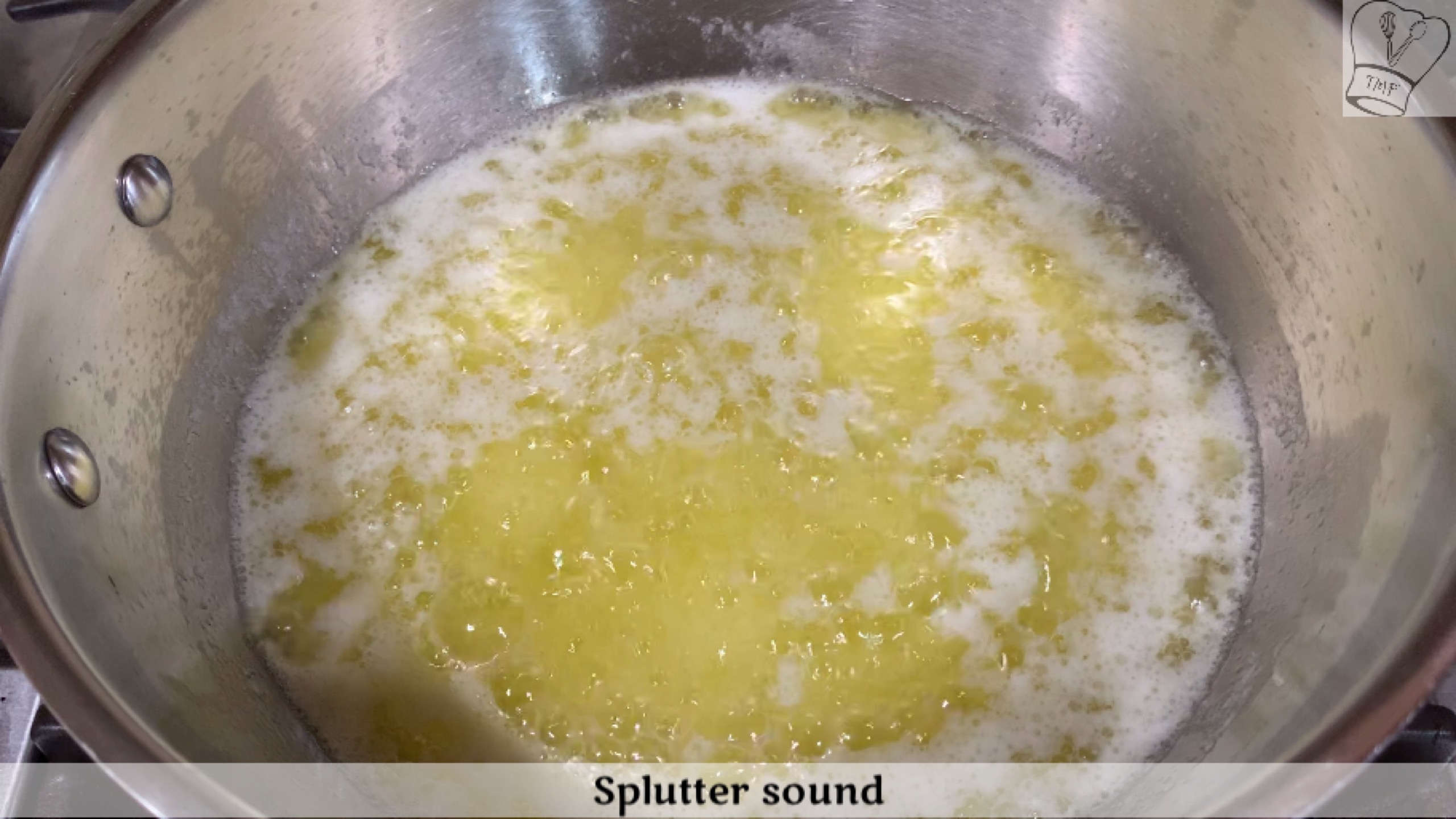 As you continue melting the foam turns into bubbles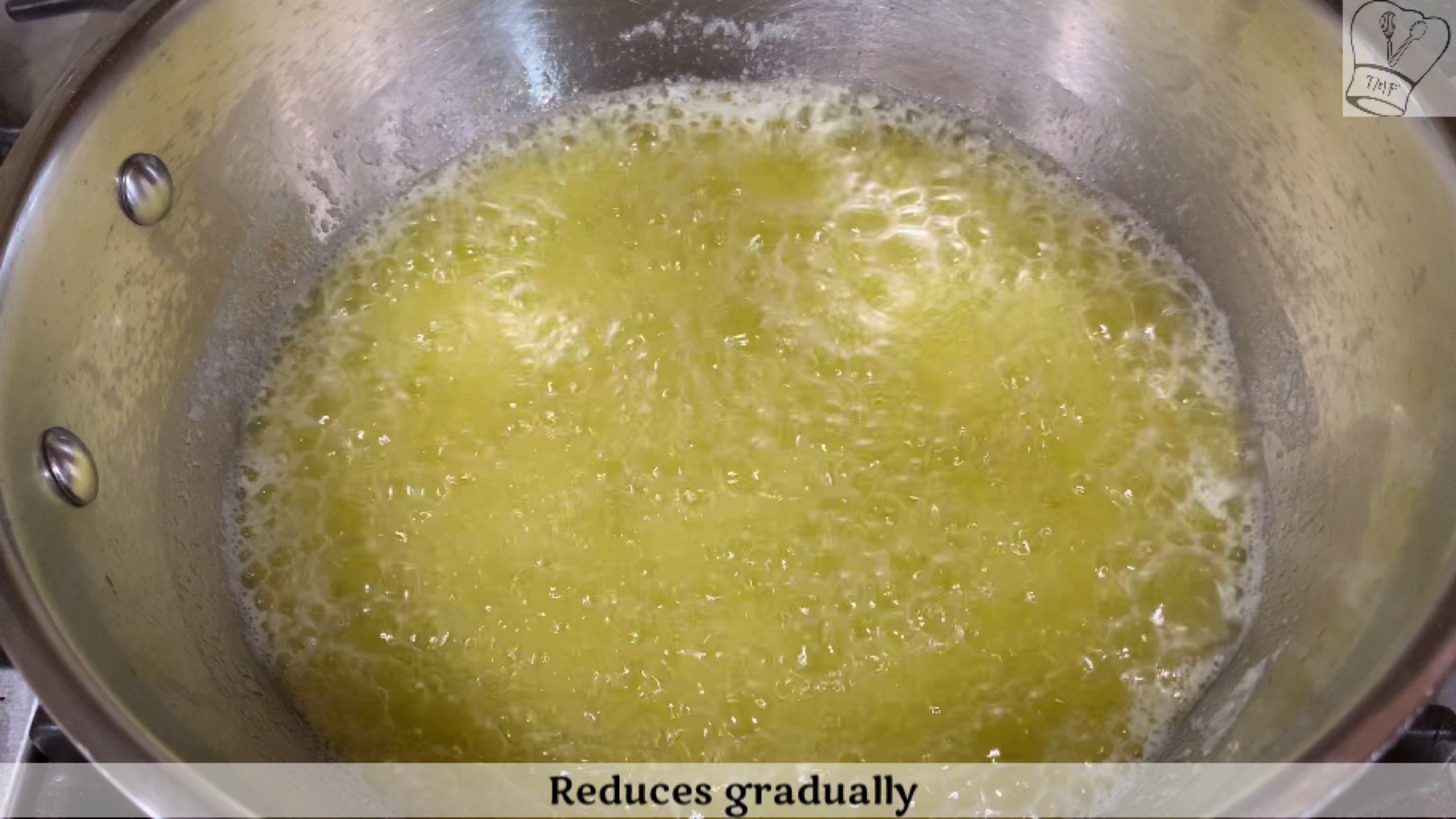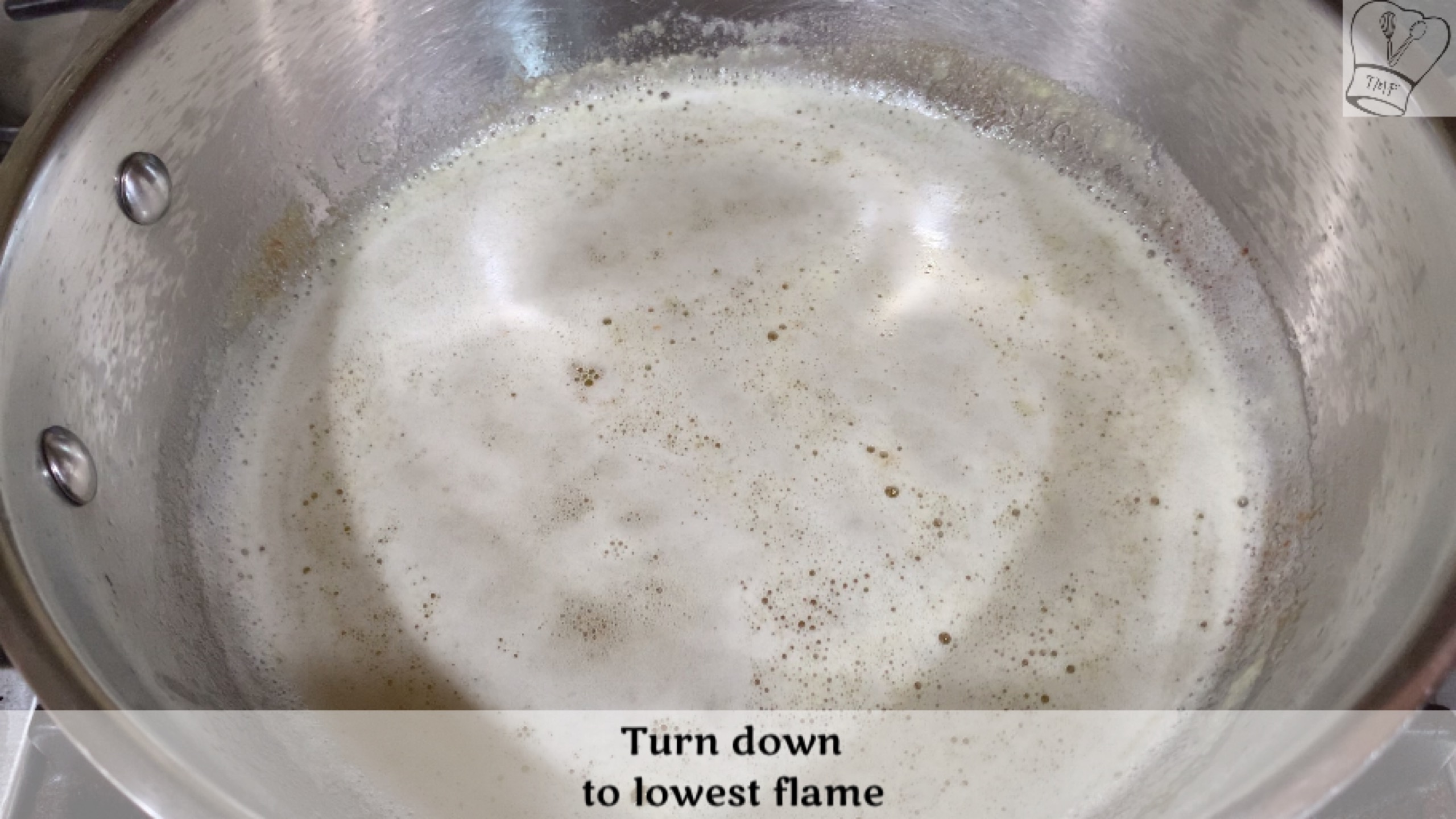 Splutter sound starts reducing and the frequency of the spluttering sound also reduces
Mix once in a while and continue melting. When splutter sound comes once in 10-12 seconds reduce the flame to a low setting
By that time, milk solid sludge sticks to the bottom of the pot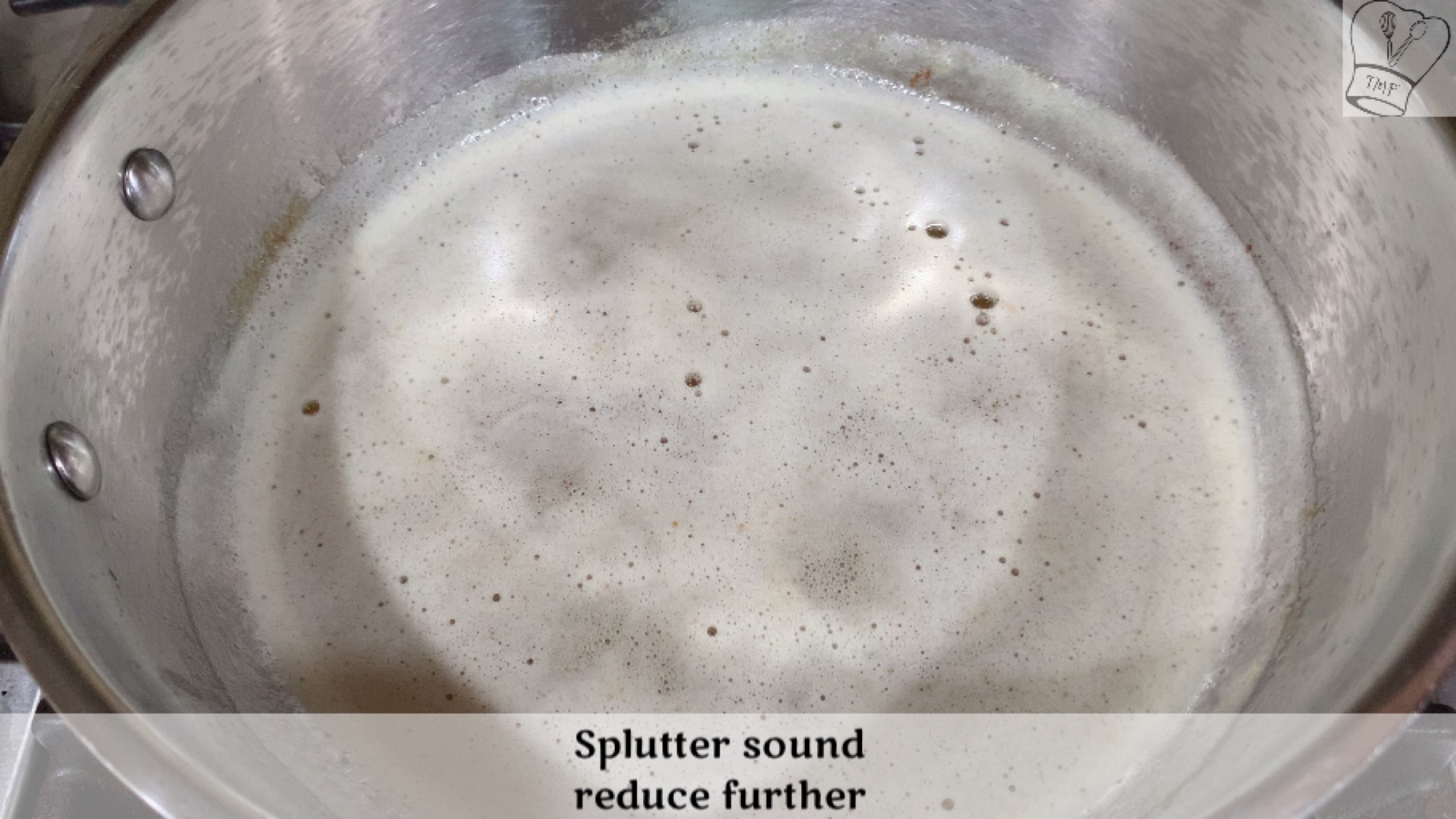 The foam's color will get pale. When the milk solids sink to the bottom of the pan and its color turns brown, then it's ready.
At that stage, you will feel the aroma of the ghee. Also, the spluttering sound goes off
It takes around 10 -12 minutes in low flame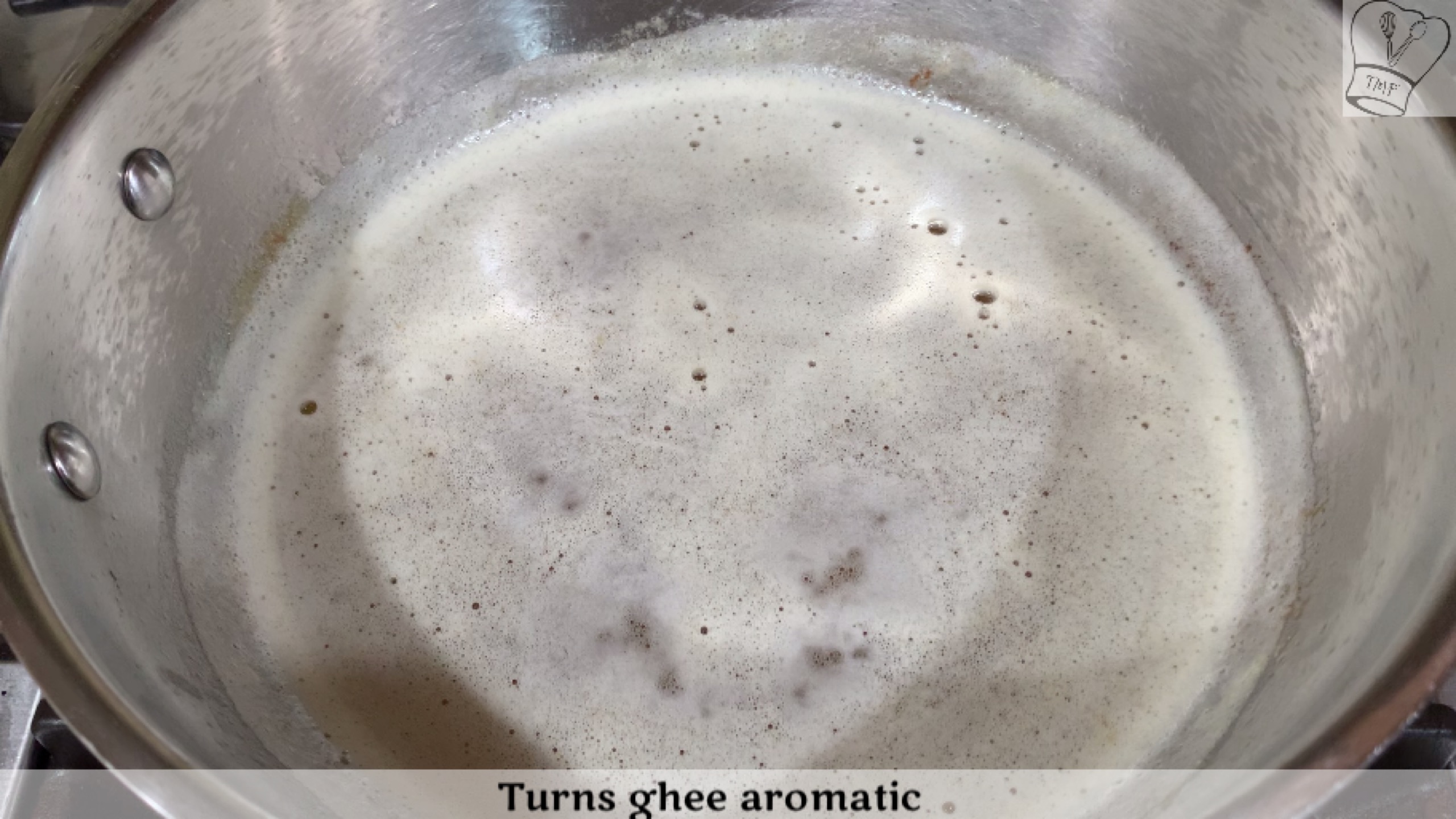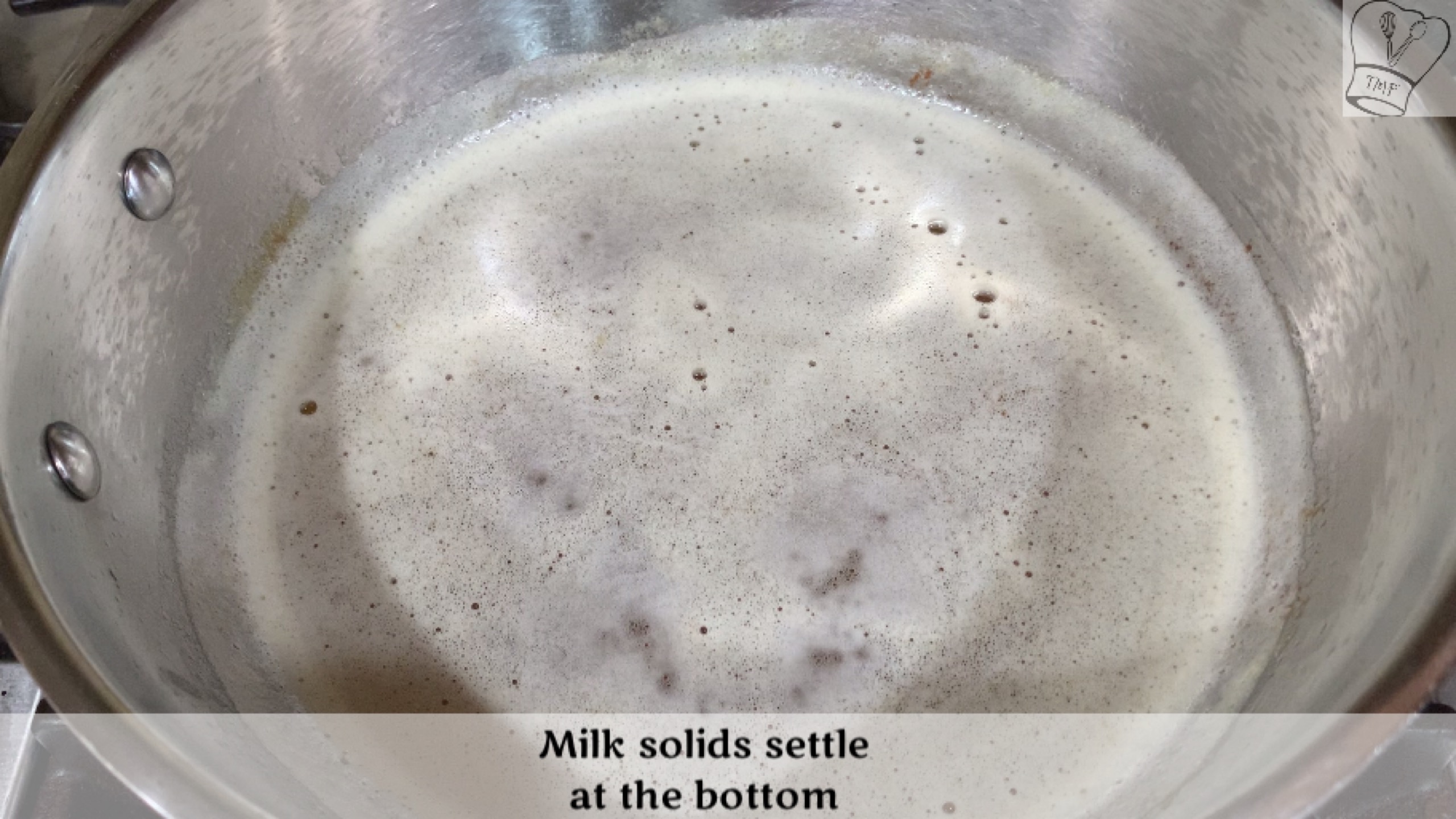 Turn off the stove and immediately move the pan aside
Use a stainless strainer or cloth and strain the ghee into the ghee storage stainless or glass container
Let the container remain open until the ghee is completely cool
When in a liquid form, it's more transparent than regular clarified butter and has a golden color. Ghee turns light yellow as it cool