Hot Apple Cider | Hot Spiced Apple cider from Apple juice | easy homemade Apple cider | hot cider made from Apple juice | kids friendly Apple cider | apple cider for kids with step-by-step pictures and video recipe. Check out the Hot Spiced Apple cider. If you like the video pls SUBSCRIBE to my channel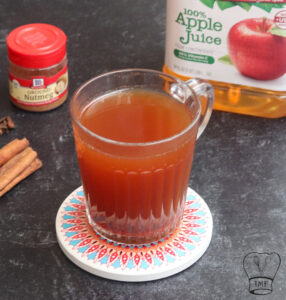 Why Apple juice?
traditional Hot cider with fresh apples is a lengthy time-consuming process. On our trip to Leavenworth, after the sleigh ride, they gave us hot apple cider with apple juice. It was so comforting. Inspired by that here is my version of spiced apple cider with apple juice.
Cinnamon bark or cinnamon powder
If you use cinnamon bark it takes time to infuse the cider. Spiced cider with cinnamon powder is comparatively quick. If you are using just cinnamon bark boil extra.
Can I use whole cloves instead of clove powder?
Clove is optional but clove is a great addition to this healthy detox drink.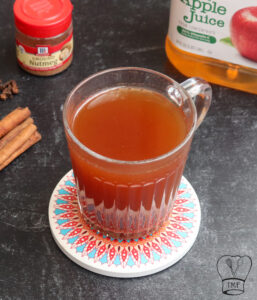 CAN I CONSUME apple cider before bed?
Consume it during the day. Avoid drinking it just before bed.
SHOULD I DILUTE cider?
Yes, you can add hot water /apple juice according to your taste.
Is it a healthy drink?
it is so a comforting hot drink when you have a cold but it is high in sugar so avoid consuming daily,
Can I skip sugar?
Yes, sugar is optional it is already sweet on its own. To balance out the spice powder I add little brown sugar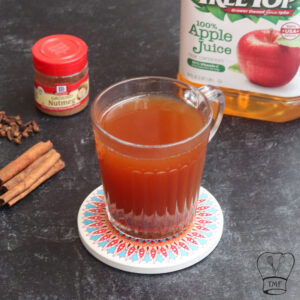 REPLACEMENT FOR sugar
Honey is good for sore throat but if it is not available you can use panarkarkandu or regular sugar or maple syrup
Should I simmer for 25 minutes?
You can simmer for additional time too. It turns flavorful as we boil on low flame so doesn't skip this step.
variations for hot apple cider
add whole cloves, star anise, pepper, or any other spices of your choice
skip the sugar and make added sugar-free hot spiced Apple cider
orange slices, and lemon slices can be added for extra flavor
You can serve it with a piece of cinnamon stick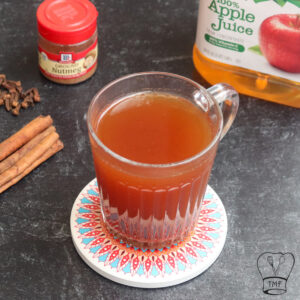 Ingredients
3 cups apple juice without added sugar
1/2 tablespoon cinnamon powder
2-inch cinnamon stick
1/2 teaspoon clove powder
1/8 teaspoon nutmeg powder
1 teaspoon brown sugar optional
1/8 teaspoon ginger powder
pinch of freshly crushed pepper
How to make cinnamon tea with step-by-step pictures
First, add apple juice and turn on the stove on medium flame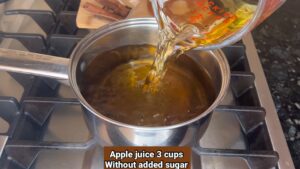 Furthermore add cinnamon powder, 2-inch piece of cinnamon, ginger powder, clove powder, and nutmeg powder; whisk well
optionally add sugar; mix well and bring to a boil

on medium flame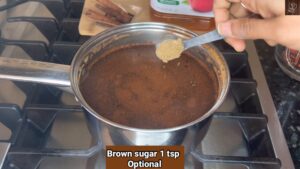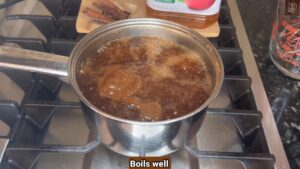 add a pinch of freshly crushed pepper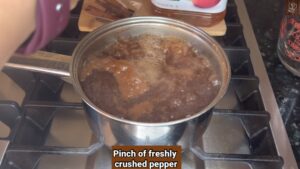 mix well and simmer the flame for 25 minutes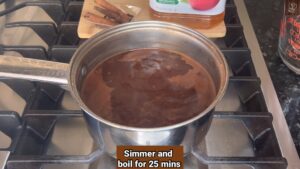 Strain to serving glass. Enjoy hot
Ingredients
3

cups

apple juice without added sugar

1/2

tablespoon

cinnamon powder

2-

inch

cinnamon stick

1/2

teaspoon

clove powder

1/8

teaspoon

nutmeg powder

1

teaspoon

brown sugar optional

1/8

teaspoon

ginger powder

pinch

of freshly crushed pepper
Instructions
First, add apple juice and turn on the stove on medium flame

Furthermore add cinnamon powder, 2-inch piece of cinnamon, ginger powder, clove powder, and nutmeg powder; whisk well

optionally add sugar; mix well and bring to a boil on medium flame

add a pinch of freshly crushed pepper

mix well and simmer the flame for 25 minutes

Turn off the stove

Strain to serving glass. Enjoy hot
Video
Notes
add whole cloves, star anise, pepper, or any other spices of your choice
skip the sugar and make added sugar-free hot spiced Apple cider
orange slices, and lemon slices can be added for extra flavor
You can serve it with a piece of cinnamon stick