Masala Paal | Masala milk | Masala doodh | famous masala milk in Chennai | spiced milk with Pistachios and Almonds| Indian turmeric golden milk | Madras masala paal with nuts | milk masala powder | masala doodh powder | golden milk | badam paal| masala doodh with step-by-step pictures and video recipe. Check out the Masala Paal video If you like the video pls SUBSCRIBE to my channel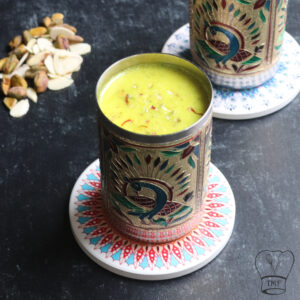 Masala milk is rich, tasty, and healthy, spiced milk is popularly served in many Chennai hotels. Hotel Saravana Bhavan masala paal is one of my favorites.
What is masala paal
masala powder with freshly roasted Nuts and spices (masala) makes the golden milk rich and tasty. Saffron compliments the nuts flavor. It is served in many Chennai restaurants and street shops. the spice mix is soothing and comforting for the throat.
Best Indian winter drink
When kids are sick turmeric milk is my frequent go-to choice. It is extremely cold these days so instead of making plain turmeric milk. I prefer making Masala paal. It is filling and comforting for the throat.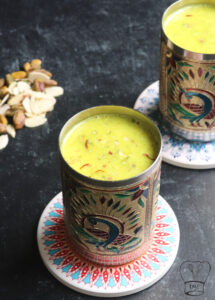 BEST TIME TO CONSUME GOLDEN MILK doodh
You can serve it as an evening drink. If kids/ adults have a sore throat you can serve it before bedtime for a goodnight's sleep.
FRESH TURMERIC FOR turmeric masala LATTE
Yes, fresh turmeric is best but if it is not available use turmeric powder.to use fresh turmeric refer to turmeric tea
Can I use whole almonds?
Yes, use 8 almonds instead of almond flour. Roast almonds along with cashews and follow the other steps.
can I use unroasted pistachio?
Yes, in that case, roast them along with cashews.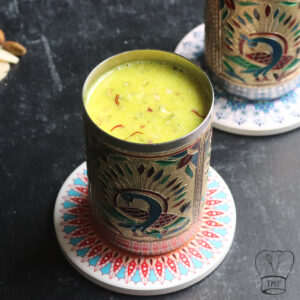 Pulse and grind
nuts might ooze out oil if you grind so always pulse and prepare masala paal powder.
Simmer after adding masala doodh powder
Bring milk to a boil then add spice masala powder. After that cook on low flame. Avoid high flame.
Variations for madras masala paal
Increase sugar if you prefer Chennai hotel-style masala pal
You can use melon seeds, chironji, or any nuts of your choice
Full-fat milk is recommended but you use 2 % milk too. Avoid 1 % milk
You can boil milk for additional time to get malai. When the milk comes to the desired stage add masala doodh powder and mix
Masala milk is traditionally served warm but you chill and enjoy it according to your preference
You can use Cinnamon powder or pepper powder instead of cinnamon and pepper
Masala doodh for sore throat
Use panag karkandu instead of white sugar
Increase pepper
Consume before bedtime
Serve warm. Avoid drinking it cold
Shelflife of masala doodh powder
It stays good at room temperature for 1 week. Since we didn't roast for a long time I would recommend finishing soon.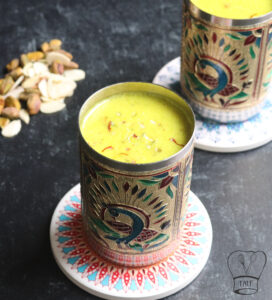 Ingredients
Masala paal powder
2 cardamom
Small piece of cinnamon
2 clove
1/4 teaspoon pepper
10 cashews
15 roasted pistachio
2 tablespoon almond flour
4 saffron
1/8 teaspoon turmeric powder
Masala paal
3 cups of whole milk
Pinch of saffron
1 tablespoon sugar
Pinch of turmeric powder
Garnish
Chopped almonds and pistachio
How to make spiced turmeric milk with step-by-step pictures
masala paal powder
First add cloves, cardamom, a small piece of cinnamon, cashews, and pepper; roast on low flame for 3 minutes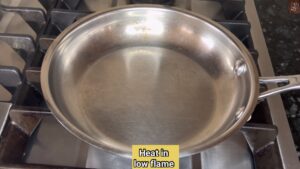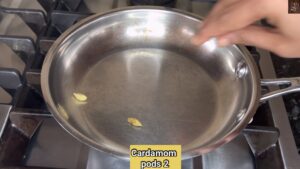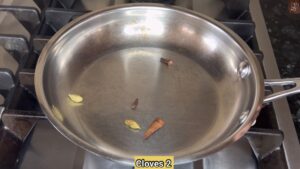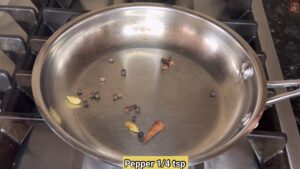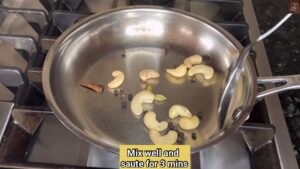 Furthermore, add pistachios and mix well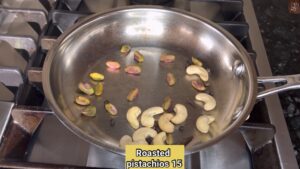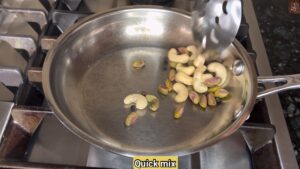 Add almond flour, saffron, and turmeric powder; turn off the stove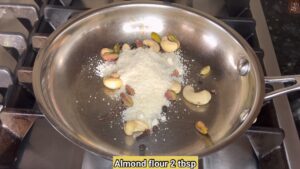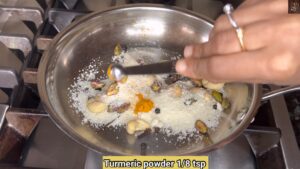 Mix well and cool completely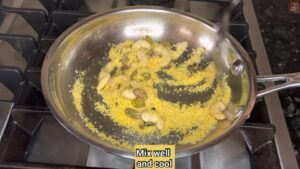 Transfer to the mixie jar and pulse. Avoid grinding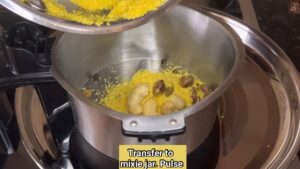 Masala paal
First, add milk to a heavy-bottomed pan and bring to a frothy boil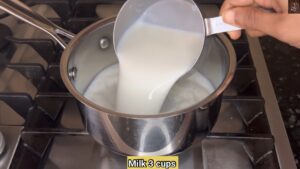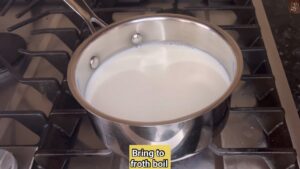 Simmer the flame. add saffron and sugar; mix well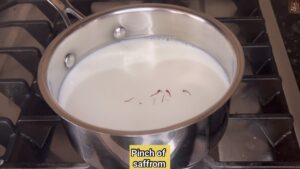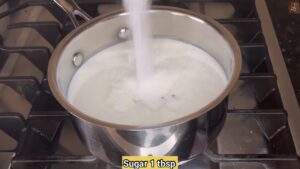 Furthermore, add ground masala paal powder in two batches. Mix well in between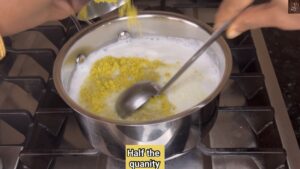 add a pinch of turmeric powder and mix well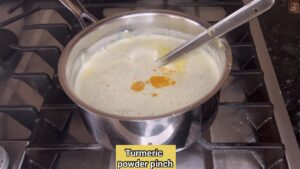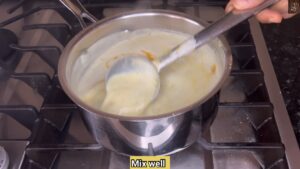 Cook for 3 minutes and turn off the stove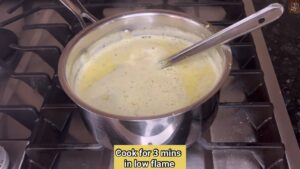 Finally, add roasted nuts and mix well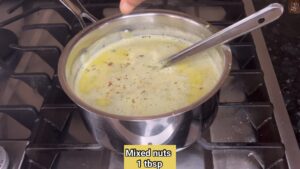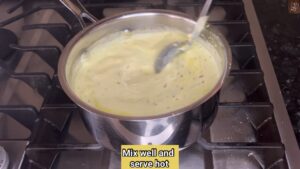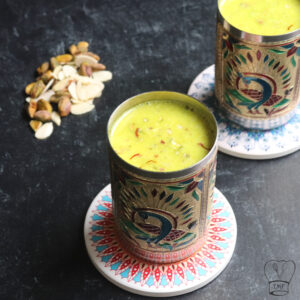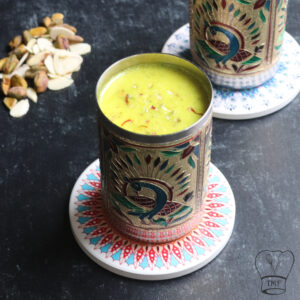 Ingredients
Masala paal powder
2

cardamom

Small piece of cinnamon

2

clove

1/4

teaspoon

pepper

10

cashews

15

roasted pistachio

2

tablespoon

almond flour

4

saffron

1/8

teaspoon

turmeric powder
Masala paal
3

cups

of whole milk

Pinch

of saffron

1

tablespoon

sugar

Pinch

of turmeric powder
Garnish
Chopped almonds and pistachio
Instructions
masala paal powder
First add cloves, cardamom, a small piece of cinnamon, cashews, and pepper; roast on low flame for 3 minutes

Furthermore, add pistachios and mix well

Add almond flour, saffron, and turmeric powder; turn off the stove

Mix well and cool completely

Transfer to the mixie jar and pulse. Avoid grinding
Masala paal
First, add milk to a heavy-bottomed pan and bring to a frothy boil

Simmer the flame.  add saffron and sugar; mix well

Furthermore, add ground masala paal powder in two batches. Mix well in between

add a pinch of turmeric powder and mix well

Cook for.3 minutes and turn off the stove

Finally, add roasted nuts and mix well

Serve warm
Video
Notes
You can serve it as an evening drink. If kids/ adults have a sore throat you can serve it before bedtime for a good night sleep
fresh turmeric is best but if it is not available use turmeric powder.to use fresh turmeric refer to turmeric tea
you can use 8 almonds instead of almond flour. Roast almonds along with cashews and follow the other steps
if you are using Unroasted pistachio, in that case, roast them along with cashews
nuts might ooze out oil if you grind so always pulse and prepare masala paal powder
Bring milk to a boil then add spice masala powder. After that cook on low flame. Avoid high flame
masala doodh powder stays good at room temperature for 1 week. Since we didn't roast for a long time I would recommend finishing soon
Variations for madras masala paal
Increase sugar if you prefer Chennai hotel-style masala pal
You can use melon seeds,  chironji, or any nuts of your choice
Full-fat milk is recommended but you use 2 % milk too. Avoid 1 % milk
You can boil milk for additional time to get malai. When the milk comes to the desired stage add masala doodh powder and mix
Masala milk is traditionally served warm but you chill and enjoy it according to your preference
You can use Cinnamon powder or pepper powder instead of cinnamon and pepper
Masala doodh for sore throat
Use panag karkandu instead of white sugar
Increase pepper
Consume before bedtime
Serve warm. Avoid drinking it cold