Kashmiri chai | Kashmiri tea | Pink tea | 20 minutes Kashmiri chai recipe | noon tea | noon chai | gulabi chai | authentic Pakistani pink tea | Kashmiri pink chai with step-by-step pictures and video recipes. Check out the Kashmiri pink tea video and If you like the video pls SUBSCRIBE to my channel
Kashmiri pink chai
Flavorful milky pink tea topped with almonds and pistachio. If you are a chai person, this is one must-try chai.
Kashmiri kahwa tea
Kashmiri kahwa tea leaves give the best Kashmiri pink tea. It is a blend of Kashmiri Green Tea with Saffron, dried rose petals, Cardamom, Cinnamon, Cloves, and Fennel. I used Kashmiri Kahwa tea from Adrish Kirkland. It had the perfect blend of spices and tea leaves so I didn't add any add-ons to the tea.
Can I use green tea leaves?
Yes, you can use Kashmiri green tea leaves. In that case add Saffron, dried rose petals, Cardamom, Cinnamon, Cloves, and Fennel while boiling water.
Can I skip baking soda?
No baking soda is a must for Kashmiri pink tea. Pink color doesn't come from artificial food color. Chlorophyll in tea reacts to bi-carbonate soda.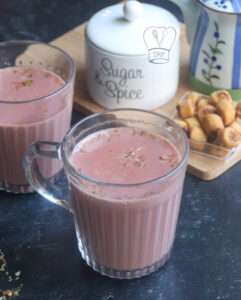 Baking soda quantity
Always add baking soda just as mentioned. Avoid adding more as might turn tea bitter. Less might not give the desired pink tea.
Healthy Kashmiri chai
Reduce cholesterol level, regulate blood pressure, and is good for weight loss. You can replace white sugar with healthy alternatives.
Mix well and aerate
Use a ladle or whisk; mix well and aerate the tea decoction. If you are making a big batch, you can even use an electric hand mixer to aerate the decoction.
Can I add food color?
No, if you follow the recipe you will get Kashmiri pink chai. avoid adding food color.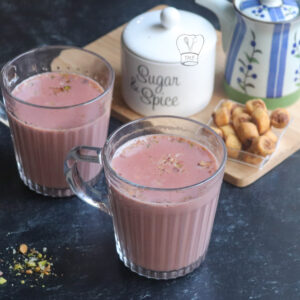 Do I need to add ice?
If you have aerated the tea well you need not add ice water. Add ice only if you are going to boil the milk in hot tea. if not skip it.
WATER AND MILK RATIO
It totally depends on individual choice. Tea stall-style tea always has more water compared to milk. Some might prepare tea with just milk. I prefer using little water and more milk for my tea. Adjust according to your preference
AMOUNT OF SUGAR
Depends on individual choice. If you are making tea for a larger group prepare noon tea and serve the hot tea with sugar on the side.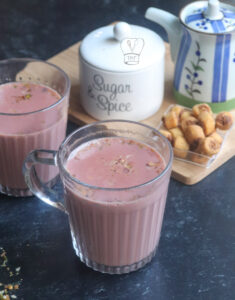 Ingredients
kahwa tea decoction
1 cup water
1/2 tablespoon + 1 tablespoon Kashmiri kahwa leaves
2 tablespoon sugar
1/4 teaspoon baking soda
Kashmiri noon tea
2 cups milk
Sprinkle
crushed almonds and pistachios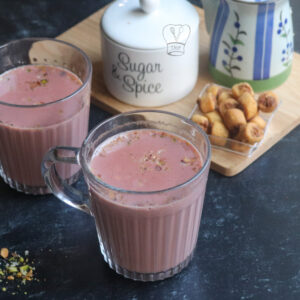 How to make pink chai with step-by-step pictures
Add water to a wide heavy bottomed pan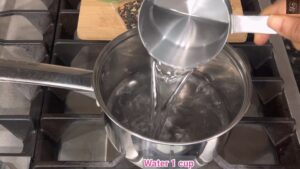 Turn on the stove to medium flame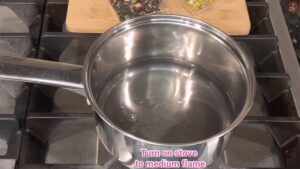 Furthermore, add Kashmiri kahwa leaves and bring to boil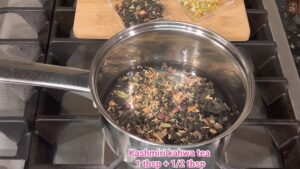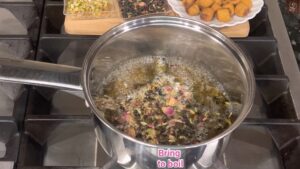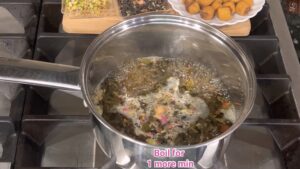 Add baking soda; mix well and aerate the mixture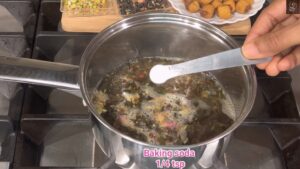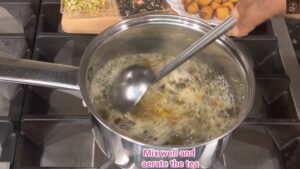 Boil for 5 minutes; mix well regularly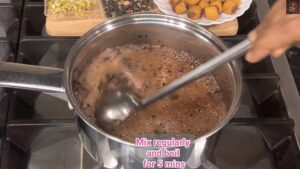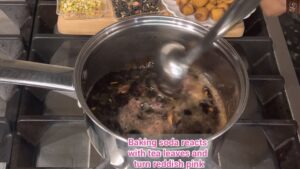 Turn down to low- medium flame; mix well and cook for 5 minutes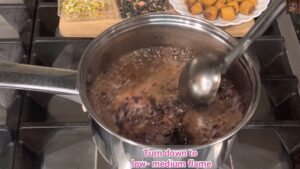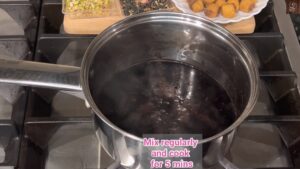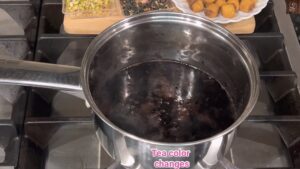 Furthermore, add sugar; mix well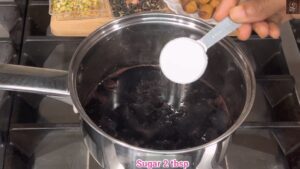 Boil in medium flame for 3 minutes. Cook more for strong tea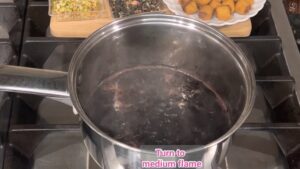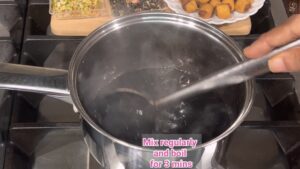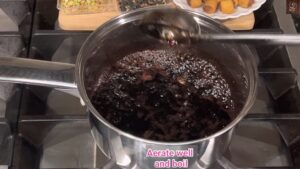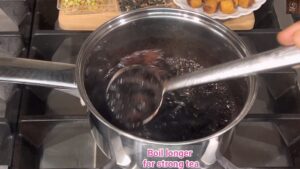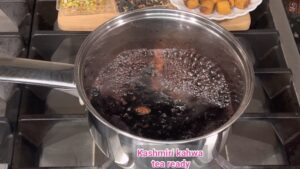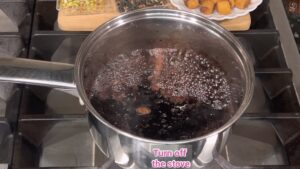 strain the kahwa tea decoction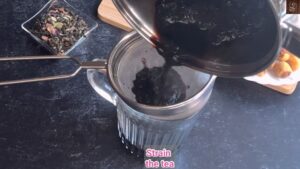 Add hot boiled milk. Adjust the quantity according to your taste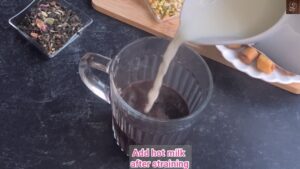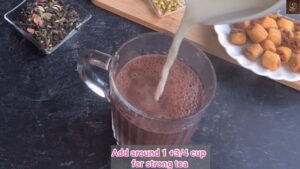 Finally, sprinkle crushed almonds and pistachios and serve hot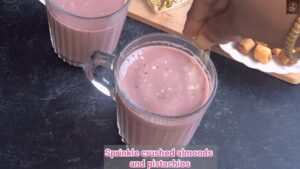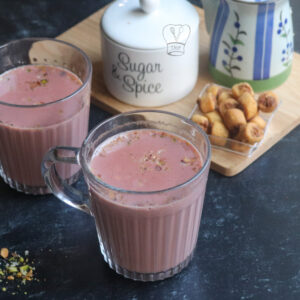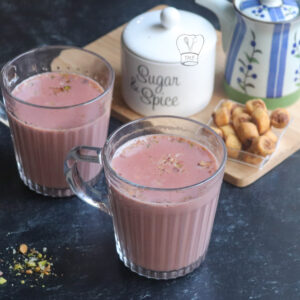 Ingredients
kahwa tea decoction
1

cup

water

1/2

tablespoon

+ 1 tablespoon Kashmiri kahwa leaves

2

tablespoon

sugar

1/4

teaspoon

baking soda
Sprinkle
crushed almonds and pistachios
Instructions
Add water to a wide heavy bottomed pan

Turn on the stove to medium flame

Furthermore, add Kashmiri kahwa leaves and bring to boil

Boil for 1 minute

Add baking soda; mix well and aerate the mixture

Boil for 5 minutes; mix well regularly

Turn down to low- medium flame; mix well and cook for 5 minutes

Furthermore, add sugar; mix well

Boil in medium flame for 3 minutes. Cook more for strong tea

Turn off the stove

strain the kahwa tea decoction

Add hot boiled milk. Adjust the quantity according to your taste

Finally, sprinkle crushed almonds and pistachios and serve hot
Video