Thayir semiya is a tasty one pot dish prepared with curd and semiya. Perfect make ahead recipe for get together. Semiya bagala bath can be prepared within 30 mins
Whenever I want to have something different and exotic for lunch, I think about Semiya Bagala Bath (Thayir semiya), as it is a tasty one pot meal which can be prepared with minimal effort.
I generally follow my mom's recipe for Semiya Bagala Bath. My sis and I are big fans of this dish, and Hubby joined the club after marriage. This is prepared similar to Curd Rice. Nuts and fruitsakes it extra special. Perfect for small gathering/ buffet or party.
Instead of adding Curd alone, Amma adds milk and curd approximately half the qty of milk and keeps it refrigrated. After 2- 3 hours, it tastes amazing. Make ahead delicacy. I am sure this would be a table winner dish!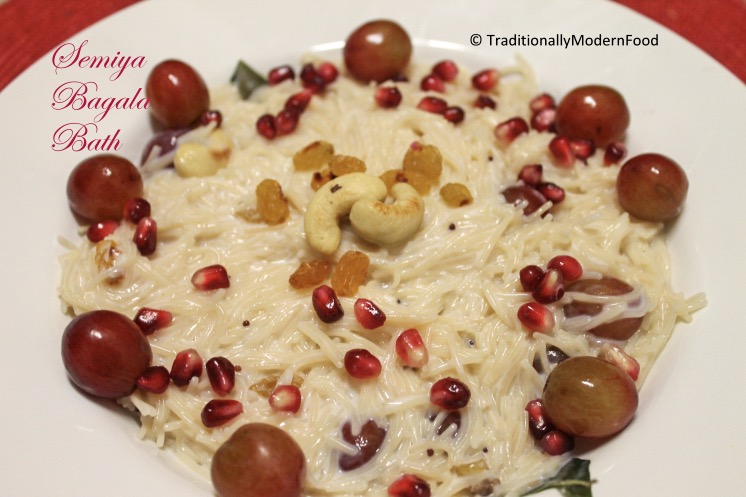 Ingredients:
Semiya (Vermicelli) -1 cup
Milk – 1 cup + 1/3 cup
Fresh Curd /Yogurt- 3/4 cup
Mustard seeds – 1/4 tsp
Curry Leaves – 1 spring
Green chillies – 1
water – 1 + 1/2 cup
Sugar – 1/2 tsp (optional)
Salt – to taste
Ghee / Oil – 1 tsp + 1/2 tsp
To Garnish
Raisin – 2 tbsp
Cashews – 10
Pomogranate seeds – 1/4 cup
Grapes – Handful
Method:
Add 1/2 tsp of ghee to the pan. When the ghee is hot, add cashews. when the cashews are half cooked, add raisins and cook till cashew are golden brown. Switch off and transfer to the plate. Without adding Ghee/oil, roast the semiya in the same pan for a 30-40 seconds (I used roasted semiya, but roasted again for the ghee fragrance). Transfer to a plate.
Add some more ghee to the pan. When it is hot, add mustard seeds, curry leaves and green chilli. When it splutters, add water, salt and sugar. When water starts boiling, add the semiya. When semiya is 3/4th cooked, add milk and cook till semiya becomes soft. If required, add some more water/milk. Switch off, and when the semiya comes to room temperature, add curd and mix well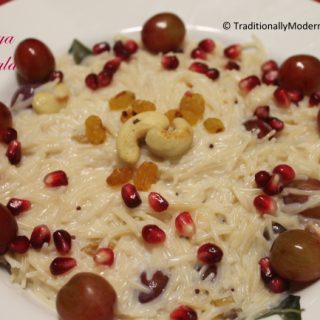 Semiya Bagala Bath
Tasty Bagala bath prepared with semiya. Fruits, nuts and eaiduunf make this extra special
Print
Pin
Comment
Ingredients
Semiya

Vermicelli -1 cup

Milk - 1 cup + 1/3 cup

Fresh Curd /Yogurt- 3/4 cup

Mustard seeds - 1/4 tsp

Curry Leaves - 1 spring

Green chillies - 1

Sugar - 1/2 tsp

optional

Salt - to taste

Ghee / Oil - 1 tsp + 1/2

To Garnish

Raisin - 2 tbsp

Cashews - 10

Pomogranate seeds - 1/4 cup

Grapes - Handful
Instructions
Add 1 tsp of ghee to the pan. When the ghee is hot, add cashews. when the cashews are half cooked, add raisins and cook till cashew are golden brown. Switch off and transfer to the plate. Without adding Ghee/oil, roast the semiya in the same pan for a minute (I used roasted semiya, but roasted again for the ghee fragrance). Transfer to a plate.

Add some more ghee to the pan. When it is hot, add mustard seeds, curry leaves and green chilli. When it splutters, add 1 cup of water, salt and sugar. When water starts boiling, add the semiya. When semiya is half cooked, add milk and cook till semiya becomes soft. If required, add some more water/milk. Switch off, and when the semiya comes to room temperature, add curd and mix well

Refrigerate for 3-4 hours. When you are about to eat, take it out of the refrigerator and add cashew, raisins, grapes and pomegranate. It might be a bit thick, coming straight out of the refrigerator. Add little milk/water in that case (I added some milk)
Notes
1. You can add urad dal while tempering
2. Grated Carrots and coriander leaves can also be used for garnish
3. Instead of adding milk, you can add curd fully
4. The dish can also be served without refrigerating
5. If it consumed after a longtime curd semiya might become thick. Add curd/water accordingly