Pasi paruppu sambar | Moong dal sambar | Payatham paruppu sambar | Tiffin sambar | idli sambar | pathiya samayal tiffin sambar | postpartum sambar | moong dal sambar | payatham paruppu sambar | sambar for idli and dosai | tiffin sambhar with step-by-step pictures, and video recipe. Check out the Pasi paruppu sambar video in Tamil and Pasi paruppu sambar video in English if you like the video pls SUBSCRIBE to my channel. Check out other Sambar recipes in TMF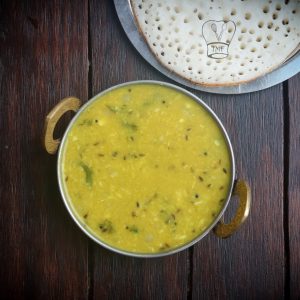 Why Moong dal

Sambhar?
Sambar is one of the most popular traditional south Indian dishes. A good amount of protein, and vegetables, blended with flavorful tiffin sambhar powder - makes it not only healthy & nutritious but also tastes delicious. Tiffin sambar variety is usually prepared with pasi paruppu.
What is special about Pathiya sambar?
As I mentioned in my Tiffin sambhar post, usually we add tomatoes for tiffin sambar. For lactating moms, we try to avoid tomatoes. For easy digestion, moong dal is used for everyday cooking. I have used little tamarind for sourness. https://youtube.com/playlist?list=PL3zYDDQHDMSt4djBfs3_IN5VlEXr9OEkf
Can I skip soaking dal?
Yes, soaking is optional but helps for mushy dal.
Can I reduce garlic?
I have added a lot of garlic to pathiya Samayal sambhar recipe. You can adjust according to your taste. https://youtube.com/playlist?list=PL3zYDDQHDMSuteYtc2K_POB5bhscOOBXw
Can I use vegetables?
you can add drumstick and brinjal for pathiya pasi paruppu sambar. You can also use Yellow pumpkin, carrot, potato, sweet potato, etc. for regular sambar.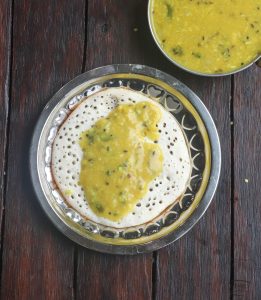 Will it be spicy?
No, pasi paruppu sambar is with a subtle taste. If you prefer spicy sambar adjust the sambar powder accordingly.
SHOULD I ADD THE GHEE TEMPERING?
Ghee is good for postpartum cooking but for regular sambar, you can use any cooking oil of your choice
WILL I TASTE RAW SMALL ONION?
No, since we directly pressure cook dal with onion with oil we won't taste raw smell.
How to make regular Payatham paruppu sambar?
pressure cook tomatoes along with dal
You can use red chilli/ green chilli for tempering
WHAT TASTES BEST WITH pasi paruppu SAMBHAR?
Sambhar plays a key role in South Indian cuisine. Tiffin Sambhar goes well with tiffin varieties like idli, dosa, uthappam, and Pongal variety. It also tastes good with rice.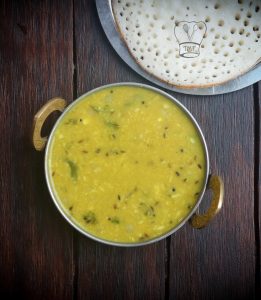 Other Sambar varieties in TMF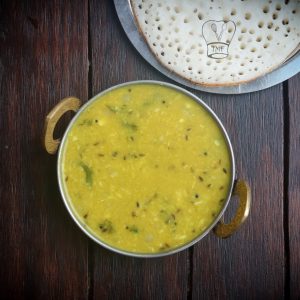 Ingredients
Cook dal
1/3

cup

moong dal

1

cup

water

5

big garlic

15

onion

1/4

teaspoon

turmeric powder

1/2

teaspoon

sesame oil
Prepare sambar
1/2

teaspoon

sambar powder

1

teaspoon

tamarind paste

Water 1 + 1/4 cup + as needed

Curry leaves few

Coriander leaves few

Asafoetida generous portion
To temper
1/2

tablespoon

ghee

1/4

teaspoon

mustard seeds

1/8

teaspoon

fenugreek seed

1

teaspoon

cumin seeds
Instructions
Firstly wash  and soak moong dal with enough water for 30 minutes and keep aside

Add dal, water, garlic, small onions, turmeric powder, and sesame oil to a pressure cooker

Close the lid and cook for 3-4 whistles. Simmer for 10 seconds and turn off the stove; do natural pressure release

Mash the dal well

Add water, sambar powder, tamarind paste, salt, coriander leaves, curry leaves, and asafoetida and mix well

Cook for 5-6 minutes until the sambar boils well; turn off the stove

Add ghee to a small pan and heat

When ghee turns hot add mustard seeds, fenugreek seeds, and cumin seeds and lets them splutter

Transfer it to the tiffin sambar and bring to boil; turn off the stove
Video
Notes
Soaking dal is optional but it helps for dal cooking
Adjust the water according to your dal
Turmeric powder and sesame oil helps for mushy dal
For postpartum friendly sambar I have added a lot of garlic and onion; adjust them according to your taste
regular tiffin sambar - not postpartum friendly
you can add 1 big tomato while pressure cooking
Red chilli/ green chilli can be added while tempering
Ingredients:
Cook dal
1/3 cup moong dal
1 cup water
5 big garlic
15 onion
1/4 teaspoon turmeric powder
1/2 teaspoon sesame oil
Prepare sambar
1/2 teaspoon sambar powder
1 teaspoon tamarind paste
Water 1 + 1/4 cup + as needed
Curry leaves few
Coriander leaves few
Asafoetida generous portion
To temper
1/2 tablespoon ghee
1/4 teaspoon mustard seeds
1/8 teaspoon fenugreek seed
1 teaspoon cumin seeds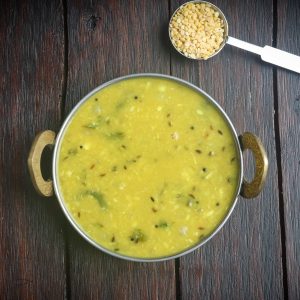 How to make moong dal sambar with step-by-step pictures
Firstly wash

and soak moong dal with enough water for 30 minutes and keep it aside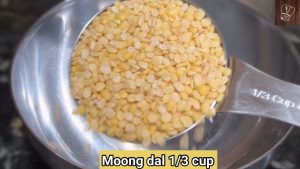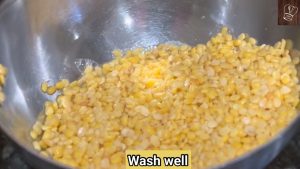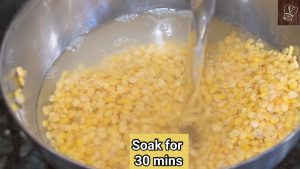 Add dal, water, garlic, small onions, turmeric powder, and sesame oil to a pressure cooker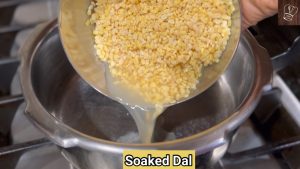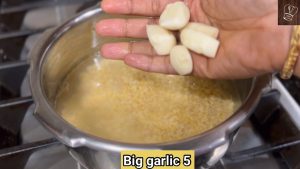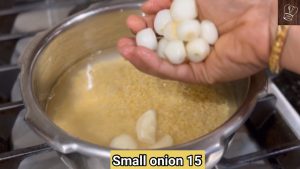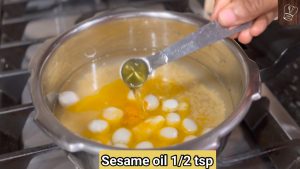 Close the lid and cook for 3-4 whistles. Simmer for 10 seconds and turn off the stove; do natural pressure release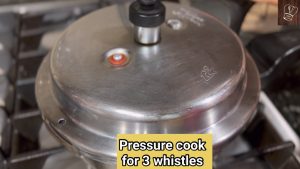 Add water, sambar powder, tamarind paste, salt, coriander leaves, curry leaves, and asafoetida and mix well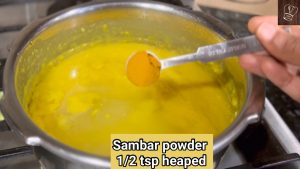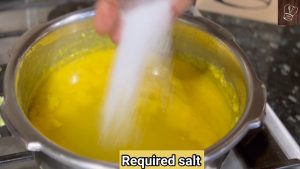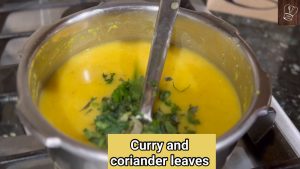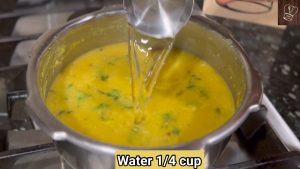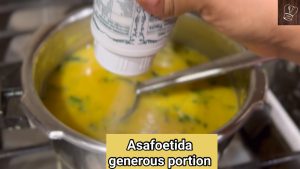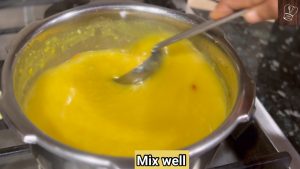 Cook for 5-6 minutes until the sambar boils well; turn off the stove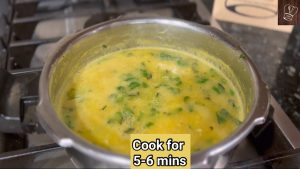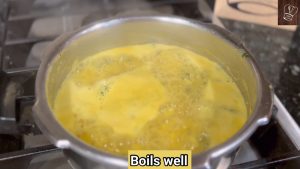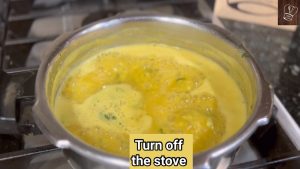 Add ghee to a small pan and heat
When ghee turns hot add mustard seeds, fenugreek seeds, and cumin seeds and lets them splutter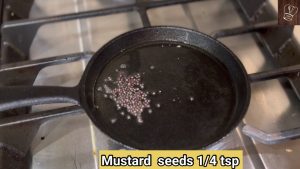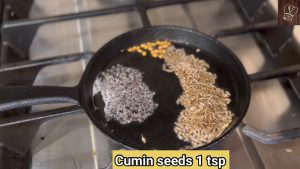 Transfer it to the tiffin sambar and bring it to a boil; turn off the stove