Tiffin sambar | idli sambar | hotel style tiffin sambar | hotel sambar | hotel tiffin sambhar | payatham paruppu sambar | easy hotel sambar recipe | Saravana Bhavan sambar | quick hotel style tiffin sambar | sambar for idli and dosai | restaurant-style tiffin sambar with step-by-step pictures, and video recipe. Check out the Tiffin sambar recipe and if you like the video pls SUBSCRIBE to my channel. Check out other Sambar recipes in TMF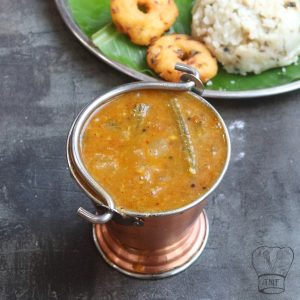 WHAT IS Tiffin

SAMBAR?
Sambar is one of the most popular traditional south Indian dishes. A good amount of protein, and vegetables, blended with flavorful tiffin sambhar powder - makes it not only healthy & nutritious but also tastes delicious. Unique tiffin sambar powder and preparation style make hotel-style sambhar so flavorful.
WHAT TASTES BEST WITH SAMBHAR?
Sambhar plays a key role in South Indian cuisine. Tiffin Sambhar goes well with tiffin varieties like idli, dosa, uthappam, and Pongal variety. It also tastes good with rice.
SHOULD I SOAK TOOR DAL and moong dal?
I have pressure cooked both dal directly in the cooker. Turmeric powder and sesame oil help with dal cooking. If you feel your dal needs some soaking, cook it accordingly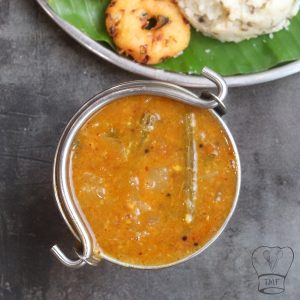 HOW MUCH WATER SHOULD I ADD WHILE COOKING DAL?
It depends on the dal you use. Adjust the water and number of whistles according to the dal you use.
WHAT VARIETY OF DAL SHOULD I USE FOR tiffin SAMBHAR?
For rice accompaniment sambar, I generally use toor dal. For tiffin sambar, I prefer using toor dal and moong dal. It gives the best taste and texture to the Restaurant sambar.
HOW MUCH SAMBAR POWDER SHOULD I USE?
For hotel sambar, I prefer making a tiffin sambar powder instead of using regular rice accompaniment sambhar powder. Adjust the amount according to your preference. For the specified quantity you will have leftover hotel sambhar powder. You can use it for up to one month
WHAT KIND OF VEGETABLES CAN I USE?
Drumstick tastes best for hotel sambar z I didn't have fresh so used frozen. You can also use Yellow pumpkin, carrot, eggplant, potato, sweet potato, etc. for sambhar.
Will I taste raw small onion?
No, since we directly pressure cook dal with onion with oil we won't taste raw smell.
should I add both varieties of onions?
Yes, both add a tasty flavor to the hotel-style sambhar. Always cut the onion into big slices and pressure cook small onions
Can I reduce tomatoes?
Tomatoes give a good taste to the restaurant sambar so prefer adding more tomatoes compared to tamarind.
SHOULD I ADD THE GHEE TEMPERING?
I generally use coconut oil for tempering and use little ghee towards the end. In our home, we prefer adding ghee while eating. You can use ghee according to your choice
WHAT SHOULD BE THE CONSISTENCY OF THE SAMBHAR?
Some like thin sambar while others prefer it thick. I prefer mine on the thicker side. And that's pretty much what you need to make sambhar at home. The consistency of the sambar can be adjusted according to your preference.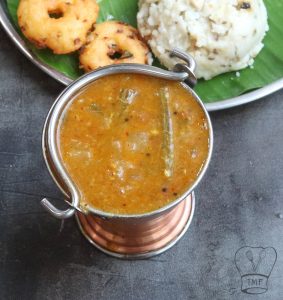 Other Sambar varieties in TMF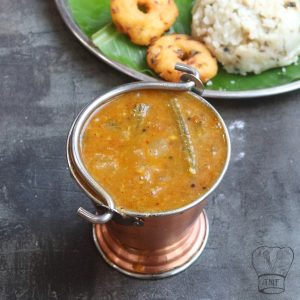 Ingredients
Pressure cook
3

tablespoon

moong dal

20

small onion

3

tablespoon

toor dal

1/4

teaspoon

turmeric powder

10

drumstick pieces

1/4

teaspoon

sesame oil

1

cup

water
Roast and grind
1/2

tablespoon

coriander seeds

1

teaspoon

pepper

1/2

tablespoon

chana dal

1

teaspoon

cumin seeds

5

red chilli

adjust according to your taste

1

teaspoon

fenugreek seeds

1/2

teaspoon

ghee
Temper
1

tablespoon

ghee

1/2

teaspoon

Mustard seeds

Curry leaves
Boil
250

grams

tomato

2

+ 1/2 cup water

1

tablespoon

tamarind paste

10

grams

jaggery

Required salt
Saute onion
1

tablespoon

peanut oil

1

sliced onion

1

teaspoon

Asafoetida

4

teaspoon

sambar powder
Instructions
Firstly, wash toor dal and moong dal and discard the water

Add both dal, small onions, drumsticks, water, turmeric powder, and sesame oil to a pressure cooker

Pressure cook for 3 whistles. Simmer for 2 minutes and do natural pressure release

Carefully open the cooker and mash the dal

Add 1 cup of hot water. Mix well and keep aside

Add ingredients under "Roast and grind" in a wide pan

saute well till they turn aromatic and turns golden brown

Transfer to a plate and cool completely

Add it to the mixie jar and grind into a fine powder

Add ghee and turn on the stove in medium flame and heat

When ghee turns hot add mustard seed and lets them splutter

Furthermore, add curry leaves and mix well

Add tomatoes and mix well

Cook for 5-7 minutes until tomatoes shrink

Add water and tamarind extract; mix well

Furthermore, add water; mix well and boil for 10 minutes

Add jaggery and salt; mix well and boil for 5 minutes

Furthermore, add dal and water; mix well and boil for 10 minutes

Meanwhile, add oil in a separate pan

When oil is hot add onion and saute till onions turn translucent

Furthermore, add asafoetida and mix well

Turn down to low flame, add sambar powder and mix well

Cook for 15 seconds. Turn off and move aside

After cooking the sambar for 10 minutes add sauteed onion and mix well

Furthermore add water, coriander leaves and bring to boil

Turn off the stove. Our tasty tiffin sambar is ready
Video
Ingredients
Pressure cook
3 tablespoon moong dal
20 small onion
3 tablespoon toor dal
1/4 teaspoon turmeric powder
10 drumstick pieces
1/4 teaspoon sesame oil
1 cup water
Cooked dal
1 cup hot water
Roast and grind
1/2 tablespoon coriander seeds
1 teaspoon pepper
1/2 tablespoon chana dal
1 teaspoon cumin seeds
5 red chilli, adjust according to your taste
1 teaspoon fenugreek seeds
1/2 teaspoon ghee
Temper
1 tablespoon ghee
1/2 teaspoon Mustard seeds
Curry leaves
Boil
250 grams tomato
2 + 1/2 cup water
1 tablespoon tamarind paste
10 grams jaggery
Required salt
Saute onion
1 tablespoon peanut oil
1 sliced onion
1 teaspoon Asafoetida
4 teaspoon sambar powder
Sprinkle
Coriander leaves few
How to make a tiffin Sambar with step by step pictures
Firstly, wash toor dal and moong dal and discard the water
Add both dal, small onions, drumsticks, water, turmeric powder, and sesame oil to a pressure cooker
Pressure cook for 3 whistles. Simmer for 2 minutes and do natural pressure release
Carefully open the cooker and mash the dal
Add 1 cup of hot water. Mix well and keep aside
Add ingredients under "Roast and grind" in a wide pan
saute well till they turn aromatic and turn golden brown
Transfer to a plate and cool completely
Add it to the mixie jar and grind it into a fine powder
Add ghee and turn on the stove on medium flame and heat
When ghee turns hot add mustard seed and lets them splutter
Furthermore, add curry leaves and mix well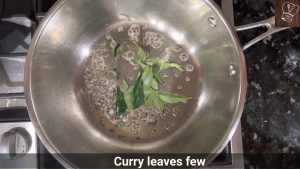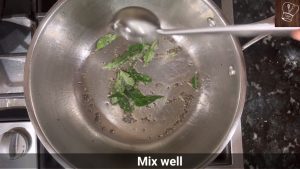 Add tomatoes and mix well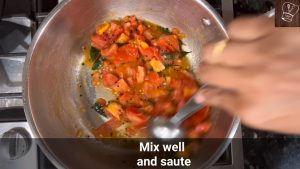 Cook for 5-7 minutes until tomatoes shrink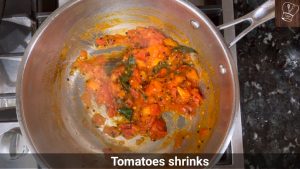 Add water and tamarind extract; mix well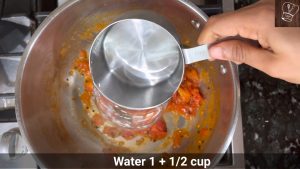 Furthermore, add water; mix well and boil for 10 minutes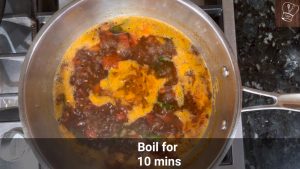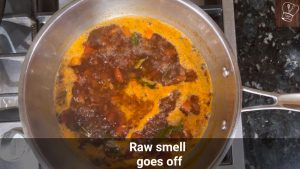 Add jaggery and salt; mix well and boil for 5 minutes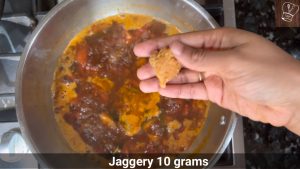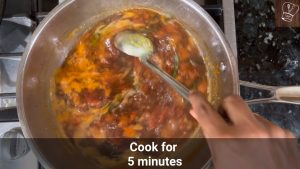 Furthermore, add dal and water; mix well and boil for 10 minutes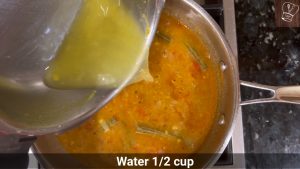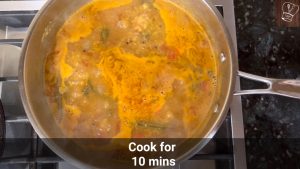 Meanwhile, add oil in a separate pan
When oil is hot add onion and saute till onions turn translucent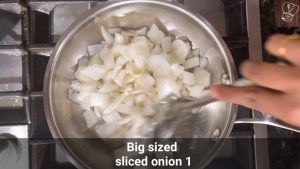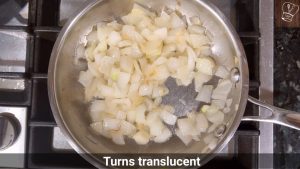 Furthermore, add asafoetida and mix well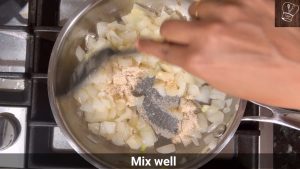 Turn down to low flame, add sambar powder, and mix well
Cook for 15 seconds. Turn off and move aside
After cooking the sambar for 10 minutes add sauteed onion and mix well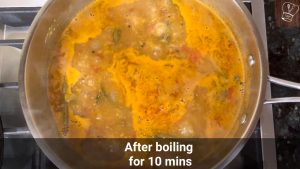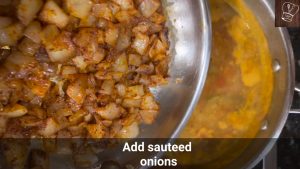 Furthermore add water, and coriander leaves and bring to boil
Turn off the stove. Our tasty tiffin sambar is ready