Bitter gourd chips | karela chips | crispy bitter gourd fry | pavakka fry | hagalkayi chips | crispy karela | pavakkai varuval | bitter gourd fry | pavakkai fry| Kerala style pavakka recipe | Kerala bitter gourd fry | pavakkai varuval Check out the Bitter gourd chips recipe and If you like the video pls SUBSCRIBE to my channel.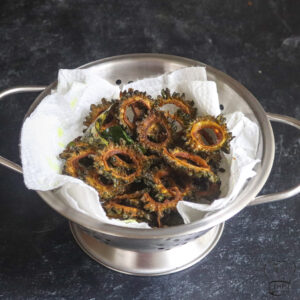 KERALA style bitter gourd fry
Bitter gourd marinated in masala and then deep fried in coconut oil is crunchy and tasty fry that tastes best aside for rice varieties and also tea time snacks.
CHOSE RIGHT RAW bitter gourd
Avoid small karela. Always use a green karela. Use a sharp knife and cut thin slices. Avoid using a mandoline slicer. I prefer to discard the seeds.
Don't skip the marination
Marination helps for flavorful pavakka chips. If you fry the bitter gourd immediately it might not get all the flavors. Add the masala of your choice, mix well, and marinate.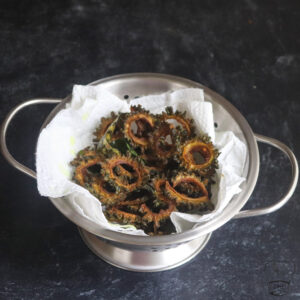 HOW TO CHECK IF THE OIL IS AT THE RIGHT TEMPERATURE?
Check the oil temperature by adding a small slice of the hagalkayi. If the raw banana comes up gradually and steadily on top, the oil is hot enough to fry. If it comes up too quickly, then the oil is too hot. Simmer and adjust to the right temperature. If it settles down at bottom of Kadai or comes up very slowly, the oil is not hot enough, so increase the heat.
Coconut oil for frying
Coconut oil gives the best taste but you can use any oil of your choice.
TIPS TO MAKE CRISPY CHIPS
If the flame is low when you slice the chips, the chips might not turn crisp. Also, chips might turn oily

If the pavakkai pieces are thick chips not be crispy
Will the fry stays crisp for days?
Since I didn't add much flour crisp stays best when consumed immediately. If you are planning to make it ahead and store it for 2 days. Add besan flour and increase rice flour.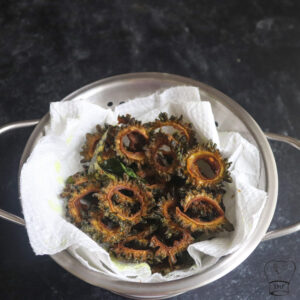 Ingredients
1 bitter gourd, big
Required salt
3/4 teaspoon chilli powder
1/4 teaspoon turmeric powder
1/2 teaspoon coconut oil
3/4 teaspoon rice flour
coconut oil, to fry
fey curry leaves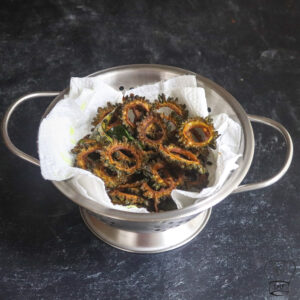 How to make bitter gourd chips with step-by-step pictures
First, wash the bitter gourd and wipe it completely
Slice a thin disc with a sharp knife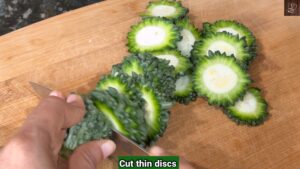 Press and discard the center portion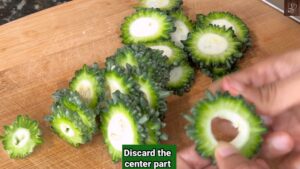 Transfer to a wide vessel
Furthermore add the required salt, chilli powder, turmeric powder, and coconut oil; mix well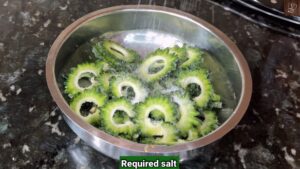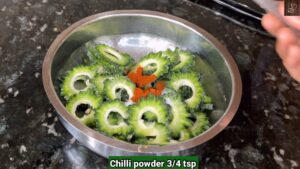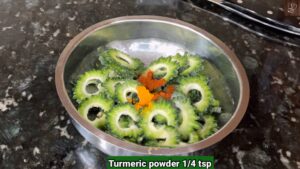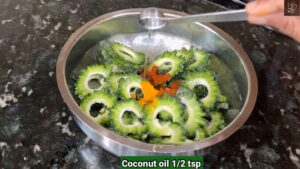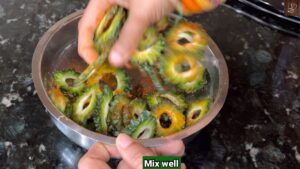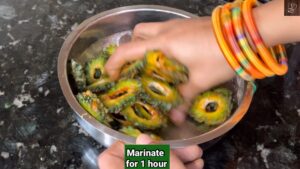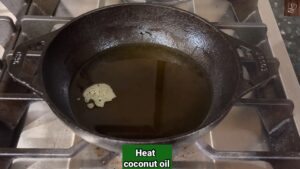 Add rice flour just before frying and mix well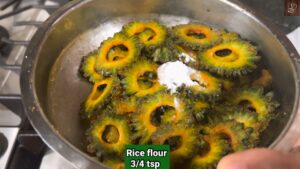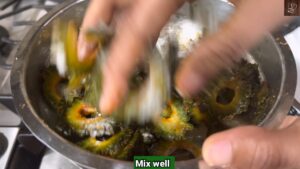 Check if oil is oil, add pavakkai in batches, and fry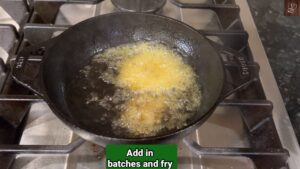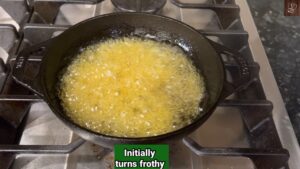 Flip and fry evenly till the froth subsides and the ssh sound ceases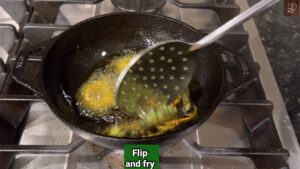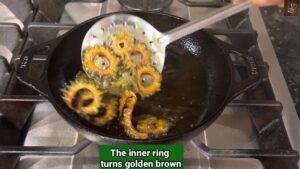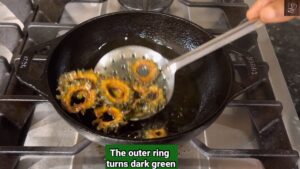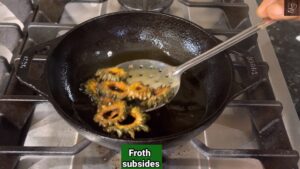 Use a perforated ladle and drain the excess oil. Take them out and place them on a colander with a kitchen paper towel
Repeat and fry all the batches
Finally, fry curry leaves and mix them with pavakkai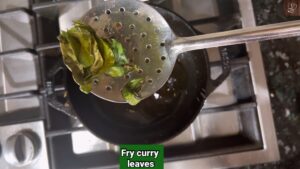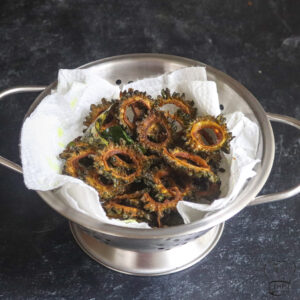 Ingredients
1

bitter gourd

big

Required salt

3/4

teaspoon

chilli powder

1/4

teaspoon

turmeric powder

1/2

teaspoon

coconut oil

3/4

teaspoon

rice flour

coconut oil

to fry

fey curry leaves
Instructions
First, wash the bitter gourd and wipe it completely

Slice a thin disc with a sharp knife

Press and discard the center portion

Transfer to a wide vessel

Furthermore add the required salt,  chilli powder, turmeric powder, and coconut oil; mix well

Marinate for 1 hour

Heat coconut oil

Add rice flour just before frying and mix well

Check if oil is oil, add pavakkai in batches, and fry

Flip and fry evenly till the froth subsides and the ssh sound ceases

Use a perforated ladle and drain the excess oil. Take them out and place them on a colander with a kitchen paper towel

Repeat and fry all the batches

Finally, fry curry leaves and mix them with pavakkai
Video
Notes
Avoid small karela. Always use a green karela. Use a sharp knife and cut thin slices. Avoid using a mandoline slicer. I prefer to discard the seeds
Marination helps for flavorful pavakka chips. If you fry the bitter gourd immediately it might not get all the flavors. Add the masala of your choice, mix well, and marinate
Check the oil temperature by adding a small slice of the hagalkayi. If the raw banana comes up gradually and steadily on top, the oil is hot enough to fry. If it comes up too quickly, then the oil is too hot. Simmer and adjust to the right temperature. If it settles down at bottom of Kadai or comes up very slowly, the oil is not hot enough, so increase the heat
Coconut oil gives the best taste but you can use any oil of your choice
Since I didn't add much flour crisp stays best when consumed immediately. If you are planning to make it ahead and store it for 2 days. Add besan flour and increase rice flour
TIPS TO MAKE CRISPY CHIPS
If the flame is low when you slice the chips, the chips might not turn crisp. Also, chips might turn oily
If the pavakkai pieces are thick chips not be crispy