Bread cutlet | bread potato cutlet | bread cutlet with potatoes | vegetable bread cutlet with step-by-step pictures and video recipe. Check out the Bread cutlet recipe. If you like the video pls SUBSCRIBE to my channel.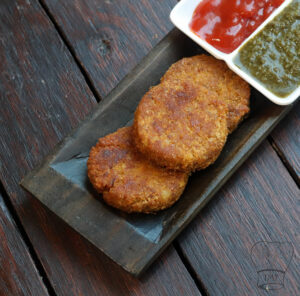 Bread cutlet
A flavorful cutlet with bread and potatoes is the best way to finish leftover bread. Tasty after-school snacks and a good starter for get together/ dinner parties.
What kind of bread works best for all cutlets with bread
I used whole wheat (60 Cal) bread. You can use any variety of bread according to your taste. The flavor might slightly vary based on the bread you use.
Should I peel potatoes?
It is optional. You can boil the potatoes and then peel the skin.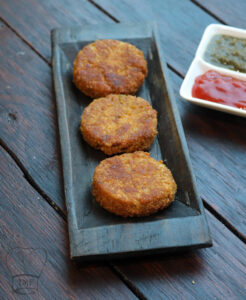 Vegetables for bread tikki
You can add carrots, capsicum, broccoli, cabbage, or any other vegetables of your choice.
Should I measure the water?
It is optional but I prefer quantifying as it helps to add the right amount of water
Should I toast half amount of bread?
Yes, I would recommend doing it as it gives the best texture for the potato cutlet with bread.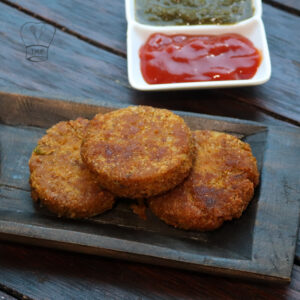 Should I trim the bread edges?
I generally don't trim the edges. If don't like the taste, trim and adjust the number of bread accordingly
Can I use store-bought bread crumbs?
Yes, you use store-bought breadcrumbs as required. I prefer using homemade as it is not the only best way to finish leftover bread but also gives a good taste.
Seasoning for bread aloo cutlet
You can use any masala powder or seasoning of choice
Should I deep fry?
I prefer shallow frying but you can deep fry according to your choice. If you are planning to make ahead cutlet for the party. Double frying the Cutlet helps to retain the crispy texture for hours. First Fry till pale brown then double fry till they turn golden brown.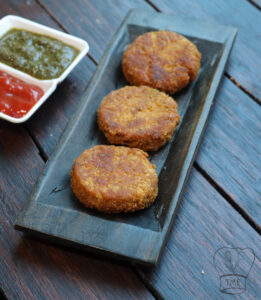 Ingredients
Pressure cook
100 grams potatoes
1 tablespoon frozen peas
1/3 cup water
1/8 teaspoon turmeric powder
Cutlet dough
2 wheat bread
Required salt
1 teaspoon kitchen king masala
1/2 teaspoon Kashmiri chilli powder
Breadcrumbs
2 wheat bread
1/2 teaspoon garlic salt
1/8 teaspoon ginger powder
shallow fry
Oil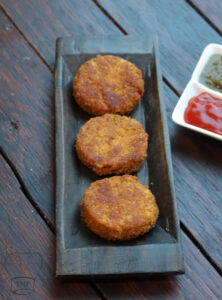 How to make bread cutlet with step-by-step pictures
Pressure cook
First, peel potatoes and roughly chop
Add potatoes, peas, water, and turmeric powder; pressure cook for 2 whistles and do natural pressure release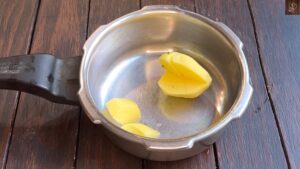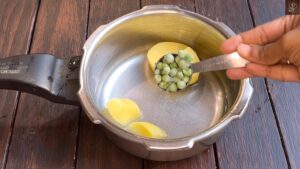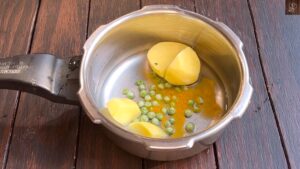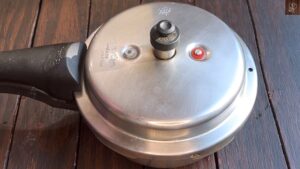 Knead and rest
Take the potatoes and peas in a perforated ladle and transfer them to a wide bowl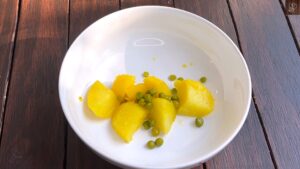 Dip the bread in the water we used for cooking potatoes; flip and transfer
Furthermore add the required salt, kitchen king masala, and Kashmiri chilli powder; mix well and knead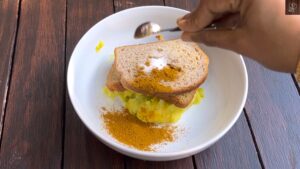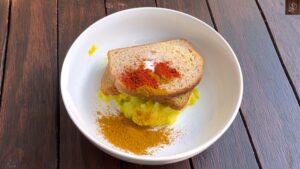 Cover with a damp kitchen towel and rest for at least 1 hour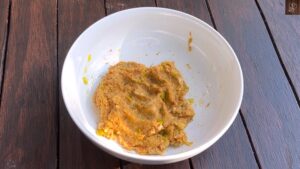 Breadcrumbs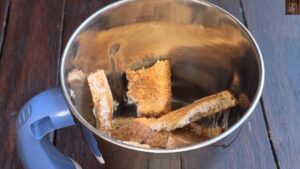 Grind and prepare breadcrumbs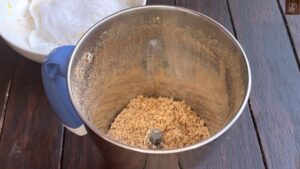 Furthermore, add garlic salt and ginger powder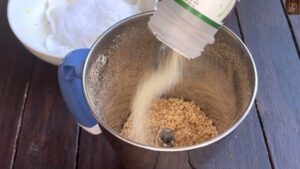 Transfer to a plate and mix well
Bread cutlet
Add little oil and knead the potato-bread dough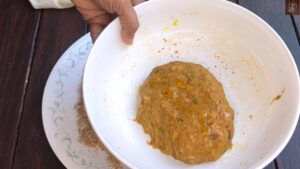 Transfer; mix well and knead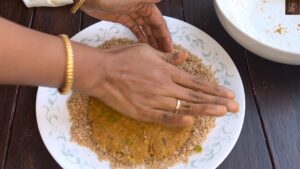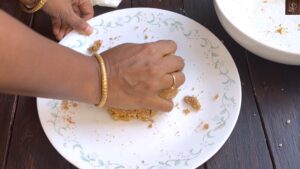 Place the prepared dough on the chappathi press
Drizzle oil and place parchment paper on top
Roll and press to desired texture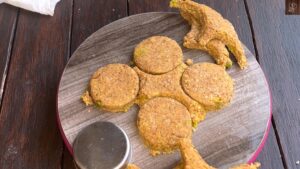 Press and shape cutlet
Gather the rest of the dough and repeat the process
Heat oil to shallow fry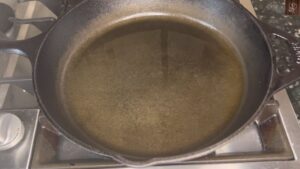 Gently add bread flattened dough and shallow fry on both sides golden fry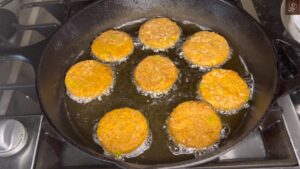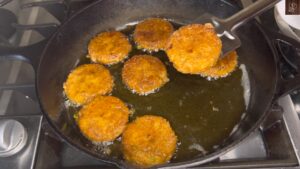 Transfer to a colander containing a kitchen paper towel; drain the oil and enjoy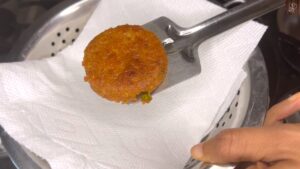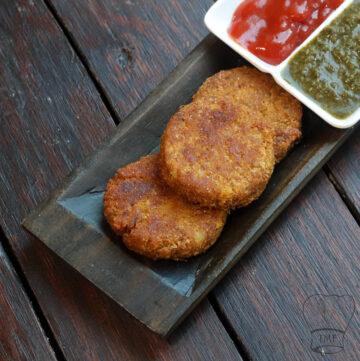 Ingredients
Pressure cook
100

grams

potatoes

1

tablespoon

frozen peas

1/3

cup

water

1/8

teaspoon

turmeric powder
Cutlet dough
2

wheat bread

Required salt

1

teaspoon

kitchen king masala

1/2

teaspoon

Kashmiri chilli powder
Breadcrumbs
2

wheat bread

1/2

teaspoon

garlic salt

1/8

teaspoon

ginger powder
Instructions
Pressure cook
First, peel potatoes and roughly chop

Add potatoes, peas, water, and turmeric powder; pressure cook for 2 whistles and do natural pressure release
Knead and rest
Take the potatoes and peas in a perforated ladle and transfer them to a wide bowl

Dip the bread in the water we used for cooking potatoes; flip and transfer

Furthermore add the required salt, kitchen king masala, and Kashmiri chilli powder; mix well and knead

Cover with a damp kitchen towel and rest for at least 1 hour
Breadcrumbs
Toast bread and cool

Grind and prepare breadcrumbs

Furthermore, add garlic salt and ginger powder

Transfer to a plate and mix well
Bread cutlet
Add little oil and knead the potato-bread dough

Transfer; mix well and knead

Place the prepared dough on the chappathi press

Drizzle oil and place parchment paper on top

Roll and press to desired texture

Press and shape cutlet

Gather the rest of the dough and repeat the process

Heat oil to shallow fry

Gently add bread flattened dough and shallow fry on both sides golden fry

Transfer to a colander containing a kitchen paper towel; drain the oil and enjoy
Video
Notes
I used whole wheat (60 Cal) bread. You can use any variety of bread according to your taste. The flavor might slightly vary based on the bread you use
Peeling potatoes are optional. You can boil the potatoes and then peel the skin.
You can add carrots, capsicum, broccoli, cabbage, or any other vegetables of your choice
Measuring water  is optional but I prefer  quantifying as it helps to add the right amount of water
Resting the dough helps for perfect texture so I would recommend that
Toasting half the bread gives the best texture for the potato cutlet with bread
I generally don't trim the edges. If don't like the taste, trim and adjust the number of bread accordingly
you use store-bought breadcrumbs as required. I prefer using homemade as it is not only the best way to finish leftover bread but also gives a good taste
you can use any masala powder or seasoning of choice
I prefer shallow frying but you can deep fry according to your choice. If you are planning to make ahead cutlet for the party. Double frying the Cutlet helps to retain the crispy texture for hours. First Fry till pale brown then double fry till they turn golden brown