Cashew paruppu thengai | முந்திரி பருப்பு தேங்காய் சீர் பக்ஷணம் | Mundhiri paruppu thengai | Munthiri paruppu thengai | Cashewnut paruppu thengai | Seer koodu | Seer bakshanam with step-by-step pictures and video recipes. Check out the Cashew paruppu thengai recipe and if you like the video pls SUBSCRIBE to my channel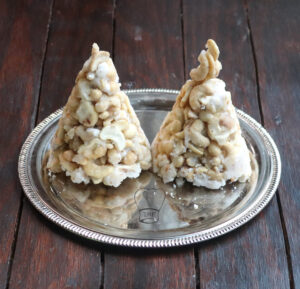 Mundiri paruppu thenga | Cashew paruppu thengai is a traditional Tamil brahmin Seer bakshanam often prepared during special occasions like marriage, punnal, seemandham, grahapravesam, etc. rich and tasty sugar-coated cashew nuts are so additive
Jump to:
How long should I roast cashew?
Always roast the cashews till they turn hot and slightly change color. Avoid turning the cashews golden brown.
should I add oil or ghee while roasting cashews?
No, always dry roast the cashews. Cashewnuts in mundhiri paruppu thenga are always Soft
can I use whole cashews?
I would recommend cutting it in half and use. Avoid fine chopping
Can I reduce sugar for cashew nut paruppu thengai?
YOu can reduce a little but I would recommend the mentioned quantity of sugar as it helps for perfect sugar-coated cashews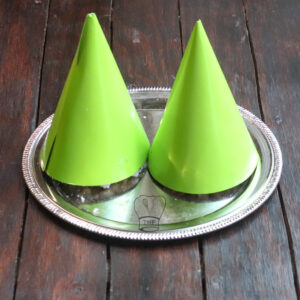 Sugar syrup consistency?
Sugar syrup will be extremely hot so add water to a small cup and test. For best munthiri paruppu thenga the sugar syrup must be soft ball stage. Refer video
Fix for sugar syrup crystallizes?
add little water and cook for additional time
how to fix if the cashew-sugar syrup mixture crystallizes?
Cook in low flame for around 30 seconds or till it comes to desired consistency.
Rest for 6 hours
After adding the cashew mixture always rest the cone for at least 6 hours. Avoid covering and inverting the cone.
For the Cashew paruppu thengai video recipe in Tamil
why birthday hat for paruppu thenga?
Traditionally paruppu thengai koodu is used but since I didnt have it I used birthday hats. Avoid using a birthday hat directly. Always use a layer of aluminum foil and parchment paper. Refer video for detailed instruction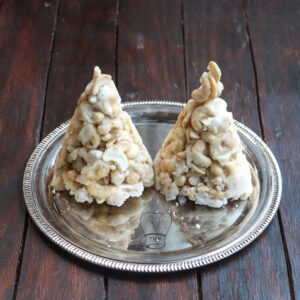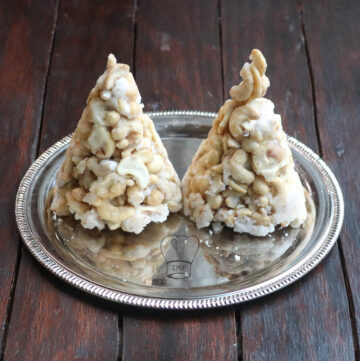 Ingredients
300

grams

cashew

around 2 cups

1

+ 3/4 cup sugar

3/4

cup

hot water

1/8

teaspoon

cardamom powder
Instructions
Saute cashews
Firstly, Dry roast cashews for 2-3 minutes till they turn hot and slightly change color. you need not roast cashew golden brown

Turn off the stove and transfer the cashews to a wide vessel
prepare sugar syrup
Add hot water to the same pan and boil

Furthmore, add sugar and bring to boil

Bring to boil and let the sugar melt

Add cardamom powder; mix well and boil

When it frothy boils start checking the sugar syrup
Sugar syrup testing
Add a little syrup into a bowl containing cold water

First stage - Sugar syrup melts in water

Second stage - Sugar syrup stays in water but is not able to hold

Third stage - Sugar syrup is able to hold but cant roll into a ball

Fourth stage - Able to hold and can roll into a soft ball

Turn off the stove immediately and mix well
Paruppu thengai
Carefully add the hot sugar syrup to the vessel containing cashews

Mix quickly and make sure sugar syrup is well combined with the cashews

Split and add the mixture and transfer to both the birthday hats

Gently tap and add quickly

If the cashew sugar mixture crystallizes, cook on low flame for 30 seconds or until they turn to desired consistency

Split and add the mixture

Finally grease your hands with little ghee and gently level both the paruppu thengai

Keep aside and rest for at least 6 hours

After mundiri paruppu thengai is well set, unmold the paruppu thengai on a plate
Video
Notes
Saute Cashews
Avoid adding oil/ghee while roasting cashews
cashew nuts are soft in paruppu thengai so avoid sauteeing them in golden brown
Cut cashews in half. Avoid fine chopping
Sugar syrup
Adjust sugar according to your taste
After sugar syrup comes to the third stage reduce the flame and cook till the soft ball stage
Turn off the stove and mix well 
if sugar syrup crystallizes, add little water and cook the sugar syrup
Paruppu thengai
You can use traditional Paruppu thengai kodu instead of a birthday hat
if cashew- sugar syrup crystallize, cook on low flame
rest both the cones for at least 6 hours

Ingredients
300 grams cashew, around 2 cups
1 + 3/4 cup sugar
3/4 cup hot water
1/8 teaspoon cardamom powder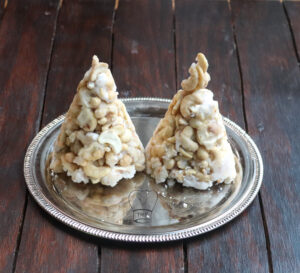 How to make Cashew paruppu thengai with step by step pictures
Saute cashews
Firstly, Dry roast cashews for 2-3 minutes till they turn hot and slightly change color. you need not roast cashew golden brown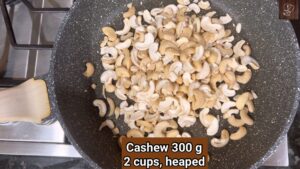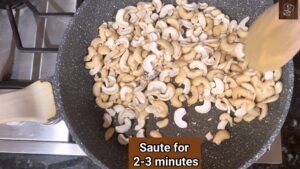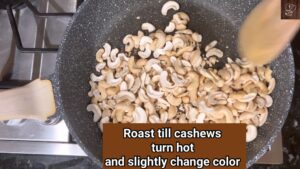 Turn off the stove and transfer the cashews to a wide vessel
Prepare sugar syrup
Add hot water to the same pan and boil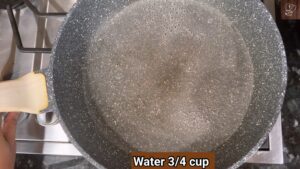 Furthmore, add sugar and bring to boil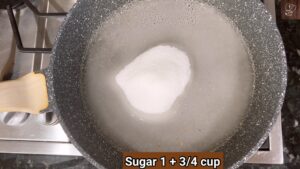 Bring to boil and let the sugar melt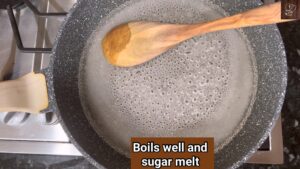 Add cardamom powder; mix well and boil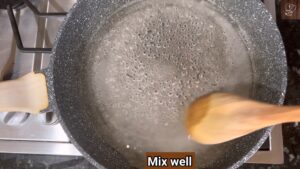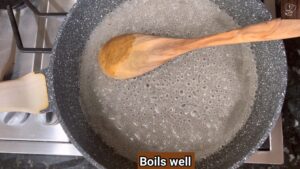 When it frothy boils start checking the sugar syrup
Sugar syrup testing
Add a little syrup into a bowl containing cold water
First stage - Sugar syrup melts in water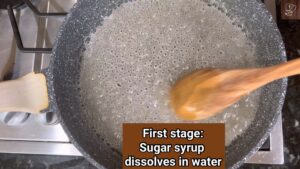 Second stage - Sugar syrup stays in water but is not able to hold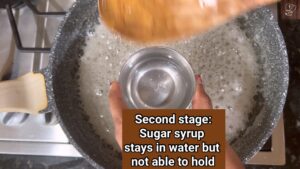 Third stage - Sugar syrup is able to hold but cant roll into a ball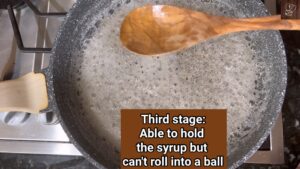 Fourth stage - Able to hold and can roll into a soft ball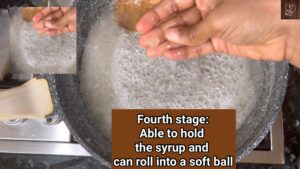 Turn off the stove immediately and mix well
Paruppu thengai
Carefully add the hot sugar syrup to the vessel containing cashews
Mix quickly and make sure sugar syrup is well combined with the cashews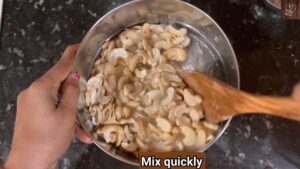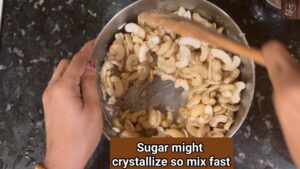 Split and add the mixture and transfer to both the birthday hats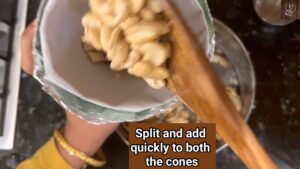 Gently tap and add quickly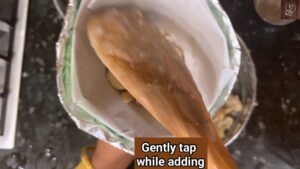 If the cashew sugar mixture crystallizes, cook on low flame for 30 seconds or until they turn to desired consistency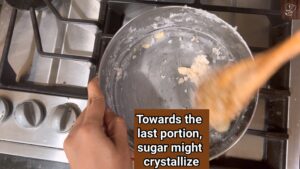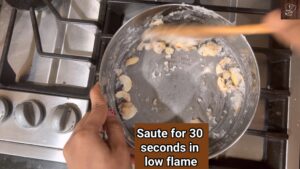 Split and add the mixture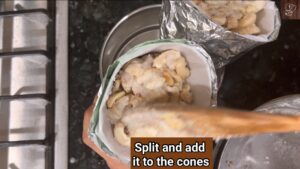 Finally grease your hands with little ghee and gently level both the paruppu thengai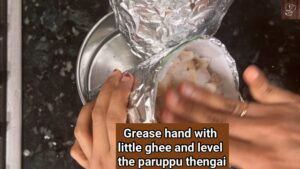 Keep aside and rest for at least 6 hours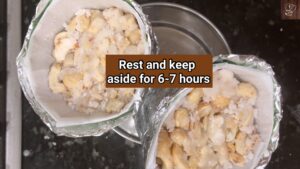 After mundiri paruppu thengai is well set, unmold the paruppu thengai on a plate