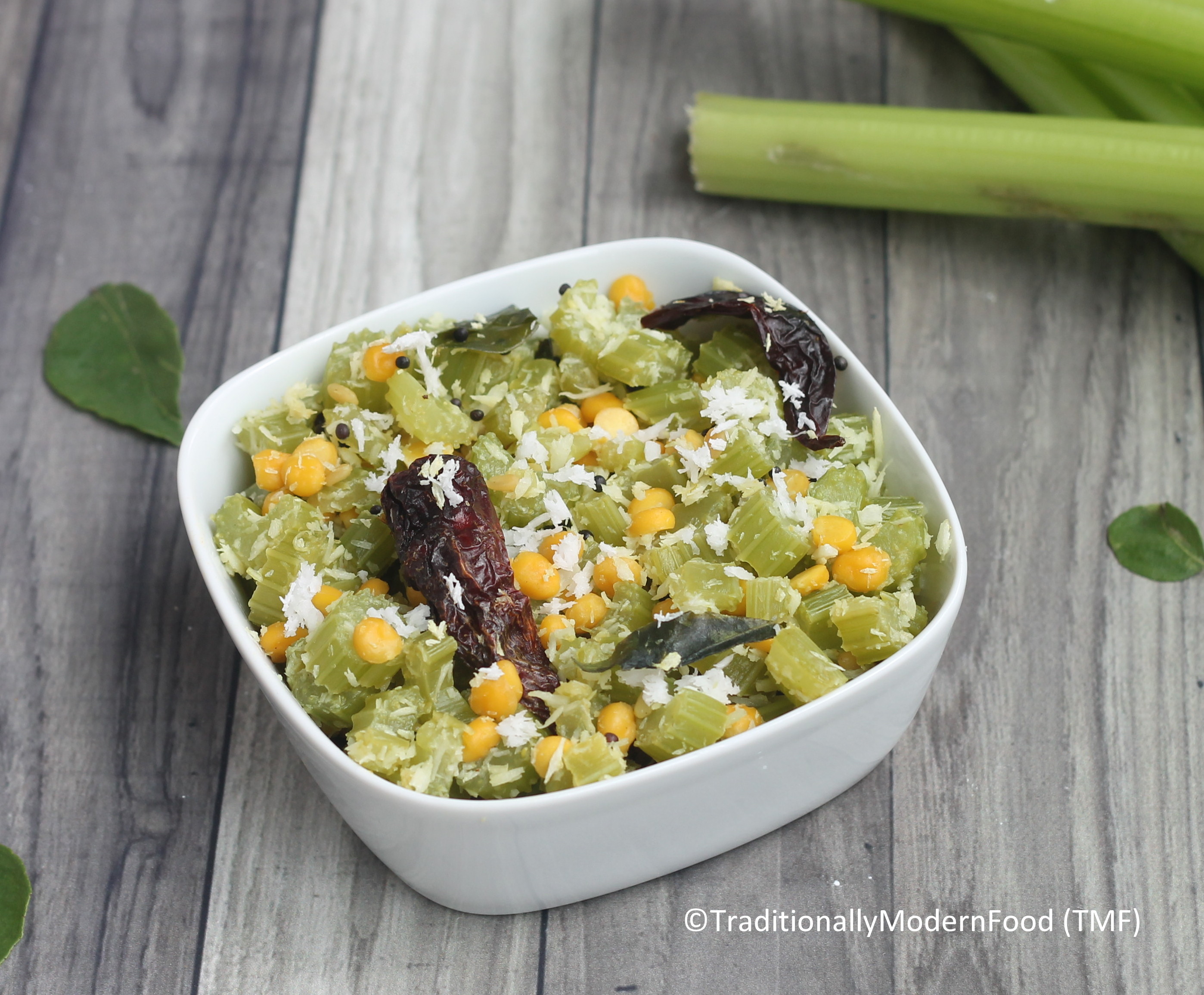 Celery Poriyal is a tasty vegan side dish with celery. Celery is cooked in south Indian style, and goes well with rice and roti. Healthy Celery Poriyal can be prepared within 15 minutes.
I couldn't believe that it is already May. Time flies like anything. I have been posting couple of dry Indian side dish and this will be the last in series. Let's give a small break for dry side dish in TMF.
Coming back to Celery, after coming to US, I got acquainted to Celery. I am not a big fan of celery but the healthy aspects in celery made me to include it often at home. Now a days I started buying celery in Costco, and have been preparing smoothie regularly.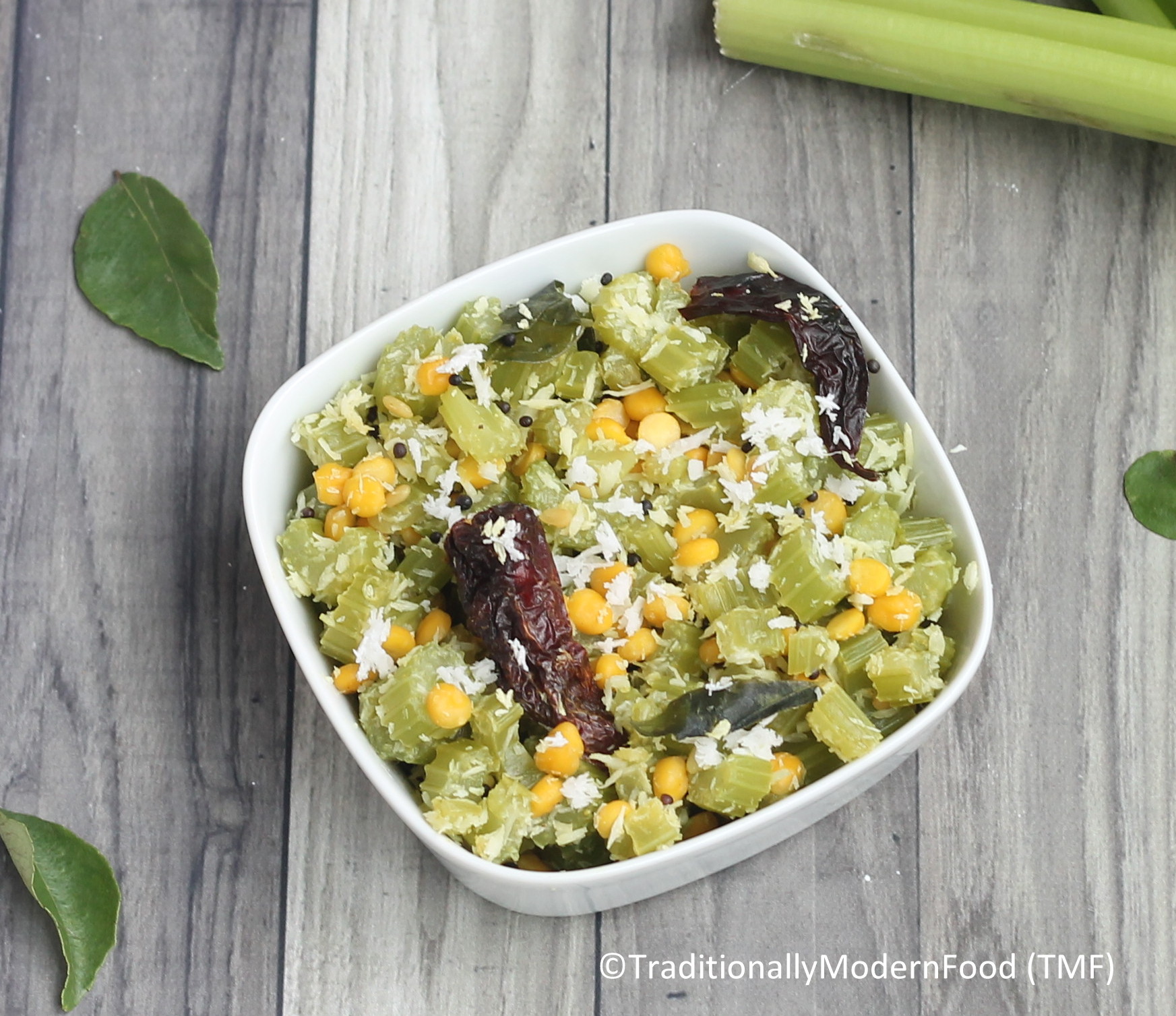 Celery reminds me Amma's Pudalangai curry. I like using the vegetables we get here in Indian version so this curry pulled my attention. She had prepared Celery with carrot.
I have prepared the celery poriyal similar to the usual Thengai curry. If you like celery and finding ways to use it in everyday diet celery poriyal is one nice way. Celery poriyal goes well with any rice accompaniment.
For other Celery based recipes in TMF,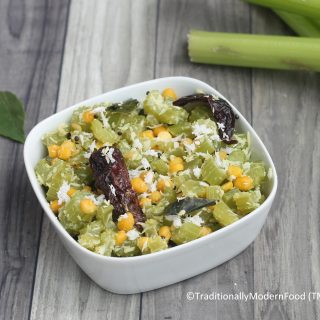 Celery Thengai Poriyal | Celery Curry
Tasty vegan side dish with celery. Celery is cooked in Indian style goes well with rice and roti. Healthy Celery curry can be prepared within 15 minutes
Print
Pin
Comment
Ingredients
Celery - 1 cup + 1/2 cup

Coconut - 2 tbsp

Channa dal - 1 + 1/2 tbsp

Salt - as needed

Sugar - pinch

Turmeric powder - generous pinch

Coriander powder - 1/4 tsp

Water - 1/3cup

To temper:

Coconut oil - 1 tsp

Mustard seeds - 1/4 tsp

Urad dal - 1/2 tsp

Red chilli - 2

Curry leaves - few
Instructions
Soak Channa dal in warm water for 15 minutes and strain the liquid

In a pan add oil and once when the oil is hot add all the ingredients under "to temper" and let it splutter

Add all the ingredients except water and sugar; mix well

Add 3 tbsp of water and cover with a glass lid containing pores. Cook for 5 minutes

Add remaining water and cook for another 5-6 minutes or till it is done. If required add some extra water

Switch off and add coconut. Mix well and serve
Video
Notes
Celery and channa dal can be cooked separately and added to the poriyal
Cooking time may vary depending on the celery
Make sure Channa dal is soaked well for faster cooking
If you are using frozen coconut thaw it before using
Ingredients:
Celery – 1 cup + 1/2 cup
Coconut – 2 tbsp
Channa dal – 1 + 1/2 tbsp
Salt – as needed
Sugar – pinch
Turmeric powder – generous pinch
Coriander powder – 1/4 tsp
Water – 1/3cup
To temper:
Coconut oil – 1 tsp
Mustard seeds – 1/4 tsp
Urad dal – 1/2 tsp
Red chilli – 2
Curry leaves – few
Method:
Soak Channa dal in warm water for 15 minutes and strain the liquid

In a pan add oil and once when the oil is hot add all the ingredients under "to temper" and let it splutter

Add all the ingredients except water and sugar; mix well
Add 3 tbsp of water and cover with a glass lid containing pores. Cook for 5 minutes

Add remaining water and cook for another 5-6 minutes or till it is done. If required add some extra water
Switch off and add coconut. Mix well and serve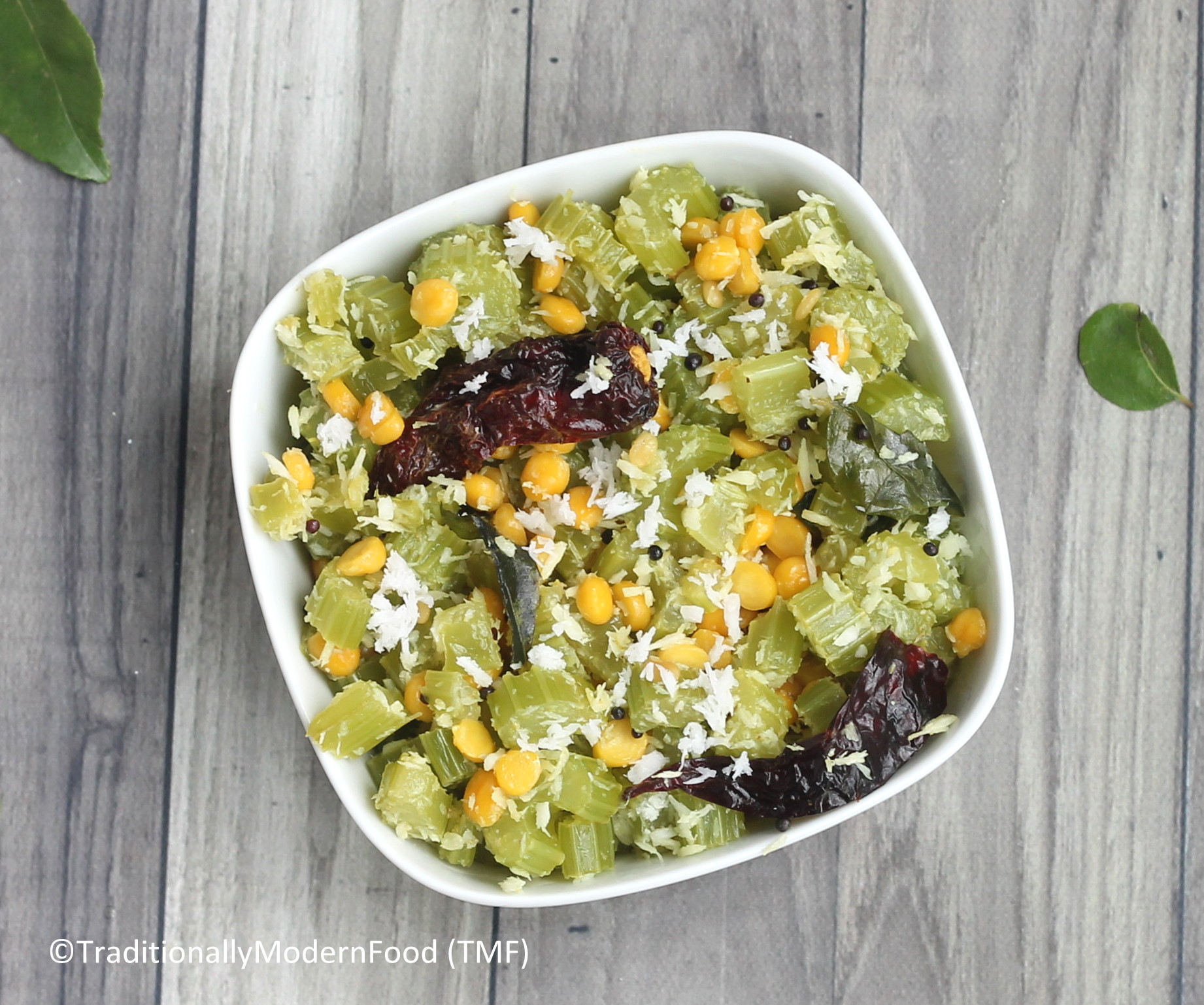 Pls. Follow TMF social media for recipes updates,