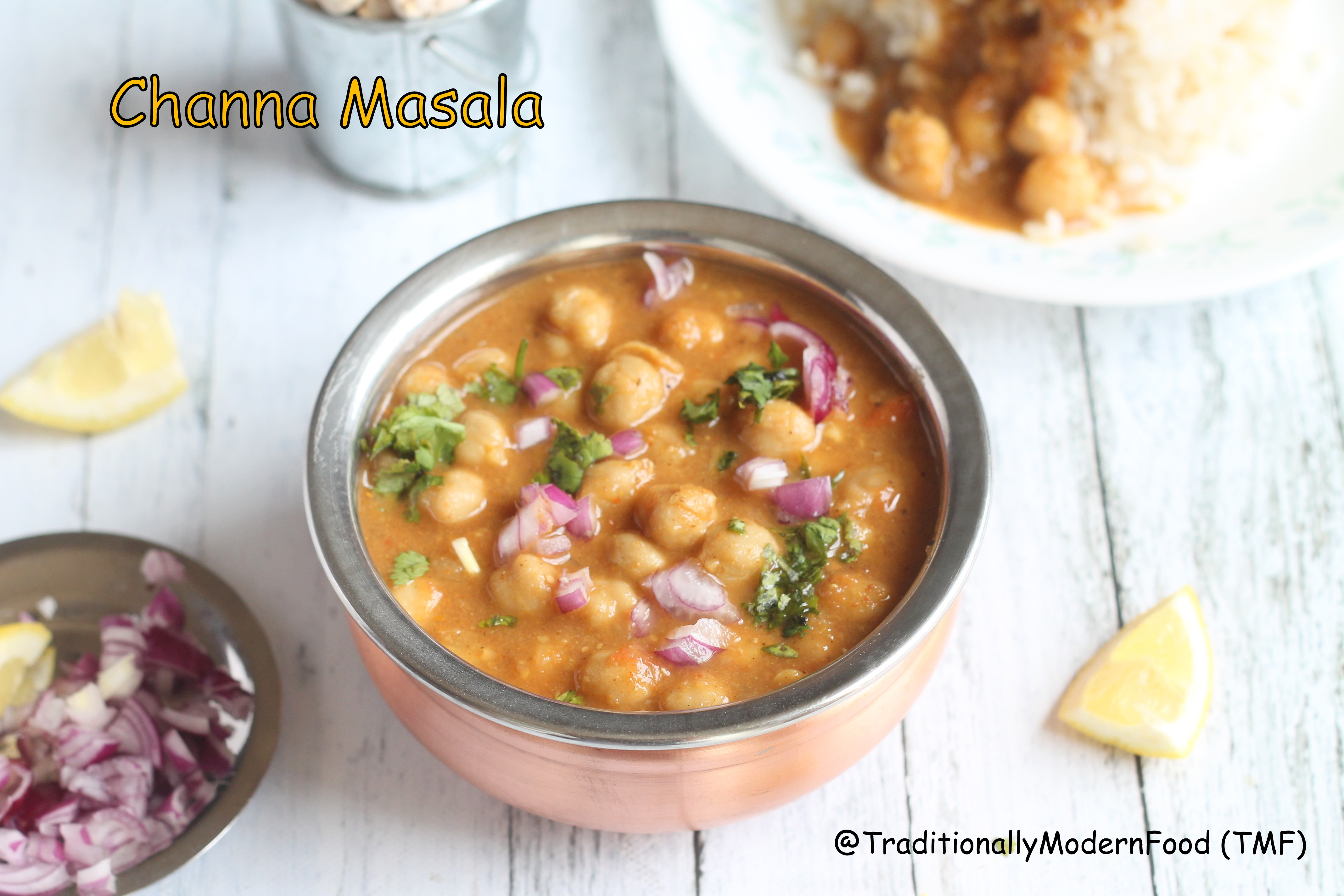 Channa masala is a tasty one pot recipe prepared with channa and onion- tomato base. It can be prepared quickly using pressure cooker or Instant pot . No need to sauté all the ingredients put everything inside Instant pot /pressure, gravy is ready
I love the classic combination of poori and channa masala but because of oil factor not I won't prepare poori frequently. In our home we usually have chole masala with chappati. Jagadish introduced me channa chawal, I don't know how it is actually eaten. He tells me rice mixed with channa is channa chawal, and that's how he takes for his lunch.
The way my mother prepares channa masala is little different to my recipe. She grind coconut and roasted gram into paste and add it to the channa. When we travelled to U.K. I didn't have mixie so couldn't follow her recipe.
My Amma's method sounded lengthy for me. Sautéing onion - tomato then adding masala, c channa separately and again cook everything together. NOM with that method but for a lazy cook like me it sounded so difficult.
That's when my pressure cooker came for rescue one pot recipe are my favorites. Put everything together few whistle tada in one shot the cooking is done.
Need not saute onion- tomato, no need to worry whether masala raw smell is gone or not. Above all need not spend minutes together in kitchen sauting. I use to do pressure cooker channa masala for years.
Recently I am so addicted to Instant pot . It cooks faster and again no need to spend time in kitchen sauting for minutes. I have updated channa masala recipe with Both pressure cooker and Instant pot method.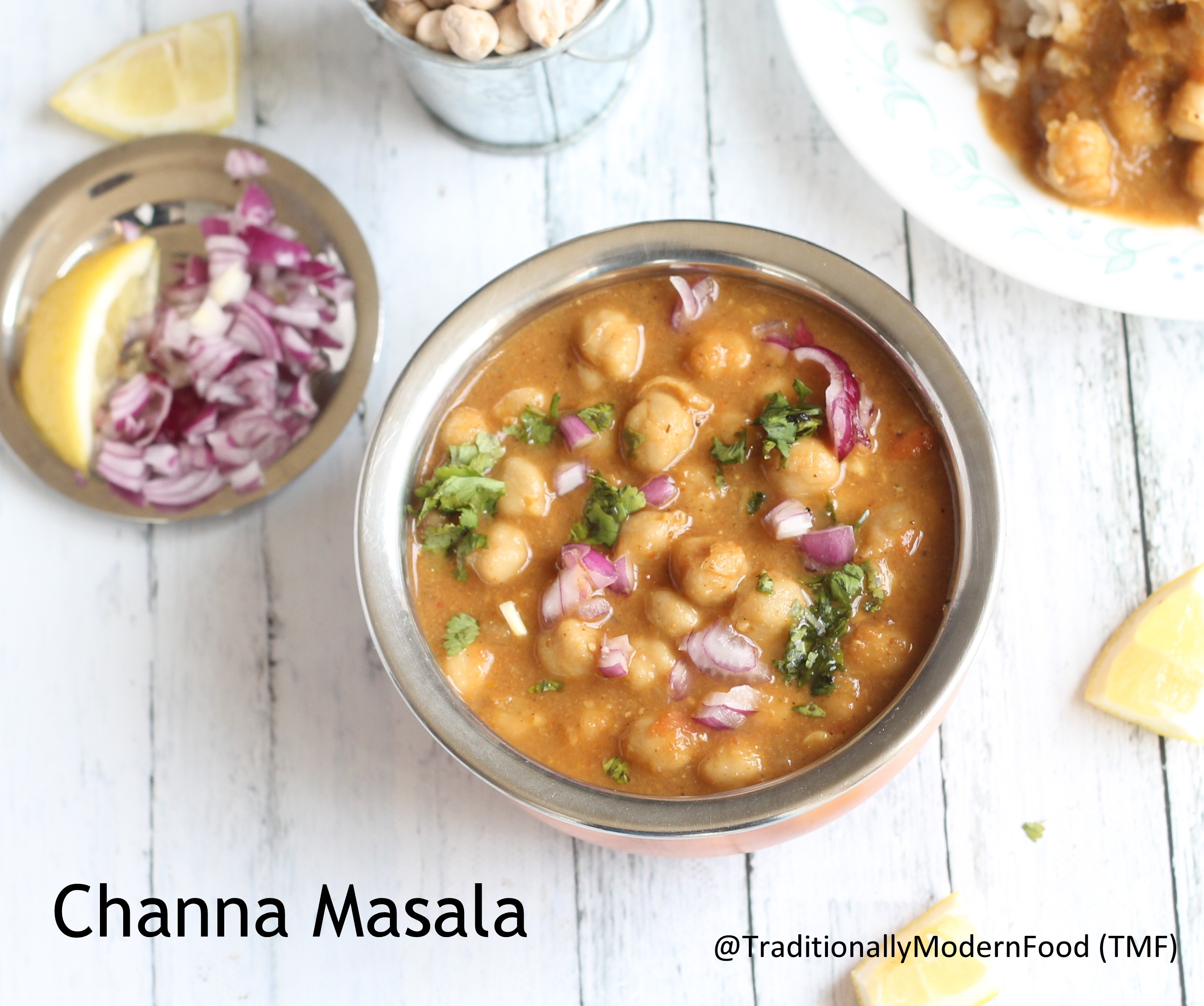 Method:
Pressure Cooker:
Blend raw onion and tomato into a coarse paste and keep it aside
Put a pressure cooker on the stove, once when the oil is hot add the whole garam spices, Saute for 30 seconds. Add the ginger- garlic paste,onion and tomato paste ; give a quick stir for a minute. Add the garam masala, coriander powder, cumin powder, kitchen king masala,salt, channa masala powder and turmeric powder; mix well and let it cook for 3 minutes stirring occasionally
Add the soaked Chickpea and mix well. Add required salt and 1 cup + 3/4 cup of water and cover the cooker
Switch off after 4-5 whistles. Once steam releases, open the cooker lid and boil the channa masala the gravy comes togther. Garnish with onion/lemon. Channa Masala is ready to be served with batura/roti/poori
In sauté mode add oil to the Instant pot . After the oil is hot add the whole spices, Let it splutter
Add the onion, tomato, ginger and garlic paste, give a quick stir for a minute. Add the garam masala, coriander powder, cumin powder, chilli powder, kitchen king masala, channa masala powder,salt and turmeric powder; mix well and let it cook for 3 minutes stirring occasionally

Add the soaked Chickpea and mix well
Add required salt and 1 cup + 1/2 cup of water

Turn the Instant pot to manual mode. Cook for 25 minutes high temperature and turn it off
After the pressure is realized naturally open the Instant pot lid and boil the channa masala the gravy comes together. Garnish with onion/lemon. Channa Masala is ready to be served with batura/roti/poori
Channa Masala - Easy Chole Masala Recipe (Instant pot and Pressure Cooker Method)
Channa masala is a tasty one pot recipe prepared with channa and onion- tomato base. It can be prepared quickly using pressure cooker or Instant pot . No need to sauté all the ingredients put everything inside Instant pot /pressure, gravy is ready
Print
Pin
Comment
Ingredients
Channa/Chickpea – 1 cup

Onion – 1 roughly chopped

Tomato – 1 roughly chopped

Ginger garlic paste – 1/2 teaspoon

Cumin powder – 1/4 teaspoon

Coriander powder – 1/2 teaspoon

Channa Masala powder – 1 teaspoon

kitchen king masala - 1/2 teaspoon

Chilli powder - 1/2 teaspoon

Turmeric powder – a pinch

Curd – 1 teaspoon

Garam masala powder – 1/4 teaspoon

Cardamom pods – 2

Cinnamon – 1/8 stick

Cloves

– 2

Bay leaves – 1

Fennel seeds – 1/8 teaspoon

Oil – 1 tablespoon

Salt – as needed
Instructions
Pressure Cooker:

Blend raw onion and tomato into a coarse paste and keep it aside

Put a pressure cooker on the stove and add oil, whole spices and ginger garlic paste. Saute for 30 seconds. Add the onion and tomato paste ; give a quick stir for a minute

Add the garam masala, coriander powder, cumin powder, channa masala powder and turmeric powder; sauté for 3 minutes

Add the soaked Chickpea and mix well. Add required salt and 1 cup + 3/4 cup of water and cover the cooker Switch off after 4-5 whistles. Once steam releases, open the cooker lid and boil the channa masala the gravy comes togther. Garnish with onion/lemon. Channa Masala is ready to be served with batura/roti/poori

Instant pot :

In sauté mode add oil to the Instant pot . After the oil is hot add the whole spices, Let it splutter

Add the onion, tomato, ginger and garlic paste, give a quick stir for a minute

Add the garam masala, coriander powder, cumin powder, chilli powder, kitchen king masala, channa masala powder and turmeric powder; mix well and cook for 3 minutes stirring occasionally

Add the soaked Chickpea and mix well. Add required salt and 1 cup + 1/4 cupof water

Turn the Instant pot to manual mode. Cook for 25 minutes high temperature and turn it off

After the pressure is realized naturally open the Instant pot lid and boil the channa masala the gravy comes together. Garnish with onion/lemon. Channa Masala is ready to be served with batura/roti/poori
Video
Notes
I soaked Channa in hot water for 4 hours. You can either follow this procedure or soak it in normal water for 7-8 hours
If the channa is watery turn on the stove and cook the channa for 5-10 minutes till you get desired consistency
Use 1/4 teaspoon of amchur powder if you use it instead of curd
Lemon can be squeezed towards the end for tangy flavor
I directly cooked this gravy in cooker/Instant pot , instead you can also cook channa and masala separately, and finally add cooked channa to the masala
After adding channa you can even add coconut (2 tablespoon) and fried gram (3teaspoon) paste
1 teaspoon of tomato paste can be added for extra color and taste
Blending onion / tomato is your choice masala can be cooked either way. I have tried both the ways. You can do it as you wish
9. Water depends upon the channa. If you think gravy is watery add 1/4 teaspoon of rice flour and boil for 3-4 minutes