Eggless Pancakes | Fluffy eggless pancakes | eggless pancake | pancake without eggs | best eggless pancakes | egg free pancakes | pancakes without eggs

Eggless pancake is one of our family's favorite. My son loves pancake and it often happens during weekends.
After visiting Uk I tasted pancake for the first time. It reminded my uthappam. Soft pancakes with maple syrup was so addictive. Pancake addiction travelLee with me.
In US IHOP is our favorite place, whenever we visit IHOP always include pancakes in our order. I wanted to try Pancakes at home, when I checked in YouTube, saw the recipe put up by Joy of baking. Usually I do it in that way.
Couple of months ago, I wanted to make pancakes for breakfast but I didn't have eggs. As always lazy me first thought of doing something else, but after thinking for a while, I made some minor changes from the original recipe and was able to prepare soft, spongy, fluffy eggless pancakes.
This eggless pancake is a big hit in home. Since then, I have been making pancakes without eggs.
I have already posted a few pancake recipes in TMF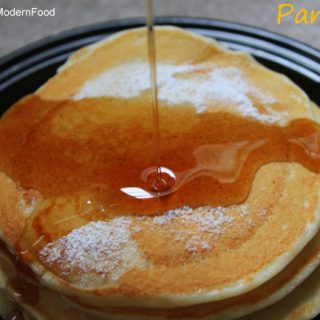 Ingredients
All-purpose flour/Maida – 1 cup

Honey/White Sugar/Brown Sugar – 1 tbsp

I used white sugar

Baking powder – 2 tsp

Milk – 1 cup + 3 tbsp

I used whole milk

Vanilla extract – 1 tsp

Olive oil/butter - 1 tbsp

for the batter, I used butter

Butter - 1 tbsp

Unsalted, Melted at room temperature
Instructions
Combine the dry ingredients and mix slightly. Add milk, butter, water, and vanilla. Whisk together until just combined. Set aside to rest for 10 -15 minutes (I kept for 10 minutes)

Heat an iron skillet or a non stick pan and allow to heat for 30 to 40 seconds on low to medium heat. Reduce heat to low and pour a large ladle full of batter in the center of pan. Do not spread the batter. Allow it to spread on its own, pour little butter around the edges. Cook the pancake on low medium minute for half a minute or until bubbles appear over the pancake

When the pancake turns a nice golden shade, flip it over and cook for half a minute and transfer to the serving plate

Serve warm topped with butter/honey/Maple Syrup/Powdered Sugar/Caramel syrup/butterscotch syrup/Fruit syrup
Ingredients:
All-purpose flour/Maida – 1 cup
Honey/White Sugar/Brown Sugar – 1 tablespoon (I used white sugar)
Baking powder – 2 tsp
Milk – 1 cup + 3 tablespoon (I used whole milk)
Vanilla extract – 1 tsp
Olive oil/butter - 1 tablespoon (for the batter, I used butter)
Butter - 1 tablespoon (Unsalted, Melted at room temperature)
How to make eggless pancake with step by step pictures
Combine the dry ingredients and mix slightly
Add milk, butter, water, and vanilla. Whisk together until just combined. Set aside to rest for 10 -15 minutes (I kept for 10 minutes)
Heat an iron skillet or a non stick pan and allow to heat for 30 to 40 seconds on low to medium heat
Reduce heat to low and pour a large ladle full of batter in the center of pan. Do not spread the batter
Allow it to spread on its own, pour little butter around the edges. Cook the pancake on low medium minute for half a minute or until bubbles appear over the pancake
When the pancake turns a nice golden shade, flip it over and cook for half a minute and transfer to the serving plate
Serve warm topped with compote / butter/honey/Maple Syrup/Powdered Sugar/Caramel syrup/butterscotch syrup/Fruit syrup