Keerai Pappu | spinach dal | keerai sambar | Andhra Pappu | palakura Pappu
| easy spinach dal | palak dal | how to make Andhra pappu
with step-by-step pictures and video recipe. Check out the
keerai pappu

recipe
and if you like the video pls
SUBSCRIBE to my channel.
Keerai Pappu | spinach dal | keerai sambar | Andhra Pappu | palakura Pappu
is a delicious dal prepared with spinach, toor dal, moong dal. With minimal ingredients, this dal is super easy and tastes yum.
What kind of dal can I use for Andhra Pappu?
I have used a combination of toor dal and moong dal instead you can use any one of those two dals.
Can I make Keerai Pappu in a pressure cooker?
Yes, a few years back I originally posted a pressure version of one-pot keerai pappu. Recently updated Instant pot version and also posted a video recipe which involves cooking dal in the cooker and spinach is boiled in stovetop. If you are looking for a quick recipe on a busy morning go for instant pot and pressure cooker, but if you want to retain the green color of spinach go for the video recipe version.
Can I can skip shallots and garlic?
For the best flavorful Pappu use shallots and garlic. if you don't like strong garlic flavor you can reduce the amount of garlic. YOu can use chopped regular onions instead of shallots.
Is this spicy Andhra dal?
Traditionally Andhra Palakura Pappu is spicy but I made a kid-friendly version of spinach dal. I have used red chilli and green chili for flavor but have used them on whole. If you prefer spicy Pappu split chillies and make dal.
Other Spinach based recipes
Preparation:
Soak toor dal and moong dal in hot water for 1 hour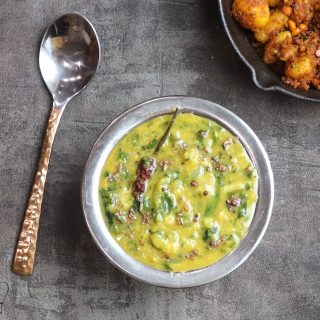 Keerai Pappu (Spinach Dal)
Keerai pappu is a delicious dal prepared with spinach, toor dal, moving dal and spice mix. Busy morning calls for a easy and tasty dal. No stirring put all the ingredient in the pressure cooker/Instant pot , dal is ready.
Print
Pin
Comment
Ingredients
150

grams

spinach

1/4

cup

toor dal

1/4

moong dal

3

cup

water

1

teaspoon

sambar powder

1/4

teaspoon

turmeric powder

1

tablespoon

ghee

3

Green chilli

Pinch

of sugar
To temper:
1/2

teaspoon

Mustard seeds

1

teaspoon

cumin seeds

Hing

Few fenugreek seeds

3

red chilli

1

tablespoon

garlic
Instructions
Soak both dal for one hour

Furthermore Add 1+ 1/2 cup of water, 1/8 teaspoon of turmeric powder, and pressure cook for 3 whistles

Add 1/2 tablespoon of ghee to the pan and 1 tablespoon of garlic and saute till they turn brown

Add onion and green chilli; saute till onions turn translucent

Add spinach and mix well

Furthermore, add sugar and salt and saute for 1 minute

Add cooked dal, sambar powder, 1 + 1/2 cup of water, 1/2 teaspoon of tamarind paste, and mix well

Cook for 5 minutes, mix well in between

Add hing, mix well and cook for a minute and turn off the stove

In a small tadka pan add ghee and when ghee is hot add mustard seeds, fenugreek seed, cumin seeds, red chilli, and let them splutter

Transfer the tadka to the pappu and serve hot
How to make one-pot keerai pappu
Pressure Cooker:
Add ghee to the pressure cooker. When the ghee is hot, add ingredients under "to temper", let them crackle. Add onions and garlic, saute for 1 minute. Add spinach, soaked toor and moong dal, turmeric powder, sambar powder, tamarind, and salt; combine well. Saute for a minute

Add water and cook for 3 whistles

Once the pressure releases, Serve with white rice or hot Rotis
Instant Pot:
In sauté mode add ghee to the Instant Pot. When the ghee is hot, add the ingredients given under "to temper" let it splutter

Add onions and garlic, give a quick stir. Add spinach, soaked toor and moong dal, turmeric powder, sambar powder coriander powder, tamarind, and salt; combine well. Saute for a minute

Add water and give a quick stir

Change the Instant pot to manual mode and set 18 minutes in high temperature. Open the Instant pot after the pressure is released. Serve with white rice or hot Rotis
Video
Notes
Onion and garlic can be skipped while preparing pappu
Instead of using tamarind you can also add tamarind pulp
Adjust the spice according to your taste bud
Soaking dal helps it cook fast
Ingredients
150 grams spinach
1/4 cup toor dal
1/4 moong dal
3 cup water
1 tsp sambar powder
1/4 teaspoon turmeric powder
1 tablespoon ghee
1 tablespoon chopped garlic
3 Green chilli
Pinch of sugar To temper:
1/2 teaspoon Mustard seeds
1 teaspoon cumin seeds
Hing
Few fenugreek seeds
3 red chilli
How to make keerai Pappu with step by step pictures
Soak both dal for one hour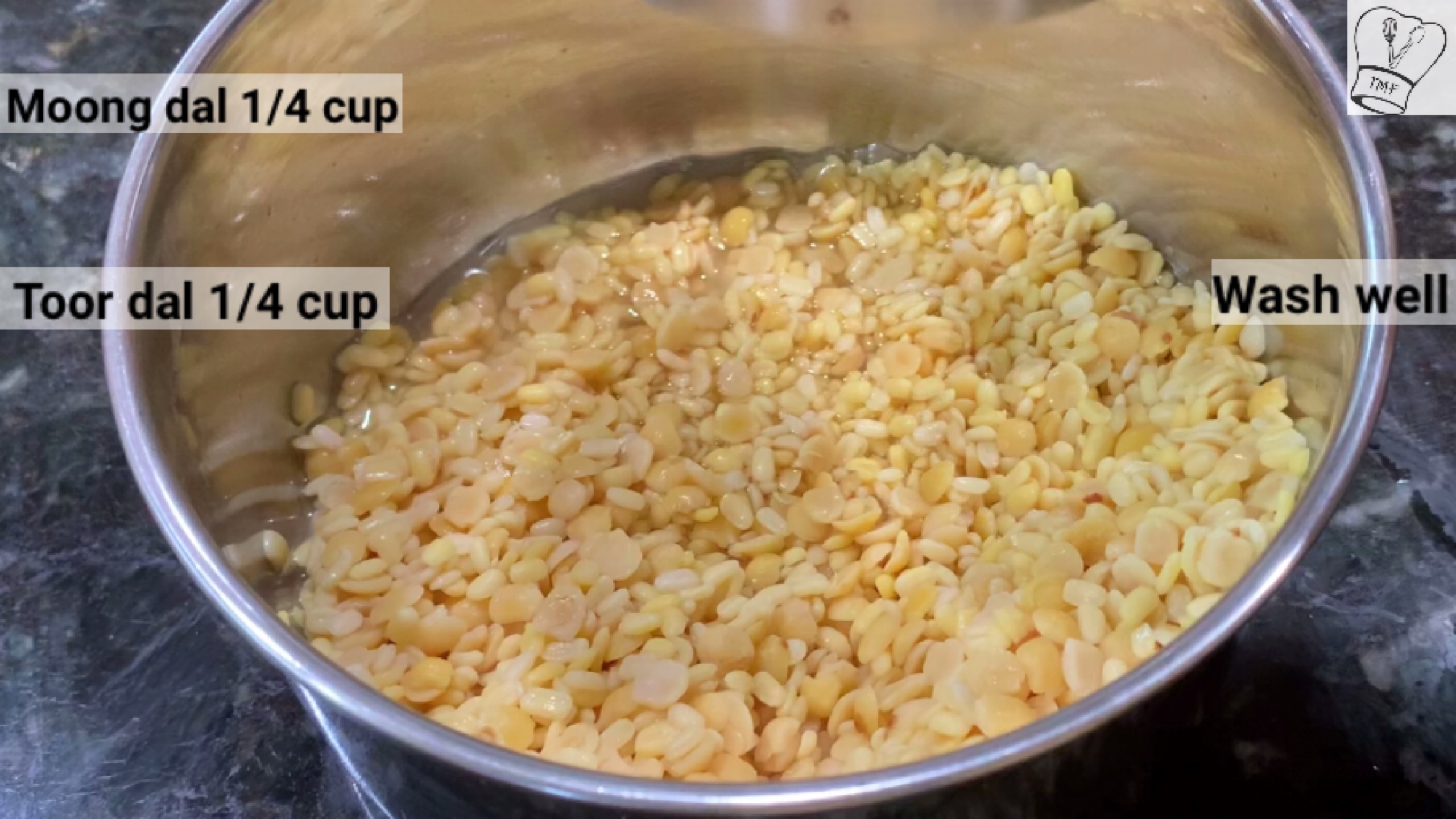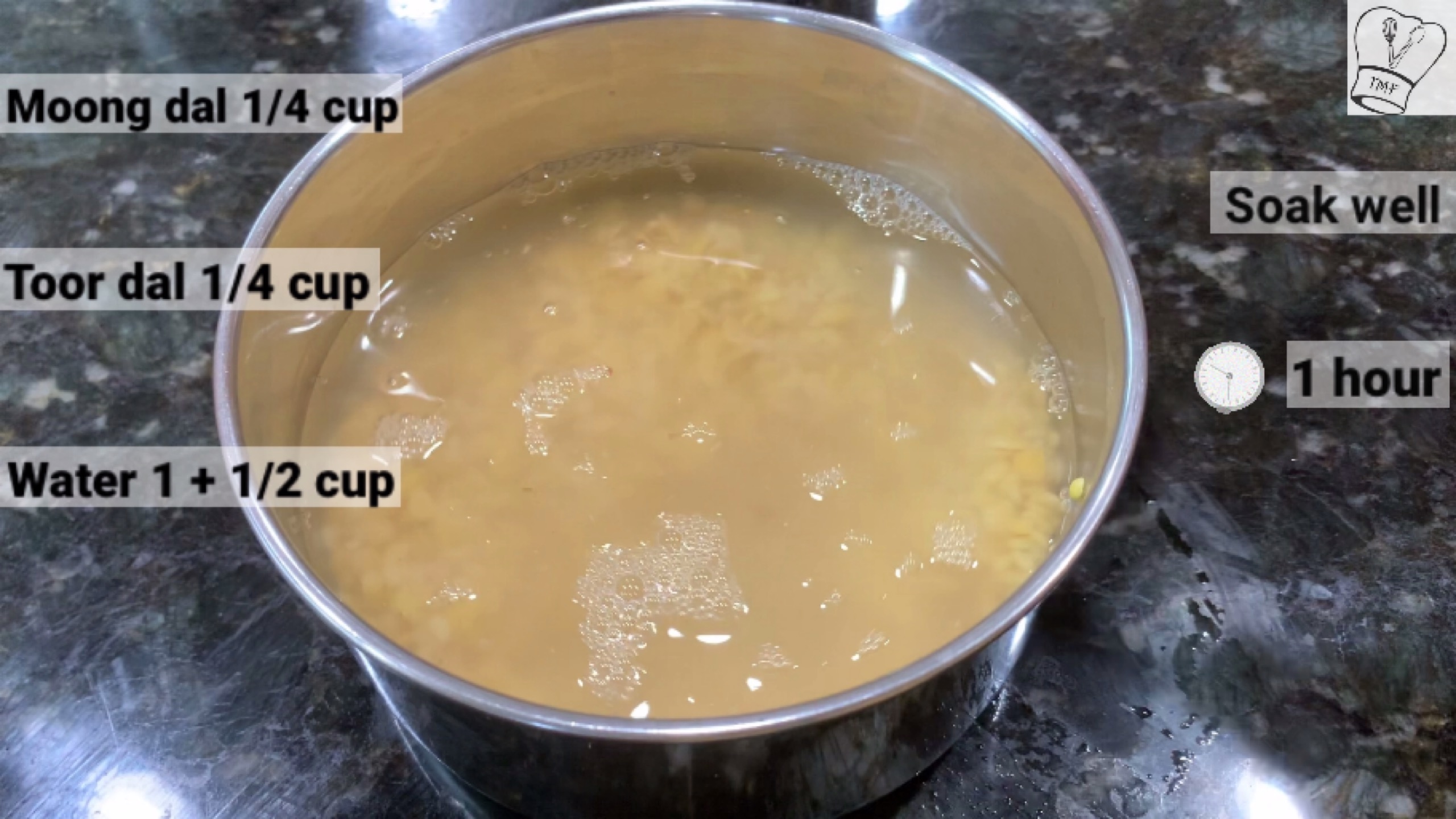 Furthermore Add 1+ 1/2 cup of water, 1/8 teaspoon of turmeric powder, and pressure cook for 3 whistles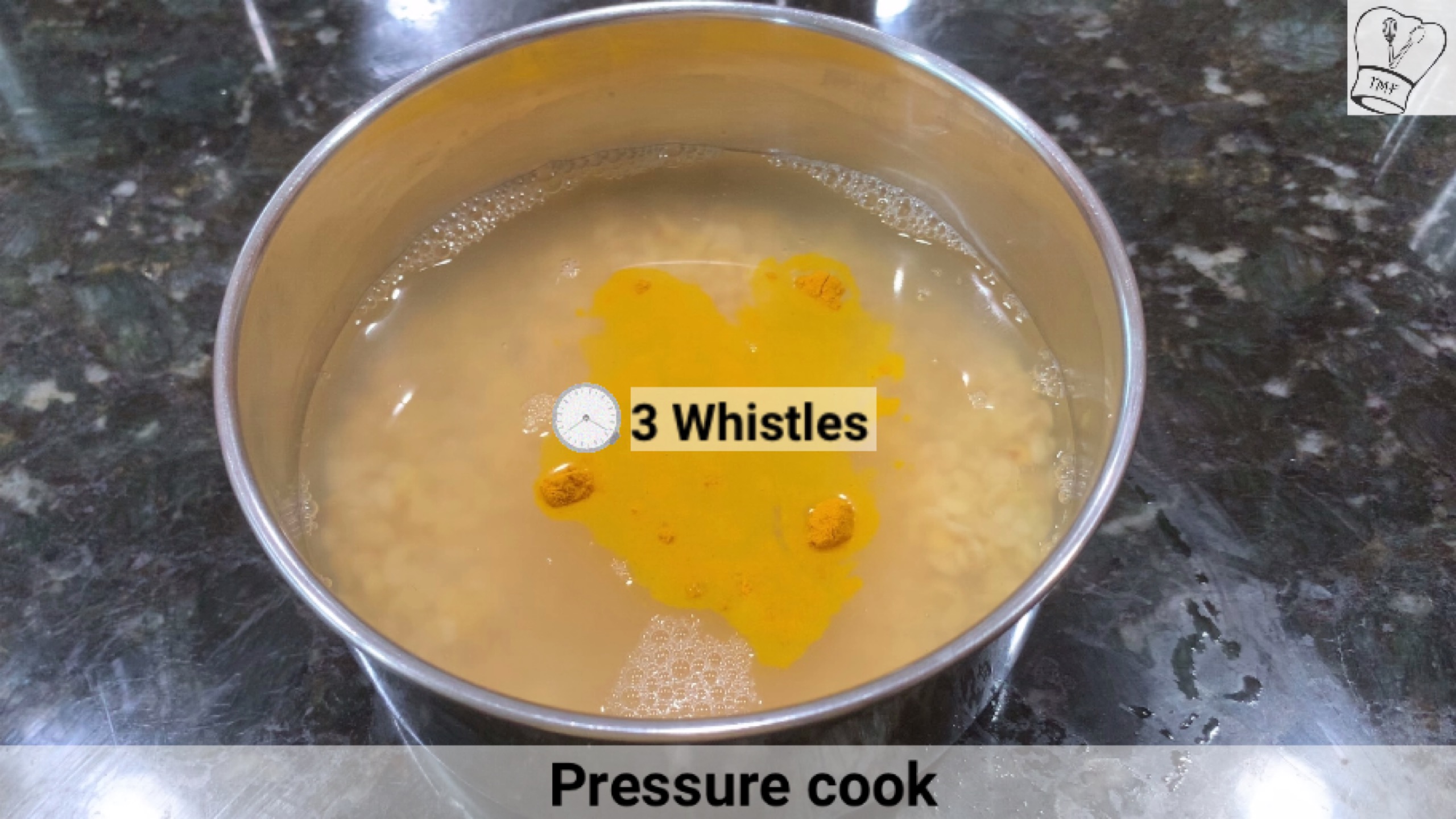 Add 1/2 tablespoon of ghee to the pan and 1 tablespoon of garlic and saute till they turn brown
Add onion and green chilli; saute till onions turn translucent
Add spinach and mix well
Furthermore, add sugar and salt and saute for 1 minute
Add cooked dal, sambar powder, 1 + 1/2 cup of water, 1/2 teaspoon of tamarind paste, and mix well
Cook for 5 minutes, mix well in between
Add hing, mix well and cook for a minute and turn off the stove
In a small tadka pan add ghee and when ghee is hot add mustard seeds, fenugreek seed, cumin seeds, red chilli, and let them splutter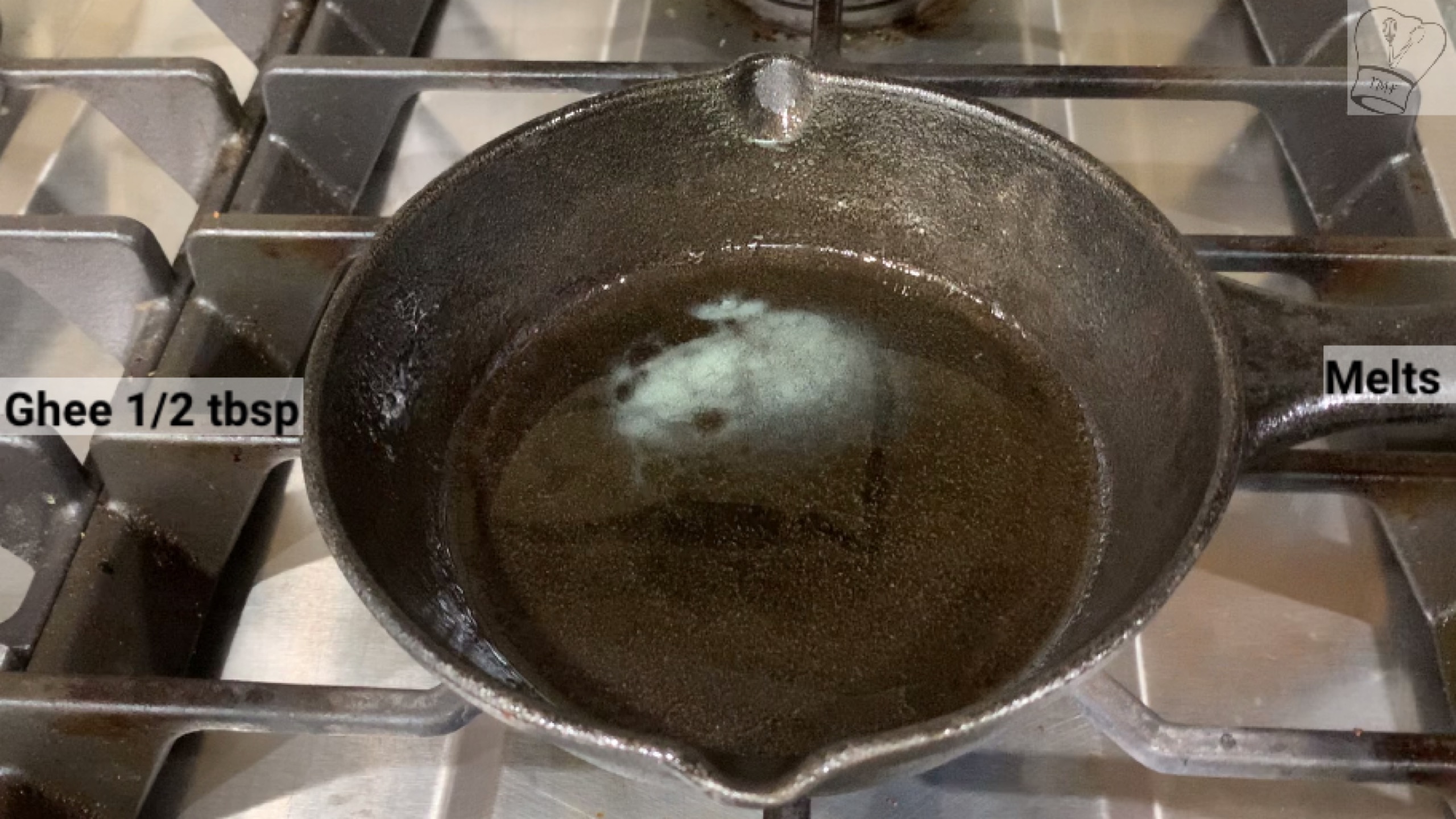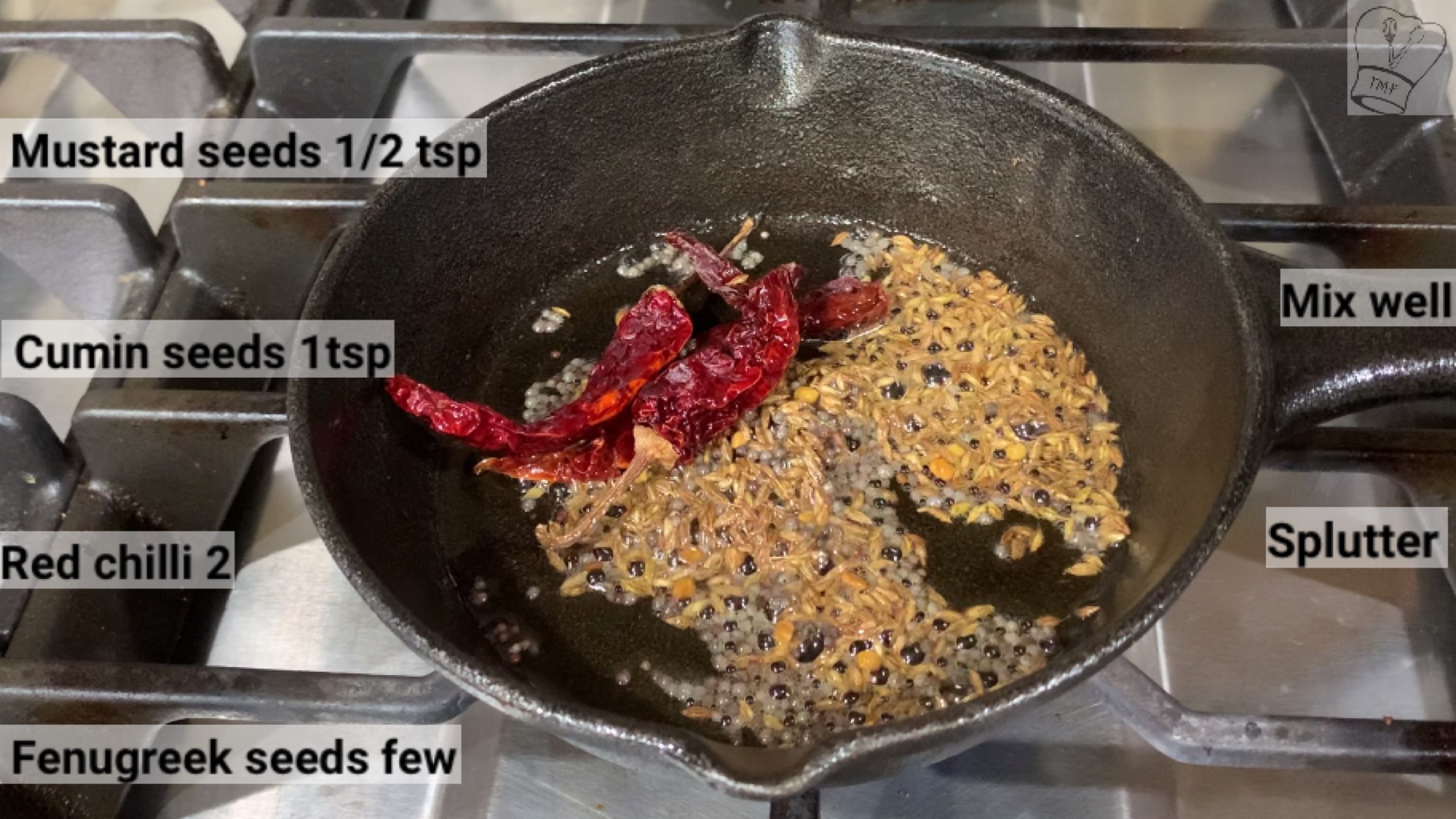 Transfer the tadka to the pappu and serve hot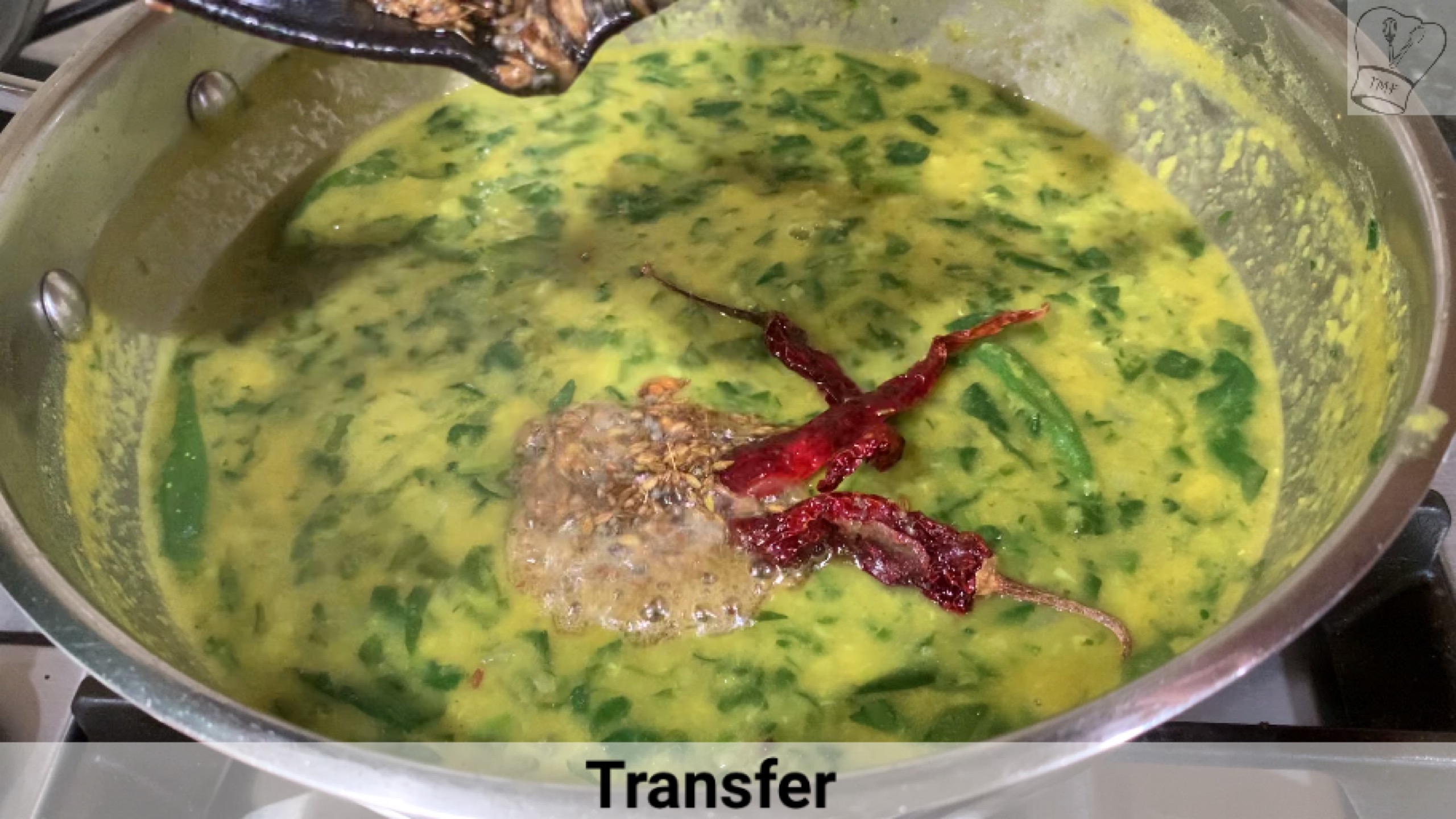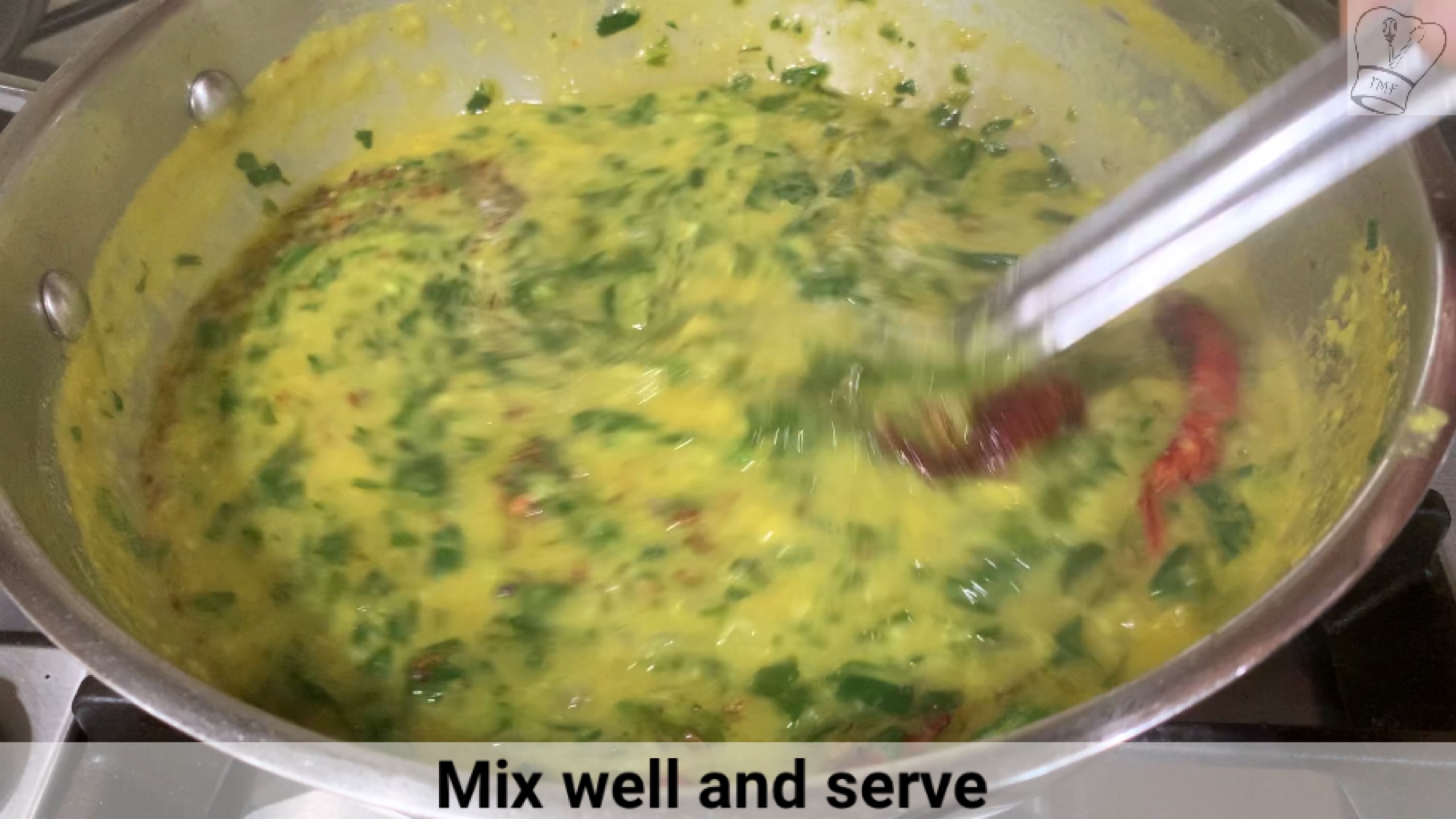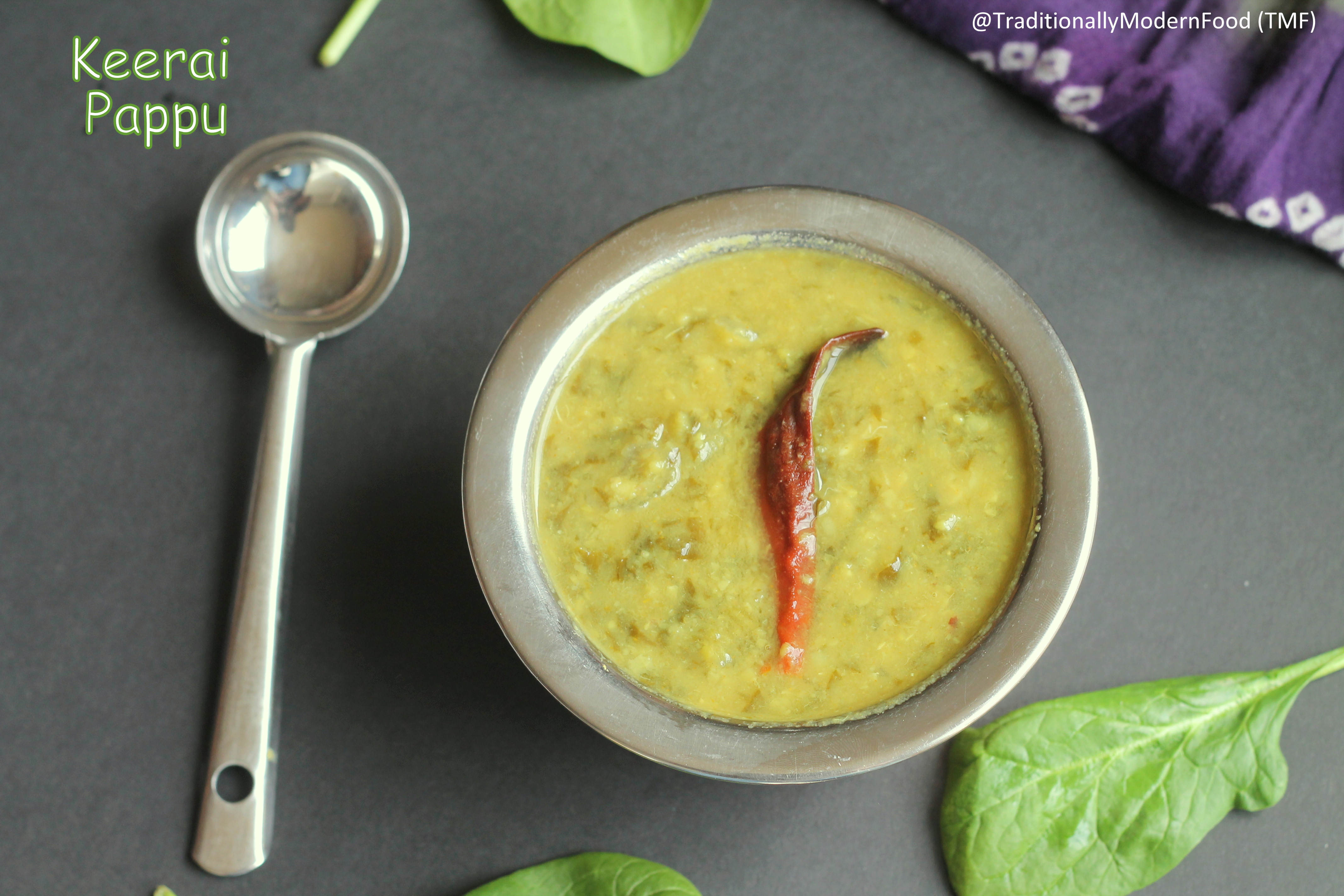 How to make one-pot keerai pappu
Pressure Cooker:
Add ghee to the pressure cooker. When the ghee is hot, add ingredients under "to temper", let them crackle. Add onions and garlic, saute for 1 minute. Add spinach, soaked toor and moong dal, turmeric powder, sambar powder, tamarind, and salt; combine well. Saute for a minute
Add water and cook for 3 whistles
Once the pressure releases, Serve with white rice or hot Rotis
Instant Pot:
In sauté mode add ghee to the Instant Pot. When the ghee is hot, add the ingredients given under "to temper" let it splutter
Add onions and garlic, give a quick stir. Add spinach, soaked toor and moong dal, turmeric powder, sambar powder coriander powder, tamarind, and salt; combine well. Saute for a minute
Add water and give a quick stir

Change the Instant pot to manual mode and set 18 minutes in high temperature. Open the Instant pot after the pressure is released. Serve with white rice or hot Rotis