Strawberry compote recipe| Strawberry sauce for dessert, Strawberry filling for cake, best compote, strawberry sweet chutney with step-by-step pictures and video recipe. Check out the Strawberry compote video and if you like the video pls SUBSCRIBE to my channel. Other Strawberry based video recipes
Jump to:
What is a strawberry compote?
Compote is an easy and tasty fruit-based sauce made with big pieces of fruit and sugar. Fruit compote is often also called fruit sauce or chunky fruit syrup.
Are compote and jam the same?
We puree the fruit for jam, but we use pieces of fruit for compote. MAshy fruits give the best texture for the compote.
How to serve the strawberry compote?
As a
Shelflife of Strawberry sauce
It stays good in the fridge for around 10 days. Always bring the berry compote to room temperature then store in the fridge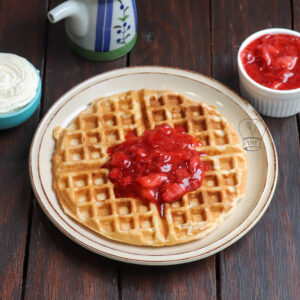 Can I use frozen berries?
Yes, you can use fresh or frozen berries for making the best homemade strawberry compote. If you are using frozen fruits always thaw them and bring them to room temperature then prepare the fruit sauce.
Thickens overtime
The cornflour in the strawberry filling helps with the glaze and texture. Adjust the water and cooking time according to your desired consistency. The compote thickens over time so cook accordingly.
Sugar for a Strawberry dip?
I have used white sugar but you can use any sugar of your choice. The color of the fruit dip might vary according to the sugar. Adjust the sugar based on your sweetness
For the Strawberry compote video

Ingredients
7

strawberries - ripe & big

3

tablespoon

sugar

5

tablespoon

water

1

teaspoon

lemon juice

1/2

teaspoon

cornflour
Instructions
Firstly add sugar to a wide heavy-bottomed pan and then on the stove in medium flame

Furthermore, add strawberries and lemon juice and give a quick mix

Add 2 tablespoons of water; mix well

Cook for 4 minutes; mix well in between

When it boils well gently  mash a few strawberries And cook for 3 more minutes

add cornflour and water to a small bowl; mix well till you get a smooth lump free mixture

Furthermore, add 2 tablespoon of water and mix well

Add it and cook for 3-4 minutes or till you get the desired compote texture
Video
Ingredients
7 strawberries - ripe & big
3 tablespoon sugar
5 tablespoon water
1tsp lemon juice
1/2 teaspoon cornflour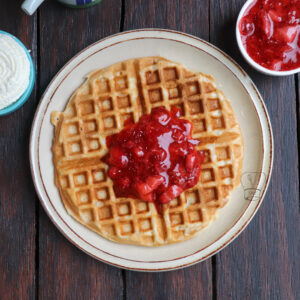 How to make Strawberry sauce with step-by-step pictures
Firstly add sugar to a wide heavy-bottomed pan and then on the stove on medium flame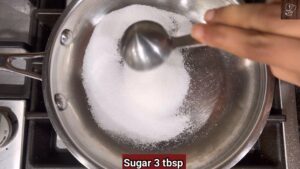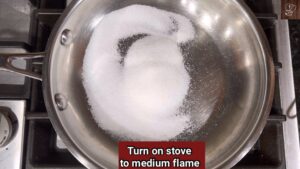 Furthermore, add strawberries and lemon juice and give a quick mix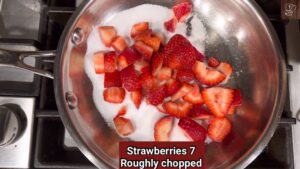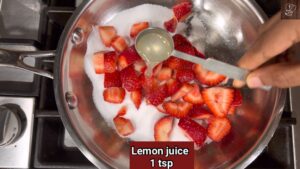 Add 2 tablespoons of water; mix well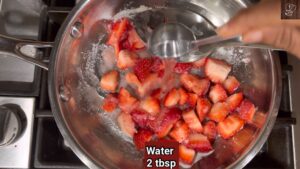 Cook for 4 minutes; mix well in between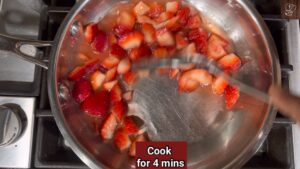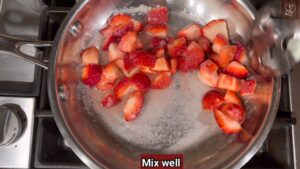 When it boils well gently mash a few strawberries And cook for 3 more minutes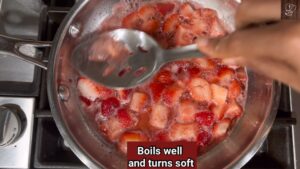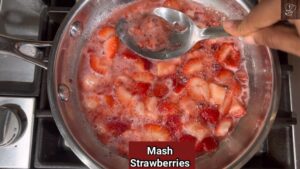 add cornflour and water to a small bowl; mix well till you get a smooth lump free mixture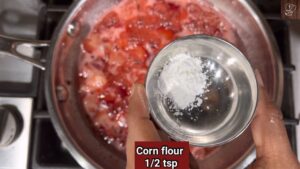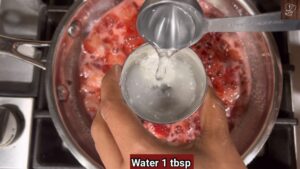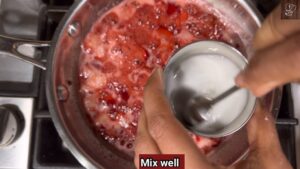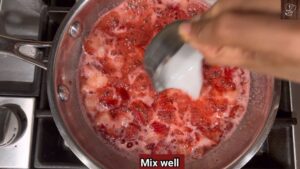 Furthermore, add 2 tablespoon of water and mix well
Add it and cook for 3-4 minutes or till you get the desired compote texture