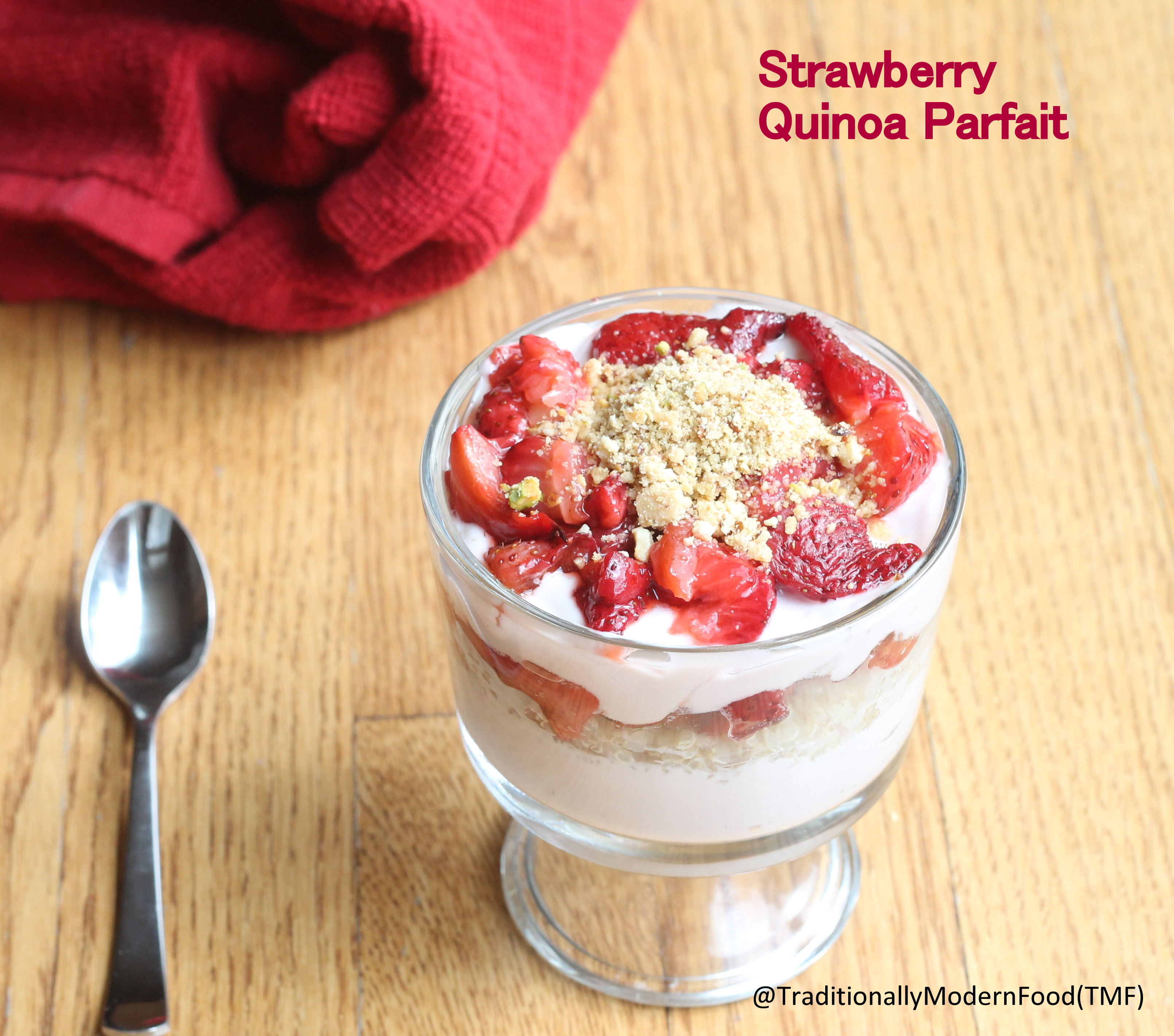 Strawberry Quinoa Parfait is a filling breakfast with quinoa, roasted strawberry and Greek yogurt. Kids will love this for breakfast.
A post after an year! Before getting into the post I have few things to share. To begin, a big, heart-felt sorry to all my readers. Due to some personal commitments, I took a break from blogging last year, I couldn't reply to all your comments/messages/email. I was held up with certain things, so I couldn't give enough time for my blog. After some time, I was back to usual business, but I got used to my break, and somehow I kept procrastinating the return to blogging.
To all my virtual co-blogger friends I am so sorry If i haven't replied to your email and messages. As I mentioned I couldn't be active, for the past two weeks I am trying to check mails. Thanks for all your love. I am doing absolutely great, it was just a break from the blog. Happy to be back.
After I took the break, Vishvak forced me to get a new phone. He dropped my phone by mistake, and I lost my contacts. So extremely sorry if I was not reachable on my mobile.
Enough of apologizing! Now its time to thank. All I am hearing from my well-wishers are "get back to blogging- you took enough break". Its so nice to have such sweet people around. Whenever I talk to my friends they ask about it and tell me to be active. My sister and my parents have told me many times. My cousin has actually started keeping tab on the number of months I went without blogging. She gave an ultimatum that she should see a post on march 9, as that was the day last year I published my last post.
My thank you series would be incomplete if I miss Jagadish. I had a 6 month old baby when I started this blog. Without his support I wouldn't have made even a single post. Ever since I took a break till today afternoon all I hear from him is don't get too lazy and start doing what you like.
This break made me realize few things and I wanted to just rewind a bit on my comeback post.
Coming back to the Strawberry Yogurt Parfait. I had 8 recipes in my draft when I took break, I was so confused to pick one. As always I asked Jagadish.
My hubby told me to start with an easy, healthy and simple recipe. I gave him the list of recipes I had in my draft, he told me to try something new, so that I will have the urge to post. That added still more confusion, I couldn't think of any recipe.
I suddenly realized I didn't plan anything for next day's breakfast, and I asked what he wants for breakfast. As I was asking this question, he was scanning the fridge. Being a strawberry lover, seeing a box of fresh strawberries he said he can have this for breakfast. I said it won't be filling. Jagadish said he will have it with yogurt. I got Strawberry yogurt Parfait idea for breakfast. I googled and found this recipe. I said I can roast the strawberries and add some quinoa for protein to the parfait. He immediately said post this recipe. Well can I say noooo😂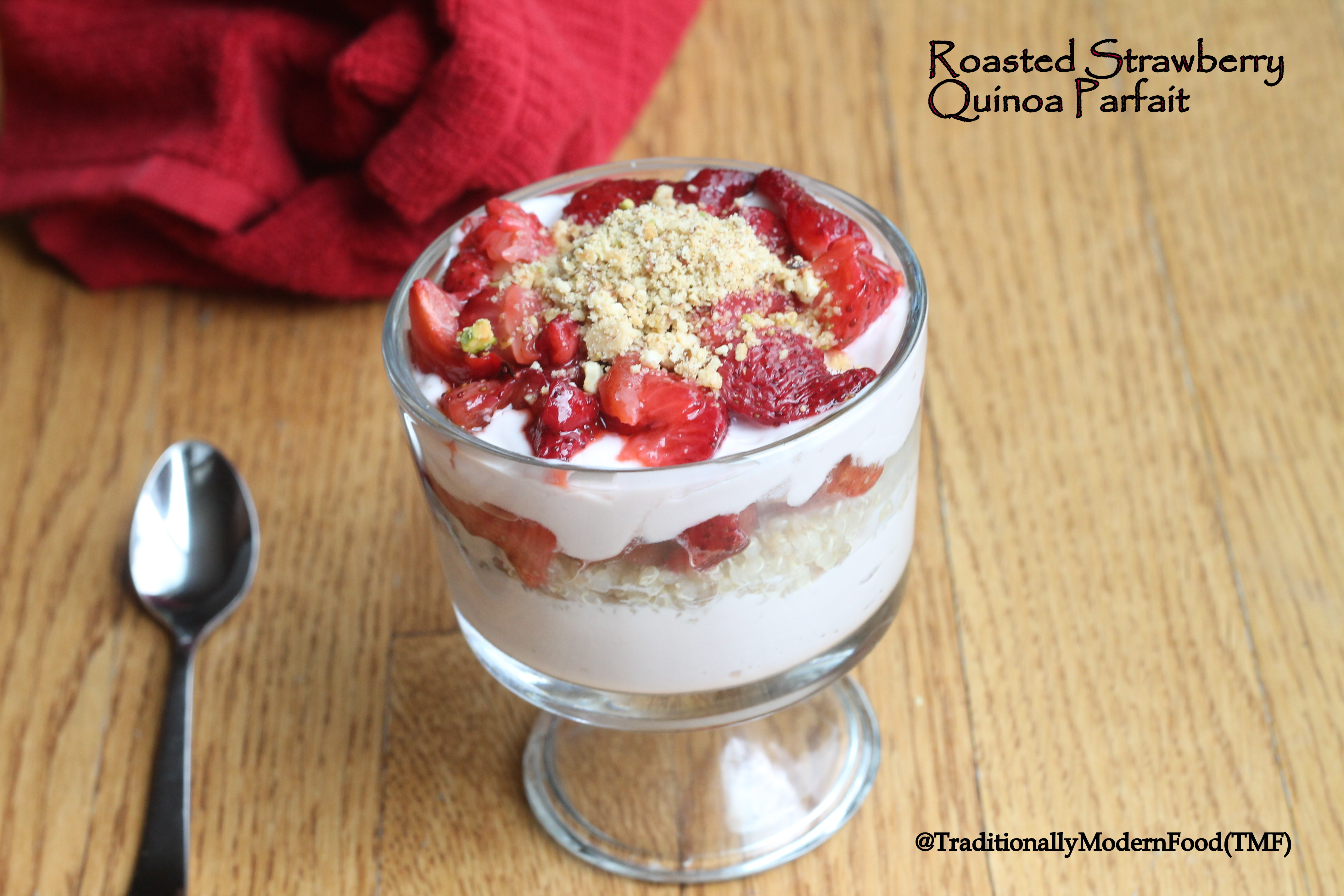 If it is strawberry season there will always be a box of strawberries in our fridge. Jagadish loves strawberry, couple of my strawberry recipes like Strawberry pancake, Strawberry phirni, Strawberry frozen yogurt all call this out!
Parfait is protein rich to start the day – Quinoa, Yogurt and nuts – can't ask for more. Of course, strawberries add lot of beauty not only to the eyes, but also to the tummy. Antioxidant, rich in vitamin C and low in calorie are few things I knew about strawberries.
Roasted strawberry gave amazing flavor and I love the texture the strawberries got after roasting. Juicy strawberries was so addictive, we ended up eating it without realizing about the dish. Suddenly I got alarmed and I said hey my recipe, He said my breakfast, oh ya 😜
We had it for weekend breakfast and I am thinking should start packing it for his mid- morning/evening snacks.
I generally buy Probiotic greek yogurt for my son and give him daily. One thing I like about greek yogurt is its creaminess, and I had honey strawberry flavor Greek yogurt in my fridge. Covered the yogurt part, Aww my Strawberry yogurt Parfait couldn't get better.
Gluten free protein rich quinoa is super easy to cook and it makes the parfait a filling breakfast. Did I forget to mention about the nuts? Nuts gave a nice crunch, flavor and healthy fat + some more protein to the dish. Another thing I like about quinoa is its cooking time. For this dish you can cook quinoa and roast strawberries in parallel to save sometime during busy weekday morning.
Layer the ingredients according to your preference. If you want a filling breakfast add one more quinoa layer. If you love strawberries like Jagadish, add lot of strawberries. If you are like me add some more nuts. If you are like my sweet bundle add some more yogurt. Believe me whatever the combo is, its going to be heavenly.
Am I marketing my Strawberry Quinka Parfait a lot😜 . I am posting after an year what else you expect from me😉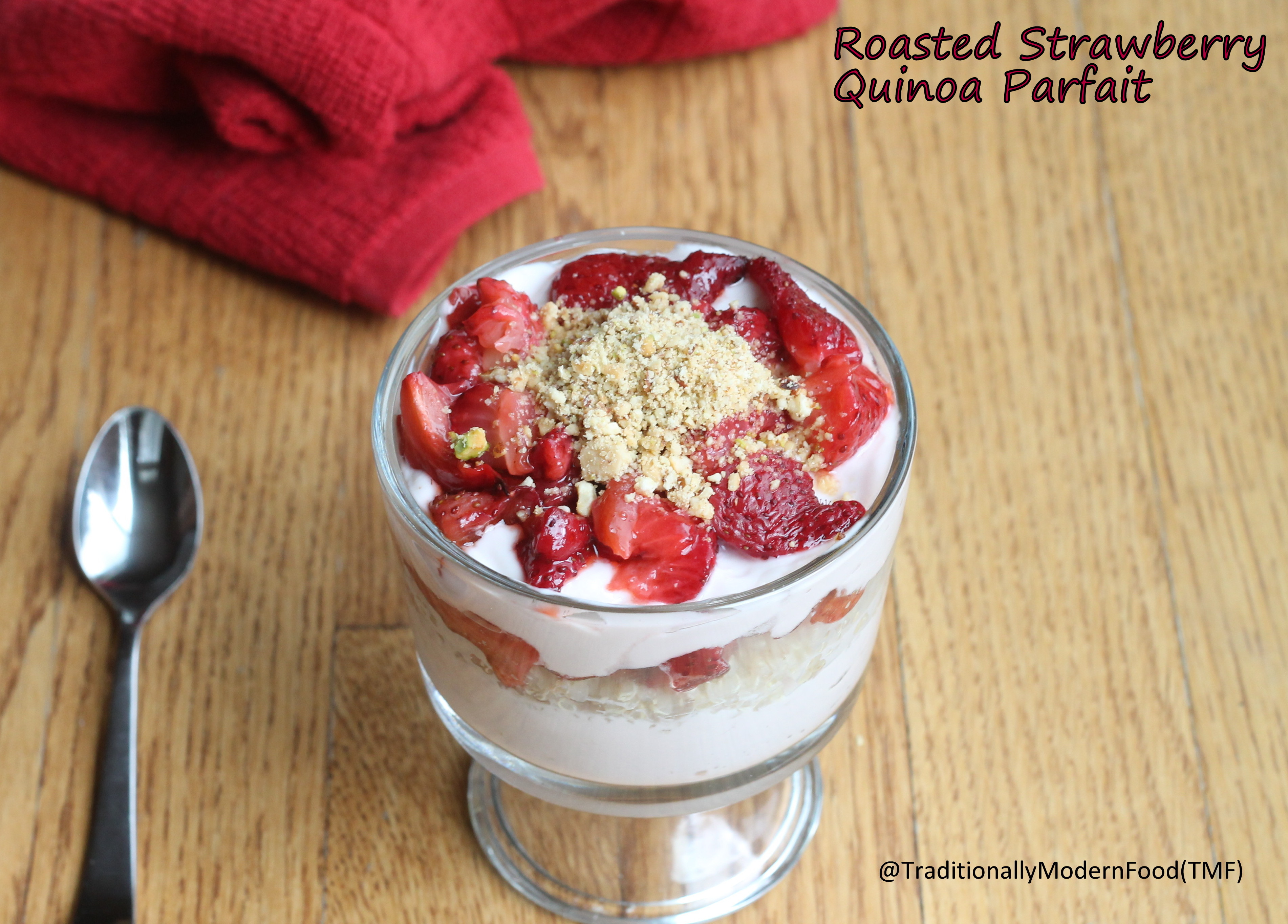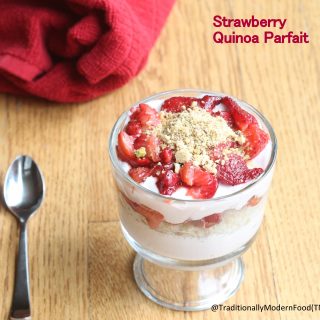 Strawberry Quinoa Parfait |Roasted Strawberry Quinoa Parfait
Parfait is protein rich to start the day – Quinoa, Yogurt and nuts cant ask for more. Paired with roasted strawberries for a amazing flavor. Its a filling breakfast and mild dessert
Print
Pin
Comment
Ingredients
Fresh Strawberries - 1 pound

Quinoa - ½ cup

uncooked

Water - 1 cup

Sugar - 2 tbsp

I used white

Parfait Single Serving:

Greek yogurt - ½ cup

I used honey strawberry

Maple syrup/ Honey/ Pancake syrup/corn syrup - 1 tbsp

I used maple syrup

Cooked Quinoa – 1/3 cup

Roasted strawberries – 1/3 cup

roughly chopped

Grounded roasted nuts – 3 tbsp

I used roasted Almonds, cashew, pista and pecan
Instructions
Preheat the oven to 375 degree Fahrenheit and line the baking tray with parchment paper. Grease it with cooking spray or oil

Spread the strawberries in the baking tray and sprinkle sugar all over the strawberries. Roast the berries for around 20-25 minutes, until the berries are soft and strawberry smells dominate your kitchen. Transfer it to a bowl, and let it cool

Meanwhile in a heavy bottomed saucepan on medium heat add quinoa and water; bring to boil. Once the water starts boiling turn down the heat to low, cover and cook for 20 minutes. Remove the lid and fluff the quinoa and let it cool.

Layering the parfait:

Add maple syrup to 1/3 cup of quinoa; mix well

Take a serving glass/dish, add around 1/4 cup of yogurt layer as the first layer. 1/3 cup of quinoa second layer. 2 tbsp of ground nuts as the third layer. Roasted strawberries as fourth layer. 1/4 cup of yogurt as fifth layer. Roasted strawberries as sixth layer and sprinkle nuts at top
Notes
If you are using plain yogurt (curd) use thick yogurt. Tsp of Sour cream can be added for creaminess
Add some sugar/honey/maple syrup to the plain yogurt for additional sweetness. Yogurt I used contains sugar so I skipped it
Adjust the sweetness to the quinoa layer according to your sweetness
Fresh strawberry can also be used instead of baking
If you are using frozen strawberries thaw it and add to the Parfait. I have never baked frozen strawberries not sure how it will taste, if toasted
Any other fruits of your choice can be used
Use ripe strawberries for better flavour
Cooked flattened rice, cooked semolina, cooked Vermicelli or chia seeds can be used instead of quinoa
Ingredients:
Fresh Strawberries – 1 pound
Quinoa – ½ cup, uncooked
Water – 1 cup
Sugar – 2 tbsp (I used white)
Parfait Single Serving:
Greek yogurt – ½ cup (I used honey strawberry)
Maple syrup/ Honey/ Pancake syrup/corn syrup – 1 tbsp (I used maple syrup)
Cooked Quinoa – 1/3 cup
Roasted strawberries – 1/3 cup, roughly chopped
Grounded roasted nuts – 3 tbsp (I used roasted Almonds, cashew, pista and pecan)
Method:
Preheat the oven to 375 degree Fahrenheit and line the baking tray with parchment paper. Grease it with cooking spray or oil
Spread the strawberries in the baking tray and sprinkle sugar all over the strawberries. Roast the berries for around 20-25 minutes, until the berries are soft and strawberry smell dominates your kitchen. Transfer it to a bowl, and let it cool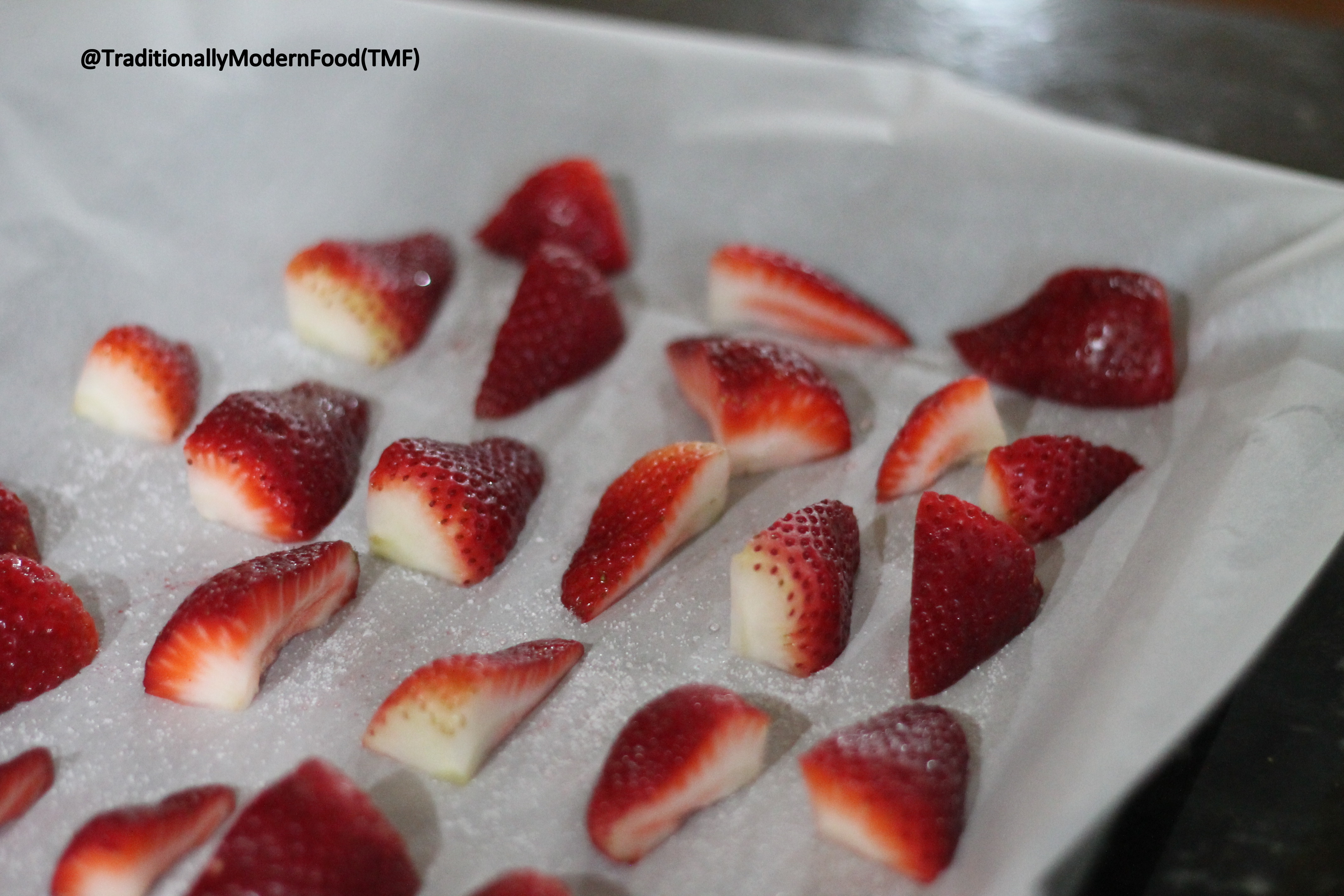 Meanwhile in a heavy bottomed saucepan on medium heat, add quinoa and water; bring to boil. Once the water starts boiling turn down the heat to low, cover and cook for 20 minutes. Remove the lid and fluff the quinoa and let it cool.
Layering the parfait:
Add maple syrup to 1/3 cup of quinoa; mix well
Take a serving glass/dish, add around 1/4 cup of yogurt layer as the first layer
1/3 cup of quinoa second layer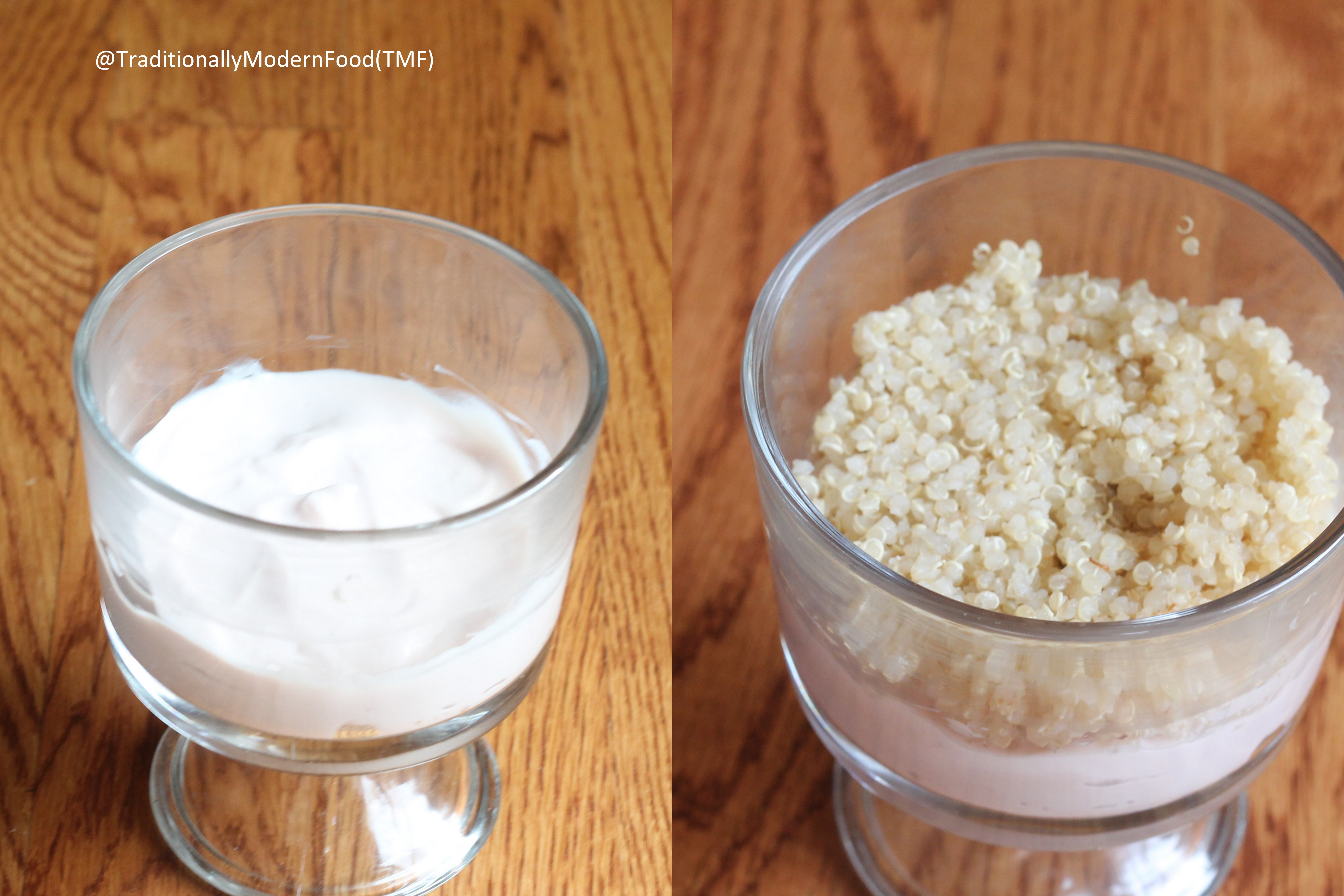 2 tbsp of grounded nuts as the third layer
Roasted strawberries as fourth layer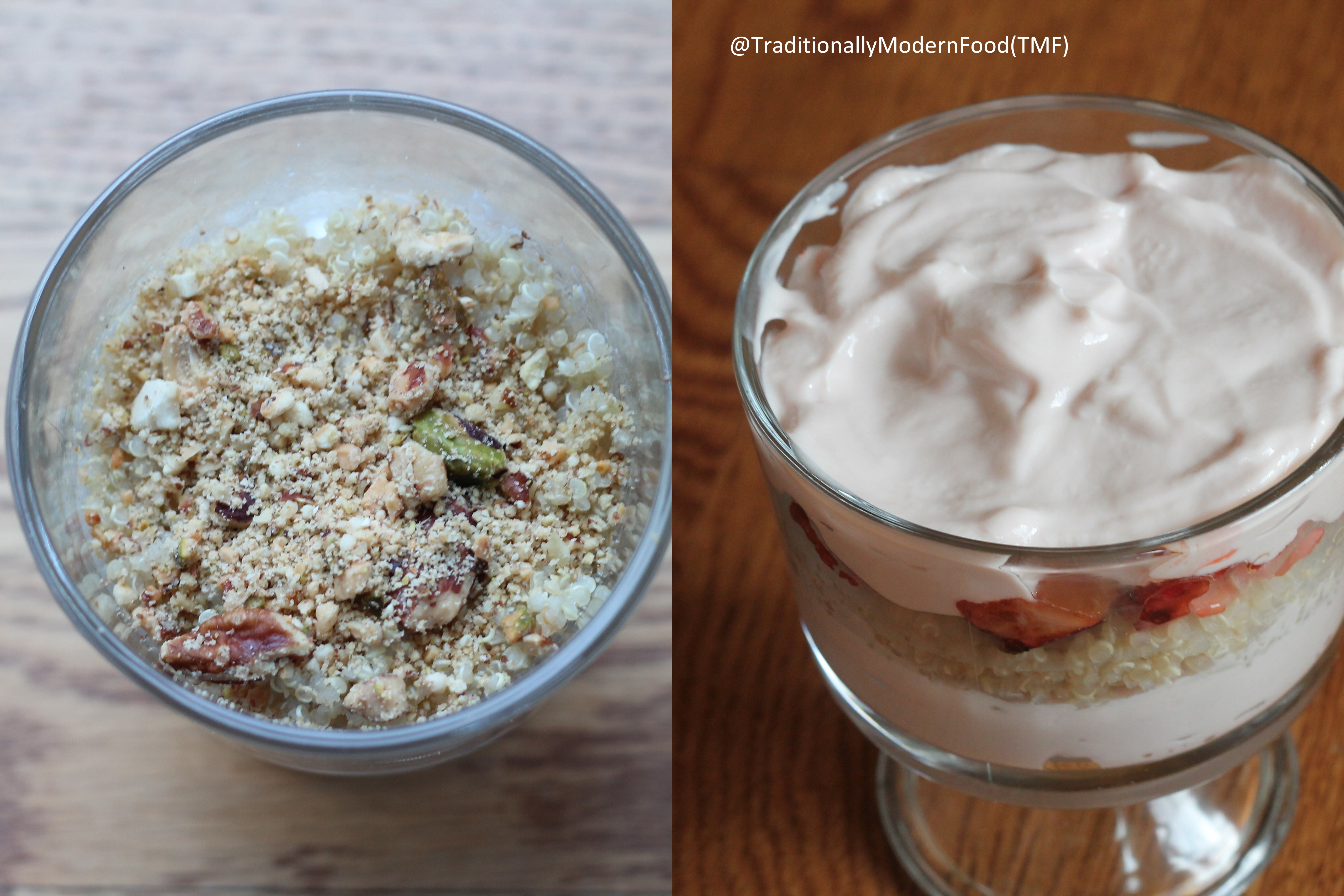 1/4 cup of yogurt as fifth layer
Roasted strawberry as sixth layer and sprinkle nuts at top