Couple of months ago, I had posted Eggless Pancake using All purpose flour. Pancake has become my son's favorite breakfast. As a healthy alternative, I tried with whole wheat. Luckily he didnt find different in taste and enjoyed them with maple syrup.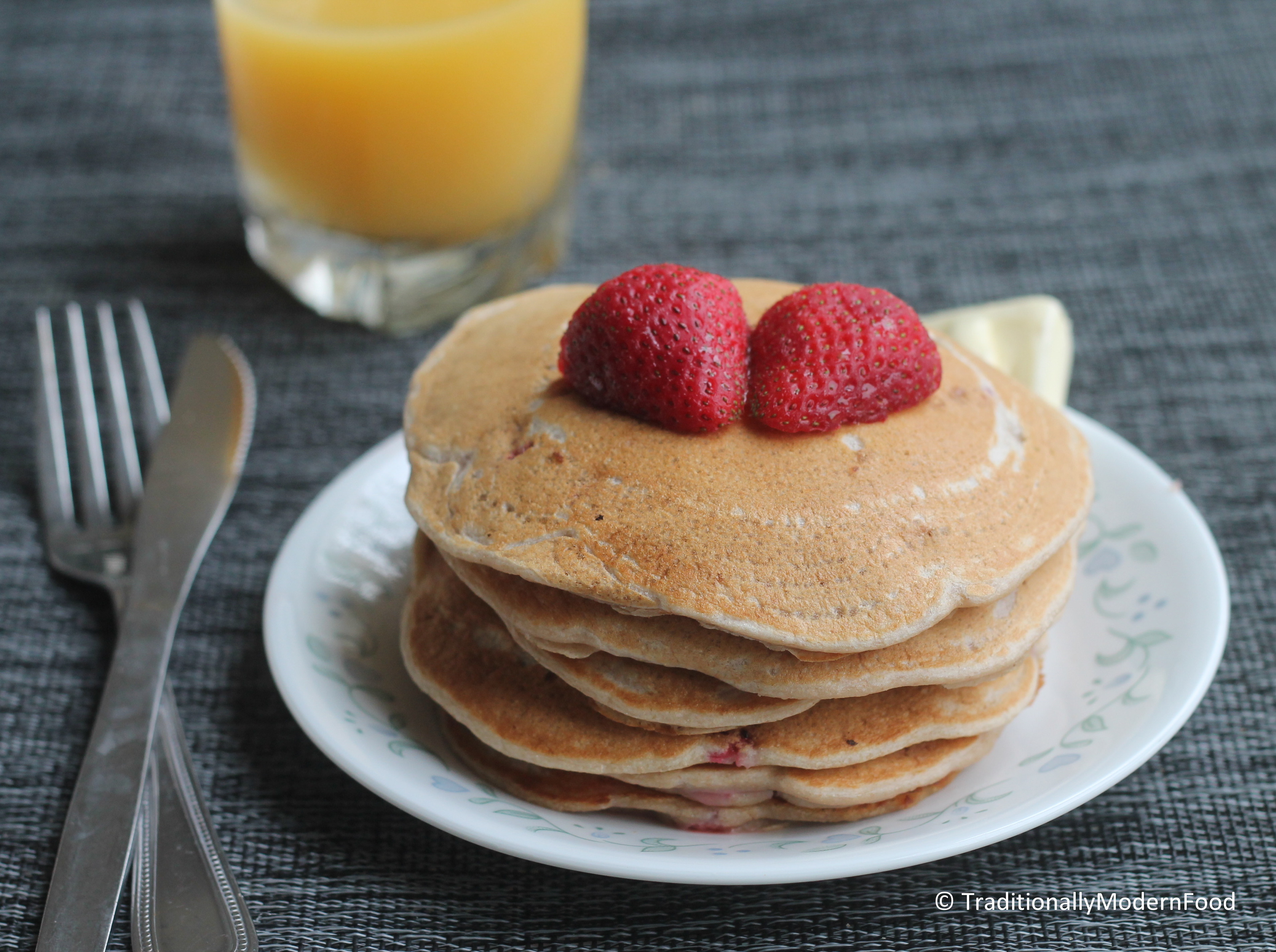 Had few strawberries in the fridge, so added them, and the fruit gave nice flavour to the pancakes. We enjoyed these Soft and fluffy Eggless Pancake for breakfast.
This great way to include fruits in kids diet. Now a days my stared asking for pancake even for dinner. At times instead of making a small batch for him. I prepare entire measurement make all pancake and freeze it for next day breakfast.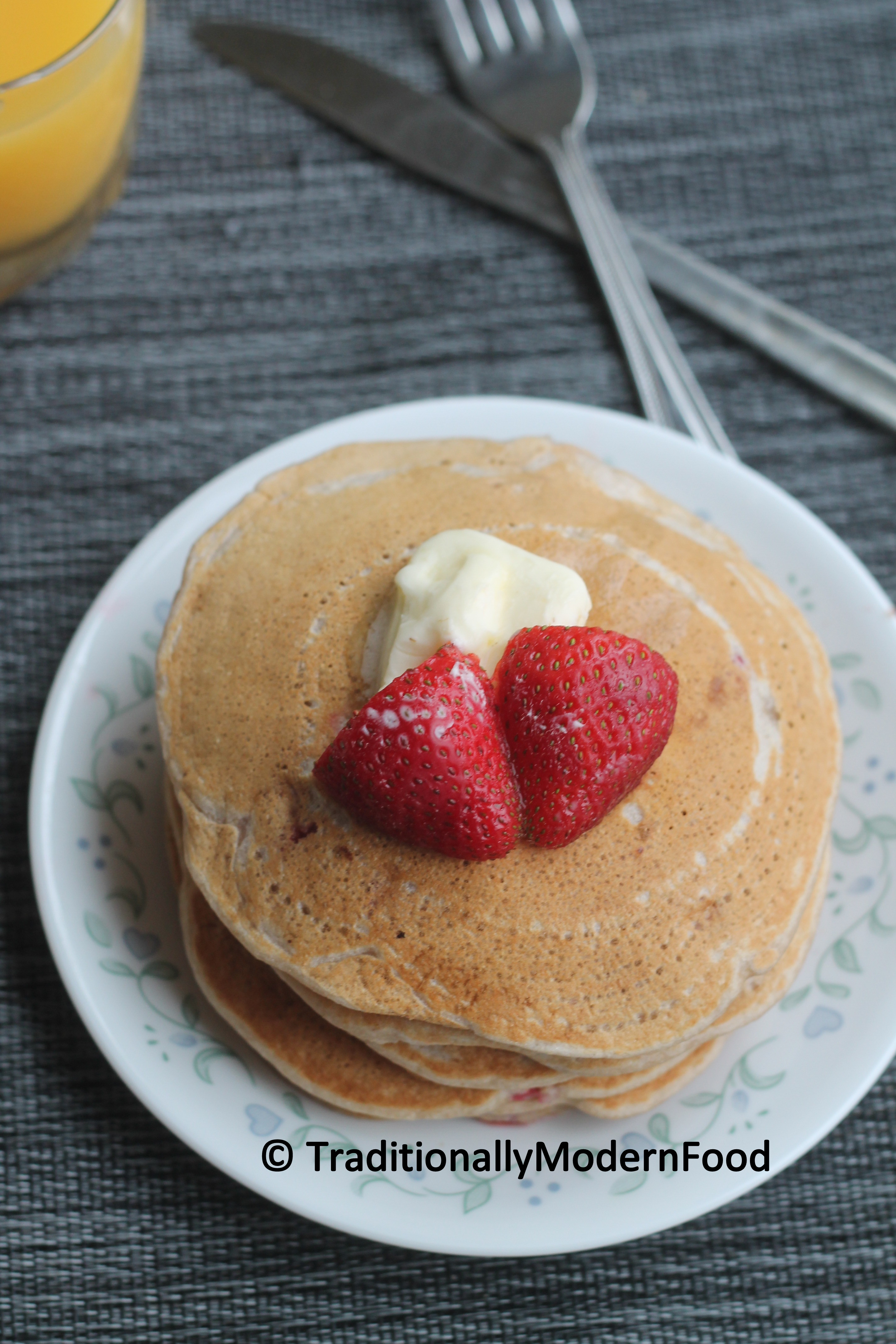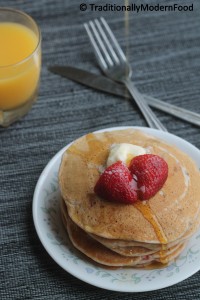 Ingredients
Strawberry - 1/3 cup

chopped

Dry Ingredients:

Wheat Flour – 1 cup

Baking powder – 2 tsp

Salt - 1/8 tsp

Wet Ingredients:

Honey/White Sugar/Brown Sugar – 3 tbsp

Adjust according to your taste, I used brown sugar

Milk - 1 cup + 1 tbsp

I used 2% milk

Vinegar - 1 tsp

Water - 2 tbsp

Vanilla extract – 1/4 tsp

Olive oil/butter - 1 tbsp

for the batter

Butter - as needed for greasing the pan

Unsalted, Melted at room temperature
Instructions
Combine the dry ingredients and mix slightly. Mix milk and vinegar and keep aside for 2-3 minutes. Add butter and vanilla to the milk

Whisk together the dry and wet ingregients until combined. Add chopped berries and Set aside to rest for 10 - 15 minutes (I kept for 10 minutes)

Heat an iron skillet or a non stick pan on low to medium heat. Reduce heat to low and pour a ladle full of batter in the center of the pan. Do not spread the batter. Allow it to spread on its own. Add little butter around the edges. Cook the pancake on low medium heat for half a minute or until bubbles appear over the pancake

When the pancake turns to a nice golden shade, flip it over and cook for half a minute and transfer to the serving plate

Serve warm, topped with butter/honey/Maple Syrup/Powdered Sugar/Caramel syrup/butterscotch syrup/Fruit syrup
Notes
1. 1 cup + 1 tbsp of Buttermilk can be used instead of milk and vinegar
2. Blackberry, blueberry, raspberry can be used instead of strawberry
3. Excess pancake can be put in a zip lock bag or aluminum foil separated with parchment paper and stored on freezer for weeks. Microwave the oackcake for a minutes and enjoy
4. If the batter becomes thick over time drizzle some milk and make pancakes
Method:
Combine the dry ingredients and mix slightly. Mix milk and vinegar and keep aside for 2-3 minutes. Add butter and vanilla to the milk
Whisk together the dry and wet ingregients until combined. Add chopped berries and Set aside to rest for 10 – 15 minutes (I kept for 10 minutes)
Heat an iron skillet or a non stick pan on low to medium heat. Reduce heat to low and pour a ladle full of batter in the center of the pan. Do not spread the batter. Allow it to spread on its own. Add little butter around the edges. Cook the pancake on low medium heat for half a minute or until bubbles appear over the pancake
When the pancake turns to a nice golden shade, flip it over and cook for half a minute and transfer to the serving plate
Serve warm, topped with butter/honey/Maple Syrup/Powdered Sugar/Caramel syrup/butterscotch syrup/Fruit syrup