Cabbage rice, Cabbage fried rice recipe, fried rice recipe, burnt garlic fried rice, fried rice recipe Indo Chinese style rice, restaurant-style vegetable fried rice, Cabbage pepper rice, burnt garlic fried rice, Indian style cabbage fried rice, vegetarian fried rice, lunch box recipe with step-by-step pictures and video recipe. Check out the Cabbage fried rice video and if you like the video pls SUBSCRIBE to my channel
Easy and flavorful 10 mins cabbage fried rice is a tasty Indo-Chinese dish that is perfect for a quick weekday/ weeknight meal. Best way to finish leftover rice
Jump to:
BEST HOTEL STYLE veg fried RICE
The key to tasty restaurant-style fried rice is fluffy rice, perfect cookies, and the right amount of seasoning.
WHY thin CHOPPING FOR cabbage FRIED RICE
Thinly chopped veggies cook faster and give an amazing texture to the fried rice so I would recommend that
Tips to note - vegetables
Moisture in the washed vegetables might make rice mushy so always dry the washed vegetables well then chop for fried rice. Avoid fine chopping
Leftover rice
Leftover refrigerated rice works best for fried rice. Adding sesame oil gives extra fluffiness and taste to the rice.
CAN I USE HOT RICE FOR vegetable INDO-CHINESE RICE?
No, never use hot rice for fried rice. If you don't have time to refrigerate the rice, transfer the cooked rice to a plate and drizzle sesame oil. Bring the rice to room temperature then prepare Indian cabbage rice
CAN I MAKE VEGAN FRIED RICE?
I like butter flavor for cabbage rice hence used butter. Yes, you can use vegan butter or use extra sesame oil instead of butter.
CAN I increase PEPPER POWDER?
I prefer chilli sauce spice for veggie fried rice hence added more chilli powder than pepper powder. Adjust the pepper powder according to your spice.
For the Cabbage fried rice video recipe
Ingredients
Refrigerate rice
3

cups

loosely packed rice

1/2

teaspoon

oil
Fried rice
1

tablespoon

sesame oil

1

tablespoon

softened butter

2

tablespoon

garlic

finely chopped

3

tablespoon

capsicum

thinly sliced

2

cups

cabbage

thinly sliced

1/8

teaspoon

sugar

1

teaspoon

+ 1/2 teaspoon soya sauce

1/4

teaspoon

rice vinegar

1/2

tablespoon

+ 1/4 teaspoon chilli sauce

Required salt

1/8

teaspoon

pepper powder
Instructions
Firstly take 3 cups of loosely packed cold rice and add oil; mix gently and keep ready

Add oil to a wide heavy bottom wok and heat in medium-high flame

When oil turns hot, add butter

Furthermore, add garlic and saute well till garlic starts to change color

Add capsicum and saute for 30 seconds

Furthermore, add cabbage; Mix well and cook for 3 minutes till cabbage is translucent and starts to change color

Add sugar, 1 teaspoon of soya sauce, 1/4 teaspoon of vinegar, and chilli sauce; saute for 15 seconds

Furthermore add rice in batches and mix  gently in between the addition

Add required salt, 1/2 teaspoon of soya sauce, and 1/8teaspoon of pepper powder, and mix gently

Furthermore, add extra chilli sauce according to your spice and mix gently

Cook for 2-3 minutes or till you get your desired rice texture

Turn off the stove and serve hot
Video
Ingredients
Refrigerate rice
3 cups loosely packed rice
1/2 teaspoon oil
Fried rice
1 tablespoon sesame oil
1 tablespoon softened butter
2 tablespoon garlic, finely chopped
3 tablespoon capsicum, thinly sliced
2 cups cabbage, thinly sliced
1/8 teaspoon sugar
1 teaspoon + 1/2 teaspoon soya sauce
1/4 teaspoon rice vinegar
1/2 tablespoon + 1/4 teaspoon chilli sauce
Required salt
1/8 teaspoon pepper powder
How to make cabbage rice with step by step pictures
Firstly take 3 cups of loosely packed cold rice and add oil; mix gently and keep ready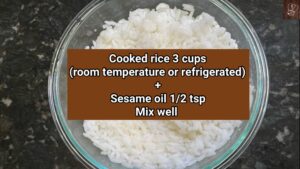 Add oil to a wide heavy bottom wok and heat in medium-high flame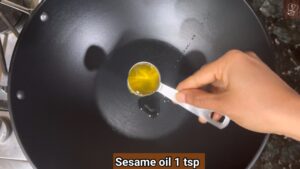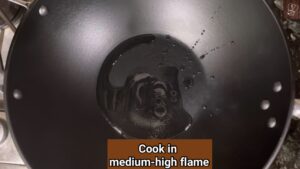 When oil turns hot, add butter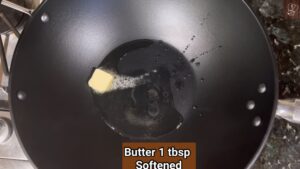 Furthermore, add garlic and saute well till garlic starts to change color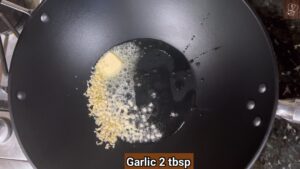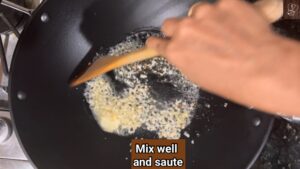 Add capsicum and saute for 30 seconds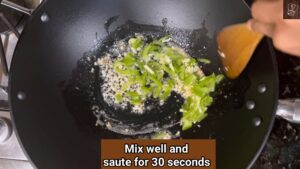 Furthermore, add cabbage; Mix well and cook for 3 minutes till cabbage is translucent and starts to change color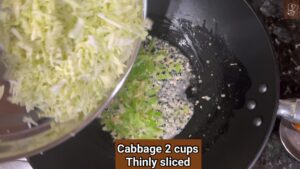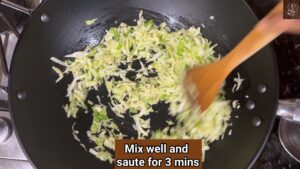 Add sugar, 1 teaspoon of soya sauce, 1/4 teaspoon of vinegar, and chilli sauce; saute for 15 seconds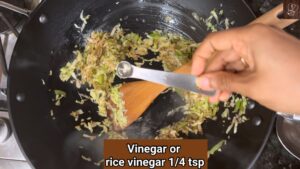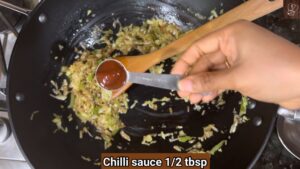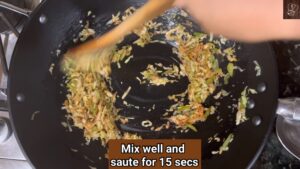 Furthermore add rice in batches and mix gently in between the addition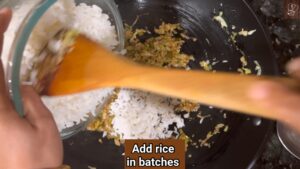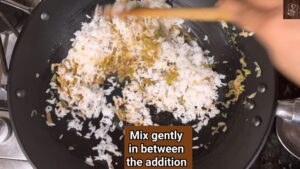 Add required salt, 1/2 teaspoon of soya sauce, and 1/8teaspoon of pepper powder, and mix gently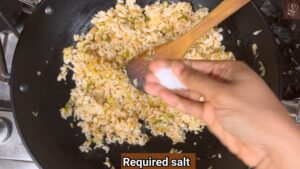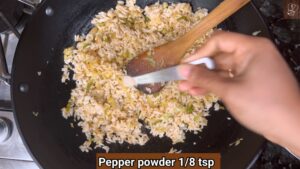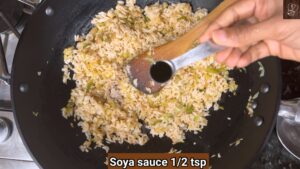 Furthermore, add extra chilli sauce according to your spice and mix gently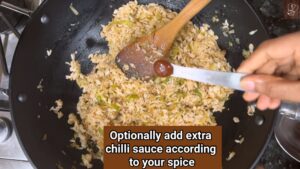 Cook for 2-3 minutes or till you get your desired rice texture
Turn off the stove and serve hot