Chettinadu Karamani kara kuzhambu, black-eyed peas gravy, karamani kuzhambu, south Indian kuzhambu recipe, karamani puli kuzhambu, black-eyed pea in tamarind curry, kulambu recipe, thatta payir kuzhambu, thattai payaru kulambu, pressure cooker cowpeas kuzhambu,karamani kulambu, brinjal karamani kuzhambu, kathirikai karamani kuzhambu, black eyes beans kulambu, cowpeas curry with step-by-step pictures and video recipe. Check out the karamani kuzhambu recipe and if you like the video pls SUBSCRIBE to my channel.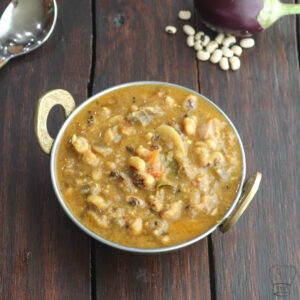 Jump to:
Karamani Kara Kuzhambu recipe
I Like Saravana Bhavan hotel-style Kara Kuzhambu. This karamani kulambu is a version of that with homemade sambar powder and freshly ground coconut. protein-rich tasty one-pot kara kuzhambu. Instant black-eyed peas curry without soaking
how much puli should I use for the Kuzhambu recipe?
Though it is a puli kuzhambu (tamarind-based) recipe, the sourness of this particular Kuzhambu is from tamarind and tomatoes. The amount of tamarind depends on the sourness of the tamarind and tomatoes you use So Adjust the quantity according to the puli you use. Pulikaichal, puli aval, instant puli sadam are some of my tamarind based dishes
ttps://youtube.com/playlist?list=PL3zYDDQHDMSvGFsFp6gDGFDGnZzXpeEEi
What kind of vegetables should I use?
I have used brinjal but drumstick is yet another tasty option for thatta payiru kulambu. You can also potato. Karamani puli kulambu tastes good with just garlic, onion, and tomato without any additional vegetable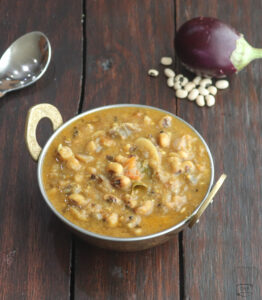 Replacement for sambar powder
You can use chili powder, coriander, and pepper powder instead of Sambar powder. I have used homemade sambar powder. Adjust according to your taste
Color of the puli kuzhambu
the color of the Kuzhambu totally depends on the sambar powder you use, tamarind, tomatoes, etc.
shelf life of Kuzhambu
puli based Kuzhambu variety generally stays good for 3-4 days but since we added coconut for this Kuzhambu it won't stay
What should be the consistency of kara kuzhambu?
I Adjust the water according to the consistency you desire. I made slightly thick kuzhambu
Can I skip fennel seed?
Fennel seeds give amazing flavor to the kulambu so I would highly recommend it.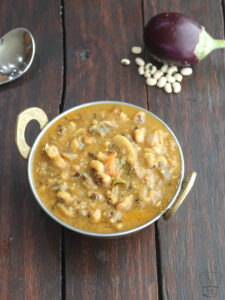 For the Karamani kuzhambu video recipe in Tamil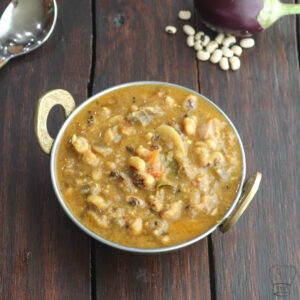 Ingredients
To roast
1/4

cup

karamani | Lobia | black eyes peas

1/4

teaspoon

sesame oil
To grind
3

tablespoon

coconut

1/4

teaspoon

fennel seeds
Kuzhambu
1

tablespoon

+ 1/2 teaspoon sesame oil

1/4

teaspoon

mustard seeds

Curry leaves

7

garlic

15

small onion

1

tomato

1/8

teaspoon

Turmeric powder

required Salt

1/2

tablespoon

sambar powder

1

+ 1/2 cup water

1/2

cup

thin tamarind extract
Instructions
Firstly add black-eyed peas and oil to a wide heavy-bottomed pan and turn on the stove to medium flame

Roast for 3-4 mins till they slightly change color

Turn off the stove and add 1/2 cup of water

Transfer to a vessel and soak for 10 minutes or till we add to the kuzhambu

Grind coconut and fennel seeds with little water and keep aside

Add oil to a 2-liter pressure cooker and turn on the stove to medium flame

Furthermore, add mustard seeds and let them splutter

Add curry leaves and mix well

Furthermore, add garlic and saute till it slightly changes color

Add onion and mix well; saute till onion turns translucent

Furthermore, add brinjal and give a quick mix

Add tomatoes and mix well; cook for 1 minute

Furthermore, add turmeric powder and salt; mix well

Add soaked karamani along with water

Furthermore, add 1/2 cup of water

Add ground coconut, sambar powder, and 1/2 cup of water; avoid mixing

Close the cooker and pressure cook for 8 whistles if prefer mushy lobia; do natural pressure release

Add thin tamarind extract and salt if required; mix well and cook for 5 minutes

Finally, add sesame oil; mix well and turn off the stove
Video
Ingredients
To roast
1/4 cup karamani | Lobia | black eyes peas
1/4 teaspoon sesame oil
To grind
3 tablespoon coconut
1/4 teaspoon fennel seeds
Kuzhambu
1 tablespoon + 1/2 teaspoon sesame oil
1/4 teaspoon mustard seeds
Curry leaves
7 garlic
15 small onion
1 tomato
1/8 teaspoon Turmeric powder
required Salt
1/2 tbsp sambar powder
1 + 1/2 cup water
1/2 cup thin tamarind extract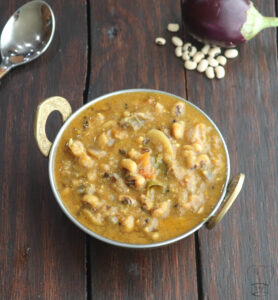 How to make Karamani kuzhambu with step by step pictures
Firstly add black-eyed peas and oil to a wide heavy-bottomed pan and turn on the stove to medium flame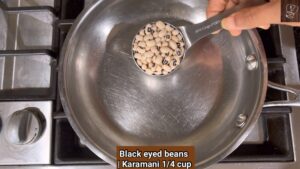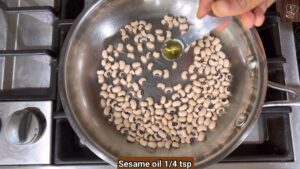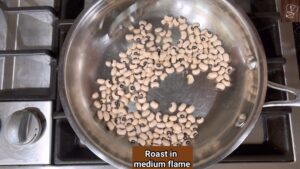 Roast for 3-4 mins till they slightly change color
Turn off the stove and add 1/2 cup of water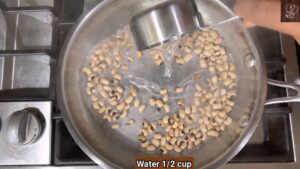 Transfer to a vessel and soak for 10 minutes or till we add to the kuzhambu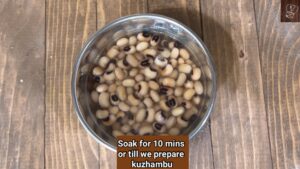 Grind coconut and fennel seeds with little water and keep aside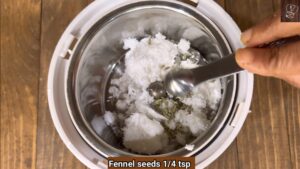 Add oil to a 2-liter pressure cooker and turn on the stove to medium flame
Furthermore, add mustard seeds and let them splutter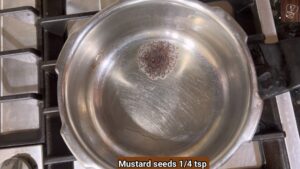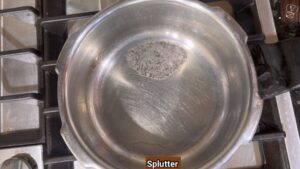 Add curry leaves and mix well
Furthermore, add garlic and saute till it slightly changes color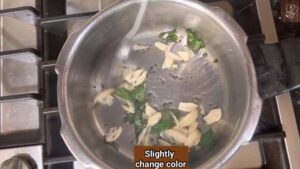 Add onion and mix well; saute till onion turns translucent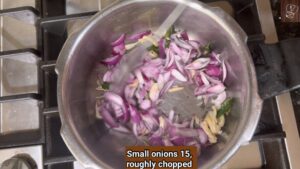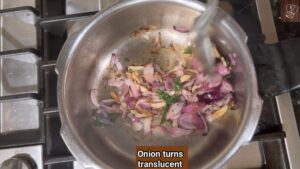 Furthermore, add brinjal and give a quick mix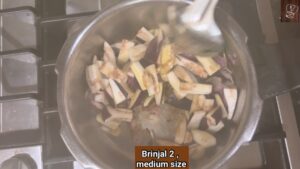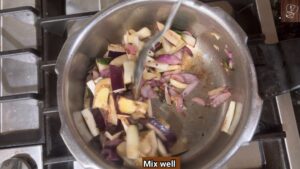 Add tomatoes and mix well; cook for 1 minute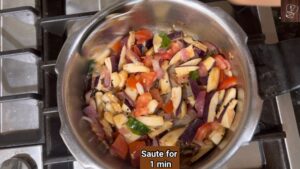 Furthermore, add turmeric powder and salt; mix well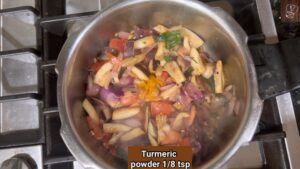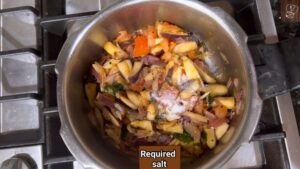 Add soaked karamani along with water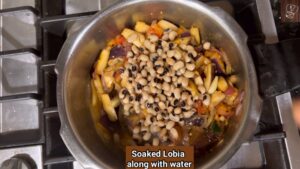 Furthermore, add 1/2 cup of water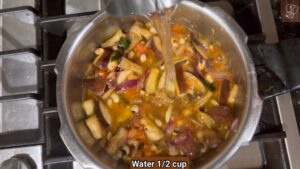 Add ground coconut, sambar powder, and 1/2 cup of water; avoid mixing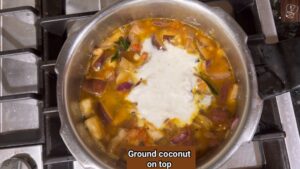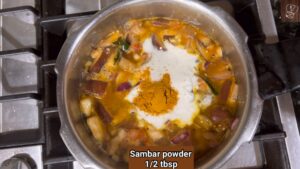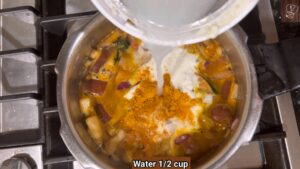 Close the cooker and pressure cook for 8 whistles if prefer mushy lobia; do natural pressure release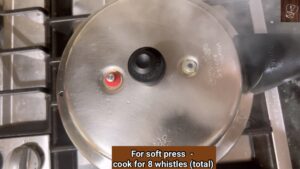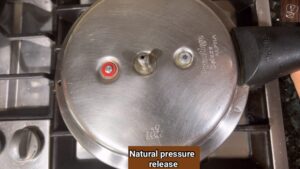 Add thin tamarind extract and salt if required; mix well and cook for 5 minutes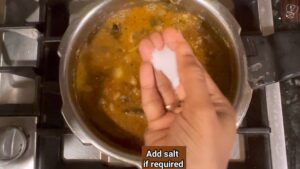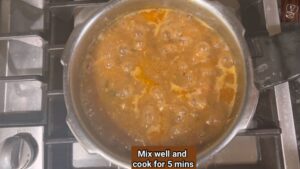 Finally, add sesame oil; mix well and turn off the stove