Mysore Pak recipe | Kalyana Mysore pak | MysorePak | Mysore paagh | hard Mysore pak | mysorepa | mysurpa | besan burfi | ghee burfi with step by step pictures and video recipe. Check out the video recipes for Mysorepak video. If you like the video pls SUBSCRIBE to my channel.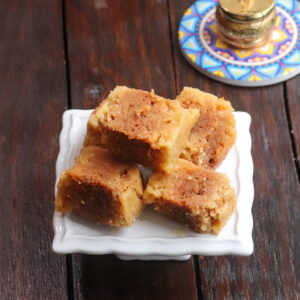 Mysore pak recipe | Traditional Mysorepak is a traditional Indian sweet. There are two versions - hard & porous one, and a melt-in-mouth one. This one is the first version of Mysorepak with 4 main ingredients. It is a popular Indian sweet / dessert recipe from the state of Karnataka and hails from the royal family of Mysore.
Jump to:
Sieving BESAN FLOUR
It is very important to sieve the besan flour. Well-sieved besan yields a tasty Mysore pak. Always chose fresh besan flour
Besan - oil mixture
Always make sure it is lump-free.
Do I need a Mysore pak tray?
I have used a baking pan. You can use any plate or tray. Placing parchment paper and adding ghee is optional but I feel it helps for smooth unmolding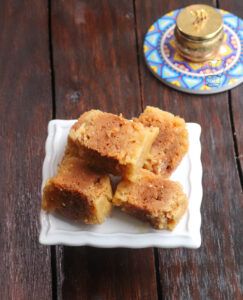 DO I NEED THIS MUCH GHEE and oil FOR MYSORE PAK?
Ghee and oil are the key ingredients that determine the shape and texture of the Mysore pak. Some traditional Mysore Pak recipes use baking soda for the porous Mysore pak texture but to avoid baking soda I used extra oil and ghee. You can use leftover excess oil and ghee for other cooking but reducing it might alter the texture and taste.
can I add the entire ghee at once?
no, always make sure you add ghee in batches. Adding ghee at once alters the texture.
CAN I Alter THE AMOUNT OF SUGAR FOR MYSORE PAK?
Yes, you can alter the sugar according to your taste but avoid adding more as it will disintegrate the Mysore pak.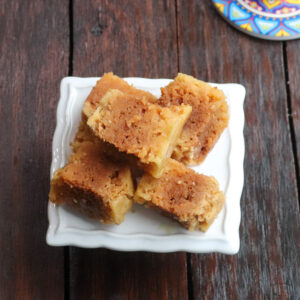 One string consistency
Always make sure you cook one-string consistency sugar syrup. If the syrup is not of the right consistency, Mysorepak texture might vary.
Should I cut the Mysore pak right after we transfer?
It is always recommended to slit the Mysore Pak when it is hot as it is difficult to cut after it is completely cool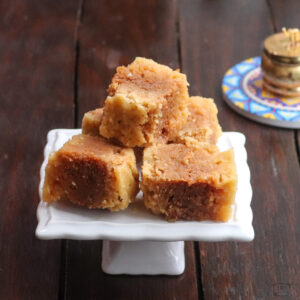 For the Mysore pak video recipe in Tamil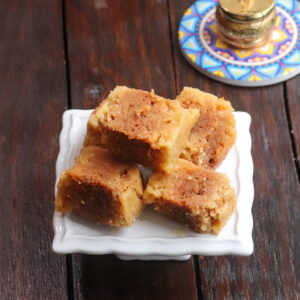 Ingredients
Besan flour | kadalai Maavu 1 + 1/2 cup

Sugar 1 + 3/4 cup

adjust according to your taste

Oil 1 + 1/2 cup

flavorless oil

Water 1/2 cup

Pinch

of salt

Ghee 1 + 1/2 cup
Instructions
Prepare tray
Firstly take a tray and place parchment paper. Grease it with little ghee and keep aside
Besan oil mixture
Measure and keep all the ingredients ready

Sieve besan flour well and make sure it is lump-free

Transfer the besan flour to a wide mixing bowl

Furthermore add oil and mix well till you get a lump free smooth mixture
Heat ghee
Take ghee in a heavy-bottomed pan and heat it in low - medium flame till it turns slightly frothy

Simmer the flame and continue to heat
Sugar syrup
Add sugar, hot water, and a pinch of salt to a wide heavy-bottomed pan; mix well and boil

Sugar melts down and starts boiling, keep mixing and continue cooking

When it boils well simmer the flame and check for 1-string consistency

Carefully take a small quantity of syrup between your thumb and index finger, stretch it and it forms a thin string
Besan mixture
After attaining this stage add the besan-oil mixture immediately

Mix well and cook till the mixture boils well and Thickens

You can see many small bubbles in the mixture and it turns frothy

Carefully add a ladle of hot ghee. Hot ghee should turn frothy; mix well and add a ladle full of ghee in batches

adding ghee at one shot as it will affect Mysore pak texture so always add ghee in batches and mix well in between each addition

Add the entire ghee and the mixture will look frothy and bubbles up; turn off the flame immediately and transfer the mixture to the greased tray

Gently press avoid hard press

Hot oil/ghee helps for brown Mysore pak
Cut Mysore pak
Leave it for 3-4 minutes. When it is hot use a greased knife and slit

Optionally you can sprinkle sugar at this stage

Level the tray and keep it untouched for 1 hour or till it firms up

Carefully flip in a tray or plate( unmold and cut)

Cut them into pieces

Use a kitchen paper towel and wipe the excess oil- ghee glaze and enjoy
Video
Notes
Sieving BESAN FLOUR
It is very important to sieve the besan flour. Well-sieved besan yields a tasty Mysore pak. Always chose fresh besan flour
Besan - oil mixture
Always make sure it is lump-free.
Tray or baking pan
I have used a baking pan. You can use any plate or tray

Placing parchment paper and adding ghee is optional but I feel it helps for smooth unmolding
Ghee and oil
to avoid baking soda I used extra oil and ghee. You can use leftover excess oil and ghee for other cooking but reducing it might alter the texture and taste

Simmer the ghee till we add it to the mixture. when you add ghee it should turn frothy else heat the ghee then add 
always make sure you add ghee in batches. Adding ghee at once alters the texture
Spread and add ghee for a frothy mixture 
Sugar 
Alter the sugar according to your taste but avoid adding more as it will disintegrate the Mysore pak

Always make sure you cook one-string consistency sugar syrup. If the syrup is not of the right consistency, Mysorepak texture might vary
Slit Mysorepak
It is always recommended to slit the Mysore Pak when it is hot as it is difficult to cut after it is completely cool
Avoid removing the pieces immediately. let it cool then take out the pieces
After cooling always invert in a deep plate as oil- ghee oozes out
Use a paper kitchen towel wipe the oil-ghee then enjoy the Mysore pak
Ingredients
Besan flour | kadalai Maavu 1 + 1/2 cup
Sugar 1 + 3/4 cup, adjust according to your taste
Oil 1 + 1/2 cup, flavorless oil
Water 1/2 cup
Pinch of salt
Ghee 1 + 1/2 cup
Topping
little sugar optional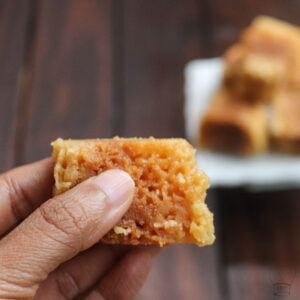 How to make Mysore pak with step by step pictures
Prepare tray
Firstly take a tray and place parchment paper. Grease it with little ghee and keep aside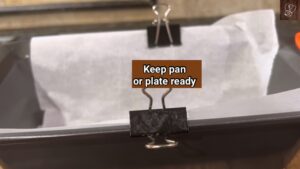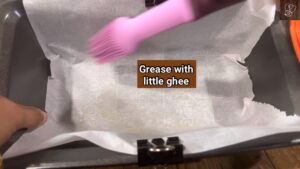 Besan oil mixture
Measure and keep all the ingredients ready

Sieve besan flour well and make sure it is lump-free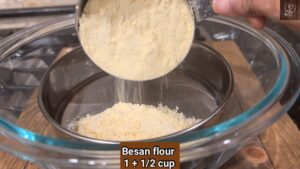 Transfer the besan flour to a wide mixing bowl

Furthermore add

oil and mix well till you get a lump free smooth mixture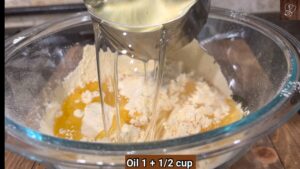 Heat ghee
Take ghee in a heavy-bottomed pan and heat it in low - medium flame till it turns slightly frothy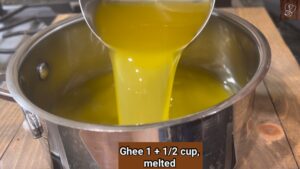 Simmer the flame and continue to heat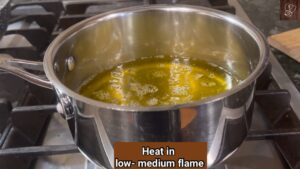 Sugar syrup
Add sugar, hot water, and a pinch of salt to a wide heavy-bottomed pan; mix well and boil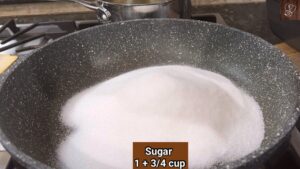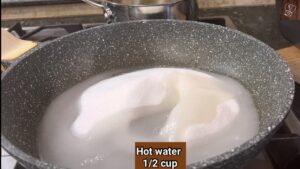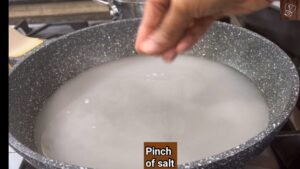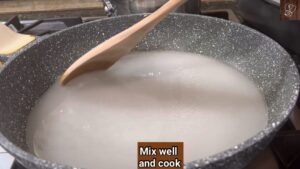 Sugar melts down and starts boiling, keep mixing and continue cooking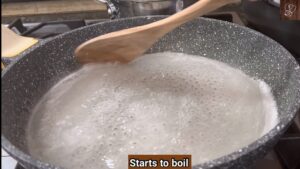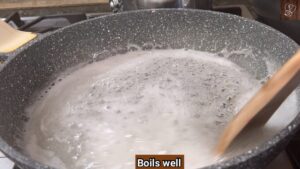 When it boils well simmer the flame and check for 1-string consistency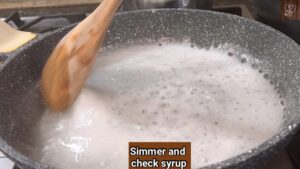 Carefully take a small quantity of syrup between your thumb and index finger, stretch it and it forms a thin string

Besan mixture
After attaining this stage add the besan-oil mixture immediately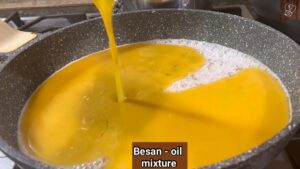 Mix well and cook till the mixture boils well and Thickens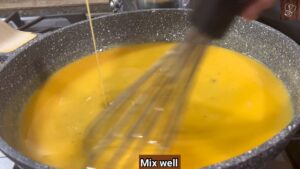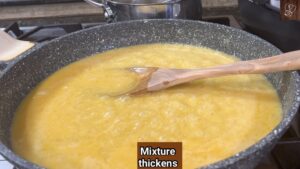 You can see many small bubbles in the mixture and it turns frothy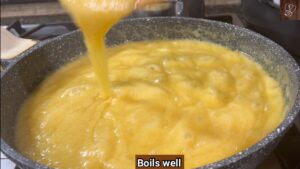 Carefully add a ladle of hot ghee. Hot ghee should turn frothy; mix well and add a ladle full of ghee in batches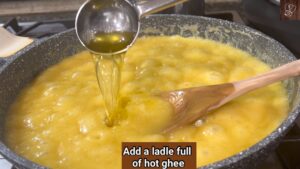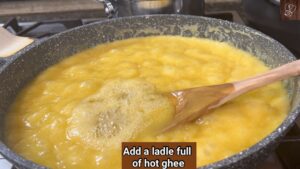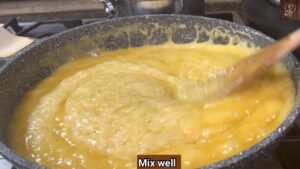 adding ghee at one shot as it will affect Mysore pak texture so always add ghee in batches and mix well in between each addition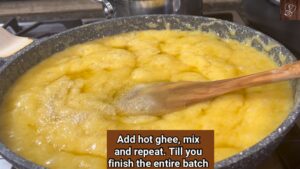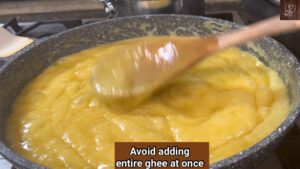 Add the entire ghee and the mixture will look frothy and bubbles up; turn off the flame immediately and transfer the mixture to the greased tray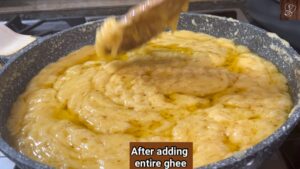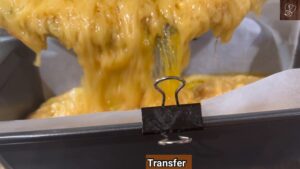 Gently press avoid hard press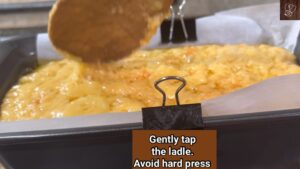 Hot oil/ghee helps for brown Mysore pak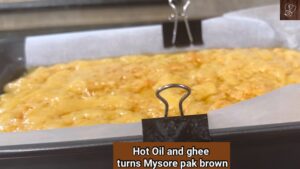 Cut Mysore pak
Leave it for 3-4 minutes. When it is hot use a greased knife and slit
Optionally you can sprinkle sugar at this stage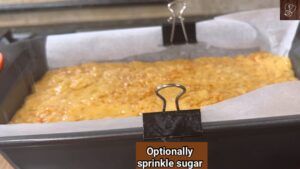 Level the tray and keep it untouched for 1 hour or till it firms up
Carefully flip in a tray or plate( unmold and cut)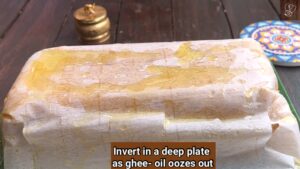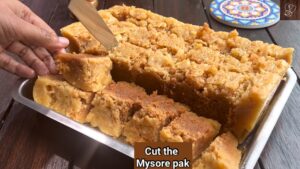 Use a kitchen paper towel and wipe the excess oil- ghee glaze and enjoy