Pulikaichal | Pulikaichal recipe | Pulihora | puliyodarai with step by step pictures.Check out the video and If you like the Pulikaichal video pls SUBSCRIBE to my channel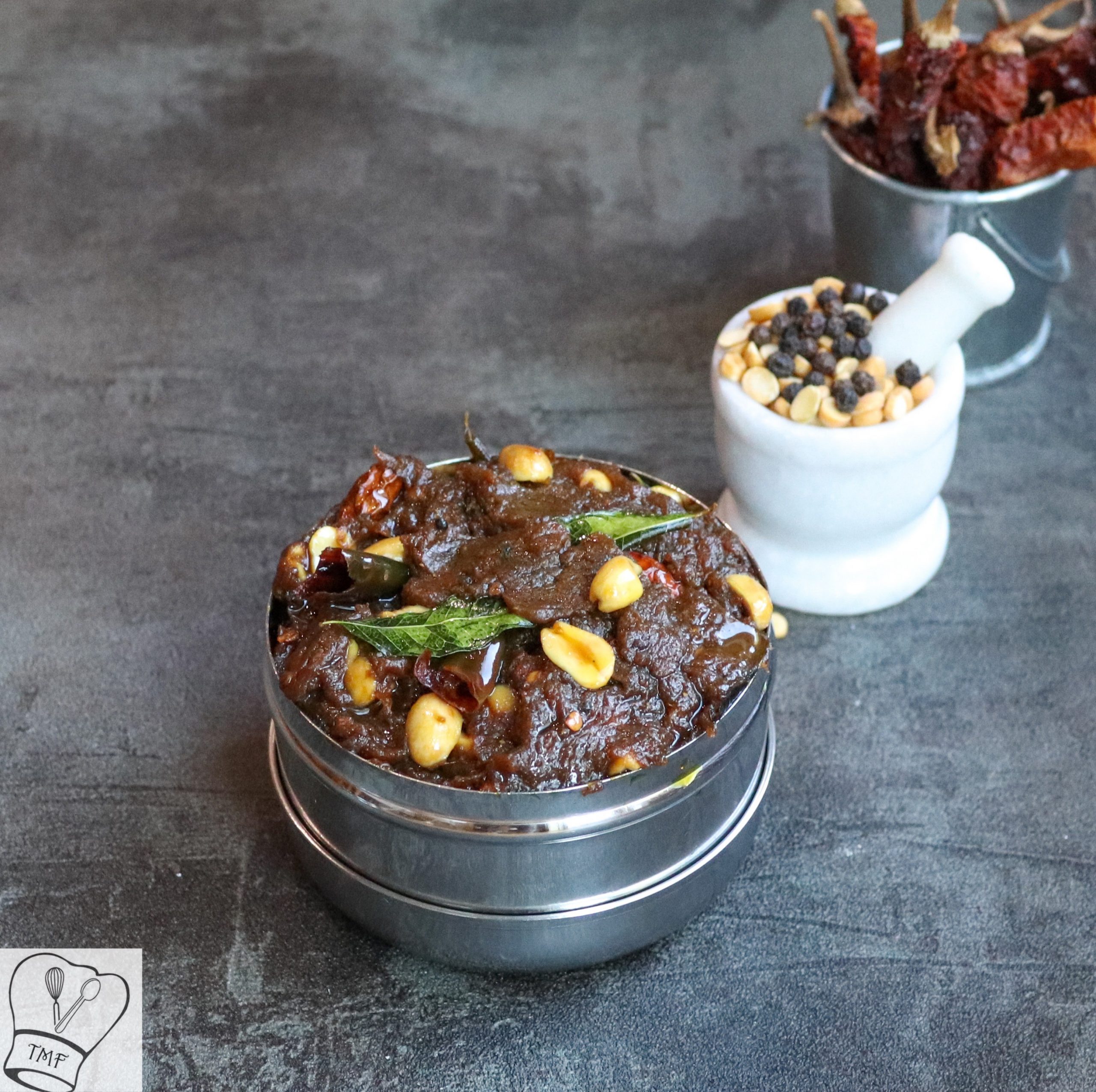 Pulikaichal is a classic traditional South Indian pickle recipe prepared with tamarind. When mixed with rice delicious Tamarind rice can be prepared in no time. Tamarind rice stays good at room temperature for 2 days. Perfect travel/road trip recipes. Pulikaichal stays good for months in the fridge.
Tangy variety of rice is great for the lunch box. Pulikaichal goes well with dosa/ Idli tiffin variety and acts as a yummy pickle to curd rice. During our childhood days whenever Amma travels Amma always prepares a batch of pulikaichal and tomato thokku along with podi varieties like Dhaniya podi, Karuveppilai podi, and Thengai Podi. All we have to do is keep rice and mix any one of these with rice.
Even when traveling for a day trip or two-day trips pulikaichal mixed with rice and Idli with Idli milagai podi are default options as it won't get spoiled.
With a little one in-home, I always have pulikaichal handy in the fridge. Some days when I can't prepare anything puliyodarai comes so handy.
Puli sadam is prepared for many festivals. I prepare it for Some festivals like kannum pongal, Aadiperukku, Navarathri, etc.
Pulikaichal stays good even for 2 months(when refrigerated) or up to a week (outside), if stored in an airtight container and accessed with a clean dry spoon. Puliyodarai is one of the most favorite prasadam in temples. Also in our Tamil Brahmin tradition pulisadam is given as a part of kattu sadha kudai tradition.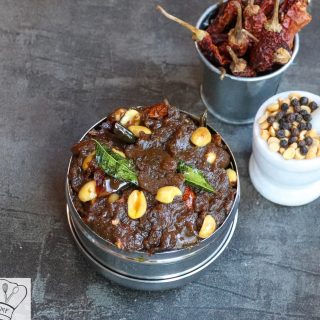 Ingredients
Tamarind - big lemon size

100 grams

Powdered Jaggery - 1 tbsp

Turmeric Powder - 1/2 tsp

Asafoetida - a generous pinch

Salt - as needed

Sesame oil - 1/4 cup + 2 tbsp

Roasted Peanuts - 1/4 cup

approximately I generally add a handful

Channa Dal - 1 tbsp
To temper:
Mustard Seeds - 1 tsp

Dried Red chillies - 2

Curry Leaves - few
Spice Powder:
Channa Dal - 2 tbsp

Coriander Seeds - 1 tablespoon + 1/2 tbsp

Dried Red Chillies - 5

Adjust according to your spice

Fenugreek Seeds

Venthyam - 1/4 tsp

Pepper - 1/4 tsp

Sesame seed - 1/4 tsp
Instructions
Dry roast the ingredients under 'Spice powder'. Allow them to cool and grind it to a fine powder without adding water, and keep aside

Soak tamarind in lukewarm water for 10 - 15 min

Discard the seeds and hard part

Grind the tamarind with little water and strain it

Add little more water and grind. In this way, less tamarind pulp will be wasted

I added around 3 cups of water

Add 2 tablespoon of sesame oil in a pan, and when the oil is hot add the ingredients under 'to temper' and let them splutter. Add the tamarind extract and allow it to boil

When the raw smell starts to go away, add salt

Keep adding oil in regular interval

Let it boil till the raw smell goes off completely

Add the spice powder and mix well

Cook in low flame

In a separate pan add oil and when oil is hot add channa dal and roasted peanuts

Cook till the dal is golden brown and keep aside

meanwhile Add jaggery and cook till oil starts oozing out and the pulikaichal becomes thick switch off

Add the channa dal and peanuts to the pulikaichal and mix well

Keep stirring occasionally. When oil begins to separate and the mixture becomes a thick paste (and raw smell goes off completely), switch off
Video
Notes
Always use a wide pan while cooking pulikaichal as it tends to spit spills outside
Sesame oil make it stay good for longer days
Adding jaggery is optional but it gives a sweet tangy taste which we like
I have used roasted peanuts so I added them at the end. If you are using unroasted add it after tempering
Can add 1/2 teaspoon of a sesame seed, 1 tablespoon of urad dal and 1/2 teaspoon of pepper while Preparing spice powder
First-day pulikaichal tastes spicy but over a period of time it tastes less spicy
Ingredients:
Tamarind - big lemon size, 100 grams
Powdered Jaggery - 1 tbsp
Turmeric Powder - 1/2 tsp
Asafoetida - a generous pinch
Salt - as needed
Sesame oil - 1/4 cup + 2 tbsp
Roasted Peanuts - 1/4 cup (approximately) I generally add a handful
Channa Dal - 1 tbsp
To temper:
Mustard Seeds - 1 tsp
Dried Red chillies - 2
Curry Leaves - few
Spice Powder:
Channa Dal - 2 tbsp
Coriander Seeds - 1 tablespoon + 1/2 tbsp
Dried Red Chillies - 5 (Adjust according to your spice)
Fenugreek Seeds(Venthyam) - 1/4 tsp
Pepper - 1/4 tsp
Sesame seed - 1/4 tsp
Method:
Dry roast the ingredients under 'Spice powder'. Allow them to cool and grind it to a fine powder without adding water, and keep aside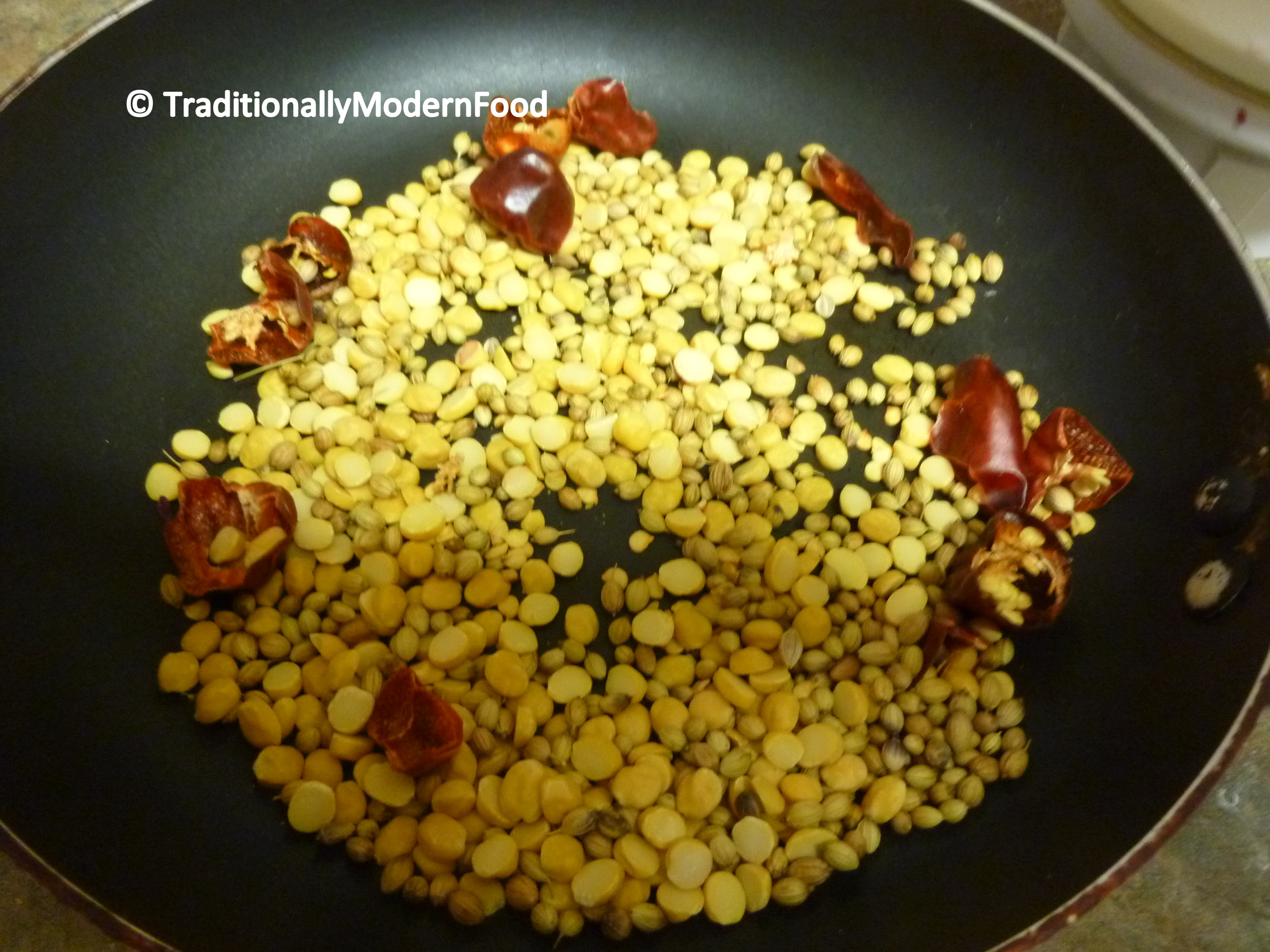 Soak tamarind in lukewarm water for 10 - 15 min
Discard the seeds and hard part
Grind the tamarind with little water and strain it
Add little more water and grind. In this way, less tamarind pulp will be wasted
I added around 3 cups of water
Add 2 tablespoon of sesame oil in a pan, and when the oil is hot add the ingredients under 'to temper' and let them splutter. Add the tamarind extract and allow it to boil
When the raw smell starts to go away, add salt

Keep adding oil in regular interval
Let it boil till the raw smell goes off completely
Add the spice powder and mix well
Cook in low flame
In a separate pan add oil and when oil is hot add channa dal and roasted peanuts
Cook till the dal is golden brown and keep aside
meanwhile Add jaggery and cook till oil starts oozing out and the pulikaichal becomes thick switch off
Add the channa dal and peanuts to the pulikaichal and mix well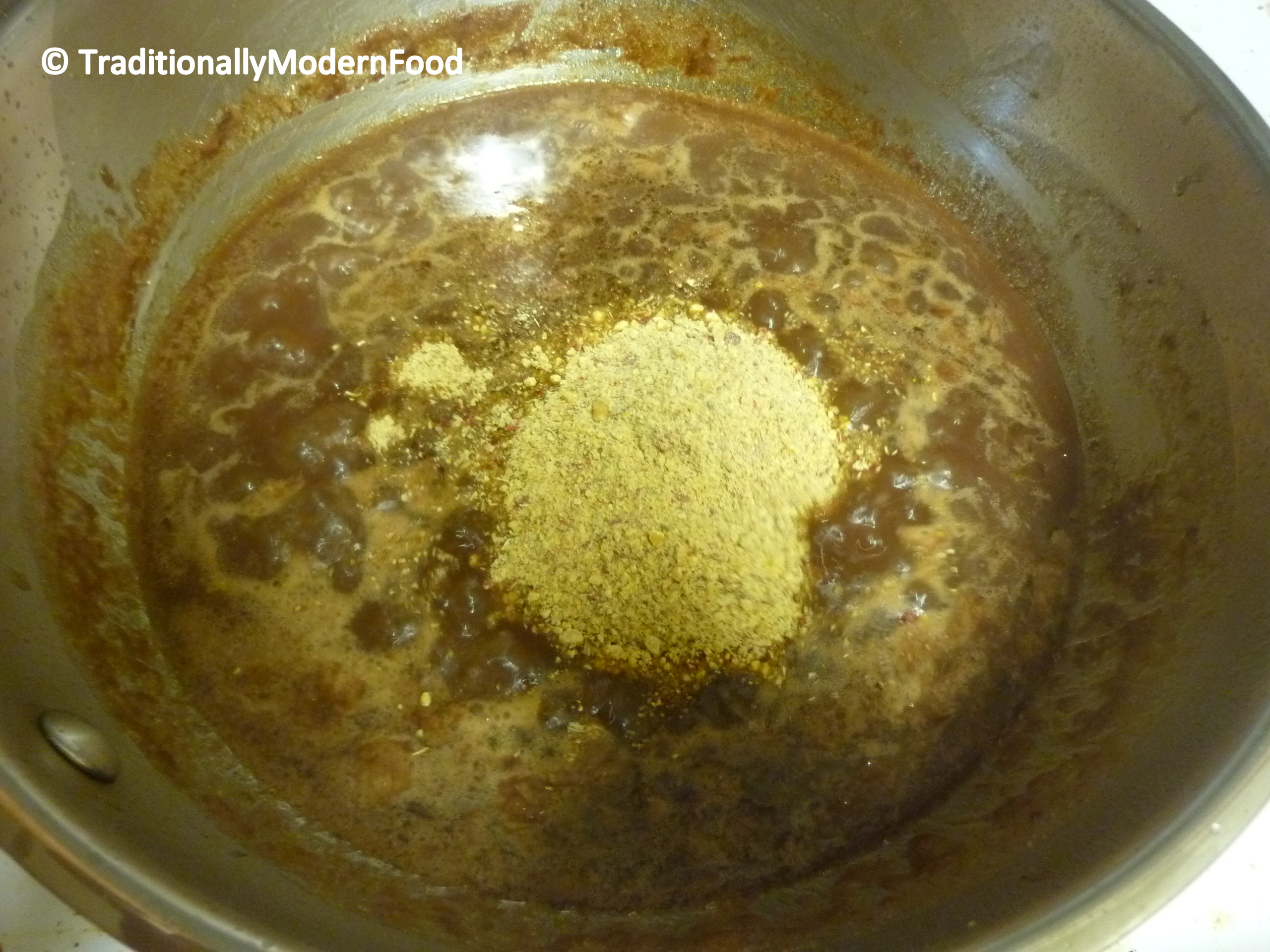 Keep stirring occasionally. When oil begins to separate and the mixture becomes a thick paste (and raw smell goes off completely), switch off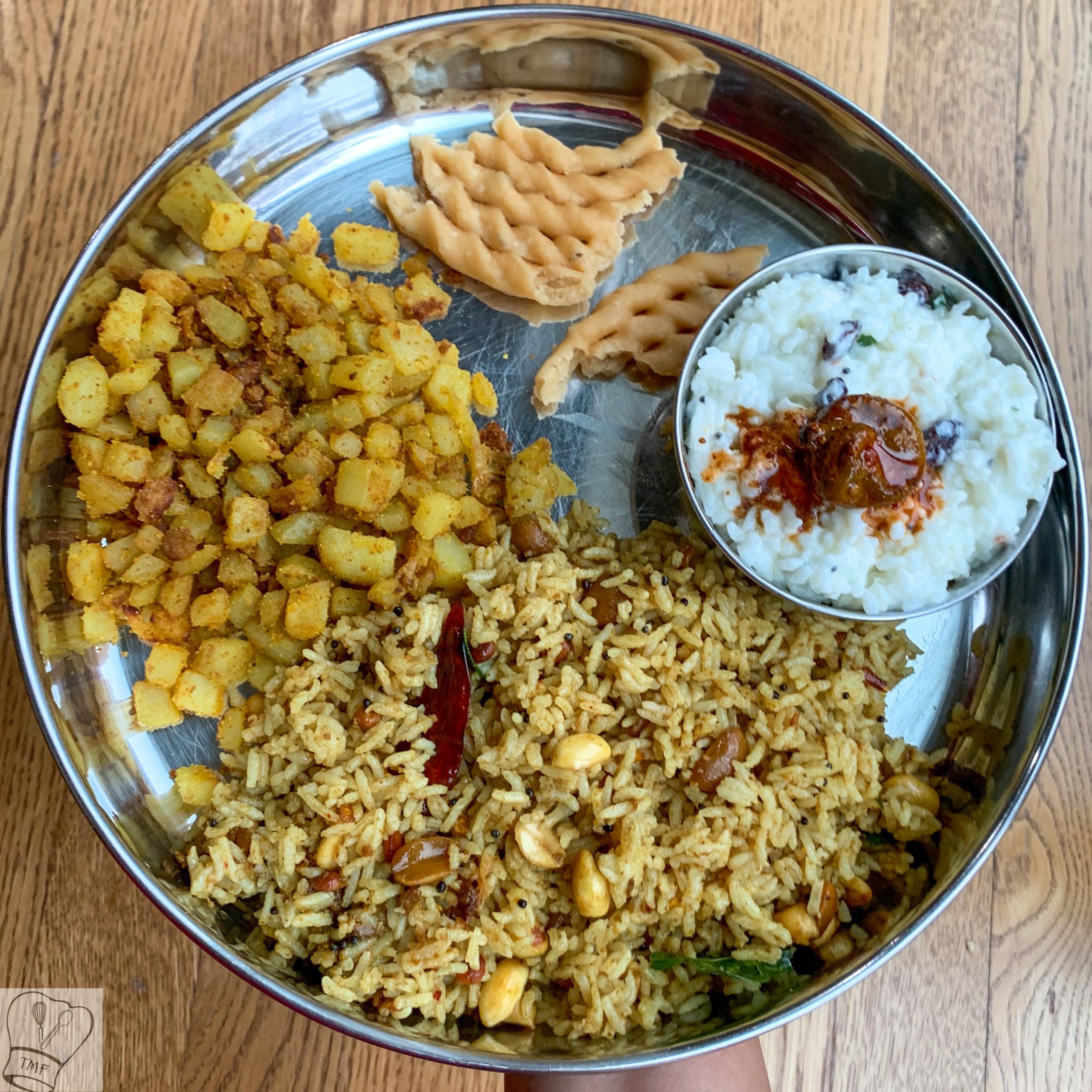 Puliyodarai | Tamarind rice | Pulihora | Pulisadam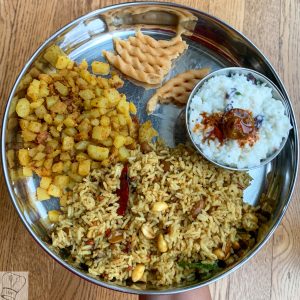 Ingredients
Cooked rice - 2 cup + 1/4 cup

pulikaichal - 3 tbsp

oil - 1/4 tsp

To temper:

Mustard seeds - 1/4 tsp

Channa Dal - 1/2 tsp

Curry leaves - few

Hing - generous pinch

Peanuts - 1 tablespoon approx

Red Chilli - 1

Sesame oil - 1/2 tbsp
Instructions
Take the cooked rice and spread it in a wide plate. Drizzle 1/4 teaspoon of sesame oil and mix well

Add oil to the pan and when oil is hot add all the ingredients given under "to temper" and let it crackle

Add the puliyodarai paste and cook for 30 secs

Add it to the rice and mix well. Add some rice tadka pan and mix well

If required add salt

Allow it to rest atleast for 1 hour before you serve. Serve with Aviyal/Potato Chips/Appalam/Fry

Pulikaichal
Video
Notes
1. After eating pulisadam we might feel thirsty so always pack curd rice with it
2. Pulikaichal can be directly mixed with rice and tempering can be skipped
3. Basmati rice can also be used for pulisadam instead of regular white rice
4. Mix puli sadam and consume after few hours for better taste
5. If you are cooking rice explicitly for puli sadam add few drops of sesame oil while keeping rice
Ingredients:
Cooked rice - 2 cup + 1/4 cup
pulikaichal - 3 tbsp
oil - 1/4 tsp
To temper:
Mustard seeds - 1/4 tsp
Channa Dal - 1/2 tsp
Curry leaves - few
Hing - generous pinch
Peanuts - 1 tablespoon approx
Red Chilli - 1
Sesame oil - 1/2 tbsp
Method:
Add oil to the pan

and when oil is hot add all the ingredients given under "to temper" and let it crackle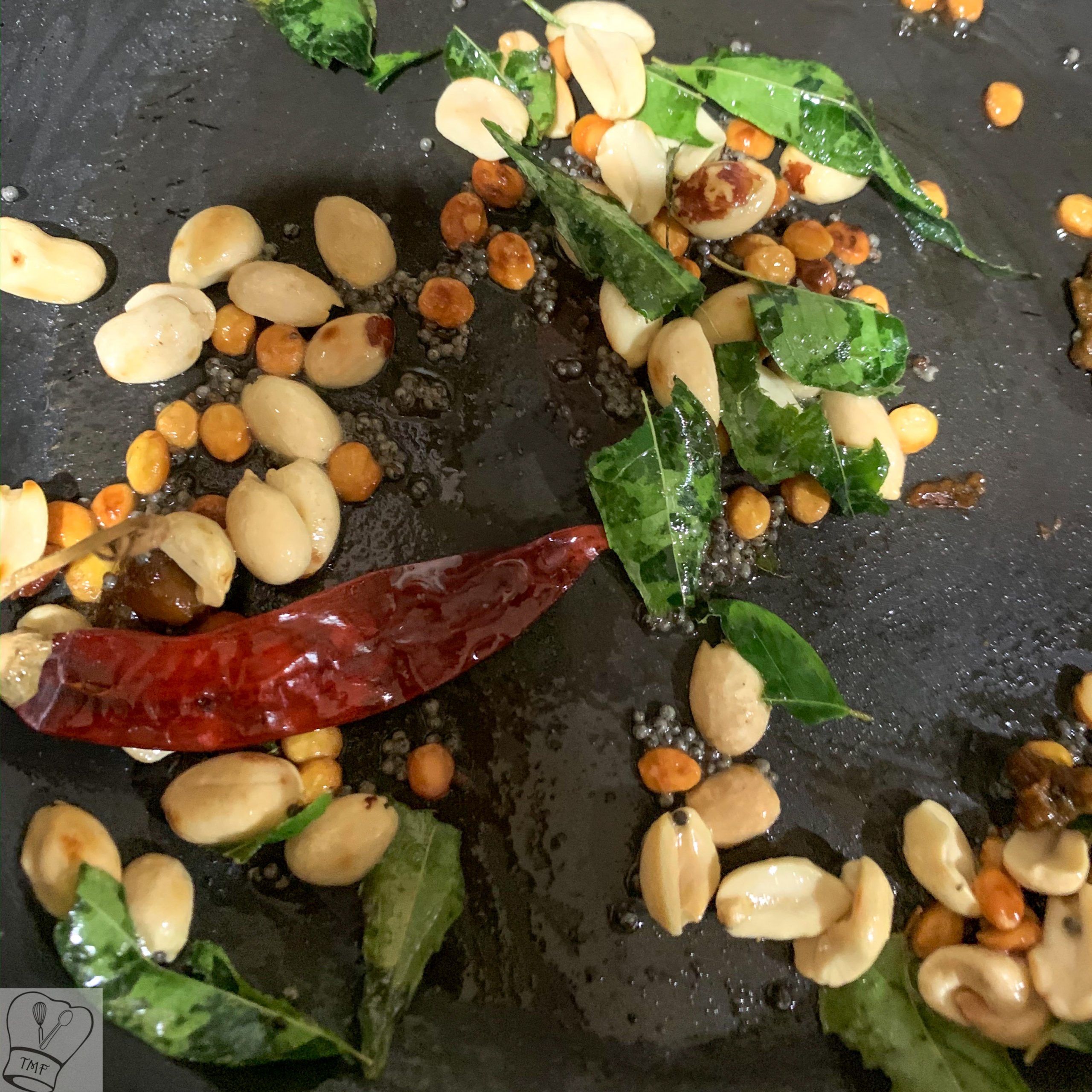 Add the puliyodarai paste and cook for 30 secs
Let the paste cool down for sometime and add it to the rice and mix well

Add some rice to the tadka pan and mix well

Allow it to rest atleast for 1 hour before you serve. Serve with Aviyal/Potato Chips/Appalam/Fry