Paal Kozhukattai with coconut milk | Milk Kozhukattai with detailed step by step photo and video recipe. Check out the Paal kozhukattai video and if you like the video pls SUBSCRIBE to my channel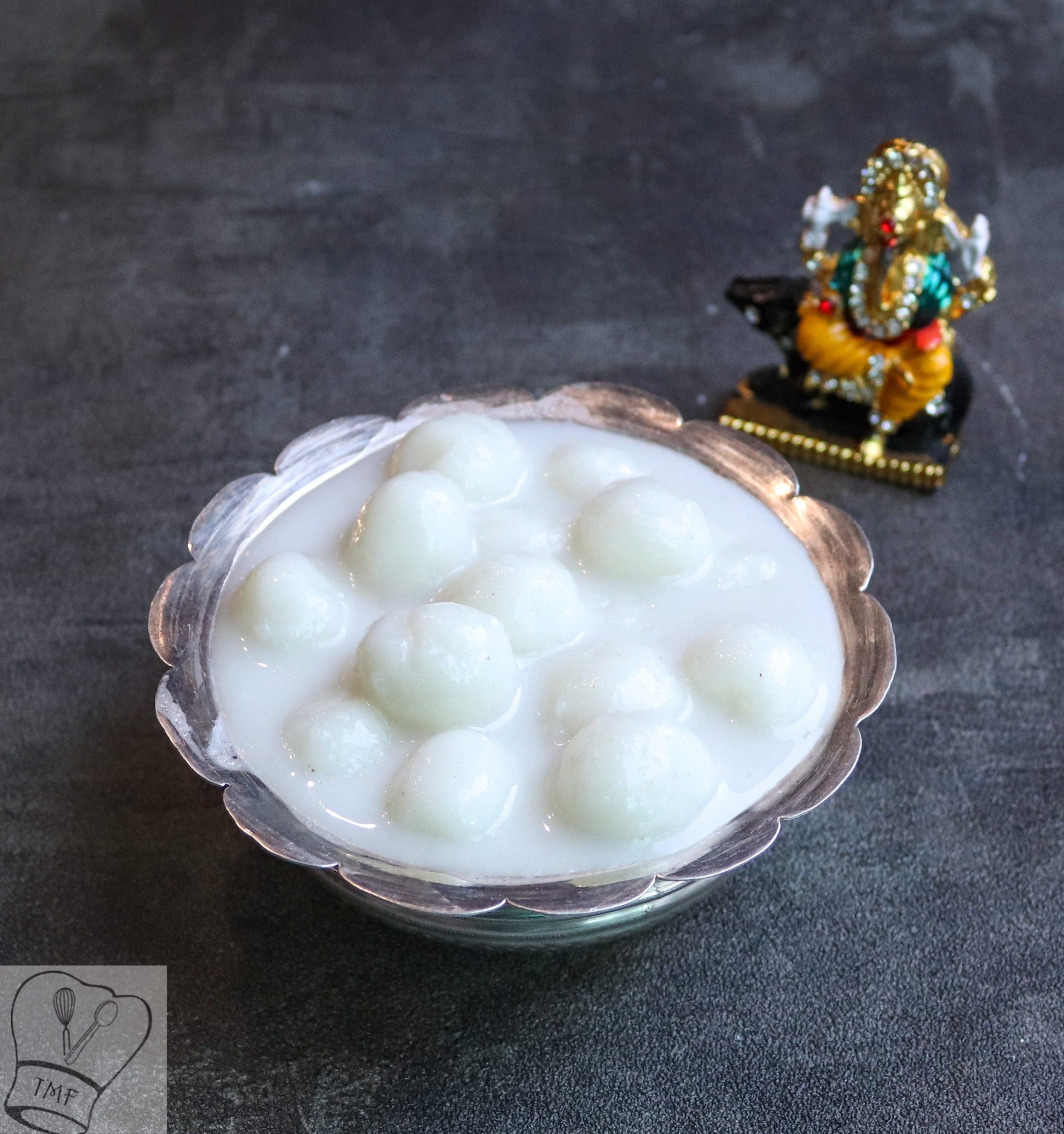 Paal Kozhukattai with coconut milk is a tasty festive special Indian sweet prepared with store-bought rice flour, sweetener, and coconut milk.
It is also a great recipe to finish extra kozhukattai dough. Vegan tasty kozhukattai is a perfect recipe to try for Ganesh Chaturthi.
What is special about Paal kozhukattai?
Usually, kozhukattai are all steamed but for paal kozhukattai recipe, kozhukattai is cooked in coconut milk which makes it so flavorful. Traditionally it is prepared with homemade coconut milk but I have used the store-bought coconut milk which makes it super easy.
What kind of sweetener to be used?
Paal kozhukattai is generally a sweet based dish which is commonly prepared by using sugar or jaggery. Today I have used white sugar but brown /turbinado sugar/coconut sugar etc. If you are using jaggery always cook the jaggery with little water till it is completely melted. Strain it to remove impurities. Jaggery with impurities might curdle. Add the jaggery syrup-like sugar and cook for 3-4 minutes
Why thick coconut milk is not boiled for a long time?
Thick coconut milk shouldn't be cooked for a long time there is a high chance of milk to get curdle. Always make sure the kozhukattai is cooked in watery thin coconut milk and make sure thick coconut milk is added at the end even after adding sweetener.
Can I use regular milk instead of coconut milk?
Yes, cows milk can be used for making paal kozhukattai. If you are using regular milk use some coconut for extra flavor. Coconut milk gives a nice flavor to the dish hence I prefer coconut milk.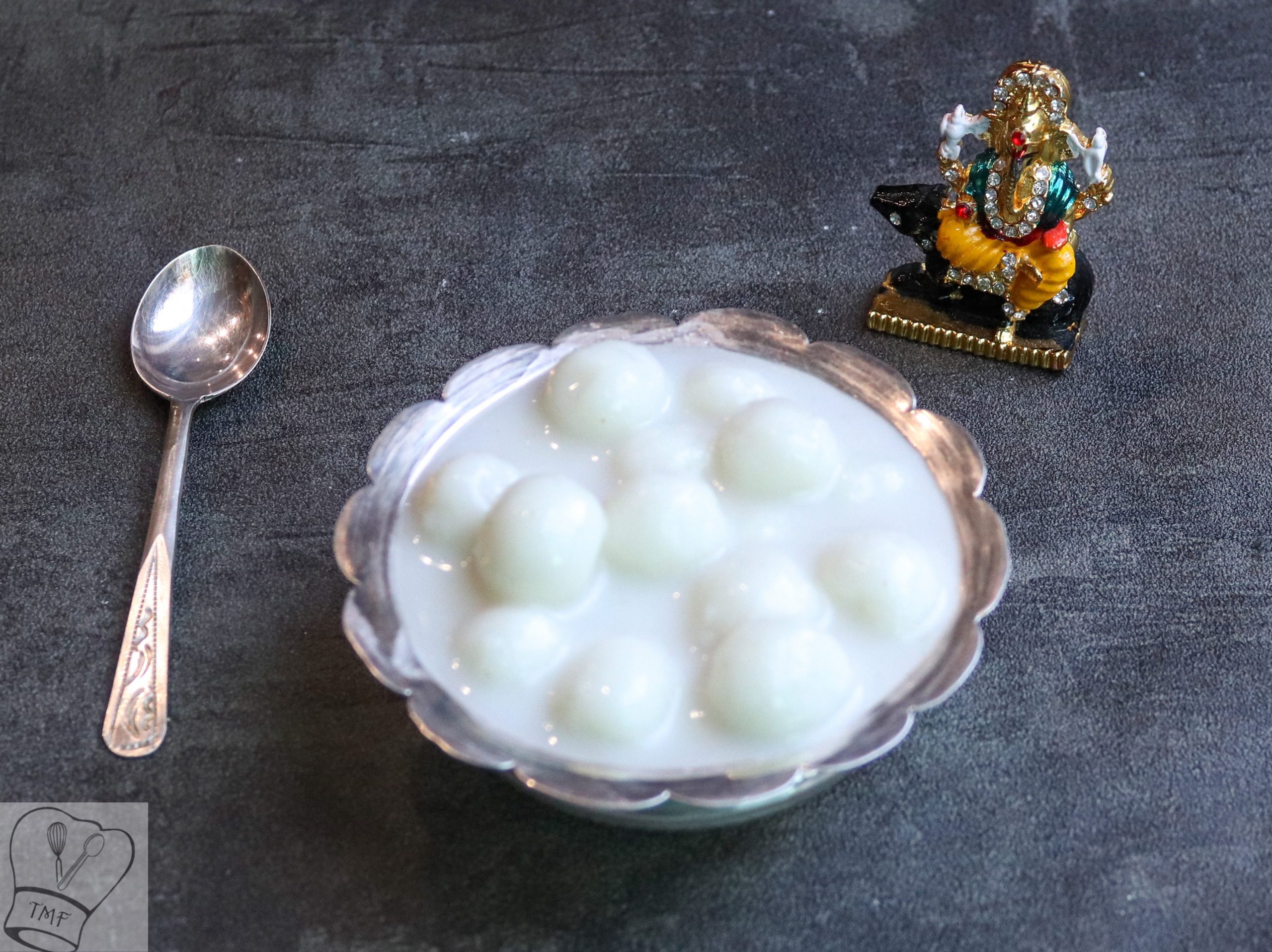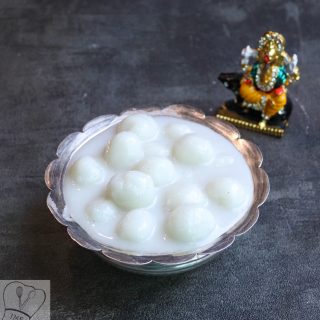 Ingredients
Kozhukattai:

Rice flour – 1/2 cup

Water – 1 cup

Salt – pinch

Coconut oil – 1/2 teaspoon + to grease

Paal:

Unsweeted coconut milk - 1 can

Cardamom Powder - 1/4 tsp

Sugar - 1/2 cup

adjust according to taste

Water - 1/3 cup
Instructions
In a sauce pan, add coconut oil and 1 cup of water and bring to boil. When it is boiling and you see bubbles, add the sieved flour (Have Hot water in separate pan/kettle)

For the flour that I used, the extra water was not needed. If you feel dough is dry, add 1 tablespoon of hot water, else no need to add. Water added should be boiling hot water, so its better to keep 1/4 cup hot water separately

Cook till it comes to non sticky dough consistency

Cover the dough with a damp cloth and when the dough is warm enough to handle grease your hand with coconut oil and roll

Make small spheres (Marble Size). Since rice flour is gluten free they tend to be sticky, so greasing hand with coconut oil helps for easy rolling. Cover with damp cloth and Keep Aside

Add the liquid from the can along with 1 tablespoon of thick coconut milk and 1/4 cup of water and boil

Add cardamom powder and mix well

Let the coconut milk comes to boil and once when it starts boiling add kozhukattai

After adding Kozhukattai first they all will sink to the bottom. Cook for 3 minutes or till kozhukattai starts floating. I covered and cook the kozhukattai but that's is optional

Add sugar and cook for 2 0r 3 till it melts

Add the thick coconut milk to the paal kozhukattai

Lastly add 2 tablespoon of water to the coconut milk can. Shake and add to the paal kozhukattai

Cook in low flame for 15 seconds and turn off the flame
Video
Notes
Instead of using store-bought coconut milk homemade coconut milk can be also used
Fresh coconut can be added for extra flavor
Boil kozhukattai in thin coconut milk and add thick coconut milk towards the end
Milk and coconut powder can also be used instead of thin coconut milk
Can also steam Kozhukattai and add them in thin coconut milk but the flavor is best when kozhukattai is cooked in coconut milk
The measurement for water and thin coconut milk can be adjusted to our choice, it should be just enough for the balls to immerse
If you are using homemade coconut milk use 3rd /or thin milk and boil Kozhukattai
Saffron can be added for extra flavor
If you shake the coconut milk can before using it might be difficult to separate the watery coconut milk easily. In that case, dilute the milk and cook Kozhukattai
Make sure thin coconut milk is watery to avoid curdling
For extra flavor, Milk can be added while preparing Kozhukattai dough but even without that coconut milk gives a nice flavor to this dish
For the Paal (milk) to blend well with the balls, you can roll small Kozhukattai
Cooked Kozhukattai turns lightly bigger
After cooking paal kozhukattai give 15-20 minutes standing time for coconut milk flavor to blend well with kozhukattai
Do not cook thick coconut milk for a long time as there are chances for curdling
Instead of sugar, jaggery syrup can also be used. Make sure jaggery syrup is cooked till it is well melted and strained
Instead of making balls, you can also dump the dough in a murukku achu and press it directly in thin coconut milk
Traditionally raw rice is washed well and drained, spread in a towel till the moisture drains completely, and ground into a fine powder. Since it will take time, I have used store-bought Rice Flour
Idiyappam flour can also be used to prepare Kozhukattai
Can combine Rice flour and water to dosa batter consistency and add coconut oil and cook till you get the dough to the consistency similar to the one shown in the above picture
Avoid stirring the paal kozhukattai when it is cooking as you might break the kozhukattai
Paal kozhukattai thickens over time so if required add water
Adjust the sugar according to your taste
For homemade coconut Milk:
Use 2 cups of shredded frozen coconut. Add 1 cup + 1/3 cup of water to the coconut and grind it. Filter the ground coconut, and the resultant milk is the thick coconut milk. Add 1 cup of water once again to the coconut residue and grind once more. Filter it again, and the resultant milk is the thin coconut milk.
Paal Kozhukattai
Preparation Time: 10 min | Cooking Time: 20 mins | Serves : 3
Recipe Category: Dessert/Sweet and Snack
Ingredients:
Kozhukattai:
Rice flour – 1/2 cup
Water – 1 cup
Salt – pinch
Coconut oil – 1/2 teaspoon + to grease
Paal:
Unsweetened coconut milk - 1 can
Cardamom Powder - 1/2 tsp
Sugar - 1/2 cup
Water - 1/3 cup
How to make Paal kozhukattai with step by step pictures:
In a saucepan, add coconut oil and 1 cup of water and bring to boil. When it is boiling and you see bubbles, add the sieved flour (Have Hot water in separate pan/kettle)
For the flour that I used, the extra water was not needed. If you feel the dough is dry, add 1 tablespoon of hot water, else no need to add. Water added should be boiling hot water, so it is better to keep 1/4 cup hot water separately
Cook till it comes to nonsticky dough consistency
Cover the dough with a damp cloth and when the dough is warm enough to handle grease your hand with coconut oil and roll
Make small spheres (Marble Size). Since rice flour is gluten-free they tend to be sticky, so greasing hand with coconut oil helps for easy rolling. Cover with a damp cloth and Keep Aside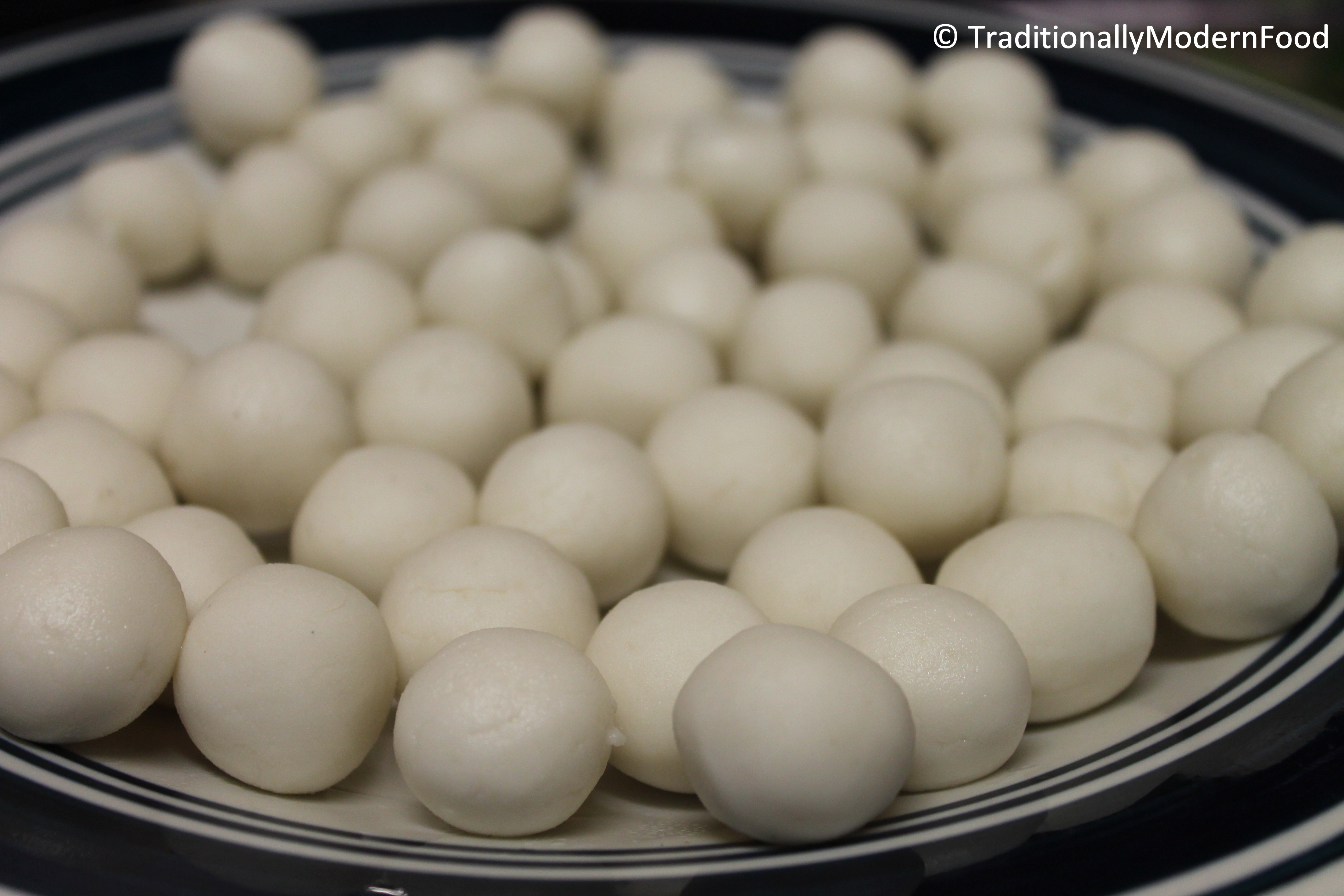 Add the liquid from the can along with 1 tablespoon of thick coconut milk and 1/4 cup of water and boil
Add cardamom powder and mix well
Let the coconut milk comes to boil and once when it starts boiling add kozhukattai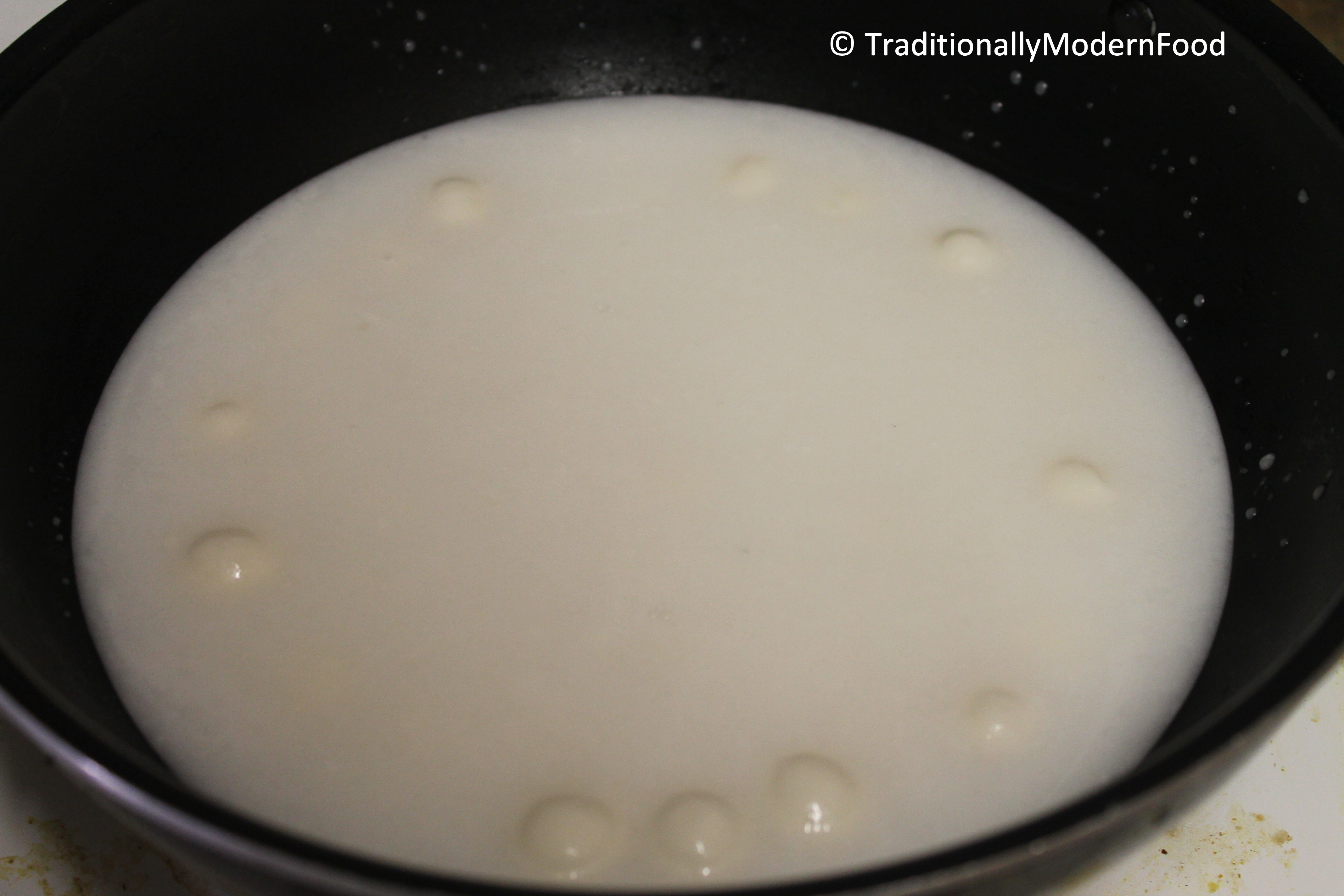 After adding Kozhukattai first they all will sink to the bottom. Cook for 3 minutes or till kozhukattai starts floating. I covered and cook but that's is optional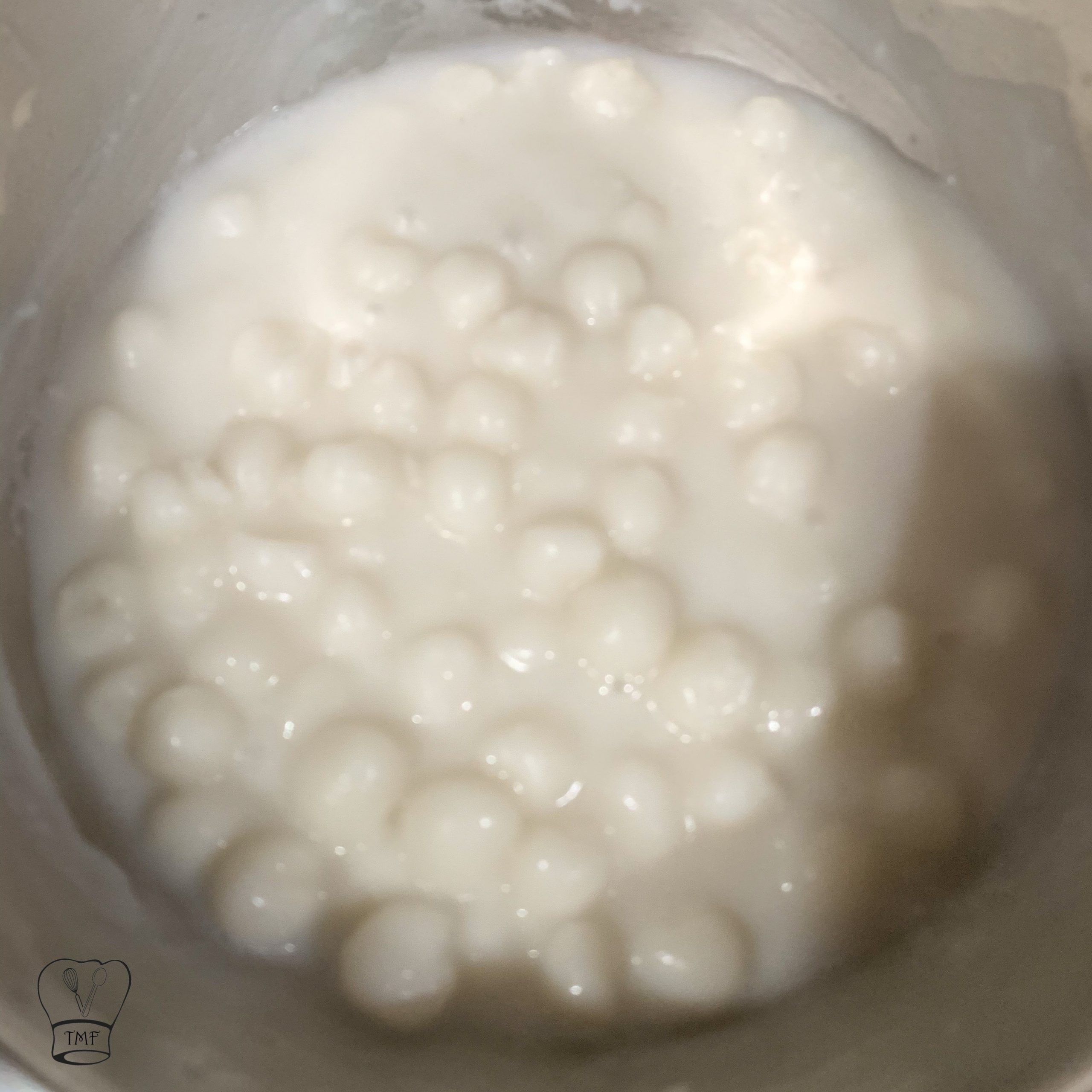 Add sugar and cook till it melts for about 2 minutes
Add the thick coconut milk to the paal kozhukattai
Lastly, add 2 tbsp of water to the coconut milk can. Shake and add to the paal kozhukattai
Cook in low flame for 15 seconds and turn off the flame