How to dry curry leaves | how to preserve curry leaves for months. Check out theHow to dry curry leaves video and If you like the video pls SUBSCRIBE to my channel
Drying curry leaves in microwave prevents wastage and makes them stay good for longer time. Instead of wasting curry leaves, say, before a long travel, this method will help to keep curry leaves good for months. This way preserves curry leaves stay good for 2-3 months.
Growing up we used to have curry leaves tree in my uncle's house. I am one among very few who likes eating karuveppilai raw - infact one of my routines everytime I visited my native is to pluck fresh curry leaves and keep eating whenever I go near the tree. During my college days knowing about my liking for curry leaves my friends mom use to add extra curry leaves when ever I visit her.
We use to carry curry leaves to Chennai and that supply used to last for weeks. Whenever Amma has excess curry leaves she makes Karuveppilai podi and store it for months.
Even if it was over, vegetable vendor used to give lots of free curry leaves every time we get a fresh batch of veggies.
Things totally changed after we moved to US. Indian stores give a small pack of curry leaves for a dollar. That's when I realized curry leaves is like yet another veggie here.
After years of US stay I figured out how to maintain the curry leaves, coriander leaves etc, fresh for a week. I feel bad wasting them if we are gone for a month or more.
During my last India trip I traveled first and husband came late so I made milagu Kuzhambu, curry leaves podi and karuveppilai podi Kuzhambu for him and his lunch was taken care for few days.
This time India trip we all traveled together and as always I had lot of curry leaves and coriander leaves in stock.
I did this for both leaves and it was good when we came back. Fresh leaves are definitely better, but instead of throwing the leaves this dry leaves is any day better
Instructions
Wash curry leaves well in water

Strain it in a colander

Squeeze the curry leaves well

Dry the curry leaves in a cloth for atleast one hour

Press them with paper towel to remove moisture

Fold the curry leaves in a paper towel to remove extra moisture

Spread the curry leaves in microwave safe plate

Microwave for 1 minute

Check and repeat. Microwave again for 2 more minutes

Mine got done in 3 minutes. Depending on microwave powder and quantity

When the curry leaves can be pressed with hands it is done
Video
Notes
Curry leaves can also be sun dried and stored
Method:
Wash curry leaves well in water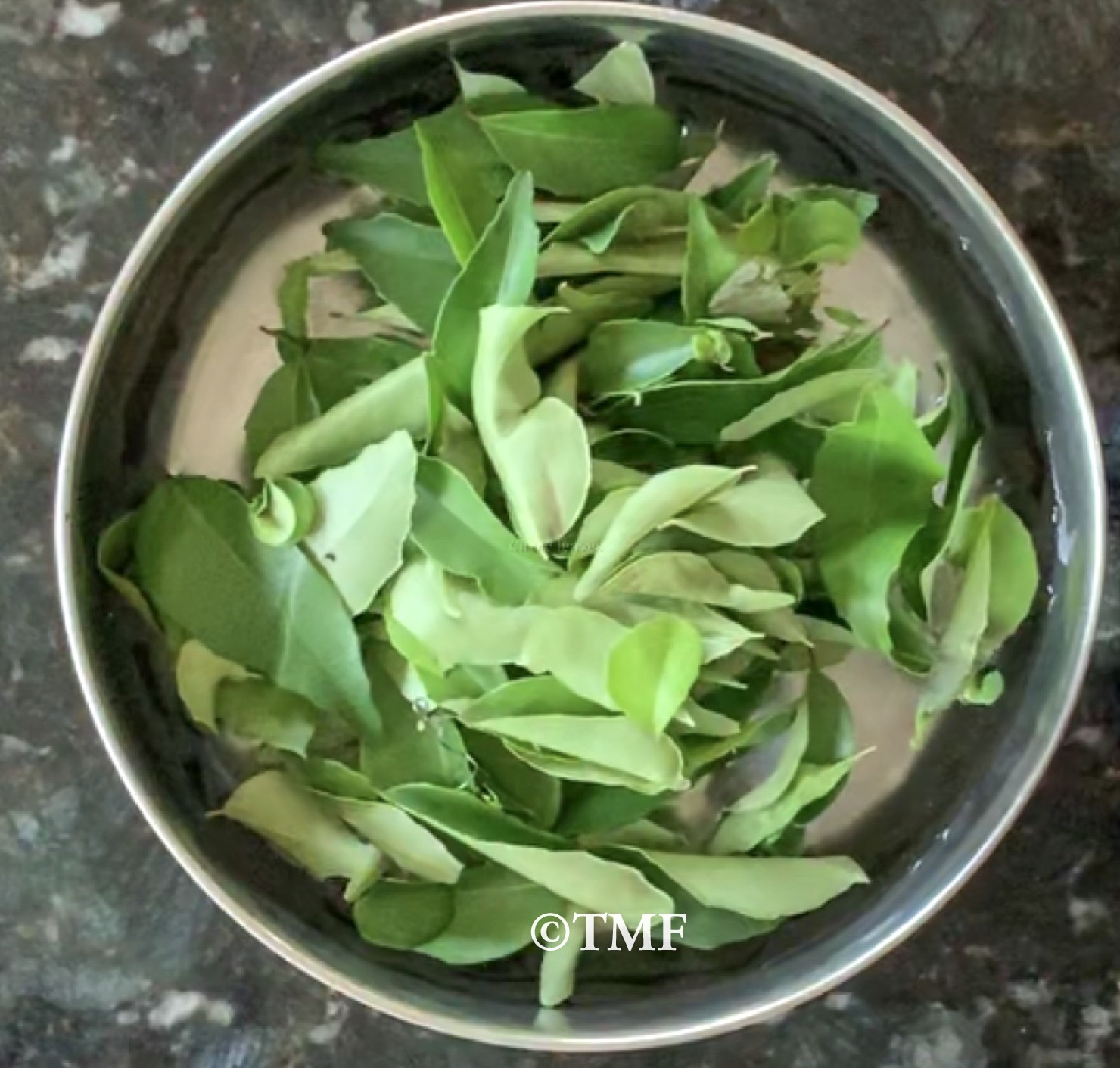 Strain it in a colander
Squeeze the curry leaves well
Dry the curry leaves in a cloth for atleast one hour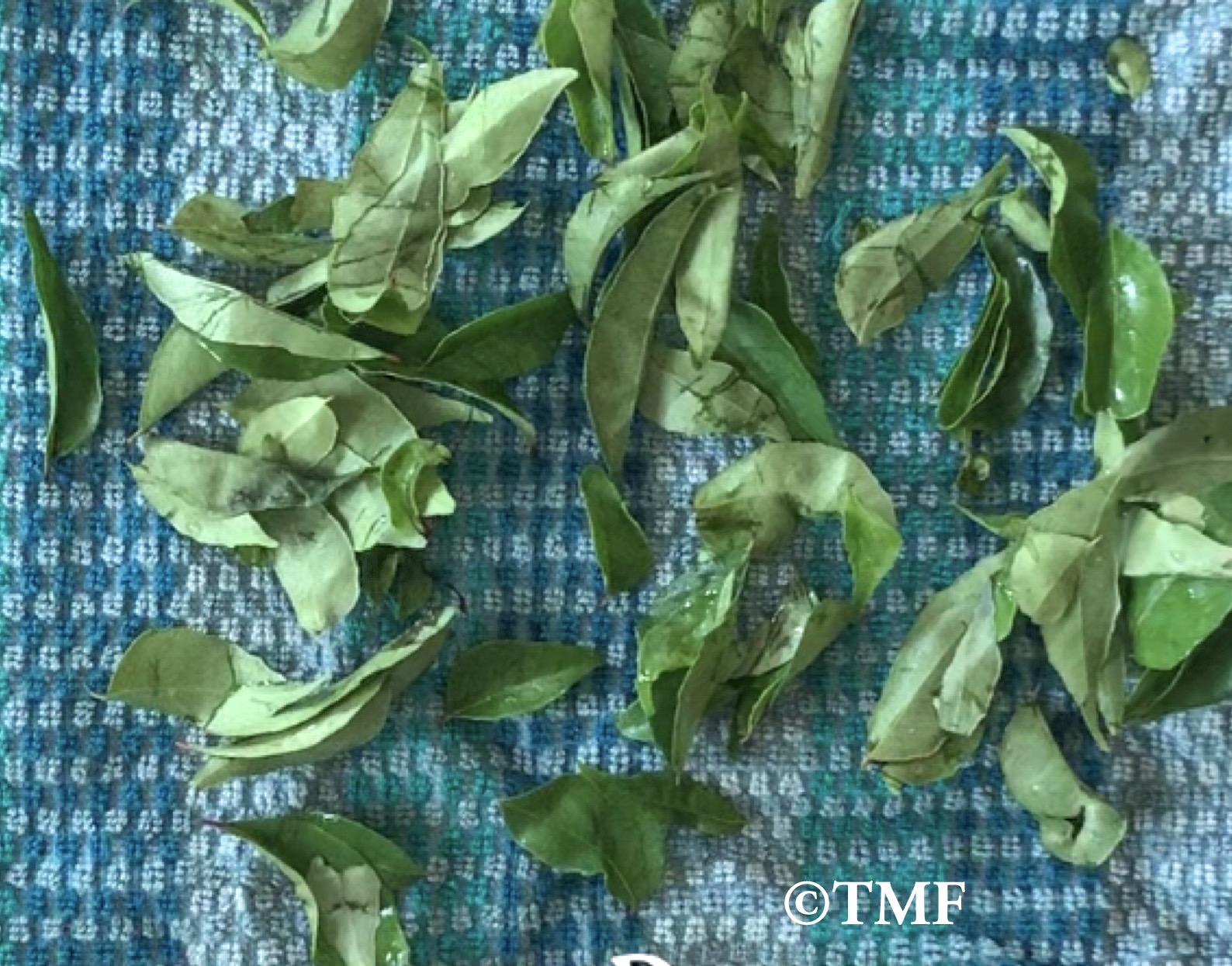 Press them with paper towel to remove moisture
Fold the curry leaves in a paper towel to remove extra moisture
Spread the curry leaves in microwave safe plate
Microwave for 1 minute
Check and repeat. Microwave again for 2 more minutes
Mine got done in 3 minutes. Depending on microwave powder and quantity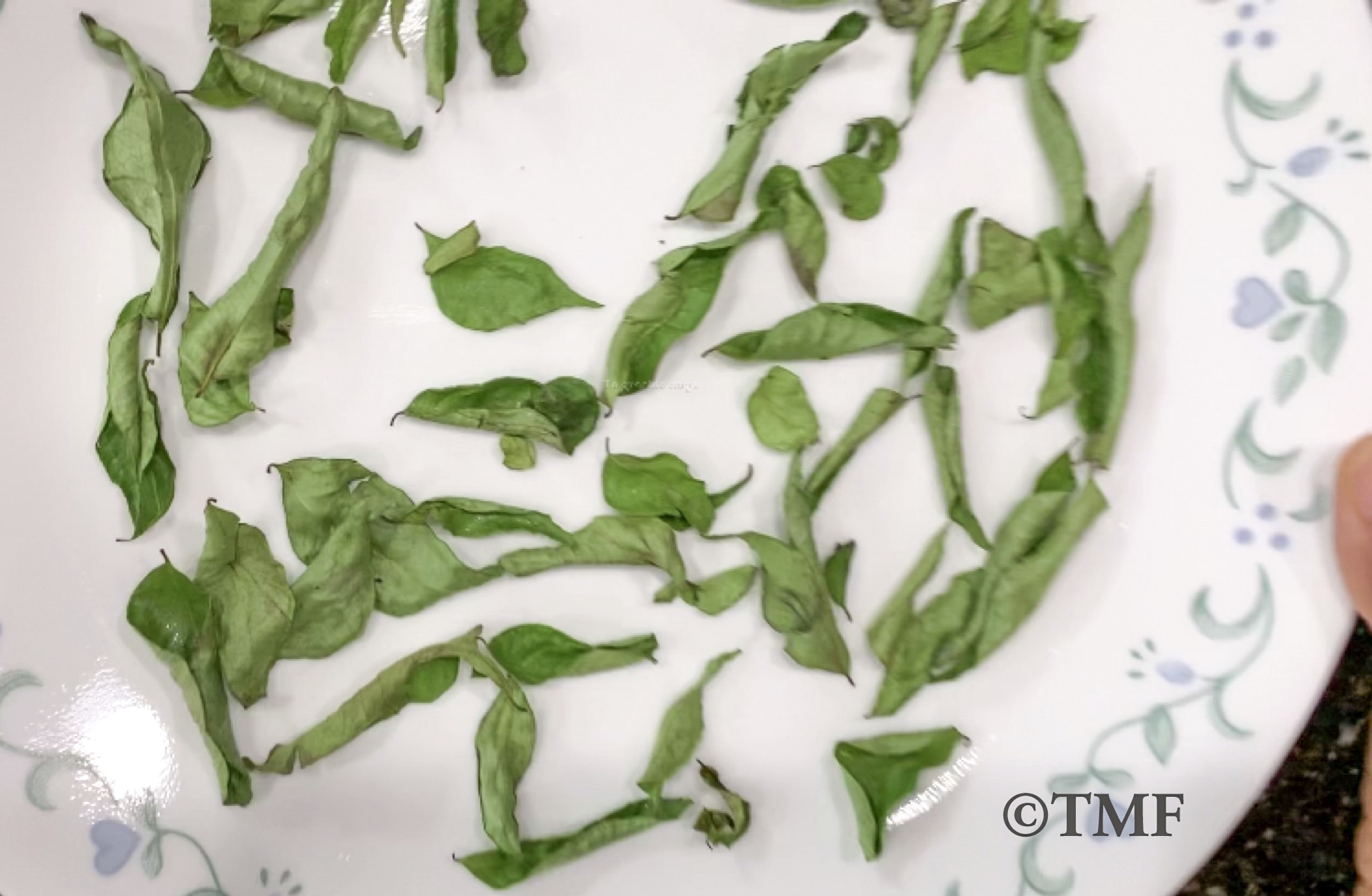 When the curry leaves can be pressed with hands it is done
For regular recipe updates pls follow TMF social media links