Dry fruits and nuts Chikki | mixed nuts chikki | kaju badam chikki | mixed nuts brittle | cashew pistachio almond chikki | dry fruits brittle | easy sweet recipe | Caramel nuts squares | caramel nuts bars | caramel without candy meter | holiday sweet treats with step by step pictures, and video recipe. Check out the Dry fruits Chikki video recipe. If you like the video pls SUBSCRIBE to my channel.
Dry fruits Chikki | caramel nuts brittle are crunchy and tasty. Loaded with nuts this makes a great sweet treat for kids' birthday party, after school snacks.

Mixed nuts chikki
Chikki is a popular Indian snack. Traditionally it is either prepared with jaggery or sugar. Mixed nuts chikki with sugar stays crunchy for weeks. Perfect for holiday treats, kids' snacks box, and after-school snacks.
should I roast nuts?
no, it is optional. I used raw cashews and pre-roasted pistachios and almonds. You can roast the nuts according to your taste.
nuts for caramel squares
I used a mix of cashews, pistachio, and almonds. You can use pumpkin seeds, melon seeds, walnut, etc. based on the nut you use, the taste of nuts chikki might vary.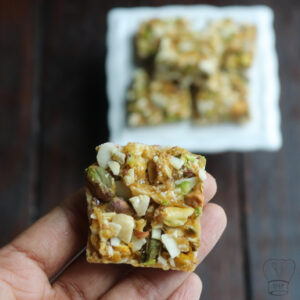 KEY TIPS FOR perfect dry fruits squares
Always buy fresh nuts for making chikki. Old nuts won't yield tasty dry fruits brittle.
Can I prepare vegan caramel nuts square sweet treats
Yes, replace butter with coconut oil or use vegan butter
Can I use other varieties of sugar?
I have tried this recipe only with white sugar so not sure how other sugar varieties will work

can I reduce sugar?
you can add little honey, but sugar gives the best taste
how to make mixed nuts brittle
reduce the mixed nuts quantity and follow the same recipe.

urundai or squares
If you are shaping Urundai, make them immediately. To make squares, rest for 5 mins.
Amount of mixed nuts
I prefer mild sweet nuts squares so I use 1+1/2 cups of mixed nuts for 1/2 cup of sugar. You can reduce nuts if you like sweet caramel nuts brittle.
Tips for the perfect caramel
Always use a heavy-bottomed deep pan
I prefer using a nonstick pan
Cook the caramel on low flame. Avoid high flame
Never stir the sugar. You can mix only after you see traces of caramel color and sugar syrup
If you see sugar crystal, use a silicone brush or ladle; avoid mixing it
Add the add-ons only after the caramel is 75% done
Turn the flame to the lowest setting after that cook till you see smooth caramel without sugar crystal
Always turn off the stove right after the previous point
Variations for caramel nuts square
Vanilla extract, almond extract, or any other flavors of choice
You can add dates, apricot, prunes, etc. along with nuts
If kids like chocolate flavor, add chocolate chips while adding nuts
Little Peanut butter, almond butter, honey, etc. can be added. In that case, increase the nuts
Tutti fruitty, dried coconut, or use any other add-ons of choice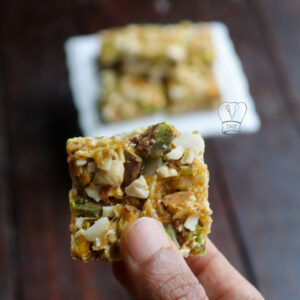 Ingredients
Caramel
1/2 cup sugar
1 tablespoon butter
1/2 tablespoon water
Puffed rice bars
190 grams of mixed nuts (I used roasted almonds, roasted pistachio, and cashews )
Pinch of cardamom powder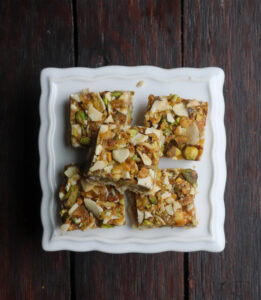 how to make mixed dry fruits chikki with step-by-step pictures
Preparation
grease two parchment papers with ghee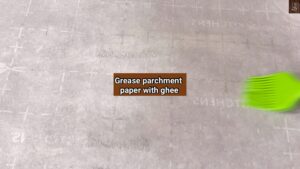 Chop nuts and keep them ready
Caramel
Use a deep heavy bottomed pan. I prefer using nonstick

Add butter and turn on the stove on low- medium flame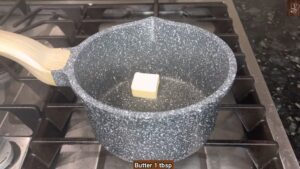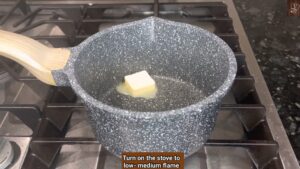 Furthermore add water and melt the butter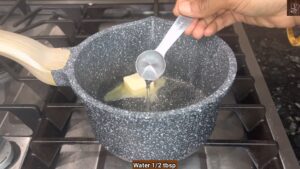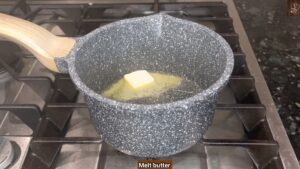 Turn down to low flame and add sugar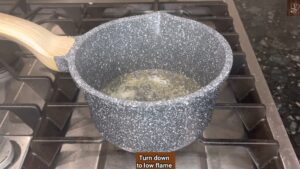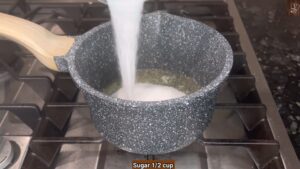 Gently spread the sugar. Avoid stirring. Never stir the sugar till you see traces of caramel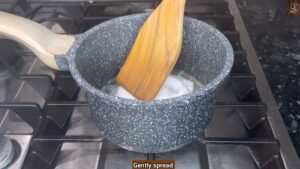 If you notice sugar crystallize, use a silicone brush to wipe. Avoid stirring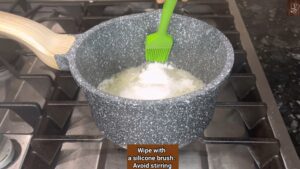 When you see nice caramel color and 75% of caramel, mix well and turn down to low flame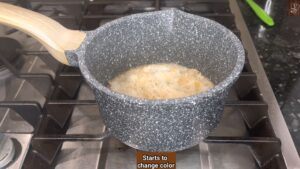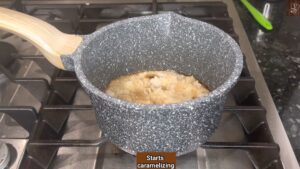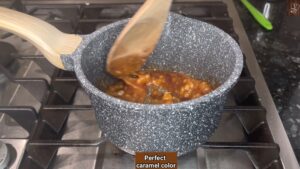 furthermore, add cardamom powder; mix well and cook till you smooth caramel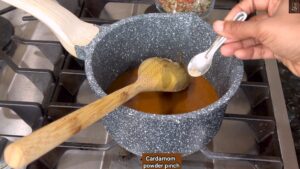 turn off the stove immediately
finally, add mixed nuts; mix well and transfer to the greased parchment paper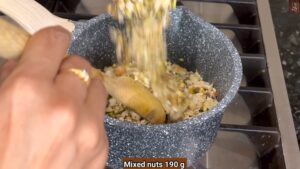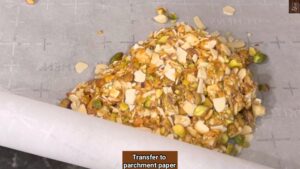 Place one more parchment paper on top
roll and flatten to desired thickness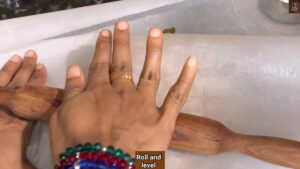 remove the parchment paper and level it with a greased bowl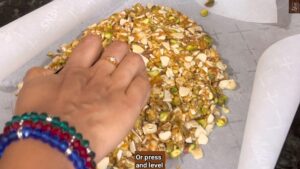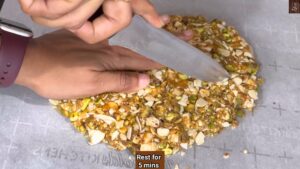 If required press and tighten
Use a sharp knife and cut. squares are not set at this stage but it is better to cut now or at least partially cut else it will be difficult to cut bars when it is fully set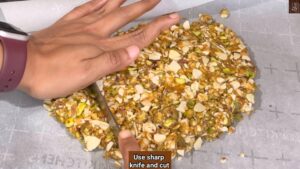 Leave it for at least 15 minutes then enjoy the bars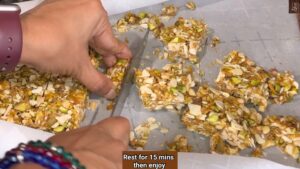 When it is completely cool, store it in an airtight container. It stays good for at least a week at room temperature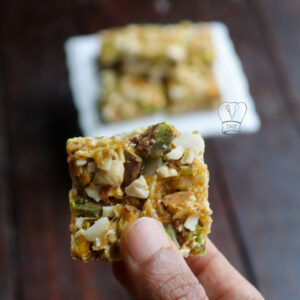 Ingredients
Caramel
1/2

cup

sugar

1

tablespoon

butter

1/2

tablespoon

water
Mixed nuts
190

grams

mixed nuts

I used roasted almonds, roasted pistachio, and cashews

Pinch

of cardamom powder
Instructions
Preparation
grease two parchment papers with ghee

Chop nuts and keep them ready
Caramel
Use a deep heavy bottomed pan. I prefer using nonstick

Add butter and turn on the stove on low- medium flame

Furthermore add water and melt the butter

Turn down to low flame and add sugar

Gently spread the sugar. Avoid stirring. Never stir the sugar till you see traces of caramel

If you notice sugar crystallize, use a silicone brush to wipe. Avoid stirring

When you see nice caramel color and 75% of caramel, mix well and turn down to low flame

Turn down to the lowest setting

furthermore add cardamom powder; mix well and cook till you smooth caramel

turn off the stove immediately

finally add mixed nuts; mix well and transfer to the greased parchment paper

Place one more parchment paper on top

roll and flatten to desired thickness

remove the parchment paper and level with a greased bowl

rest for 5 minutes

If required press and tighten

Use a sharp knife and cut. squares are not set at this stage but it is better to cut now or at least partially cut else it will be difficult to cut bars when it is fully set

Leave it for at least 15 minutes then enjoy the bars

When it is completely cool, store it in an airtight container. It stays good for at least a week at room temperature
Video
Notes
For vegan puffed rice bars, replace butter with coconut oil or use vegan butter
Tips for the perfect caramel
Always use a heavy-bottomed deep pan
I prefer using a nonstick pan
Cook the caramel on low flame. Avoid high flame
Never stir the sugar. You can mix only after you see traces of caramel color and sugar syrup
If you see sugar crystal, use a silicone brush or ladle; avoid mixing it
Add the add-ons only after the caramel is 75% done
Turn the flame to the lowest setting after that cook till you see smooth caramel without sugar crystal
Always turn off the stove right after the previous point
Variations for caramel nuts Squares
Vanilla extract, almond extract, or any other flavors of choice
You can add Dates, apricot,  prunes, etc. along with nuts. If kids like chocolate flavor, add chocolate chips
Little Peanut butter, almond butter, honey, etc. can be added. In that case, increase puffed rice
Tutti fruitty, dried coconut, or  use any other add-ons of choice