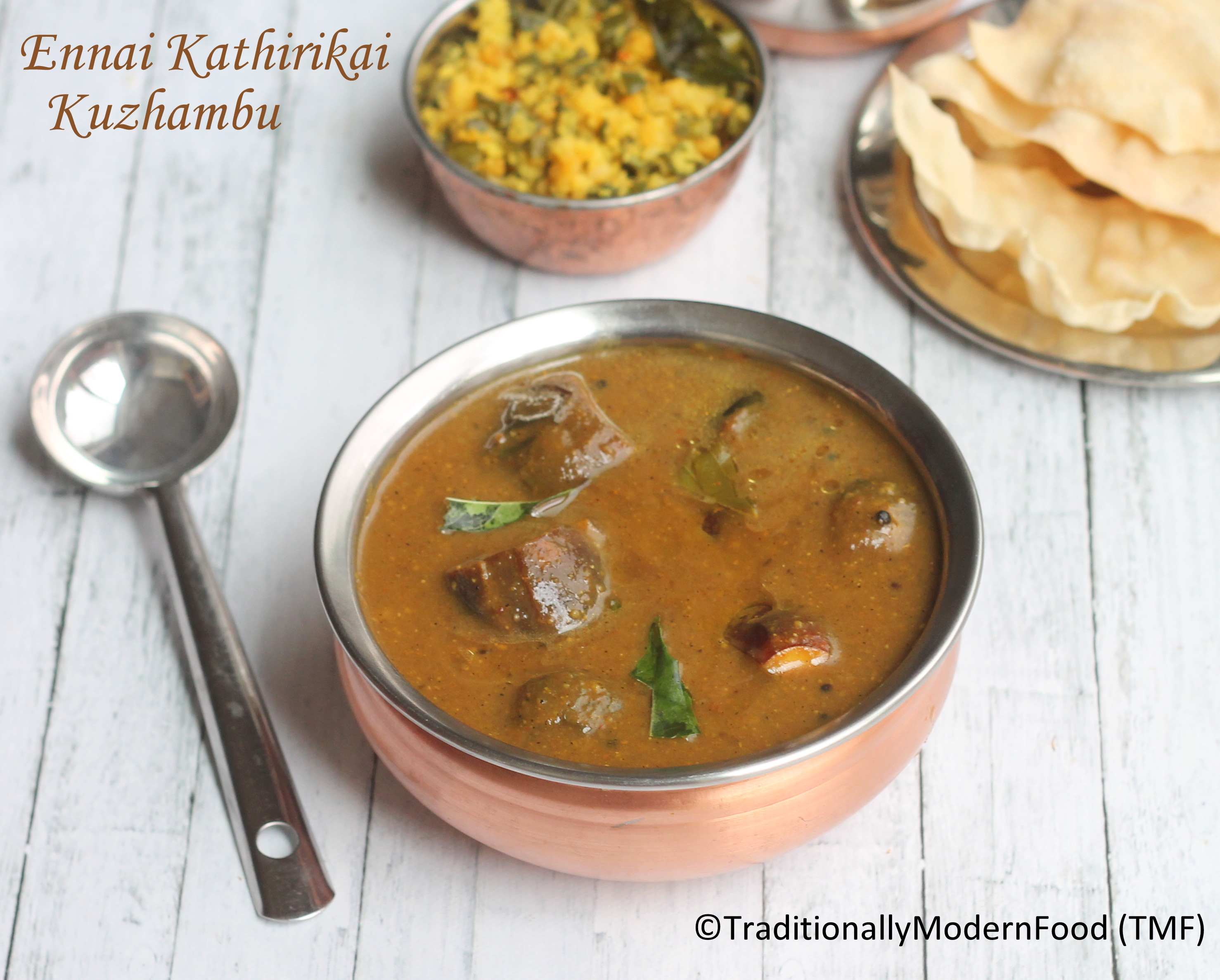 Ennai kathirikkai kuzhambu | Enna Kathirikai kulambu | Brinjal puli kuzhambu | Kathirikai kara kuzhambu | South Indian kuzhambu recipes | Brinjal kuzhambu recipe is a traditional South Indian kuzhambu/ Kulambu variety. Small brinjal cooked in a tangy tamarind base makes this kuzhambu tasty. Freshly roasted and ground powder gives nice flavour to the Tamil Nadu style kuzhambu variety. Kulambu stays good for 2-3 days.
Ennai Kathirikai kuzhambu is yet another "Mom's recipe". Whenever she gets small brinjals from the grocery store, she prepares this dish. Knowing my brinjal addiction Amma prepares it frequently. As the same suggest "Ennai Kathirikai (Oil Brinjal)" not too much oil is used for the Kulambu preparation but it tastes heavenly.
Be it mixed with rice with lot of sesame oil or side dish forcued rice/Idli/ Dosai etc. this kuzhambu is a instant hit in our home. After coming to US I hardly finds the super small brinjal s Amma use for this kuzhambu but I manage to do the kuzhambu with the ones I get it here. Stuffed brinjal is yet another tasty variety with brinjal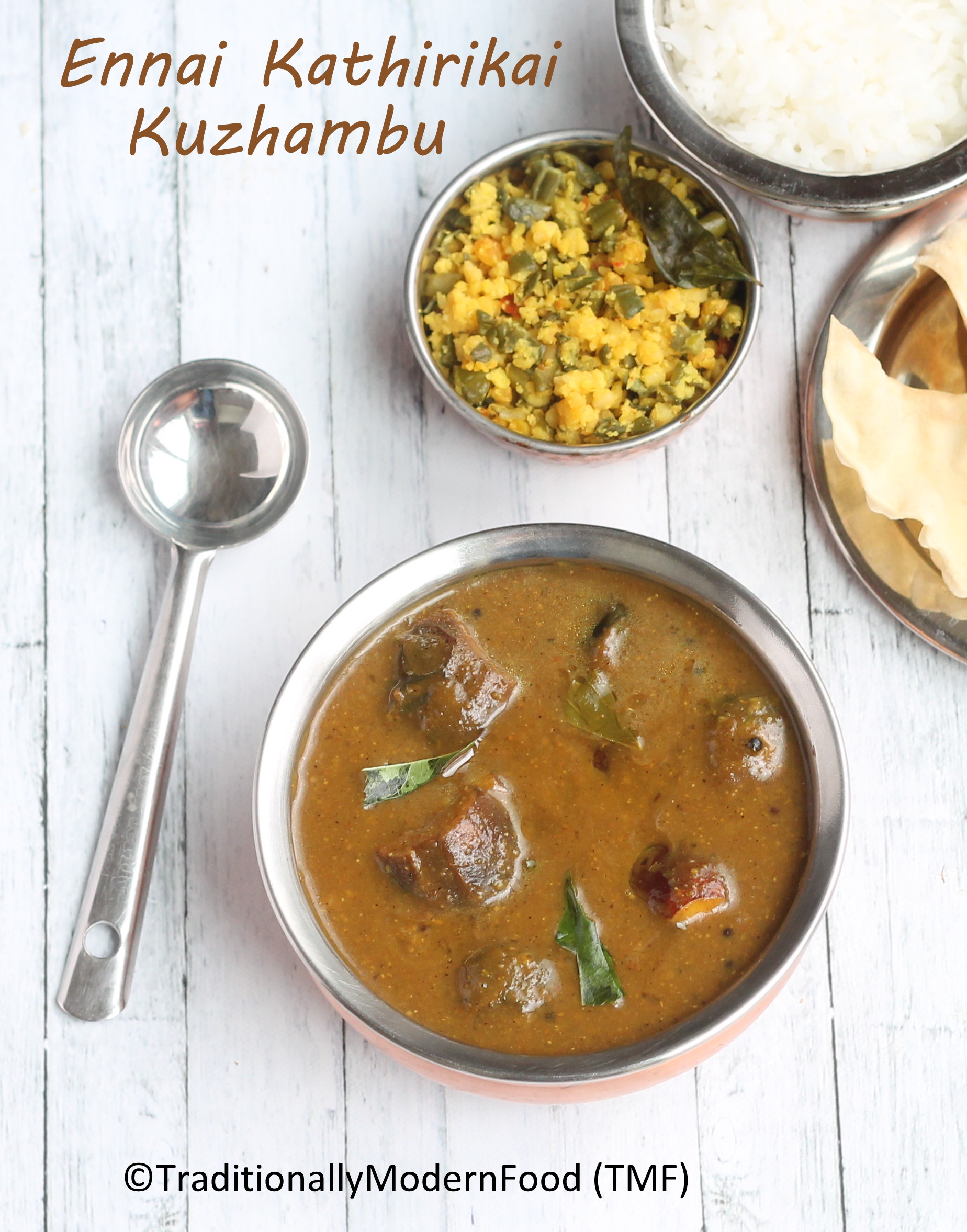 Ennai Kathirikai kuzhambu comes under Kara Kuzhambu/ vetha kuzhambu category. Tanginess in Tamarind/puli based kuzhambu gives amazing flavour for the kuzhambu. Usually I use sambar powder for the puli kuzhambu. In the brinjal kuzhambu freshly ground spice powder is used, which goes a aromatic flavour for the kuzhambu.
If you like Kara Kuzhambu based recipes try
The spice powder stuffed in brinjal makes the vegetables so delicious and every brinjal bite is flavorful. Amma usually prepared traditional Tamil Brahmin no onion- no garlic version. For extra flavour onion and garlic can also be added.
Kuzhambu stays good for 2-3 days and the flavours get better on the second day. Sesame oil makes the KUlambu super yummy.
if you are looking for Kuzhambu varieties without dal and sambar powder this is great choice.
Kuzhambu varieties with tamarind
Kuzhambu varieties without tamarind
Kootu recipe collection in TMF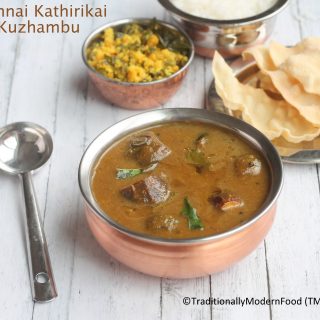 Ingredients
Eggplant/Brinjal/Aubergine- 8

preferably small brinjal, since I didn't have them, used medium sized

Tamarind - lemon sized

Salt - as needed

Spice Powder:

Channa dal/bengal gram - 1 tbsp

Coriander seeds/Dhania -1 tbsp

Urad dal - 1/2 tsp

Red chillies - 2

Adjust according to your spice level

Black Sesame seeds - 1/2 tsp

Fenugreek - 1/8 tsp

Rice - 1/4 tsp

Pepper - 1/4 tsp

To Temper:

Mustard seeds -1/4 tsp

Fenugreek - 1/8 tsp

Asafoetida/hing - a generous pinch

Curry leaves - one spring

Sesame Oil - 2 tbsp + 1/2 tbsp

Typical 4/5 tbsp are used but I have reduced
Instructions
Soak tamarind and extract the juice

Dry roast the ingredients mentioned under spice powder till golden brown and switch off. Grind into a coarse powder.

Wash Eggplant, discard the stem and make two cuts leaving the bottom intact. Stuff the Eggplant with the spice powder and keep it aside

Add oil to that pan and add the items under 'to temper' and let it splutter. Add the stuffed brinjals, turmeric powder and salt for brinjal. Cook on low flame, stirring it occasionally till the eggplants are half cooked. Add tamarind extract, the remaining spice powder and salt for gravy

Cook till the gravy thickens. Serve the Kuzhambu with Rice and any side dish. We had it with Beans Paruppu Usili
Kathirikai Kuzhambu
Preparation Time : 10 mins | Soaking Time :15 mins | Cooking Time : 30 mins | Serves : 3
Category:Rice Accompaniments
Ingredients
Eggplant/Brinjal/Aubergine- 8 (preferably small brinjal, since I didn't have them, used medium sized)
Tamarind water – 3 cups (extracted from small lemon sized tanarind)
Salt – as needed
Spice Powder:
Channa dal/bengal gram – 1 tbsp
Coriander seeds/Dhania -1 tbsp
Urad dal – 1 tsp
Red chillies – 2 (Adjust according to your spice level)
Black Sesame seeds – 1/2 tsp
Fenugreek – 1/8 tsp
Rice – 1/4 tsp
Pepper – 1/4 tsp
To Temper:
Mustard seeds -1/4 tsp
Fenugreek – 1/8 tsp
Asafoetida/hing – a generous pinch
Curry leaves – one spring
Sesame Oil – 3 tbsp + 1/2 tbsp (Typical 4 to 5 tbsp are used but I have reduced)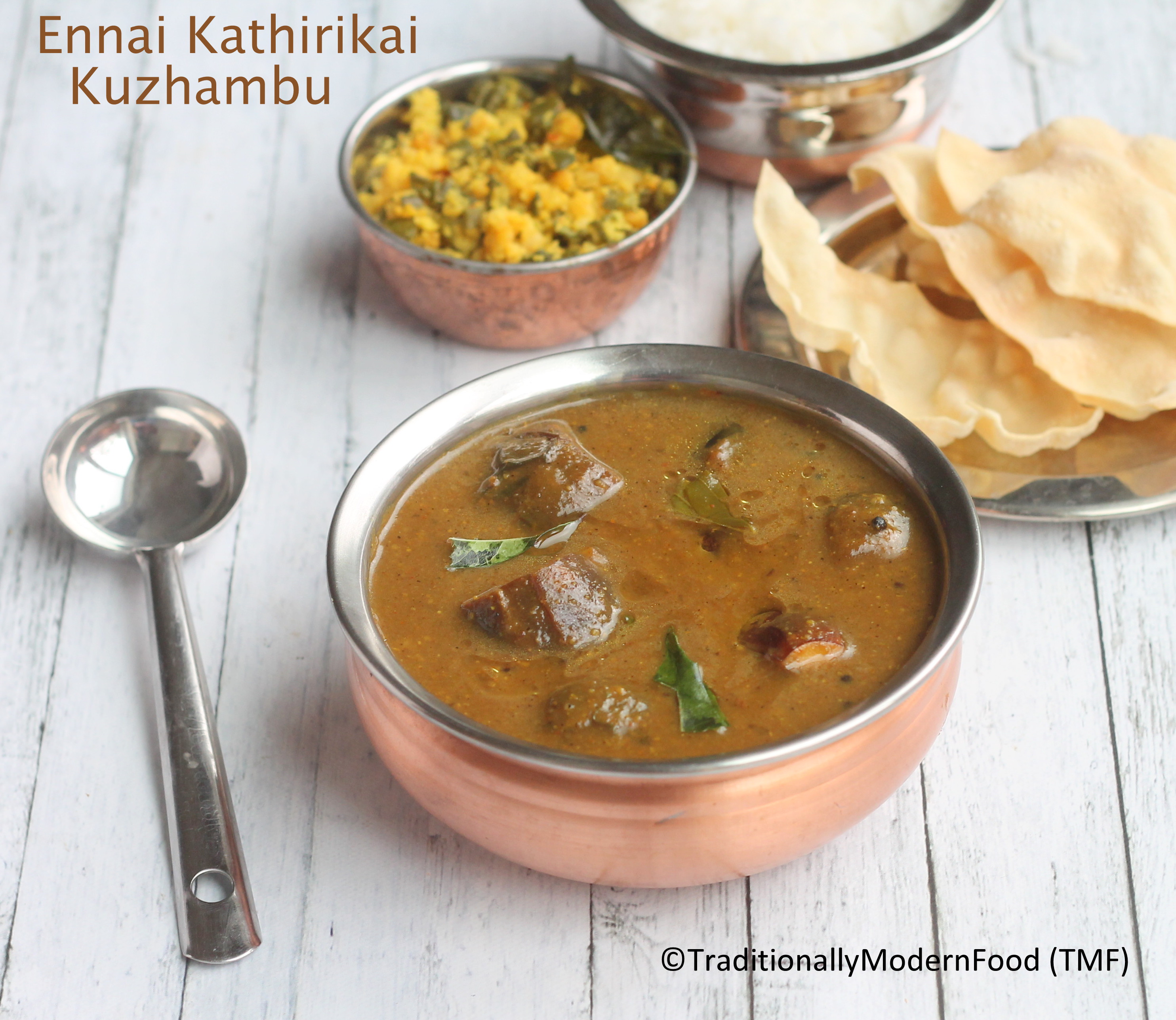 Method:
Soak tamarind and extract the juice
Dry roast the ingredients mentioned under spice powder till golden brown and switch off. Grind into a coarse powder.
Wash Eggplant, discard the stem and make two cuts leaving the bottom intact. Stuff the Eggplant with the spice powder and keep it aside
Add 3 tbsp oil to that pan and add the items under 'to temper' and let it splutter. Add the stuffed brinjals, turmeric powder and salt for brinjal. Cook on low flame for around 2 minutes sauteeing occasionally till the eggplants skin color changes and starts to shrink
Add tamarind extract, the remaining spice powder and salt for kuzhambu
Cook for 15 minutes
Add jaggery, hing and 1/2 tbsp oil and cook for 10 minutes. Serve the Kuzhambu with Rice and any side dish. We had it with Beans Paruppu Usili