Ginger cardamom Tea | Ginger cardamom chai | spice infused Indian milk tea | Adrak illaichi ki chai | how to make tea | tea recipe | Indian masala chai | Indian kitchen basics | adrak wali chai | ginger tea | and elaichi chai cardamom tea | tea kadai inji tea with step by step pictures and video recipe. Check out the Adrak illaichi chai video and If you like the video pls SUBSCRIBE to my channel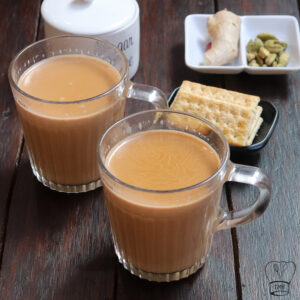 Always wash and peel Ginger
If ginger skin has impurities, milk might curdle so always wash the ginger and feel the skin. Use fresh ginger and avoid ginger with fiber.
Should I always crush the ginger and pods?
It is optional to crush them in mortar & pestle but it makes the tea flavorful. If you are out of cardamom pods you can use cardamom powder, but pods make the tea flavorful
Water and milk ratio
It totally depends on individual choice. Tea stall-style tea always has more water compared to milk. Some might prepare tea with just milk. I prefer using little water and more milk for my tea. Adjust according to your preference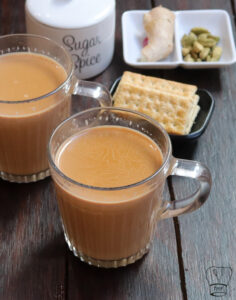 How to make strong Cardamom ginger tea
I don't prefer strong tea but if you prefer strong Ginger cardamom chai,
✔️Add the entire tea powder and boil in hot water
✔️Simmer the water for 4-5 minutes
✔️Adjust the amount of tea powder
Amount of Sugar
Depends on individual choice. If you are making tea for a larger group prepare Adrak chai and serve the hot tea with sugar on side.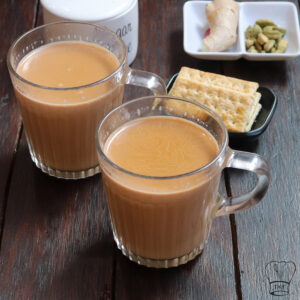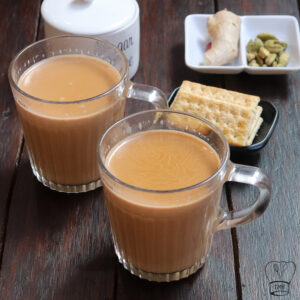 Ingredients
2

tablespoon

tea powder

1

inch

ginger

2

cups

milk

3

cardamom pods

1/4

teaspoon

ginger

1/2

cup

water

2

tablespoon

Sugar according to your taste
Instructions
Take 1 inch of ginger and wash it well

Peel the skin and chop them into small pieces

Add ginger to a mortar & pestle

Furthermore add cardamom pods and Crush them; Set aside

Add water in a deep pan and turn on the stove on medium flame

Furthermore add crushed ginger and cardamom; boil for 2 minutes

Add 1 tablespoon of tea powder and boil for 4 minutes. For strong tea simmer for an additional time

Furthermore, add hot milk and tea powder; bring it to a boil

When you see froth add sugar and 1/4 teaspoon of washed and peeled ginger; Simmer for 3 mins

Bring the tea to a frothy boil; turn off the stove

Place a strainer a few inches away from the vessel and strain the tea

Serve hot with a biscuit or crackers of your choice

Depending on the texture of tea granules, the amount might vary. So always refer to the back of the tea pack to how much is needed per serving and add accordingly.
Video
Notes
If ginger skin has impurities, milk might curdle so always wash the ginger and feel the skin. Use fresh ginger and avoid ginger with fiber
It is optional to crush ginger and cardamom pods in a mortar & pestle but it makes the tea flavorful. If you are out of cardamom pods you can use cardamom powder, but pods make the tea flavorful
The water and milk ratio totally depends on individual choice. Tea stall-style tea always has more water compared to milk. Some might prepare tea with just milk. I prefer using little water and more milk for my tea. Adjust according to your preference
Depends on individual choice. If you are making tea for a larger group prefer sugar Adrak chai and serve the hot tea with sugar
How to make strong Cardamom ginger tea
I don't prefer strong tea but if you prefer strong Ginger cardamom chai,
✔️Add the entire tea powder and boil in hot water
✔️Simmer the water for 4-5 minutes
✔️Adjust the amount of tea powder
Ingredients
2 tablespoon tea powder
1 inch + 1/4 teaspoon ginger
2 cups milk
3 cardamom pods
1/2 cup water
2 tablespoon Sugar according to your taste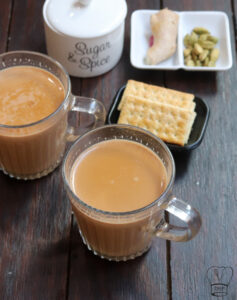 How to make the best ginger cardamom tea with step-by-step pictures
Take 1 inch of ginger and wash it well
Peel the skin and chop them into small pieces
Add ginger to a mortar & pestle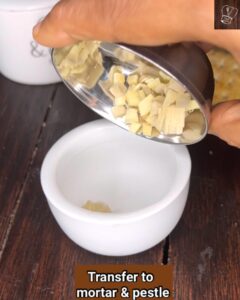 Furthermore add cardamom pods and Crush them; Set aside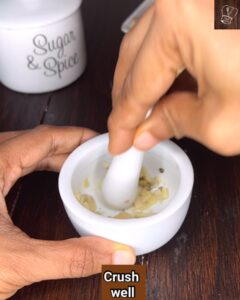 Add water in a deep pan and turn on the stove on medium flame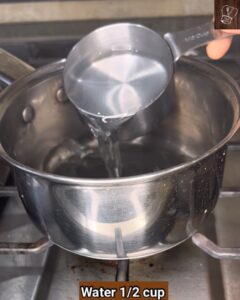 Furthermore add crushed ginger and cardamom; boil for 2 minutes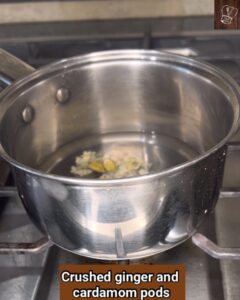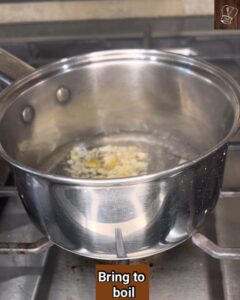 Add 1 tablespoon of tea powder and boil for 4 minutes. For strong tea simmer for an additional time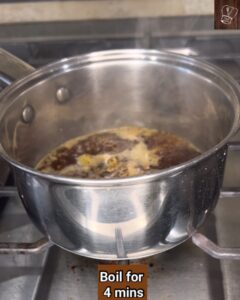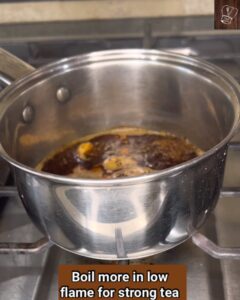 Furthermore, add hot milk and tea powder; bring it to a boil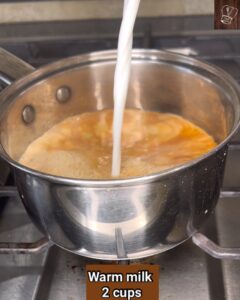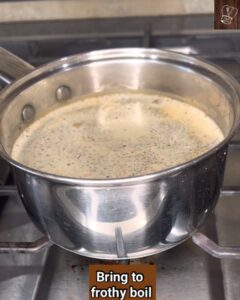 When you see froth add sugar and 1/4 teaspoon of washed and peeled ginger; Simmer for 3 mins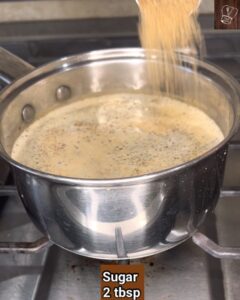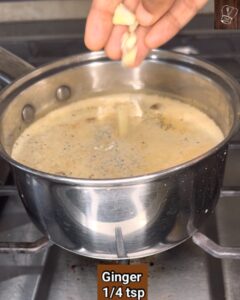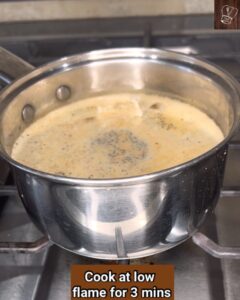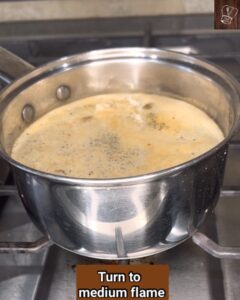 Bring the tea to a frothy boil; turn off the stove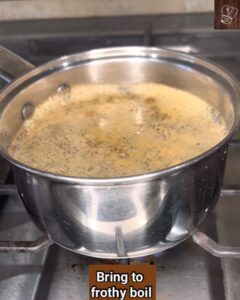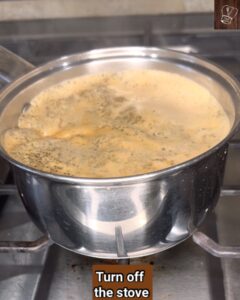 Place a strainer a few inches away from the vessel and strain the tea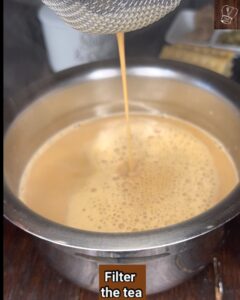 Serve hot with a biscuit or crackers of your choice