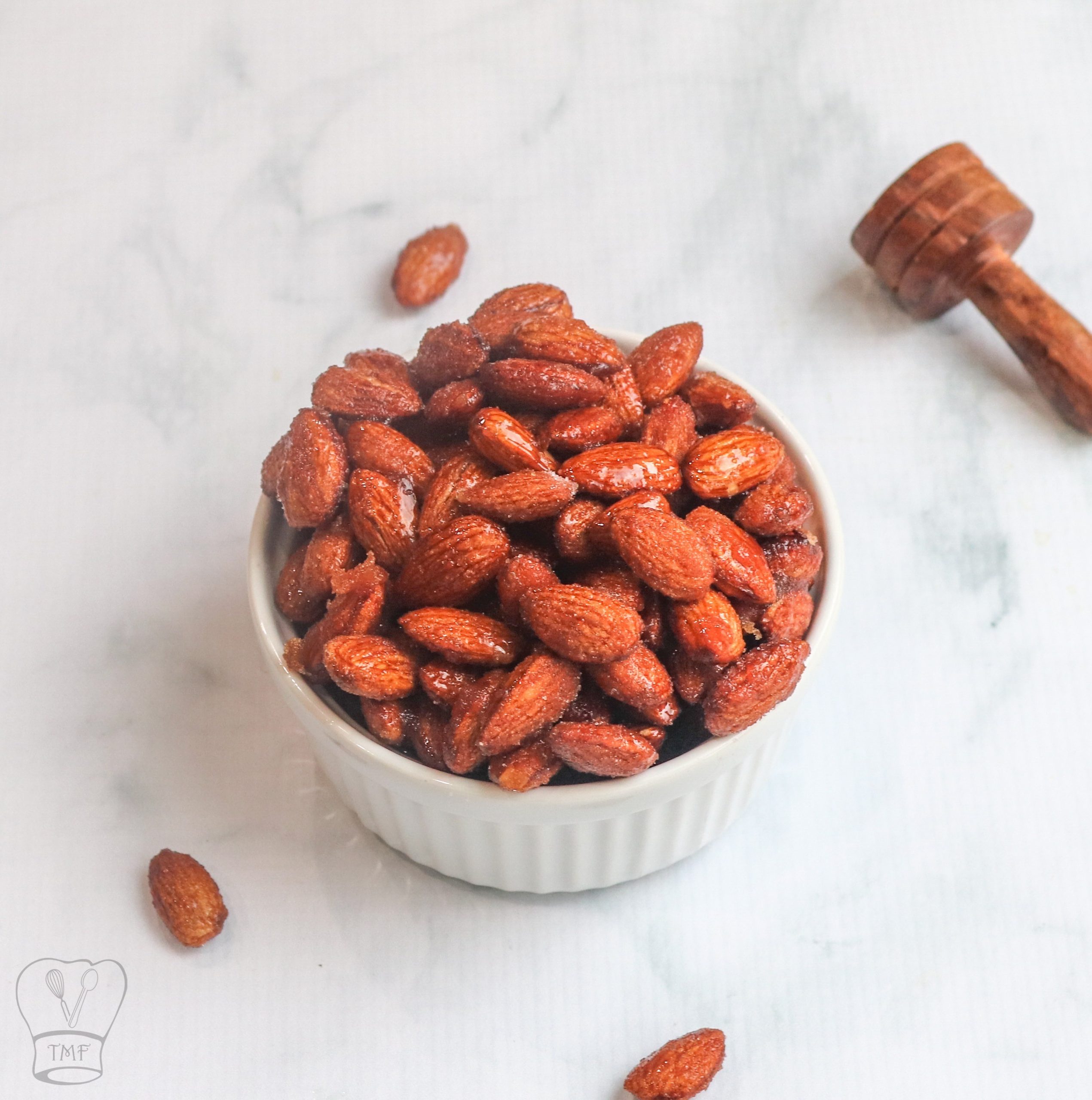 Honey glazed Almonds is a tasty addictive snacks. Great after school snacks for kids. Perfect way to make kids eat almonds. Can also be packed in lunch box.
Once when we were shopping in Sam's Club, we tried a sample of cinnamon-glazed cashews.They had a variety of nuts, both savory and sweet. I liked both but my sweet tooth was inclined towards cinnamon-glazed cashews. Its a good snack to munch on, but since cashew is high on calories I was doubtful to try it in home.
Since then, I have been thinking of making some glazed nuts. Luckily I saw a glazed nut recipe in food network. I made few changes to the FoodNetwork recipe, and was happy with my Honey Glazed Almonds!
With loads of Almonds,Honey Glazed Almonds is super healthy snacks. Cinnamon flavor gives a nice taste to the Honey Glazed Almonds.
I use to make it in batches and munch every now and then. Now a days my son also loves it. If you lr kid refuse nuts this is one great way to introduces them nuts. Good for kids school lunch also healthy snacks to munch during the the day.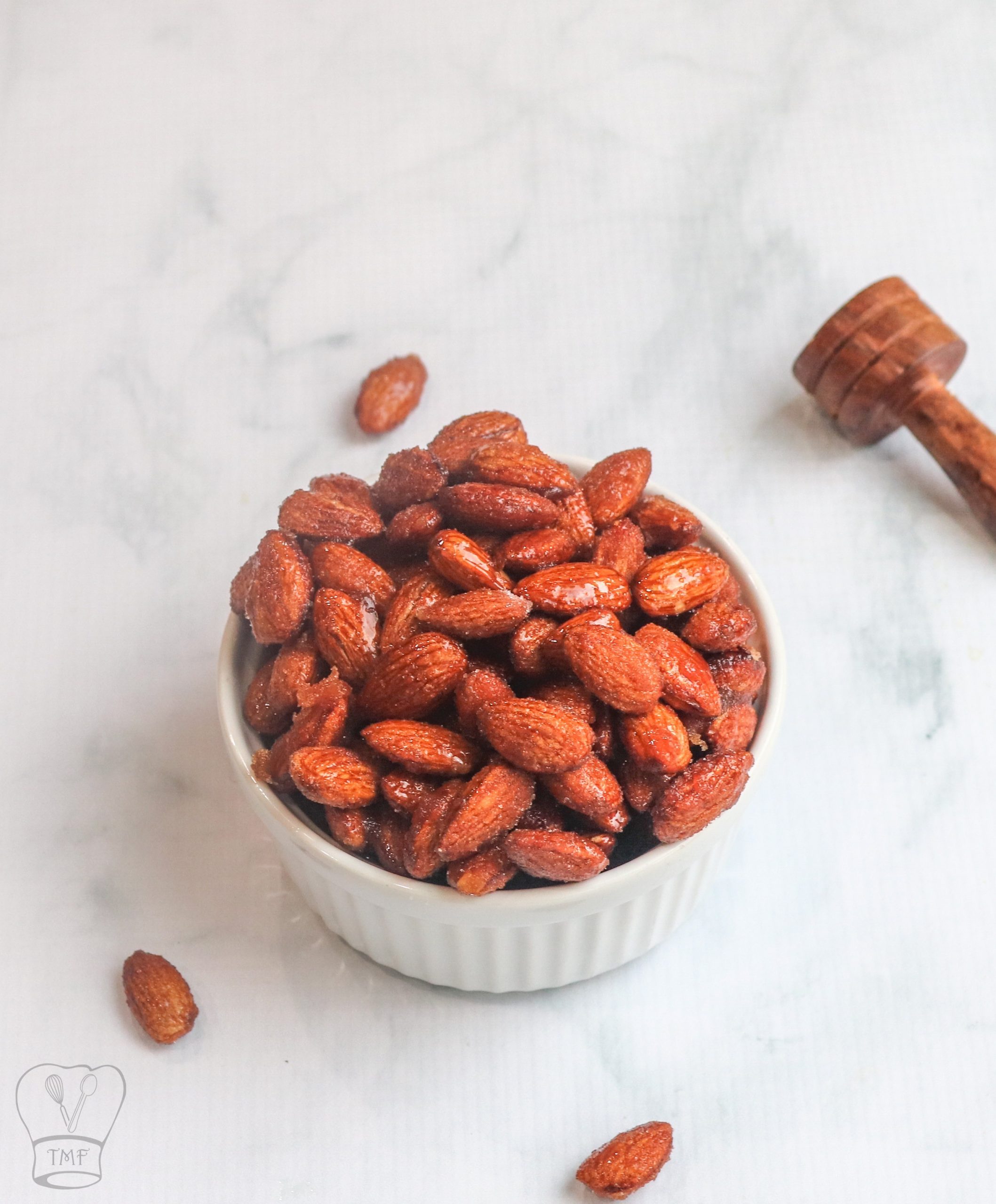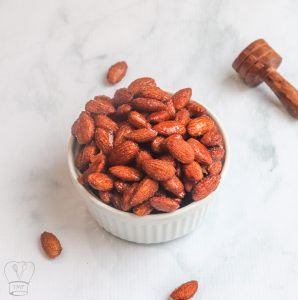 Ingredients
Almonds - 2 cups

Honey - 3 tbsp

Sugar - 3 tbsp

Water - 3 tbsp

Cooking Spray/Butter - to grease

I used PAM cooking spray
Instructions
Place parchment paper and grease with cooking spray

Spread almonds and turn on the oven to 350 degree Fahrenheit and bake for 12-15 minutes, mixing them in between

In a heavy bottomed pan add honey, oil, water, 1 tablespoon sugar and bring to boil

Add the roasted almonds and cook till the honey sauce is well abosorbed

Turn off the stove and transfer the almonds into a tray

Add remaining sugar and mix well

Let it cool. When it is warm enough to handle remove the clusters

Cool completely and enjoy😊
Honey-Glazed Almonds
Preparation Time: 5 mins | Cooking Time : 25 mins
Recipe Category:Snacks
Ingredients
Almonds - 2 cups
Honey - 3 tbsp
Sugar - 3 tbsp
Water - 3 tbsp
Cooking Spray/Butter - to grease (I used PAM cooking spray)
Method:
Place parchment paper and grease with cooking spray
Spread almonds and turn on the oven to 350 degree Fahrenheit and bake for 12-15 minutes, mixing them in between
In a hevay bottomed pan add honey, water, 1 tablespoon sugar and bring to boil
Add the roasted almonds and cook till the honey sauce is well abosorbed
Turn off the stove and transfer the almonds into a tray
Add remaining sugar and mix well
Let it cool. When it is warm enough to handle remove the clusters
Cool completely and enjoy😊