Instant pot Sweet Pongal | Kovil Sakkarai Pongal | Easy IP Pongal | Chakkara Pongal | Pongal recipe | temple style Pongal | how to make inipu Pongal | sweet jaggery rice | instant pot Pongal recipe | Pongal in the pressure cooker recipe with step-by-step pictures and video recipe. Check out the Instant pot Sweet Pongal recipe and If you like the video pls SUBSCRIBE to my channel
Kovil Sakkarai Pongal
Chakkarai Pongal is a traditional south Indian sweet recipe. Unique ingredients and cooking style makes Inipu Pongal taste divine. Instant pot Pongal is so easy and flavorful. Perfect for the Pongal festival.
Rice to dal ratio for Sweet Pongal recipe
Every family has its own ratio of Rice and dal for Pongal. For our homestyle Pongal, I generally use 2:1 but for temple style Sakkara Pongal I would recommend 4:1 ratio rice and dal. I used some masoori rice but you can also use raw rice
Do I need this much butter for Pongal?
Yes if you need temple Sweet Pongal, add 1:1 rice and butter. It gives amazing flavor to the Pongal. For vegan sweet Pongal, you can add vegan butter but the flavor might vary.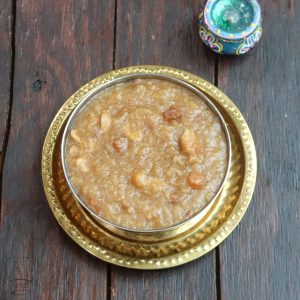 Can I use ghee instead of butter?
Yes, you can use ghee but butter (brown butter ) gives the perfect color and taste to the Kovil Pongal.
Pressure cooker Kovil chakkarai Pongal
I have cooked Pongal in "Rice " mode. Based on the rice and dal quantity, time will automatically change. If you are cooking pressure cooker sweet Pongal add 1 cup of water and cook for 4-5 whistles. Excess water might spill out. Cook Pongal with jaggery water and follow the rest of the steps.
Should I filter jaggery water?
If you are doubtful about impurities in the jaggery, prepare jaggery water; strain and add to Pongal.
Where I can get edible camphor?
Edible camphor is available in most Indian stores. never use pooja camphor instead of edible camphor. Always use a very small piece. Never add excess Camphor.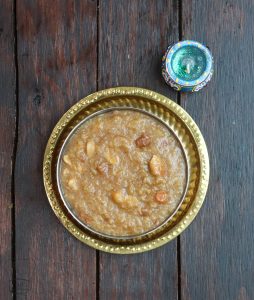 Ingredients
Soak
1/4

cup

rice

I used some masoori rice

1

tablespoon

Moong dal

enough water to soak
Temper
4

tablespoon

butter

10

cashews

2

tablespoon

raisins
Pongal
1/2

cup

jaggery

heaped

1/2

cup

hot water

Pinch

of salt

1/4

teaspoon

Cardamom powder

Pinch

of nutmeg powder

Small piece of edible camphor
Instructions
Firstly wash rice and dal and soak for 10 minutes

Turn on IP in "Saute" mode and add 4 tablespoon of butter

When the display shows "Hot" add cashew and raisins

Mix well and roast

Add soaked rice and dal and saute for 1 minute

Press "Cancel" and add water; mix well and make sure nothing is stuck to the pan

Cook in "rice" mode and do Natural Pressure Release

Mix well and mash

Add jaggery, hot water, cardamom powder, and a pinch of salt; mix well and cook for 5-7 minutes until Pongal comes together

Press "Cancel" and turn off IP

Finally, add a pinch of nutmeg and a small piece of edible camphor and mix well
Video
Notes
If jaggery has impurities prepare jaggery water and strain the jaggery water then add to Pongal
Cooking time might vary according to the jaggery size
If you don't like soft cashews; after roasting keep them aside. Add it before turning off IP
avoid sauteeing rice and dal for longtime
Nutmeg and edible camphor is a must for temple style Pongal but you can skip it according to your taste
Always add a pinch of nutmeg excess nutmeg might affect the taste
For extra flavor, you  can add milk according to your taste
Add edible camphor only after turning off the IP. Also, add only very little
You can cook Pongal in ghee but cooking Pongal in butter gives an appealing brown color to kovil Sweet Pongal
Ingredients
Soak
1/4 cup rice (I used some masoori rice)
1 tablespoon Moong dal
enough water to soak
Temper
4 tablespoon butter
10 cashews
2 tablespoon raisins
Cook Rice and dal
1 + 1/2 cup water
Pongal
1/2 cup jaggery, heaped
1/2 cup hot water
Pinch of salt
1/4 teaspoon Cardamom powder
Pinch of nutmeg powder
Small piece of edible camphor
How to make Kovil Sakkarai Pongal in the instant pot with step by step pictures
Firstly wash rice and dal and soak for 10 minutes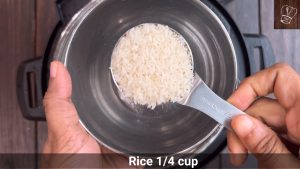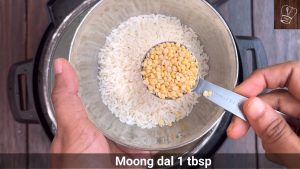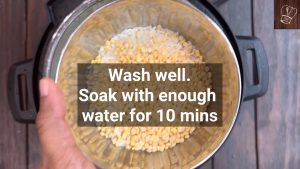 Turn on IP in "Saute" mode and add 4 tablespoon of butter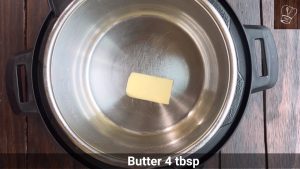 When the display shows "Hot" add cashew and raisins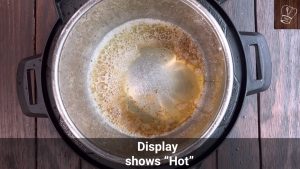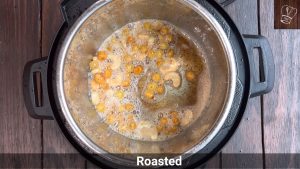 Add soaked rice and dal and saute for 1 minute
Press "Cancel" and add water; mix well and make sure nothing is stuck to the pan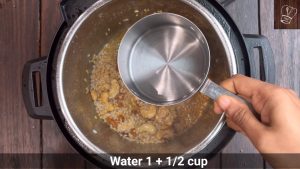 Cook in "rice" mode and do Natural Pressure Release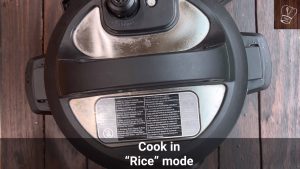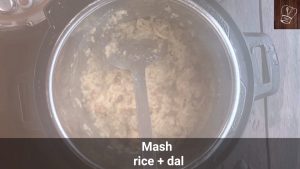 Add jaggery, hot water, cardamom powder, and a pinch of salt; mix well and cook for 5-7 minutes until Pongal comes together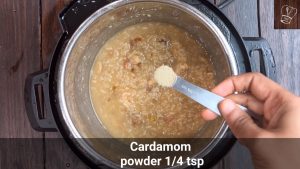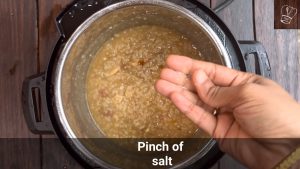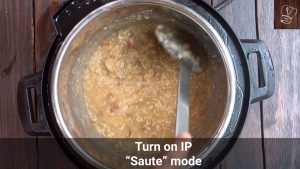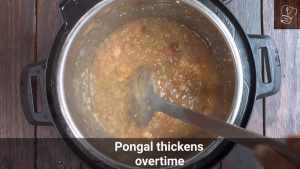 Press "Cancel" and turn off IP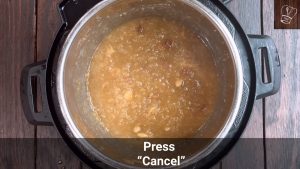 Finally, add a pinch of nutmeg and a small piece of edible camphor and mix well