Jam biscuits | Jammy biscuits | Jam thumbprint cookies | Thumbprint biscuits | Jam filled biscuits | Jimmy jam biscuits | Jam drop biscuits | Jam filled cookies | Almond cookies | Eggless biscuit | Eggless almond biscuit | No eggs no oil cookies with step-by-step pictures and video recipe. Check out the Jam Cookies video recipe and If you like the video pls SUBSCRIBE to my channel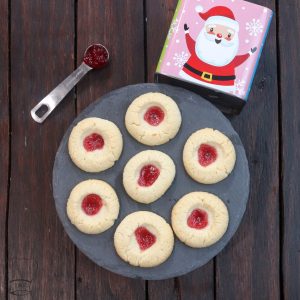 Jam biscuits | Jammy biscuits | Jam thumbprint cookies | Thumbprint biscuits | Jam filled biscuits | Jimmy jam biscuits | Jam drop biscuits | Jam filled cookies | Almond cookies | Eggless biscuit | Eggless almond biscuit is super easy, tasty cookies prepared with just 4 ingredients. Buttery jam cookies are super easy to make
Jam biscuit
"Biscuit biscuit jam biscuit Enna jam" was not only my favorite play but having a sweet tooth I love jammy biscuits. Whether those packed ones or one we get in the bakery - I always have a special love for jam biscuits.
Strangely my son is not a big fan of jam. To date, he never liked bread butter jam so I have not tried Baking thumbprint jam cookies for a long time. When I was pregnant with my daughter I got this strong craving for this. I made a batch with some store brought jam and all-purpose flour. My son and I finished it in no time. Since we both loved it. I thought of using almond flour instead of all-purpose flour.
Almond flour thumbprint cookies
Tasty thumbprint cookies are not just holiday/Christmas cookies. These Fruity cookies are super easy to bake. It is prepared with minimal ingredients. Do you believe if I say I just used 4 main ingredients for these delicious delights?
I have used only one flavor jam this time but if you have different jelly/jam make many flavors. It is perfect for kids after school/evening snacks or perfect for kid's get together/birthday parties.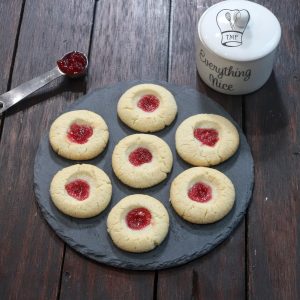 Eggless cookies
I have already posted an Eggless chocolate almond cookie and chocolate chip cookies. This is also an eggless cookie. Butter melt in the mouth is super addictive. You can skip the jam and make an eggless almond flour cookie
Jam Biscuit | Thumbprint cookies
🍪 Eggless
🍪 No leveling agent
🍪No oil
🍪4 ingredients
🍪5 minutes preparation
🍪No whisk/ hand mixer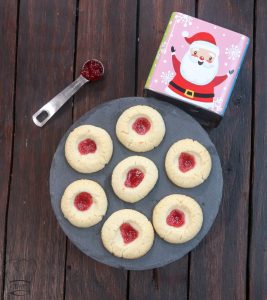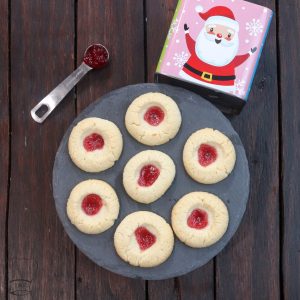 Ingredients
Almond flour - 1 cup

tightly pressed (112 g)

Softened butter 3 tbsp

Sugar 3 tbsp

Jam - to fill
Instructions
Firstly preheat the oven to 350 degrees Fahrenheit

Line the baking tray with parchment paper

Add butter and sugar in a wide bowl; mix well till it turns smooth and creamy

Furthermore, add almond flour and knead till you get a pliable dough

Take one tablespoon of dough and level

Roll and gently press

Make a dent in the center with thumb or measuring spoon

Repeat for the entire batch

Fill the dent with jam

Add 1/4 teaspoon of jam for thick jam layer

alternatively, add 1/8 teaspoon for thin jam layer

Bake for 10 minutes and leave at room temperature for a few minutes then enjoy
Video
Notes
Add vanilla extract, rose essence, or any other flavoring of your choice
Biscuit will look slightly underdone after taking out of the oven but as they cool down it turns perfect
Avoid using almond meal
Microwave the cookie for 1-2 minutes. Time may vary depending on the power
The baking temperature may slightly vary from oven to oven also based on the thickness of the cookie
If you add excess jam in the indentation it might ooze out while baking
Instead of jam cookie, you can also make it plain or add nuts, coconut, chocolate chips or sesame seeds, etc. can be added for extra flavor
Ingredients:
Almond flour - 1 cup, tightly pressed (112 g)
Softened butter 3 tbsp
Sugar 3 tbsp
Jam - to fill
How to make jam biscuit with step by step pictures
Firstly preheat the oven to 350 degrees Fahrenheit

Line the baking tray with parchment paper
Add butter and sugar in a wide bowl; mix well till it turns smooth and creamy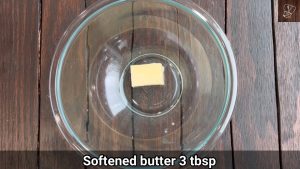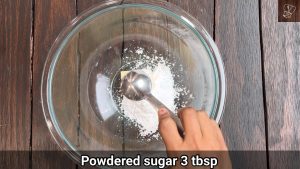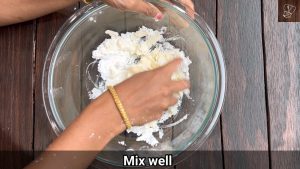 Furthermore, add almond flour and knead till you get a pliable dough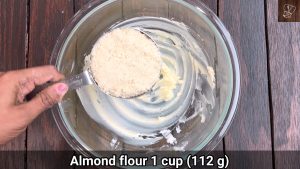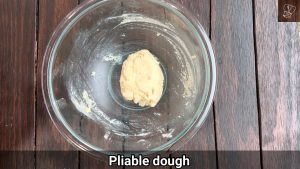 Take one tablespoon of dough and level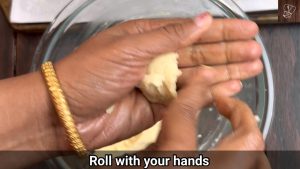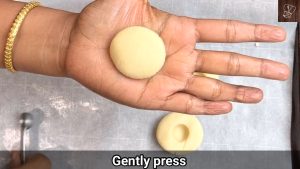 Make a dent in the center with thumb or measuring spoon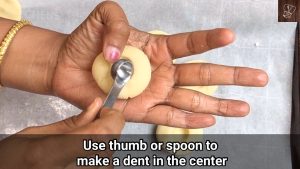 Repeat for the entire batch
Fill the dent with jam
Add 1/4 teaspoon of jam for thick jam layer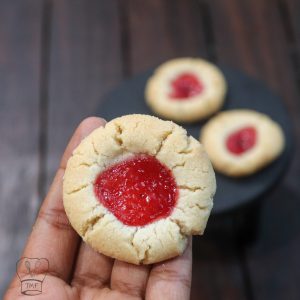 alternatively, add 1/8 teaspoon for thin jam layer
Bake for 10 minutes and leave at room temperature for a few minutes then enjoy