Masala peanut | masala kadalai | Peanut masala | besan Masala peanuts | crispy peanut snacks | masala groundout | crunchy roasted spicy peanuts | spicy peanuts | haldiram style peanut masala | besan coated peanuts with step-by-step pictures and video recipe. Check out the peanut pakoda recipe and if you like the video pls SUBSCRIBE to my channel.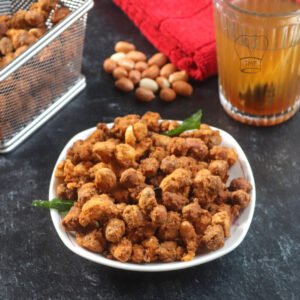 Masala Peanuts | masala kadala
Masala Peanuts are crispy, spicy, and crunchy peanut-based snacks coated with flour + spice mixture and deep fried. It is super easy to make, the perfect side for a hot cup of tea or coffee. It stays good for weeks.
SHOULD I ROAST peanuts?
No, always use raw peanuts for peanut pakoda. peanuts get fried to golden brown when we fry pakora.
Can I use peanuts with skin?
Yes, you can use whole unroasted peanuts.
SHOULD I MAKE RICE FLOUR AT HOME FOR peanut PAKORA?
I have used store-bought rice flour. Choose fine rice flour for the best results. Idiyappam flour can also be used.
WHAT SHOULD BE THE CONSISTENCY OF besan peanut masala DOUGH?
The amount of water might vary based on the besan and rice flour you use. I used around 1/2 cup of water.

The pakoda dough should be
✔️Sticky
✔️Able to roll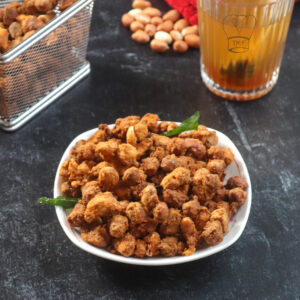 HOW TO CHECK IF THE OIL IS AT THE RIGHT TEMPERATURE?
Check the oil temperature by adding a small piece of the dough. If the dough comes up gradually and steadily on top, the oil is hot enough to fry. If it comes up too quickly, then the oil is too hot. Simmer and adjust to the right temperature. If it settles down at bottom of Kadai or comes up very slowly, the oil is not hot enough, so increase the heat.
avoid tasting immediately
After frying, drain the oil in a colander or oil filter. let the masala peanuts cool completely on a cooling plate. Avoid tasting them immediately after frying, they might look chewy.
SHELF LIFE FOR masala peanuts
Once cooled completely, they can be stored in an airtight container for up to 1 month. Always store in a clean airtight container. I prefer to keep them in stainless dhabba. Let the pakoda cool completely then close with the lid.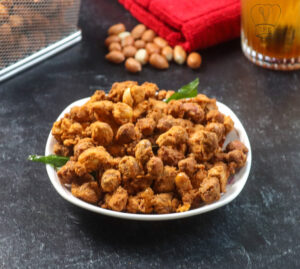 HOW LONG SHOULD I FRY verkadalai PAKODA?
Always fry pakoda on medium flame. Fry till cashew and pakoda turn golden brown also the froth subsides. Avoid high flame.
ADD ON FOR PAKODA?
You can add
finely chopped green chilli instead of chilli powder
Coriander seeds or coriander powder or coriander leaves
Mint leaves
Bake or air fry?
You can bake at 400 degrees Fahrenheit for around 15 minutes or Air fry at 350 for 3-5 minutes. Deep fried batch tastes best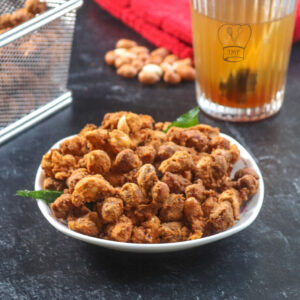 Ingredients
2 + 1/2 cup peanuts
1/2 cup rice flour
1 cup besan flour
Add-ons to masala peanuts
fry curry leaves in hot oil; drain excess oil and add
add chaat masala or any other flavors of choice