Tasty and nutritious recipe. It's a complete and very filling item by itself. Tastes delicious with curd/pickle.
Ingredients:
Wheat Flour – 1 cup
Oil - 1 tablespoon (for dough) + as needed for parathas
Salt - as needed
Warm water - as needed
Mixed Vegetable Dry - 1/4 cup
Method 1:
Make a soft dough, as we do for chapathi and keep it covered
Knead the dough and divide into small balls, and roll it into a small circle. Keep 1 tablespoon mixed veg filling and seal the edges together. Then gently roll it like regular chapathi (with less pressure). Do the same for the remaining dough and filling.
Method 2:
Make a soft dough, as we do for chapathi and keep it covered
Make two thin chapathis. Spread 2 tablespoon Mixed Vegetable filling on one chapathi leaving the edges, and place the other chapathi over it. Seal both side edges by using fork or wheat + water paste or roll edges once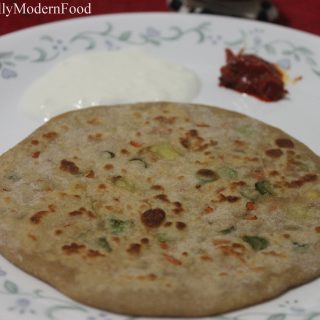 Ingredients
Wheat Flour – 1 cup

Oil - 1 tbsp

for dough + as needed for parathas

Salt - as needed

Warm water - as needed

Mixed Vegetable Dry - 1/4 cup
Instructions
Make a soft dough, as we do for chapathi and keep it covered

Knead the dough and divide into small balls, and roll it into a small circle. Keep 1 tablespoon mixed veg filling and seal the edges together. Then gently roll it like regular chapathi (with less pressure). Do the same for the remaining dough and filling.

Make a soft dough, as we do for chapathi and keep it covered

Make two thin chapathis. Spread 2 tablespoon Mixed Vegetable filling on one chapathi leaving the edges, and place the other chapathi over it. Seal both side edges by using fork or wheat + water paste or roll edges once
For regular recipe updates pls follow TMF social media,
Facebook | Instagram | Youtube | Pinterest | Twitter