peanut butter cookies | vegan peanut butter cookies | 3-ingredient Peanut Butter Cookies | almond flour recipe | almond flour cookie recipe | almond flour dessert with step-by-step pictures and video recipe. Check out the peanut butter cookies recipe and If you like the video pls SUBSCRIBE to my channel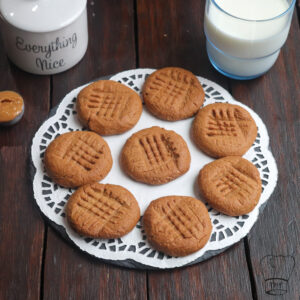 Eggless peanut butter cookies | vegan peanut butter cookies | 3-ingredient Peanut Butter Cookies are easy and healthy after-school snacks. No egg, no dairy, gluten-free tasty cookies in less than 20 minutes.

What kind of peanut butter works best for this recipe?
Always use smooth creamy peanut butter without added sugar. I have used unsalted peanut butter but you can also use salted ones if you like salted cookie flavor.
ALMOND FLOUR peanut butter COOKIE
TMF has many almond flour-based recipes. I have posted many variations of cookies with almond flour. This cookie recipe is another variation with peanut butter. We need 3 main ingredients for these best vegan peanut butter cookies.
Can I use peanut butter from the fridge?
Peanut butter should be in room temperature free-flowing consistency. If you have refrigerated or room temperature peanut butter turned thick, keep the peanut butter cup in a hot water vessel for 10 minutes.
Can I reduce maple syrup for Vegan cookies?
Yes, adjust according to your sweetness. Reducing considerable quantity might affect cookie dough texture so adjust flour accordingly.

Replacement for maple syrup?
You can use coconut nectar, apple syrup, brown rice syrup, agave syrup instead of maple syrup. If you are replacing it with sugar increase sugar quantity.
Nonsticky cookie dough
The key to perfect eggless cookies is nonstick dough. If the dough is sticky sprinkle little flour and mix
CAN I MAKE Eggless COOKIES ON THE STOVE?
Heat a wide non-stick pan on a small burner, turn on the stove in very low heat. Place cookies in the pan about 1 inch apart (avoid overlapping) and cover with a lid. Allow the cookies to cook in a pan over low heat for 13-16 minutes. The cookies are done when they are crisp on the bottom and just set on top. They will look slightly underdone but set as they cool.
SHELF LIFE OF VEGAN COOKIES?
cookies stay good for 2 weeks at room temperature. Since cookies don't have egg/milk or dairy they stay good for a longer time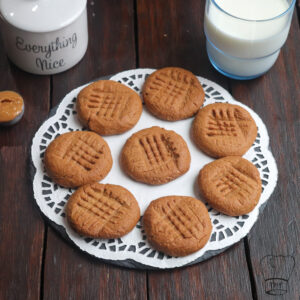 Ingredients
1

cup

smooth creamy peanut butter

unsalted and no added sugar

1/3

cup

maple syrup

3/4

cup

almond flour
Add on
1/4

teaspoon

vanilla extract
Instructions
Firstly add hot water to a wide vessel and add 1 cup of peanut butter. Keep aside for 10 minutes

Preheat oven to 350°F. Line a cookie sheet with Silicon mat/ parchment paper and keep aside

After 10 minutes transfer the peanut butter to a wide mixing bowl

Furthermore add maple syrup, vanilla extract and mix well until you see a creamy mixture

Add almond flour and mix well. You should get nonsticky peanut butter cookie dough. If not sprinkle flour

Take a tablespoon of cookie dough roll well and flatten. Repeat for all cookies. Leave a gap between cookies

optionally you can use a fork and add a pattern in the top of the cookies. I have made a cross shape

Bake for 12-15 minutes until the sides or golden brown

cookies looks underdone initially after taking out of the oven

Cool the cookies for 10 mins on the tray, then transfer on a cooling rack and cool completely
Video
Notes
Always use smooth creamy peanut butter
Make sure peanut butter is in the flowing consistency
Adjust the maple syrup according to your sweetness
Make sure cookie dough is nonsticky
I have made cross pattern but you can make any patter of your choice
Cardamom powder/cinnamon powder or any add on flavor can be used

Ingredients
1 cup smooth creamy peanut butter, unsalted and no added sugar
1/3 cup maple syrup
3/4 cup almond flour
Add on
1/4 teaspoon vanilla extract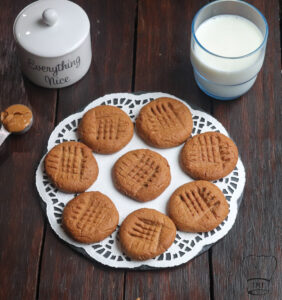 How to make peanut butter cookies with step by step pictures
Firstly add hot water to a wide vessel and add 1 cup of peanut butter. Keep aside for 10 minutes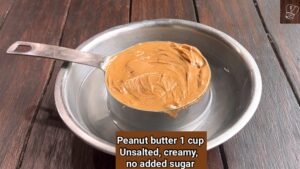 Preheat oven to 350°F. Line a cookie sheet with Silicon mat/ parchment paper and keep aside

After 10 minutes transfer the peanut butter to a wide mixing bowl
Furthermore add maple syrup, vanilla extract and mix well until you see a creamy mixture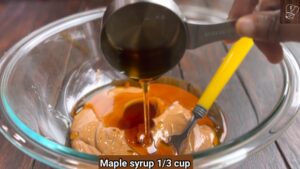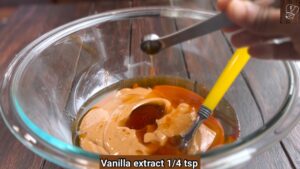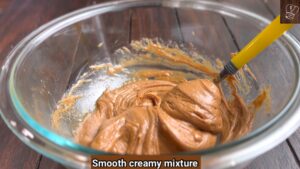 Add almond flour and mix well. You should get nonsticky peanut butter cookie dough. If not sprinkle flour
Take a tablespoon of cookie dough roll well and flatten. Repeat for all cookies. Leave a gap between cookies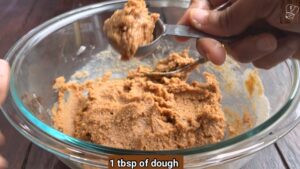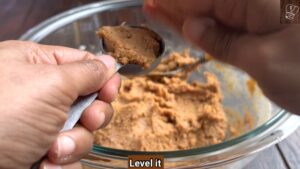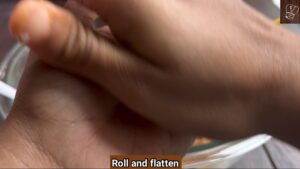 optionally you can use a fork and add a pattern in the top of the cookies. I have made a cross shape
Bake for 12-15 minutes until the sides or golden brown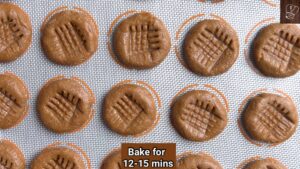 cookies looks underdone initially after taking out of the oven

Cool the cookies for 10

mins on the tray, then transfer on a cooling rack and cool completely