Traditional South Indian breakfast/ tiffin items like idli, dosai and paniyaram prepared with quinoa. Soft and fluffy healthy Quinoa Idli is Protein rich start for the day.
Being a south Indian, Idli is one of the most common breakfast items prepared at home.. Every week at least once there will be Idli/dosai. When was I pregnant doctor told me to avoid white rice.
My friend suggested Quinoa. She told me to keep have white rice and quinoa and make sambar,rasam etc like regular white rice.I tried it for initial few days after some weeks slowly started having quinoa separately and tried my experiments with quinoa.
Checkout Idli/ dosa varieties in TMF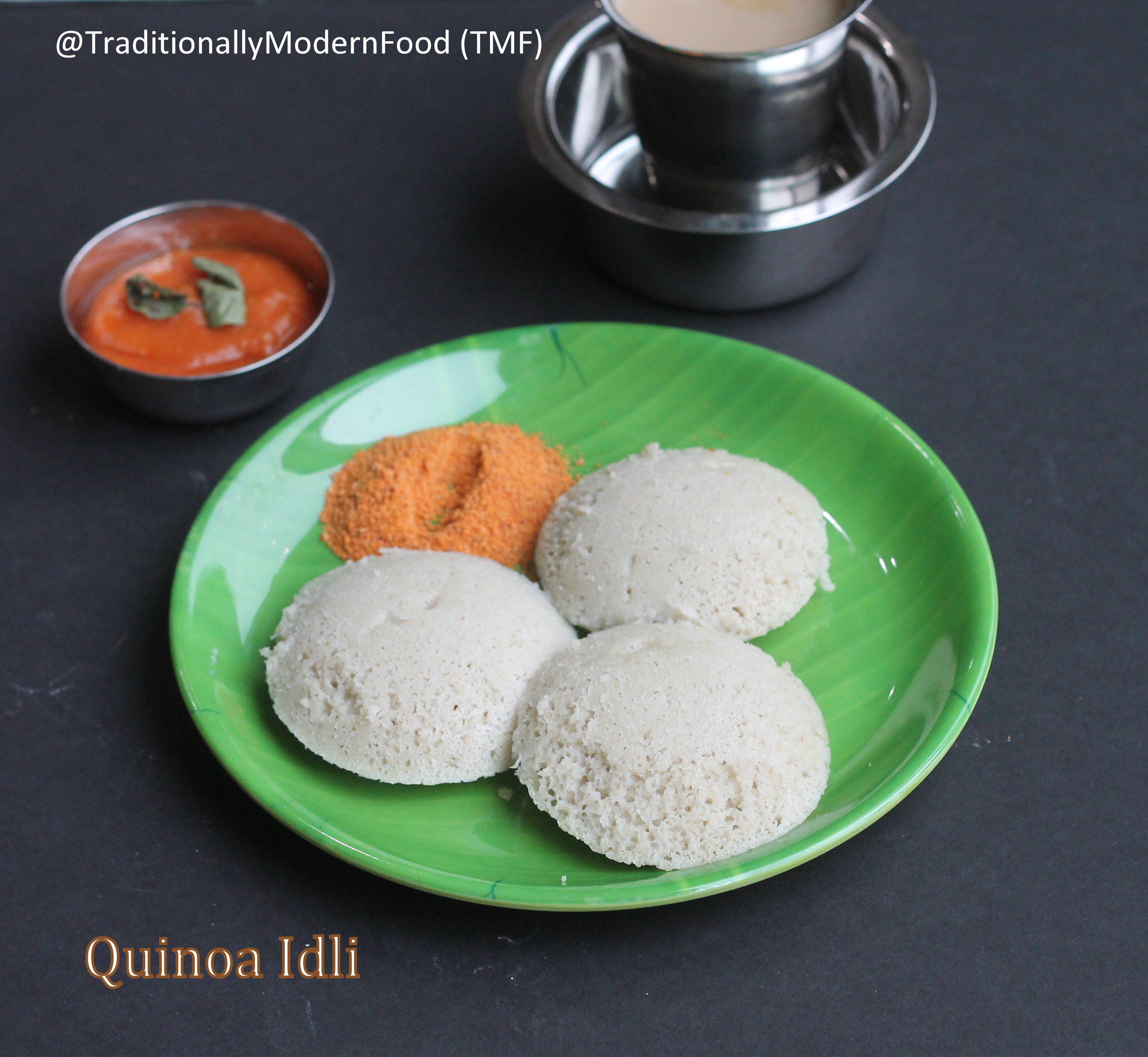 Traditionally idli is prepared with idli rice and urad dal, but to add some healthy factor in our routine diet I started adding Quinoa, Ragi, Cracked wheat etc into the batter. Usually idli batter is prepared in a Grinder but I am yet to buy it. My kitchen top is fully occupied and I am scared to keep the grinder down as my little one's favorite hangout is our kitchen:-)
Bored with Idli/dosa? Try these tasty recipes using IDli/Dosa batter,
My mother gave me a basic recipe for idli/dosai batter for mixie and grinder. Usually rice and urad dal are soaked separately and grinded sepeartely, mixed together at the end. Back in 2012 when I tried idli batter for the first time, by mistake I soaked both together and to my surprise we didn't feel any difference in the taste and texture. So lazy me prefers the same procedure till date:-).
We had it with my less spicy Idli podi
I initially posted recipe for quinoa idli, recently I started preparing dosai and panniyaram so updated this post.
Othet Quinoa dishes in TMF,
Recipe with idli / dosa batter in TMF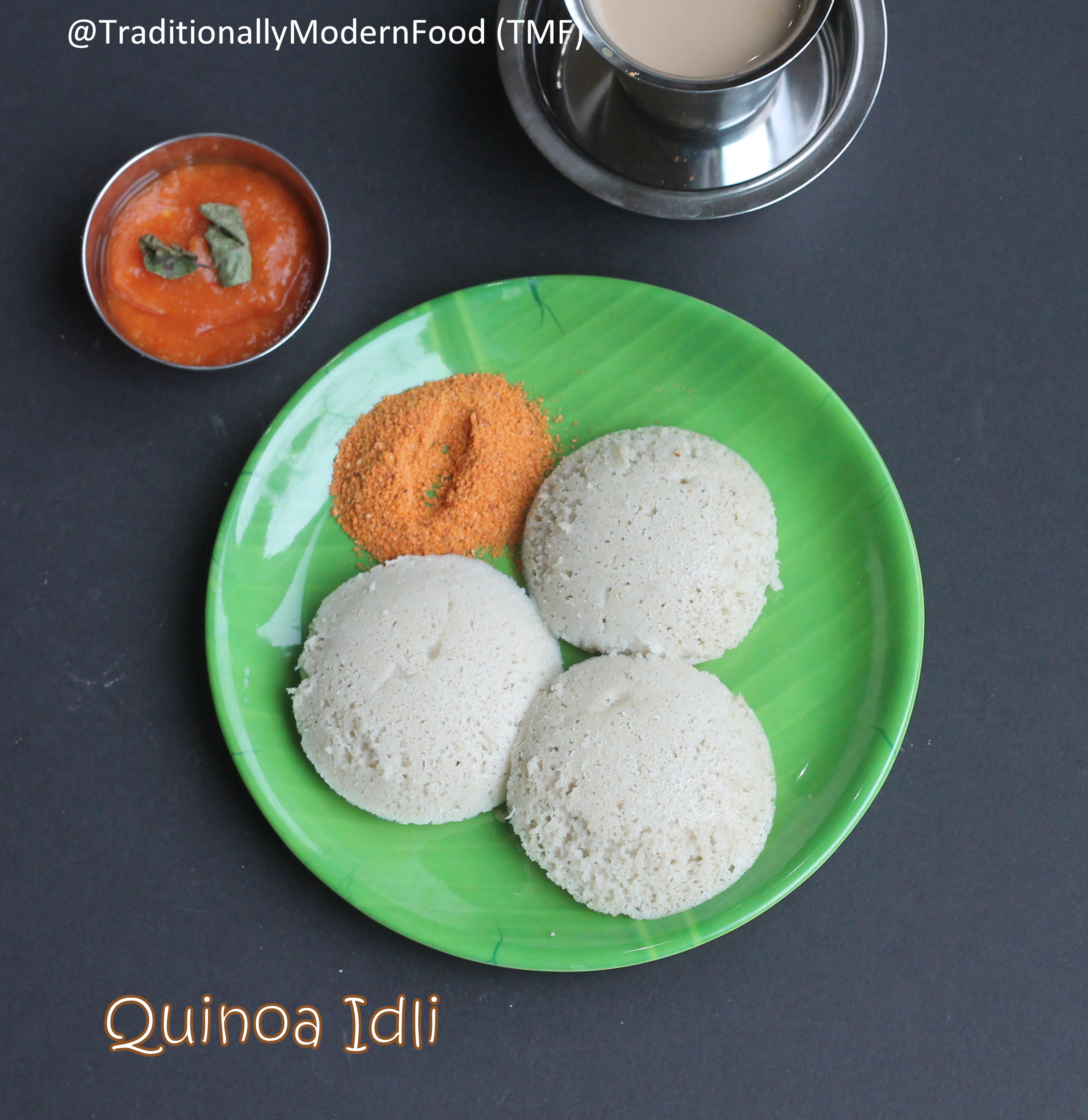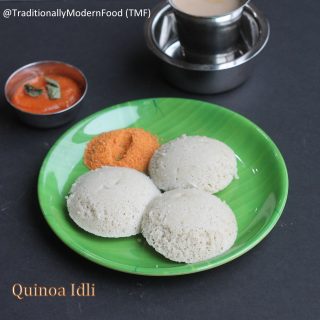 Ingredients
Quinoa - 3/4 cup

Idli Rice - 1/4 cup

Whole urad dal - 1/3 cup

Flatten Rice - 2 tablespoon + 1/2 tbsp

Fenugreek seeds

methi - 1 tsp

Salt to taste

Water - as required

room/ cold temperature water is preferable for grinding
Instructions
Wash the rice, quinoa and urad dal twice, soak with fenugreek seed and flatten rice for 6 hours in room temperature water or warm water for 3-4 hours

Drain the soaked water completely

In a mixie jar take 1/2 cup of the mixture with 1/2 cup of water and grind it for around 2 minutes, gradually increasing the speed

Open the jar lid, mix once and add 3 - 5 tablespoon of water and grind till it becomes smooth. Transfer the contents to a big utensil to hold the fermented batter. Give a break for 2-3 minutes as mixie tends to become hot while grinding dal

Repeat steps 3 and 4 for the remaining soaked mixture and grind; add the batter to the same utensil

Add the required salt and mix well ( I generally mix with hand). Cover the vessel with a plate and let it ferment over night or 12 hours. I keep the batter vessel over a plate, so that after fermenting if the batter overflow the batter won't mess the kitchen top:-)

After the standing time the batter would be raised well. Mix it once using a ladle

Idli:

Grease the idli mould with little oil. Pour ladle full of batter to the idli mould ( around 3/4 of each indent) and cook them in idli steamer/ cooker for 10 -12 minutes or until done. After the steam relases, remove the cooked soft idli with the help of spoon and serve hot with chutney and sambar

Paniyaram:

Heat the paniyaram pan. Add a little oil to each hole. Spoon the batter into the pan and cook for 2 minutes on one side. After one side is cooked well, turn the paniyarams and cook the other side. Flip carefully and cook until it is done

Dosai

Add little water to make it a thin batter(Usual dosai batter consistency). Heat the skillet on medium heat and spread some oil on it. Pour ladle full of batter and spread it to make a thin dosai. Drizzle oil and flip after one side is cooked and cook other side. Serve hot dosa with onion chutney/tomato chutney/ tomato Thokku/ chow chow peel chutney
Notes
1. If you live in a cold place it might take time for fermentation. Can turn on the light in the oven and keep the batter for warm condition
2. Instead of grinding dal, rice and quinoa together can grind dal and rice - quinoa mixture separately
3. Wheat flour can be added while preparing paniyaram
4. For Grinder Version, use 1/4 cup urad dal instead of 1/3 cup
Ingredients :
Quinoa - ¾ cup
Idli Rice - ¼ cup
Whole urad dal - ⅓ cup
Flatten Rice - 2 tablespoon + ½ tbsp
Fenugreek seeds (methi) - 1 tsp
Salt to taste
Water - as required (room/ cold temperature water is preferable for grinding)
How to make Quinoa Idli dosa paniyaram with step by step pictures:
Wash the rice, quinoa and urad dal twice, soak with fenugreek seed and flatten rice for 6 hours in room temperature water or warm water for 3-4 hours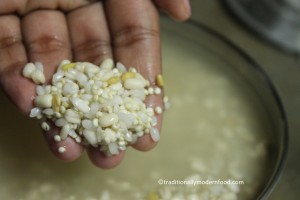 Drain the soaked water completely
In a mixie jar take 1/2 cup of the mixture with 1/2 cup of water and grind it for around 2 minutes, gradually increasing the speed
Open the jar lid, mix once and add 3 - 5 tablespoon of water and grind till it becomes smooth. Transfer the contents to a big utensil to hold the fermented batter. Give a break for 2-3 minutes as mixie tends to become hot while grinding dal
Repeat steps 3 and 4 for the remaining soaked mixture and grind; add the batter to the same utensil
Add the required salt and mix well ( I generally mix with hand). Cover the vessel with a plate and let it ferment over night or 12 hours. I keep the batter vessel over a plate, so that after fermenting if the batter overflow the batter won't mess the kitchen top:-)

After the standing time the batter would be raised well. Mix it once using a ladle

Idli:
Grease the idli mould with little oil. Pour ladle full of batter to the idli mould ( around 3/4 of each indent) and cook them in idli steamer/ cooker for 10 -12 minutes or until done. After the steam relases, remove the cooked soft idli with the help of spoon and serve hot with chutney and sambar
Paniyaram:
Heat the paniyaram pan. Add a little oil to each hole. Spoon the batter into the pan and cook for 2 minutes on one side. After one side is cooked well, turn the paniyarams and cook the other side. Flip carefully and cook until it is done
Dosai:
Add little water to make it a thin batter(Usual dosai batter consistency). Heat the skillet on medium heat and spread some oil on it. Pour ladle full of batter and spread it to make a thin dosai. Drizzle oil and flip after one side is cooked and cook other side. Serve hot dosa with onion chutney/tomato chutney/ tomato Thokku/ chow chow peel chutney