Spinach paneer pulao | Keerai paneer rice | Spinach pulao | Palak rice | Palak pulao | keerai sadham | kids lunchbox recipe | keera pulao | Indian spinach rice | Pressure cooker pulav step-by-step pictures and video recipe. Check out the keerai paneer sadham video and If you like the video pls SUBSCRIBE to my channel
PALAK PULAO
Palak pulao, also known as spinach rice/ keerai sadham, is a flavorful and healthy dish that's perfect for a quick and easy meal. packed with nutrients and bursting with the goodness of spinach, making it a great option for vegetarians and health-conscious eaters. In this blog post, we'll take you through a step-by-step guide on how to make palak pulao at home, along with tips on how to get the perfect texture and flavor. So, whether you're looking for a new recipe to add to your meal rotation or want to experiment with new flavors, palak pulao is a must-try dish.
HEALTHY LUNCHBOX RECIPE
Spinach is a rich source of vitamins and minerals, including iron, calcium, and vitamins A and C. When combined with rice and protein-rich spices, it creates a dish that's both delicious and nutritious.
HOW LONG SHOULD I SOAK RICE?
If you are planning to cook pulao in the pan, soak it for 20 minutes. For instant pot and pressure cooker pulao, soak rice for about 5 minutes. Adjust the soaking time according to the variety of rice you use
CAN I COOK palak PANEER PULAO IN THE INSTANT POT?
Yes, for the instant pot methi pulav soak the rice for 5 minutes. Add 1:1 1/2, rice to water ratio. Bring to a boil and cook for 5 minutes and do natural pressure release.

SHOULD I CHOP spinach LEAVES FOR INDIAN spinach PILAF?
no, it is optional. You can finely chop the leaves or add roughly chopped keerai.
CAN I COOK KEERAI SADHAM IN OIL?
Yes, using ghee is optional but it gives a good flavor to the rice. You can use oil for cooking and add a few drops of ghee for aroma.
ALTERNATE FOR SHAHI PANEER MASALA?
You can use add masala powders like red chilli powder, kitchen king masala, and garam masala instead of shahi paneer pulao. Adjust the masala according to your spice.
Ingredients
Soak rice
basmati rice 1/2 cup
Enough water to soak
Pulao
Ghee 1/2 tbsp
Cashews 5
Fennel seeds 1/2 tsp
Poppy seeds 1/2 tsp
Onion 1/4 cup
Ginger garlic paste 1 tsp
Kitchen king masala 1/2 tsp
Shahi paneer masala 1 teaspoon + 1/2 tsp
Turmeric powder 1/4 tsp
Required salt
water 3/4 cup
Spinach 1/3 cup, tightly pressed-cleaned & chopped
Sesame oil 1/8 tsp
How to make spinach paneer pulao
Firstly wash and soak basmati rice for 30 mins

Add ghee and heat
furthermore add cashews, poppy seeds, and fennel seeds; splutter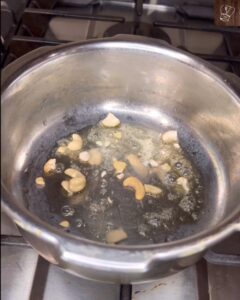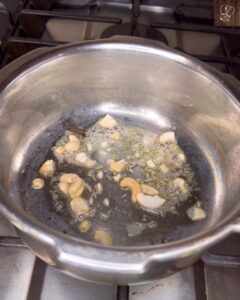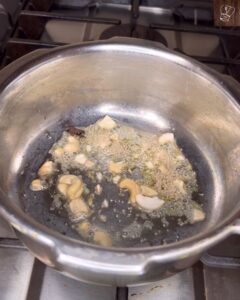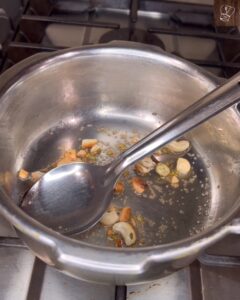 add onion and ginger garlic paste; saute till onions turn translucent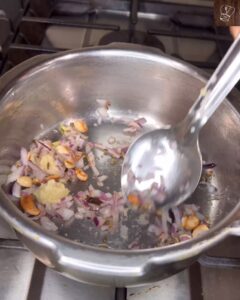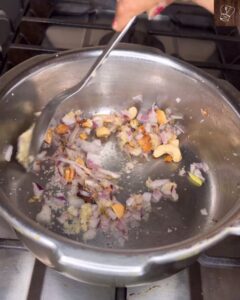 Add shahi paneer masala, kitchen king masala, salt, and turmeric powder; saute for 2 mins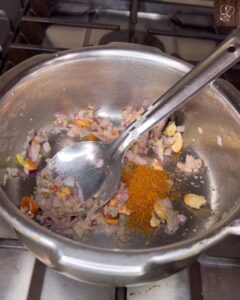 Furthermore, add paneer; mix well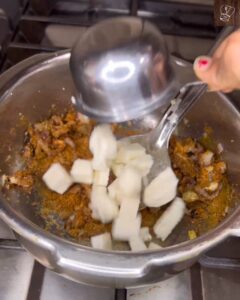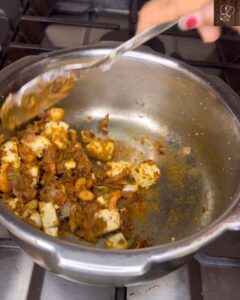 Add soaked rice; mix well
Pour water, and give a quick mix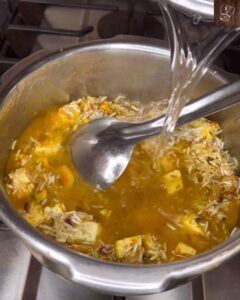 furthermore, add spinach; mix well and boil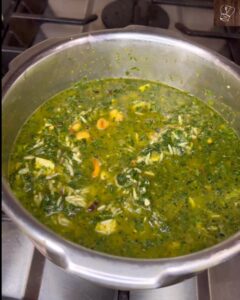 Cover and cook for 2 whistles; natural pressure release
Fluff the rice and serve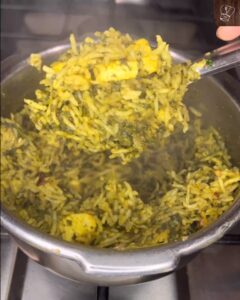 Ingredients
Soak rice
basmati rice 1/2 cup

Enough water to soak
Pulao
Ghee 1/2 tbsp

Cashews 5

Fennel seeds 1/2 tsp

Poppy seeds 1/2 tsp

Onion 1/4 cup

Ginger garlic paste 1 tsp

Kitchen king masala 1/2 tsp

Shahi paneer masala 1 teaspoon + 1/2 tsp

Turmeric powder 1/4 tsp

Required salt

water 3/4 cup

Spinach 1/3 cup

tightly pressed-cleaned & chopped

Sesame oil 1/8 tsp
Instructions
Firstly wash and soak basmati rice for 30 mins

Add ghee and heat

furthermore add cashews, poppy seeds, and fennel seeds; splutter

add onion and ginger garlic paste; saute till onions turn translucent

Add shahi paneer masala,  kitchen king masala, salt, and turmeric powder; saute for 2 mins

Furthermore, add paneer; mix well

Add soaked rice; mix well

Pour water, and give a quick mix

furthermore, add spinach; mix well and boil

add sesame oil

Cover and cook for 2 whistles; natural pressure release

Fluff the rice and serve
Video