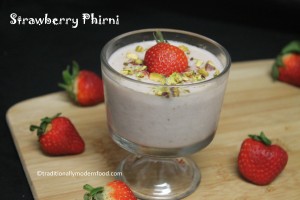 Phirni is a rich milk based dessert prepared with basmati rice. I would say it's a version of thick Kheer. Strawberry flavours makes it super yum. Chil dessert is perfect for hot summer.
Jump to Recipe
After a longtime I am writing a guest post:-)
Couple of weeks back Shalini from "SOMETHING'S COOKING..RIGHT UNDER YOUR NOSE!" approached me for a guest post, to be posted for the month of May. Though I was happy to write for her space, due to my India trip I couldn't give her a post by May. I told her my situation and Shalini gave me the freedom of taking my own time 🙂
I've known Shalini for a long time and was happy when she asked me to do a guest post for her. I always admire the way she maintains two blogs separately. Whether its her poem in "Tales of Tomatoes", or interesting recipes in food blog, shalini makes it exquisite. Many of her Kerala specials are in my do list.
Thanks a lot Shalini, for giving the opportunity to write a guest post for you...
Hot summer calls for a cool dessert. Here is a easy and delicious summer Spl. Richness of milk with rice and strawberry makes a great dessert
Hop on to Shalini's space for the recipe
Ingredients
Milk - 2 cup
Strawberry puree - 1/2 cup
Basmati rice - 2 tablespoon
Sugar - 2 tablespoon
Saffron - pinch
Vanilla extract- 1/2 teaspoon
Cardamom powder - 1/8 teaspoon
Salt – a pinch
To Garnish
Strawberry - few
Chopped nuts - few
Method:
Wash and soak rice in warm water for 30 minutes to 1 hour. Drain and grind the soaked rice into coarse paste using 2 teaspoon of milk
Puree the strawberry in a blender without adding water
In a heavy bottom pan, pour 2 cups of milk and bring it to boil. Add the coarsely ground rice paste in hot milk and let it simmer on medium heat. Keep stirring for 10 - 12 minutes, till the milk - rice mixture thickens
Add sugar, saffron, vanilla extract, salt and cardamom powder; cook for minute and switch off. Let it cool for 10 minutes. Add pureed strawberries and mix well. Pour the Phirni into individual bowls and cover with a cling flim

Refrigerate till Phirni is set. Garnish with strawberry and crushed nuts.
My Notes:
Regular rice can also be used instead of Basmati rice