Sweet & Spicy Tomato chutney | Sweet n spicy tomato relish | sweet and spicy tomato chutney | Bengal sweet chutney | tomato chutney for paratha | thakkali pachadi | instant tomato chutney | meetha tomato chutney | mishta tomato chutney | Indian sweet tomato chutney | tomato dip step by step pictures and video recipe. Check out the Sweet & Spicy Tomato chutney video and If you like the video pls SUBSCRIBE to my channel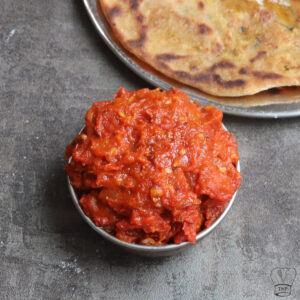 Easy and flavorful Sweet and spicy tomato chutney for paratha
Jump to:
Always use juicy red tomatoes
For the best taste and flavor of Bengali tomato chutney, choose ripe red tomatoes. Avoid sour tomatoes. Fresh tomatoes make the best Indian tomato relish avoid canned tomatoes
How long should I cook tomatoes?
always cook tomatoes in low- medium flame for 10-12 minutes till the raw smell goes off and tomatoes turn mushy. If tomatoes are not cooked well, chutney might taste raw
can I add onion and garlic?
there are many versions of sweet tomato chutney this particular version is inspired by my Bengali friend's recipe. I prefer sweet tomato dip without onion and garlic.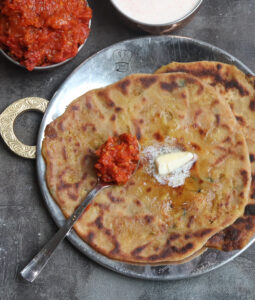 why Kashmiri chilli powder in the chutney?
it gives mild spiciness to the dish and also gives amazing color so I prefer using it. If you are going to use regular chilli powder, adjust according to your taste.
will the chutney be spicy?
Though it is Sweet n Spicy chutney, my recipe tastes more like a sweet chutney with a hint of spice. Adjust the spice according to your taste.
why jaggery for tomato sweet chutney?
traditionally sugar is used but to make it a bit healthy I have used jaggery. Adjust the jaggery according to the sweetness also sourness of tomatoes. You can also use brown sugar, coconut sugar, or any other sweetener of your choice.
Should I add water to the thakkali pachadi?
I didnt water. You can add water and cook thakkali inipu pachadi according to your preference.
shelf life of chutney
stays good for a week in the fridge.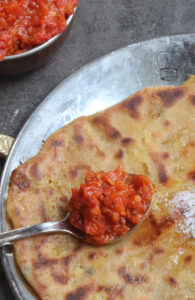 For the Tomato chutney video recipe
Ingredients
1 tablespoon peanut oil
1/4 teaspoon ginger
small piece cinnamon
1/4 teaspoon cumin seeds
3 ripe red tomatoes
required salt
1/4 teaspoon cumin powder
1 teaspoon Kashmiri chilli powder
pinch of fenugreek powder
3 tablespoon Jaggery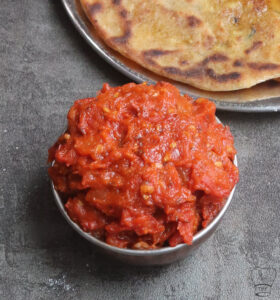 How to make Sweet & spicy tomato chutney with step-by-step pictures
Firstly add oil to a wide pan and heat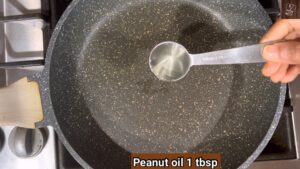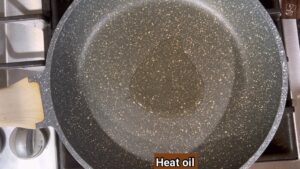 Add cinnamon, and cumin seeds and mix well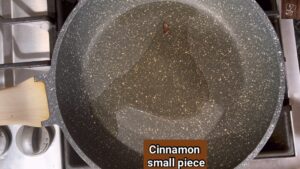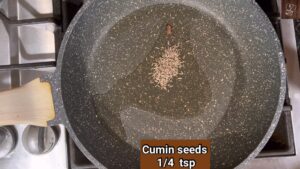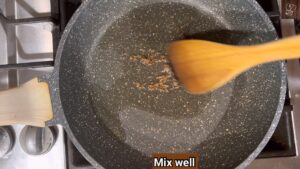 furthermore add ginger and mix well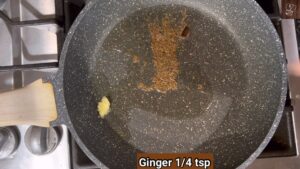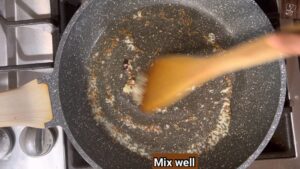 Add tomatoes and mix well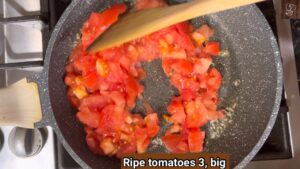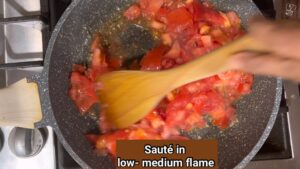 cook tomatoes for 10-12 minutes, till raw smell, goes off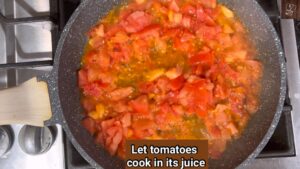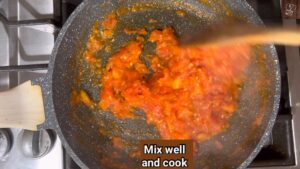 mash and cook to your desired texture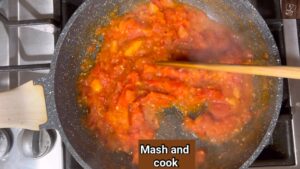 furthermore, add cumin powder, salt, and chilli powder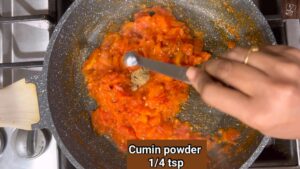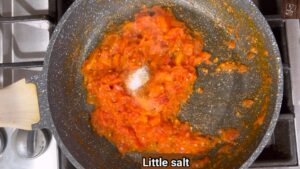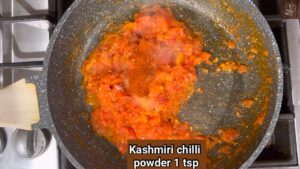 Mix well and cook for 2-3 minutes till the raw smell goes off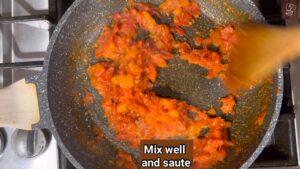 Add jaggery and fenugreek powder; mix well cook for 4-5 minutes till it thickens and slightly changes color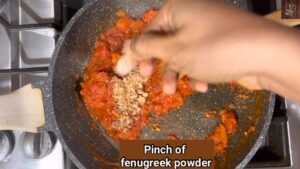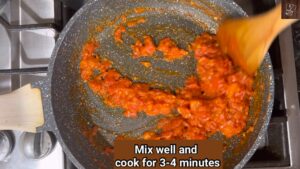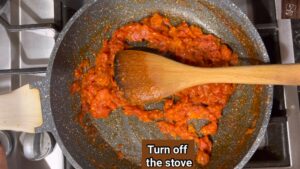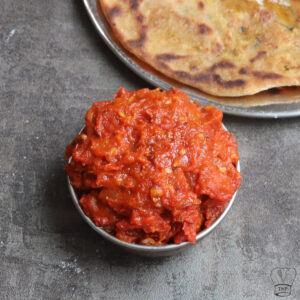 Ingredients
1

tablespoon

peanut oil

1/4

teaspoon

ginger

small piece cinnamon

1/4

teaspoon

cumin seeds

3

ripe red tomatoes

required salt

1/4

teaspoon

cumin powder

1

teaspoon

Kashmiri chilli powder

pinch

of fenugreek powder

3

tablespoon

Jaggery
Instructions
Firstly add oil to a wide pan and heat

Add cinnamon, and cumin seeds and mix well

furthermore add ginger and  mix well

Add tomatoes and mix well

cook tomatoes for 10-12 minutes, till raw smell, goes off

mash and cook to your desired texture

furthermore, add cumin powder, salt, and chilli powder

Mix well and cook for 2-3 minutes till the raw smell goes off

Add jaggery and fenugreek powder; mix well cook for 4-5 minutes till it thickens and slightly changes color
Video
Notes
For the best taste and flavor of Bengali tomato chutney, choose ripe red tomatoes. Avoid sour tomatoes. Fresh tomatoes make the best Indian tomato relish avoid canned tomatoes

Always cook tomatoes on a low- medium flame for 10-12 minutes till the raw smell goes off and tomatoes turn mushy. If tomatoes are not cooked well, chutney might taste raw 
You can add onion and garlic according to your taste
Kashmiri chilli powder gives mild spiciness to the dish and also gives amazing color so I prefer using it. If you are going to use regular chilli powder, adjust according to your taste.
Though it is Sweet n Spicy chutney,  my recipe tastes more like a sweet chutney with a hint of spice. Adjust the spice according to your taste
Traditionally sugar is used but to make it a bit healthy I have used jaggery. Adjust the jaggery according to the sweetness also sourness of tomatoes. You can also use brown sugar, coconut sugar, or any other sweetener of your choice
I didnt water. You can add water and cook thakkali inipu pachadi according to your preference
chutney stays good for a week in the fridge