Varutharacha Kuzhambu , Varuth aracha Kuzhambu , Thaala Kuzhambu , Varuthu Araicha Kuzhambu , thenga aracha kuzhambu , coconut kulambu
Thaala kuzhambu | Varuthu Araicha Kuzhambu is prepared with mixed vegetables/ kathamba kai. This Kulambu is prepared without dal. Freshly roasted and ground spice paste gives a delicious flavour to the kuzhambu. Varuthu Aricha kuzhambu is a tasty South Indian rice accompaniment.
I adore my mami(Aunty) samayal. Everytime we go for vacation she makes a feast for us. She knows all my favorite food and everyday I will wait to taste the food she prepares. Aunty was grown up in Kerala so I love all her Kerala based dishes. I have posted couple of Mami's recipe previously.
During my college days, when went for a family picnic, my Aunt's Amma brought this Kuzhambu as a Rice Accompaniment for lunch. That was the first time I tasted it. Those days I hardly cook so all I did was enjoying the meal.
I couldn't remember the name of the dish. I use to ask Amma to prepared mixed vegetable kuzhambu without dal. Crazy me😂 Amma learnt the recipe and started cooking for me. Very soon this kuzhambu become our special dish for weekend.
If you are interested for some tasty South Indian kuzhambu varieties in TMF,
Kuzhambu varieties with tamarind
Kuzhambu varieties without tamarind
Checkout my other recipes with mixed vegetables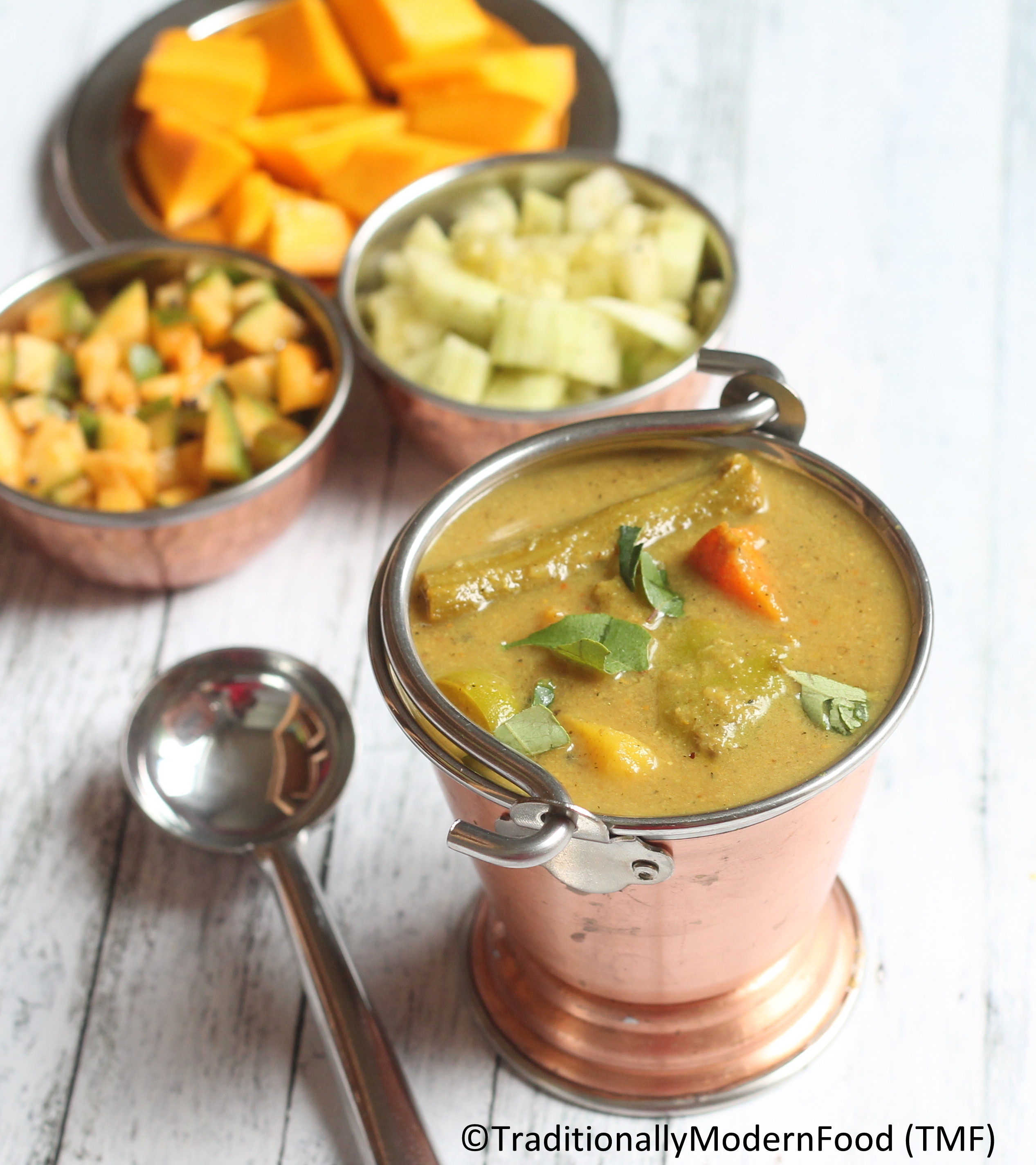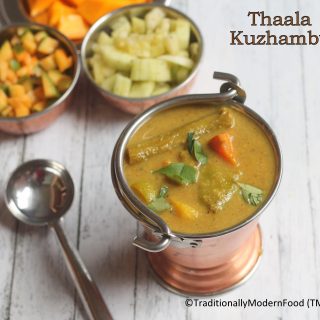 Ingredients
Potato - 1

big peeled and diced

Brinjal - 2

diced

Drumstick - 1

Carrot - 1

Beans - 6

White pumpkin - 1 cup after dicing

Turmeric powder - 1/4 tso

Tamarind - small lemon size

Coriander leaves - few

Asafoetida - generous pinch

Salt - as needed

To temper:

Coconut oil - 1 tsp

Mustard seeds - 1/4 tsp

Fenugreek - 1/8 tsp

Curry leaves - 1 sprig

For paste:

Toor Dal - 1 tbsp

Channa Dal - 1 tbsp

Coriander seeds - 1 tbsp

Red chilli - 2

Adjust according to your spice level

Fenugreek - 1/4 tsp

Pepper - 1/4 tsp

Black Sesame seed - 1 tsp

Rice - 1 tsp

Grated cocunut - 1/2 cup
Instructions
Soak tamrind in 3 cups of lukewarm water for 15 minutes and extract the pulp

Add oil to the pan. when the oil is hot add mustard, fenugreek, asafoetida and curry leaves. After they splutter add the vegetables and sauté for 5 minutes. Add 1 cup of water and cook the vegetables

In a spearate pan add 1/4 teaspoon of oil and roast red chillies, toor dal, channa dal, sesame seeds, coriander seeds, fenugreek, pepper and rice until they turn golden brown. Transfer them into a plate

In the same pan sauté the coconuts till they slightly change color. Tranfer them to the plate. After the mixture comes to room temperature, add little water and make a fine paste

Meantime after the vegetables are half cooked, add tamrind pulp, turmeric powder and salt. Cook till the raw smell of tamrind goes and vegetables are fully cooked

Add the ground paste and cook for 5 minutes

Garnish with coriander leaves and serve hot with rice

Any vegetables of your choice can be added
Ingredients:
Potato - 1, big peeled and diced
Brinjal - 2, diced
Drumstick - 1
Carrot - 1
Beans - 6
White pumpkin - 1 cup after dicing
Turmeric powder - 1/4 tso
Tamarind - small lemon size
Coriander leaves - few
Asafoetida - generous pinch
Salt - as needed
To
temper:
Coconut oil - 1 tsp
Mustard seeds - 1/4 tsp
Fenugreek - 1/8 tsp
Curry leaves - 1 sprig
For paste:
Toor Dal - 1 tbsp
Channa Dal - 1 tbsp
Coriander seeds - 1 tbsp
Red chilli - 2 (Adjust according to your spice level)
Fenugreek - 1/4 tsp
Pepper - 1/4 tsp
Black Sesame seed - 1 tsp
Rice - 1 tsp
Grated cocunut - 1/2 cup

how to make Varutharacha kuzhambu with step by step pictures
Soak tamrind in 3 cups of lukewarm wate

r

for 15 minutes and extract the pulp
Add oil to the pan. when the oil is hot add mustard, fenugreek, asafoetida and curry leaves. After they splutter add the vegetables and sauté for 5 minutes. Add 1 cup of water and cook the vegetables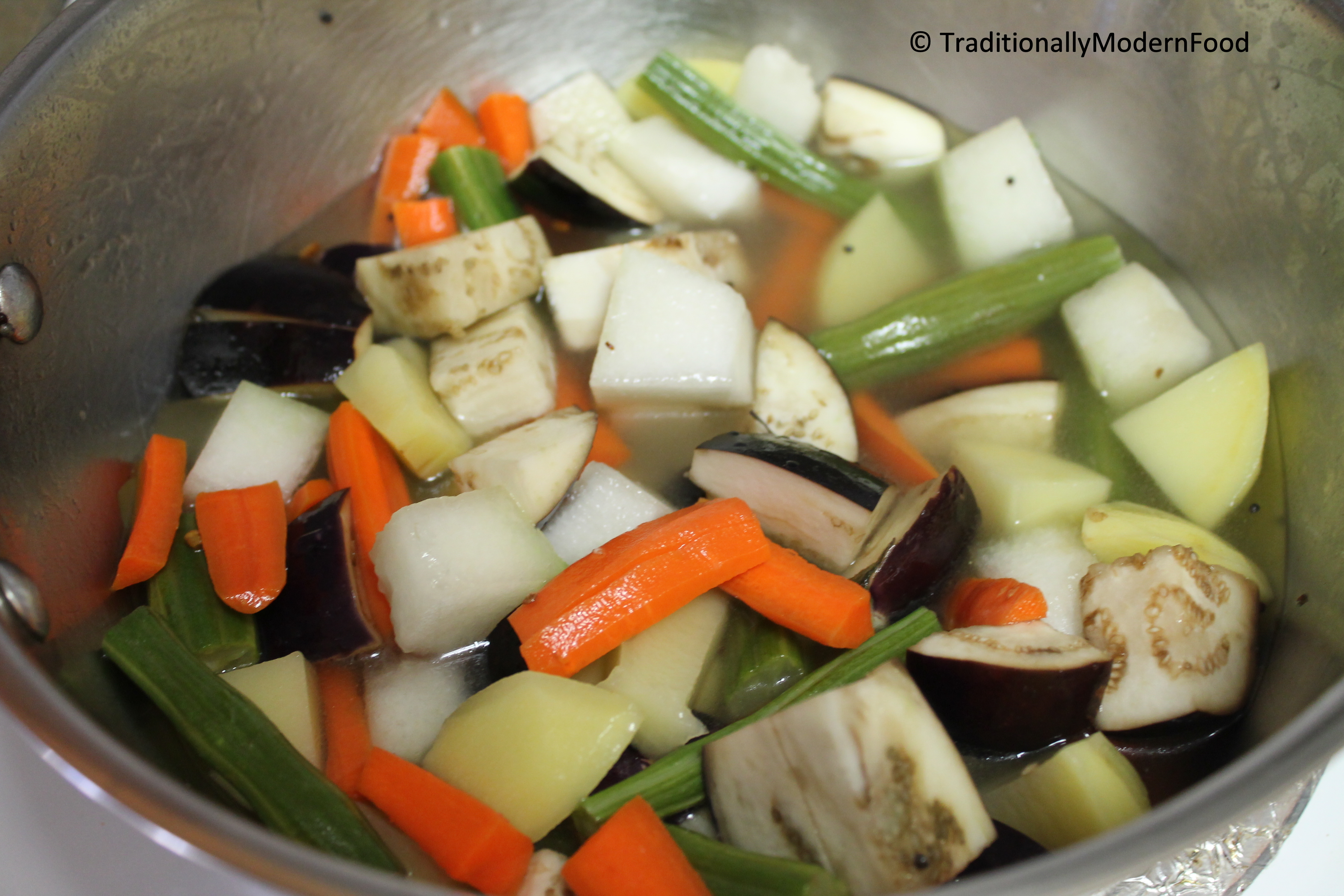 In a spearate pan add 1/4 teaspoon of oil and roast red chillies, toor dal, channa dal, sesame seeds, coriander seeds, fenugreek, pepper and rice until they turn golden brown. Transfer them into a plate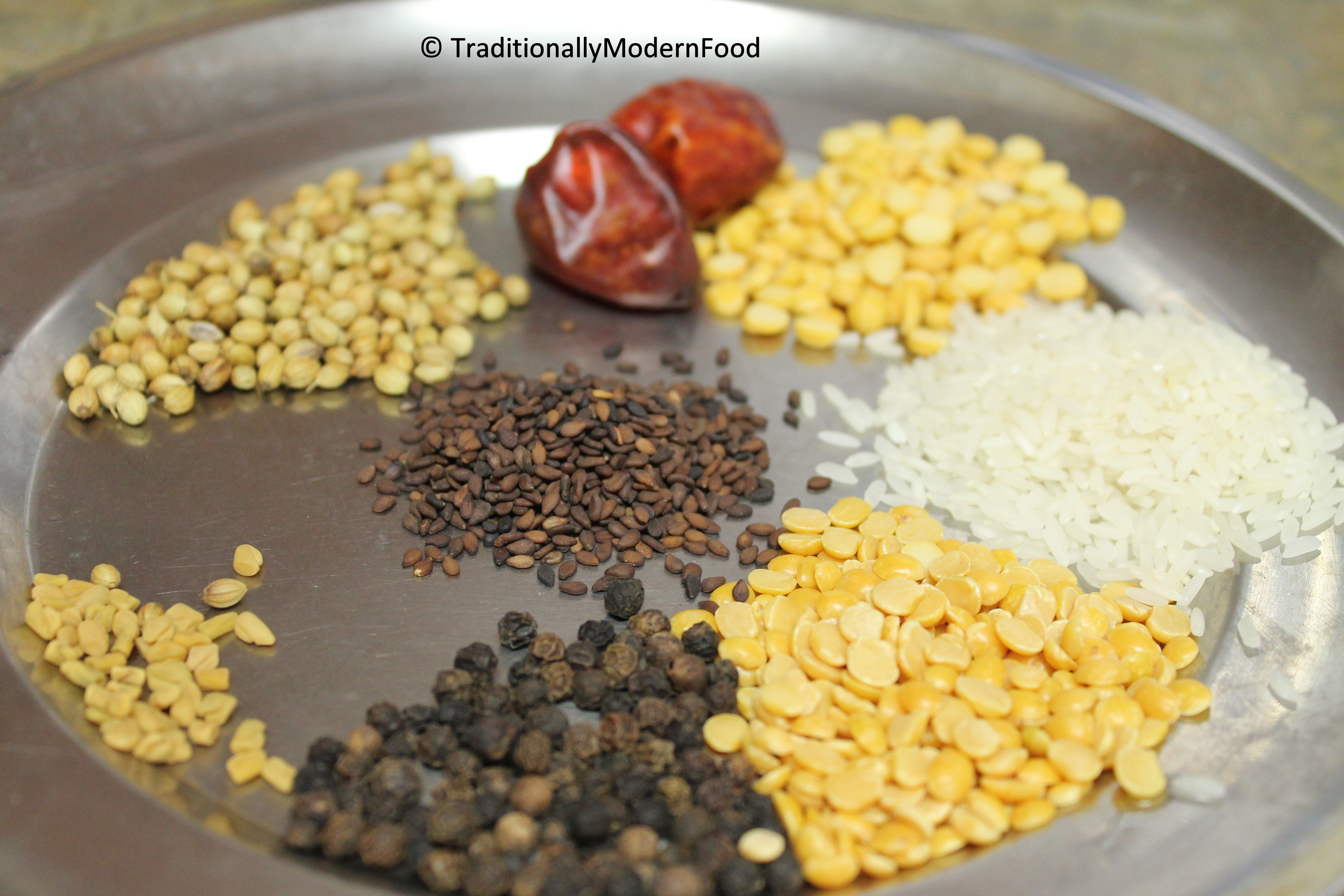 In the same pan sauté the coconuts till they slightly change color. Tranfer them to the plate. After the mixture comes to room temperature, add little water and make a fine paste
Meantime after the vegetables are half cooked, add tamrind pulp, turmeric powder and salt. Cook till the raw smell of tamrind goes and vegetables are fully cooked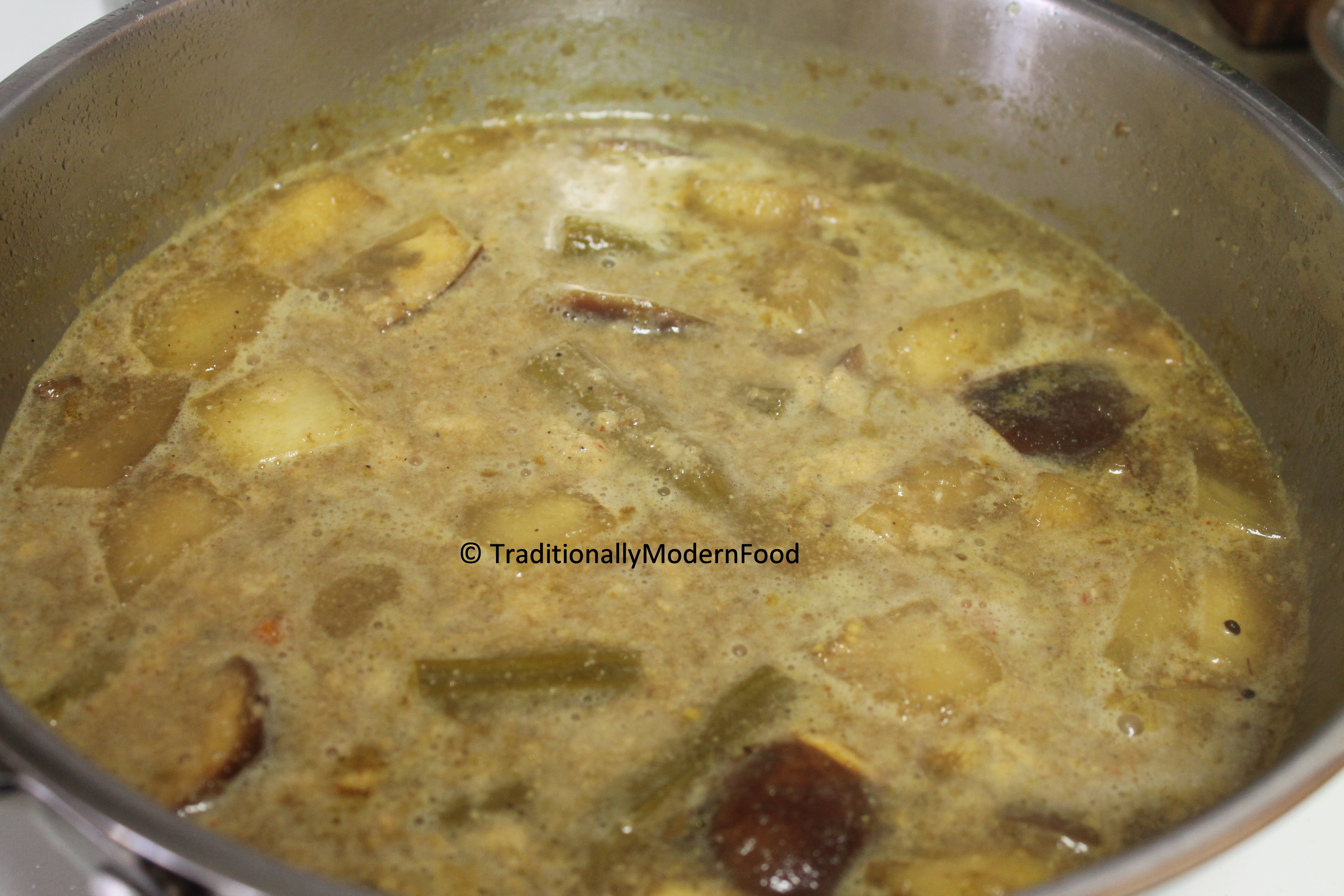 Add the ground paste and cook for 5 minutes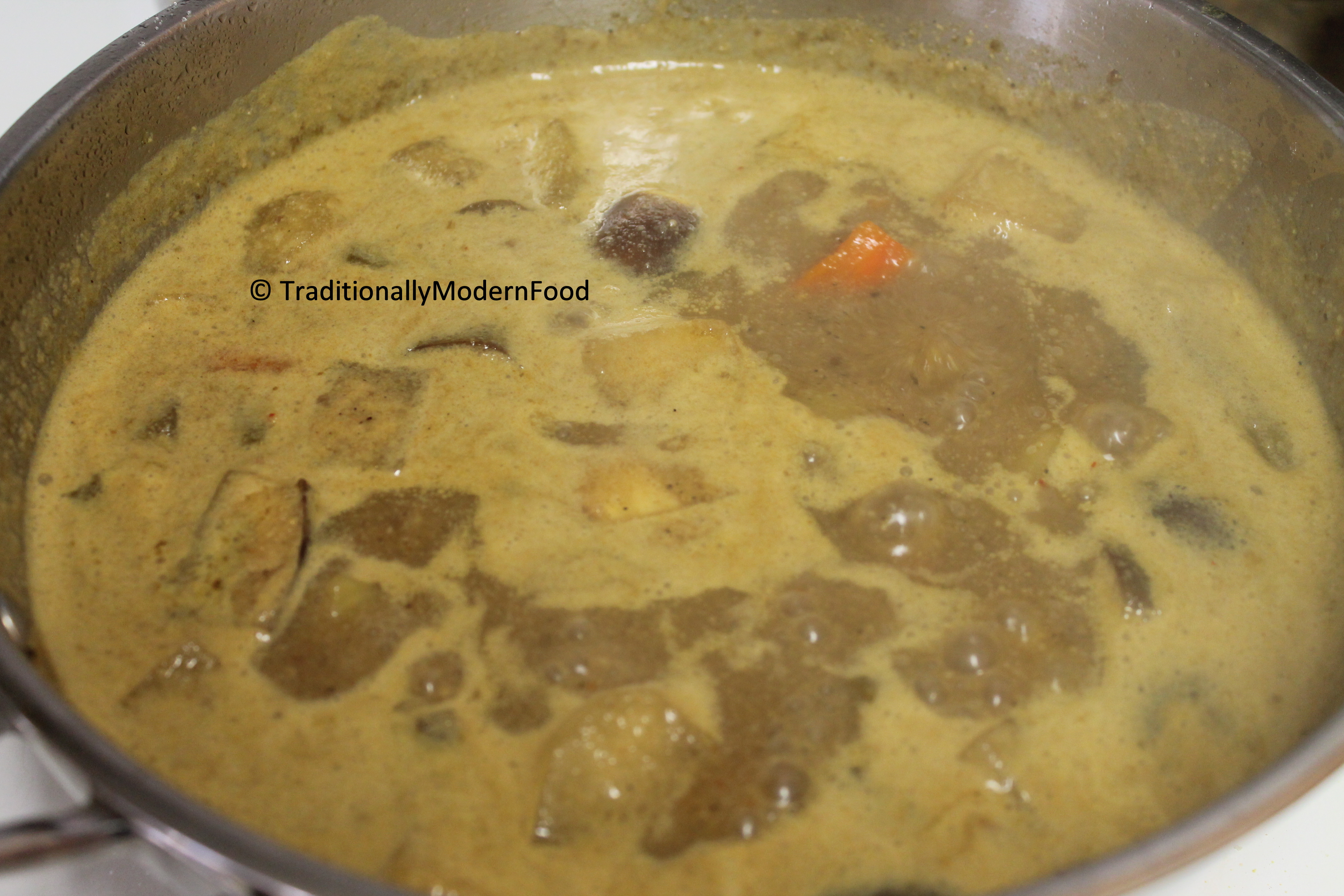 Garnish with coriander leaves and serve hot with rice