7 cup burfi | 7 cup cake | Burfi recipe | Indian sweet recipe with step by step pictures and video recipe. Check out the 7 cup Burfi and If you like the video pls SUBSCRIBE to my channel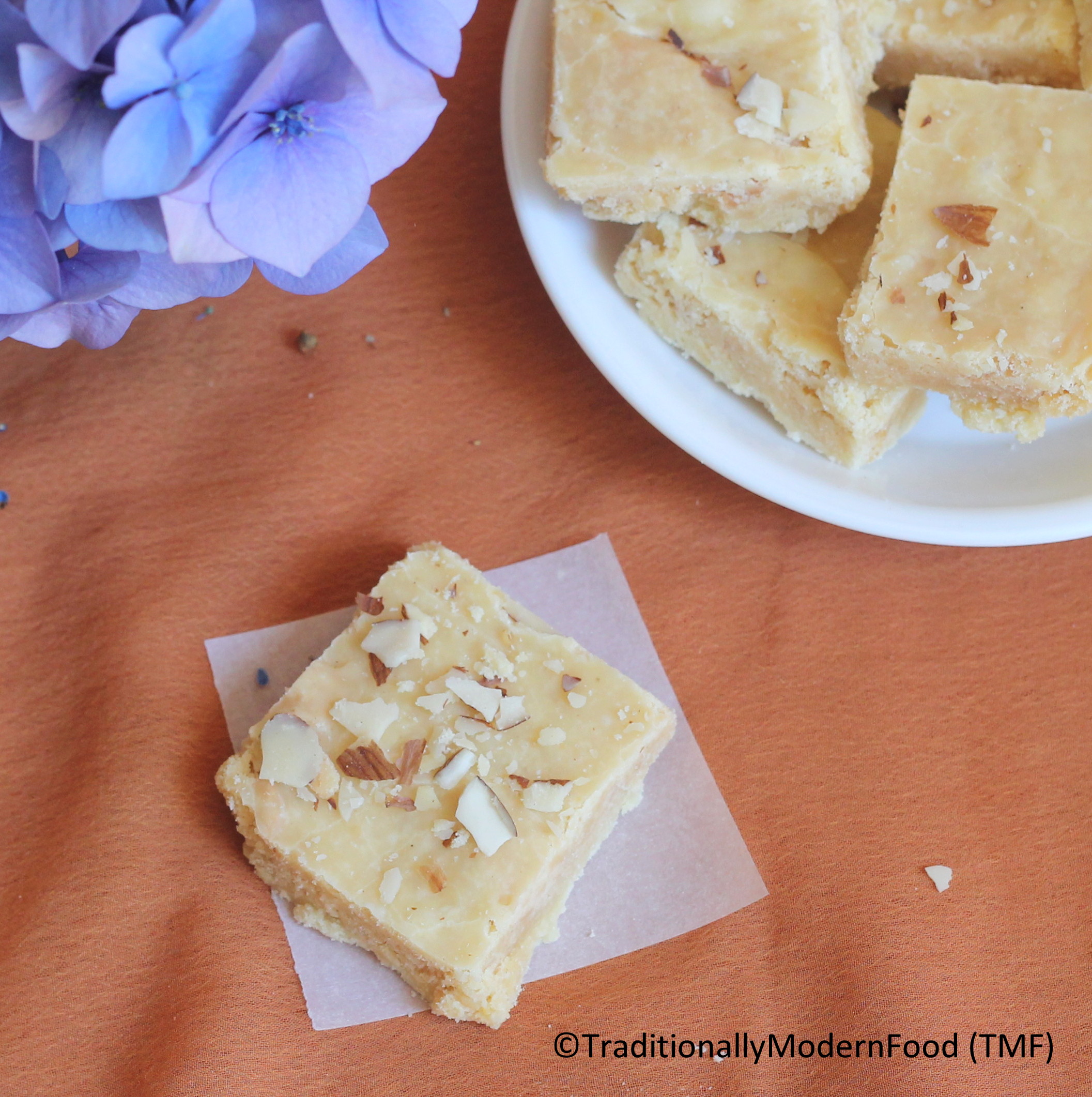 7 cup burfi | 7 cup cake | Burfi recipe | Indian sweet recipe is a tasty sweet prepared with 7 cups of ingredients. This delicious sweet can be prepared for any special occasion, get-together, and one of easiest sweets for diwali. 7 cup cake is a great sweet to try for beginners. Without checking for sugar syrup's string consistency, this burfi can be prepared.
Yes I am sticking on to my "Sweet February" theme. After posting Thengai Burfi, I have decided that this one is going to be the next post in TMF. Yet another simple sweet - well actually my Burfi mania continues.
During my initial days of cooking, having a sweet tooth I always wanted to prepare some sweet. As much as I like Indian sweets, the thought of making it always gives me second thoughts because of elaborate process. Perfect consistency and texture makes the sweet best. When Amma cooks and gives me in a plate, I will happily comment, but when I tried it on my own, couple of string-consistency sweets went into my top bloopers episodes.
Amma always advises me to start with simple preparation and gradually explore. Burfi is a great start for beginners. I am always a big fan of quick recipes. One thing I like about 7 cup burfi is the simplicity in its preparation. Put all the ingredients together and start cooking - how easy is that. Instead of following some process for adding ingredients one by one, this sweet scores with this method. Of course, no sugar syrup drama required for 7 cup burfi. Put everything together and when it becomes a mass and leaves the pan, Burfi is almost ready:-)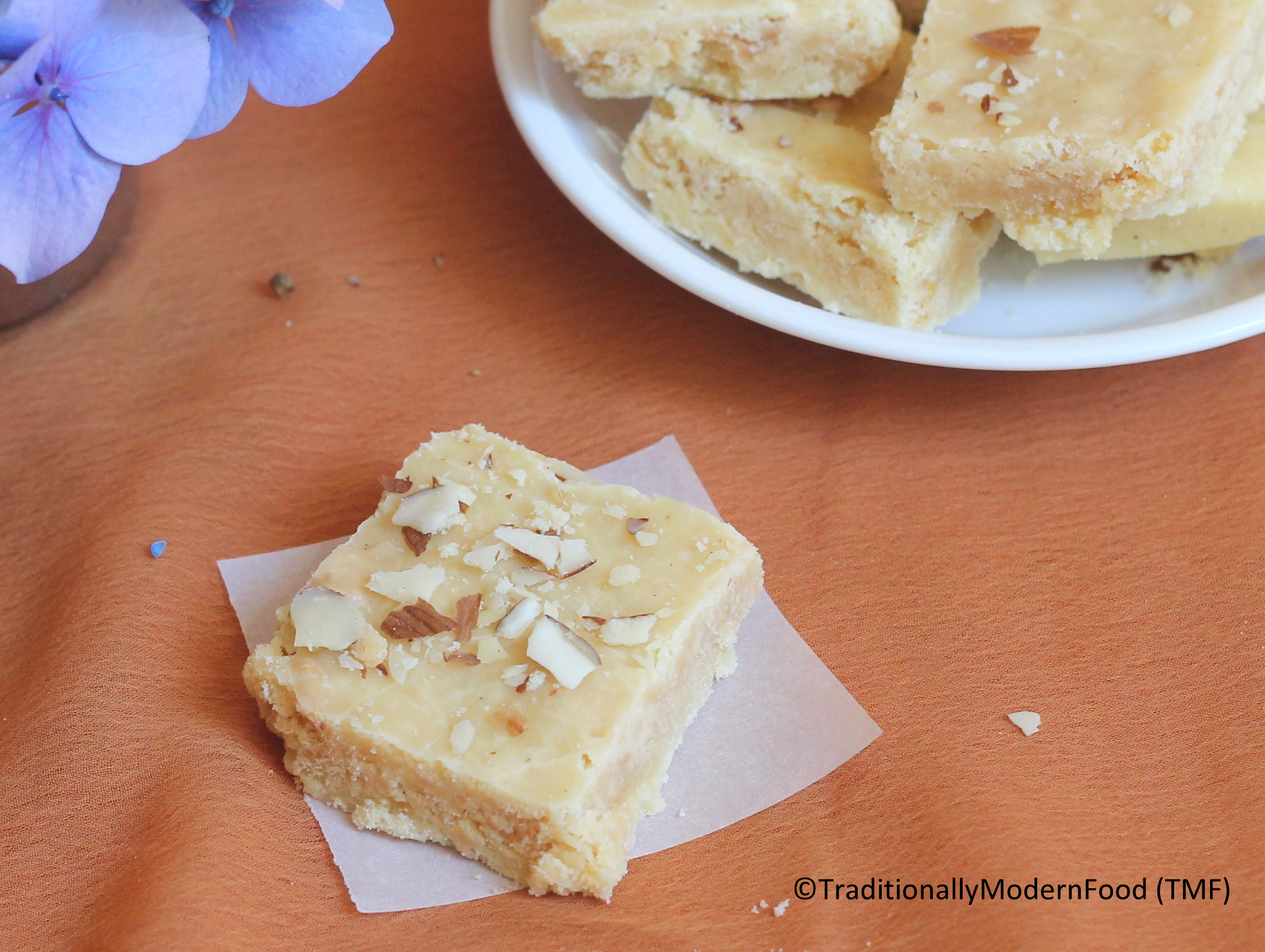 Amma learnt this recipe from my Aunt. TMF has a lot of recipes from my Aunt. Maavadu, Thaala kuzhambu,thengai aricha kuzhambu, beetroot chutney are few recipes from her. Amma used to prepare 7 cup burfi slightly differently. She sautes the besan flour for a minute, then follows the same procedure. Aunt told her it is not required as everything is cooked together with ghee/butter, there wont be any raw smell in the burfi. It worked and we all liked the taste to this is how the 7 cup burfi is prepared in our home.
I would call 7 cup burfi as a cousin for "Mysorepak" because of the besan flour and taste similarity. If you are a sweet lover I mean for a person like me who refers their sweet to something with lot of sugar and slightly inclined towards sweetest side this burfi will be a treat. Sugar quantity can be altered a bit but just make sure you change the name of the burfi, just kidding 🙂
7 cup burfi ( 1 cup of besan flour + 1 cup of coconut + 1 cup of milk + 1 cup of ghee/butter + 3 cup of sugar). Many times I have wondered why dish got that name, and for this sweet also I had a same question first time when I heard it. If you have the same doubt that brief is for you
Did you check out my recent Moong Dal - Kichadi Video in youtube. I will draft the post soon in TMF may be after my sweet jouney take a break.
If you are looking for a healthy burfi without sugar, try Oats and Dates burfi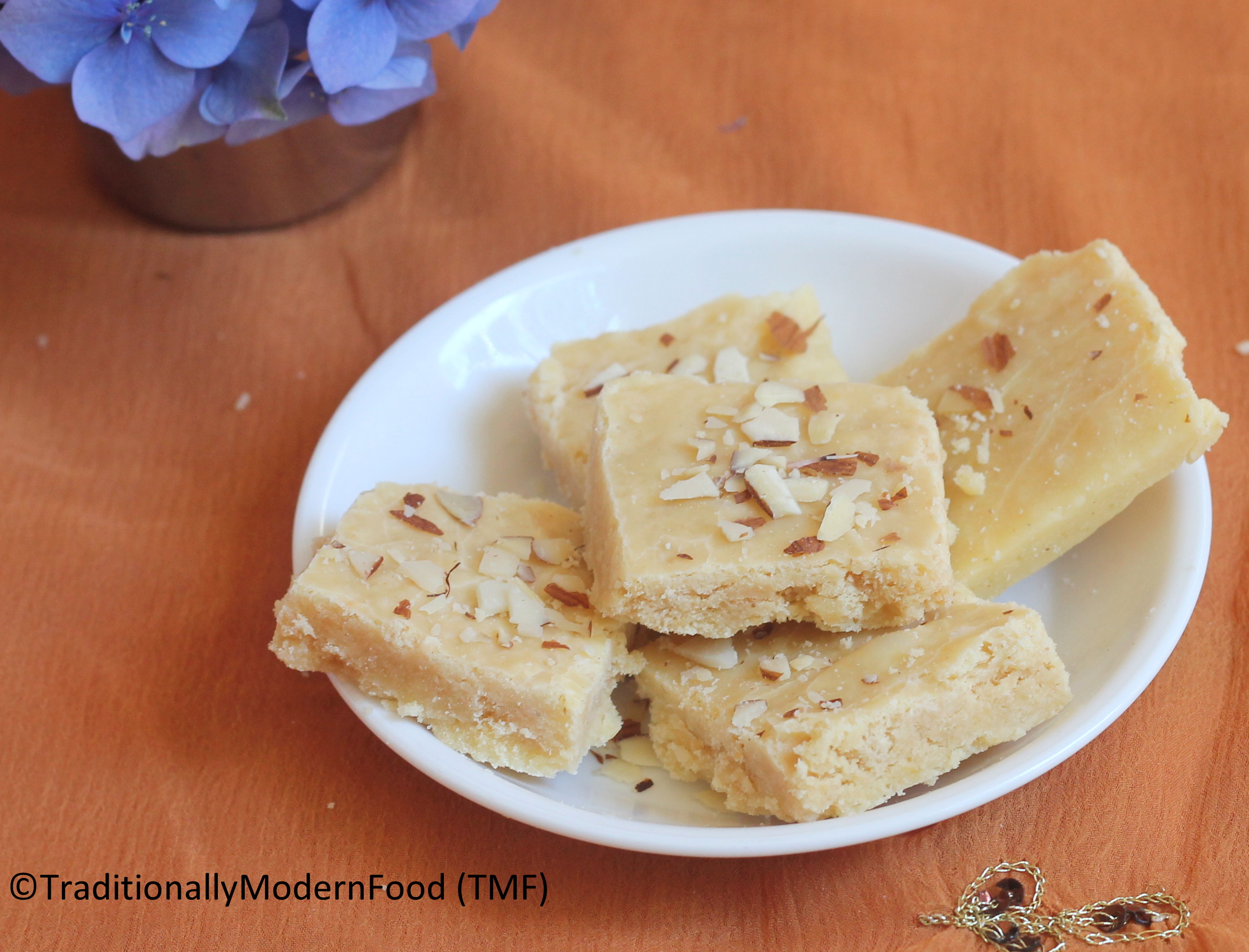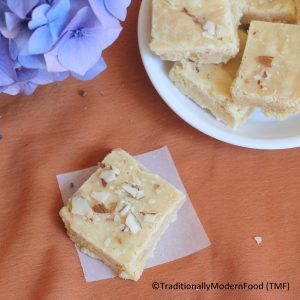 Ingredients
Besan flour - 1/3 cup

Fresh/frozen coconut - 1/3 cup

Milk - 1/3 cup

Butter - 1/3 cup

Sugar - 1/3 + 1/3 + 1/3 cup

Cardamom powder - 1/4 tsp

Ghee - 1 tsp

to grease
Instructions
Place the frozen coconut in room temperature for 30 minutes

Place parchment paper on tray/ plate and grease it with ghee

In a wide non-stick pan add grated coconut, besan flour, milk, butter and sugar. Mix well

Switch on the stove and medium flame and cook the mixture. Stirring it occasionally. Add cardamom powder

Once it starts bubbling change the stove to low flame and continue cooking

Switch off when the mixture becomes like a mass and leaves the pan

Transfer immediately to the greased plate. Sprinkle nuts

After the burfi is cooked down a bit cut into desired shape. Transfer into container after it is cooled completely
Video
Notes
I have used frozen coconut. Regular grated coconut can be used
Besan flour can be roasted for a minute before cooking Burfi. I didn't roast but didn't taste raw besan flavourR
Food color can be added if preferred
Nuts is optional can be skipped
Ghee can be used instead of butter. Add full quantity butter/ghee initially to avoid raw smell
Burfi starys good for 2 weeks
I have usd 1/3 cup of measurement but same procedure can be used for any measurement
Ingredients :
Besan flour - 1/3 cup
Fresh/frozen coconut - 1/3 cup
Milk - 1/3 cup
Butter - 1/3 cup
Sugar - 1/3 + 1/3 + 1/3 cup
Cardamom powder - 1/4 tsp
Ghee- 1 tsp, to grease
Nuts - as required (optional)
How to make 7 cup Burfi :
Place the frozen coconut in room temperature for 30 minutes
Place parchment paper on tray/ plate and grease it with ghee
In a wide non-stick pan add grated coconut, besan flour, milk, butter and sugar. Mix well
Switch on the stove and medium flame and cook the mixture. Stirring it occasionally. Add cardamom powder

Once it starts bubbling change the stove to low flame and continue cooking
Switch off when the mixture becomes like a mass and leaves the pan
Transfer immediately to the greased plate. Sprinkle nuts
After the burfi is cooked down a bit cut into desired shape. Transfer into container after it is cooled completely