Amla Candy | Nellikai mittai | Indian dried gooseberry candy | nellikai sweet recipe | Alma murabba | Sweet amla recipe | inipu nellika | immunity booster with step-by-step pictures and video recipe. Check out the Nellika candy video recipe and if you like the video pls SUBSCRIBE to my channel.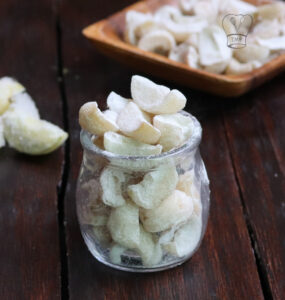 Amla candy is a healthy summer special that stays good for months
Jump to:
What is special about Nellika mittai
Nellikkai is rich in antioxidants, low in calories, high in fiber, immunity booster, controls blood sugar, good for skin and hair care plus many more health benefits. Homemade nellikai candy Is easy to make and stays good for months.
Why frozen gooseberry?
Here in the US, I don't often get fresh Amla hence I started using Frozen Amla. Frozen gooseberry still has all the nutrients.
Should I thaw gooseberry for Amla mittai?
No, you can directly use the frozen nellikai.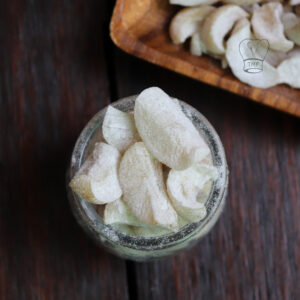 Should I cook gooseberry?
I got a pack of frozen chopped gooseberry hence I didn't cook them.
How to cook fresh/frozen whole gooseberry?
You can cook gooseberry in an idli pan, pressure cooker, or instant pot. Use a separator and add little water for cooking. You can also microwave gooseberry. cook till they open; remove the pit, chop then prepare the gooseberry mittai.
Amount of sugar
Adjust the amount of sugar according to your preference. Traditionally 1:1 ratio of gooseberry and sugar is used but to cut down on sugar I have used less
How long should I sundry?
Sundry till the moisture evaporates. If you press nellikai you shouldn't notice water in hand. Avoid chewy hard bite texture. Always sundry to soft bite texture.
For the Nellikai mittai recipe
Ingredients
1

+ 1/2 cup frozen gooseberry

chopped

1/4

cup

+ 1 tablespoon sugar

1

tablespoon

lemon juice
Sprinkle
1

+ 1/2 tablespoon powdered sugar
Instructions
Firstly add chopped frozen gooseberry to a deep bowl

Furthermore, add 1/4 cup of sugar and lemon juice; mix well

Sprinkle 1 tablespoon of sugar on top

Cover the bowl with a tight lid; shake well

Rest it overnight or at least for 12 hours

The next day transfer the soaked amla to a colander

Save the nellikai juice for sharbat

Shake the colander well to strain all the nellikai juice

Squeeze and transfer the nellikai to a plate

Sundry for 1-2 days till moisture evaporates

Finally, add powdered sugar; mix well and amla candy is ready
Video
Notes
Here in the US, I don't often get fresh Amla hence I used using Frozen Amla

You can directly use the frozen nellikai.no need to thaw
I used a pack of frozen chopped gooseberry hence I didn't cook them
You can cook gooseberry in an idli pan, pressure cooker, or instant pot. Use a separator and add little water for cooking. You can also microwave gooseberry. cook till they open; remove the pit, chop then prepare the gooseberry mittai
Adjust the amount of sugar according to your preference. Traditionally  1:1 ratio of gooseberry and sugar is used but to cut down on sugar I have used less
Sundry till the moisture evaporates. If you press nellikai you shouldn't notice water in hand. Avoid chewy hard bite texture. Always sundry to soft bite texture
Ingredients
1 + 1/2 cup frozen gooseberry, chopped
1/4 cup + 1 tablespoon sugar
1 tablespoon lemon juice
Sprinkle
1 + 1/2 tablespoon powdered sugar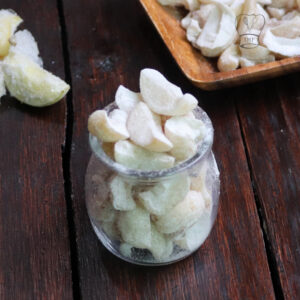 How to make Amla candy with step-by-step pictures
Firstly add chopped frozen gooseberry to a deep bowl
Furthermore, add 1/4 cup of sugar and lemon juice; mix well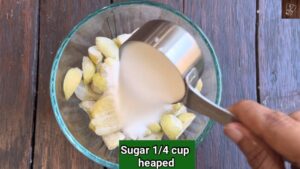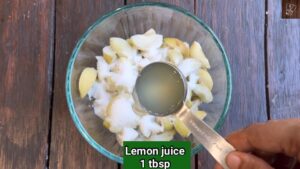 Sprinkle 1 tablespoon of sugar on top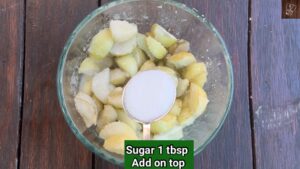 Cover the bowl with a tight lid; shake well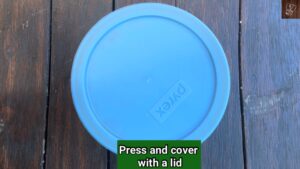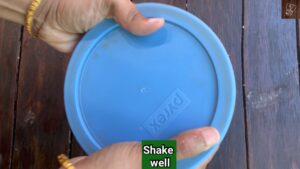 Rest it overnight or at least for 12 hours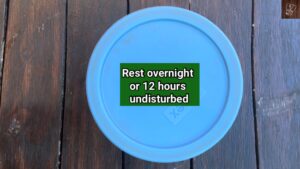 The next day transfer the soaked amla to a colander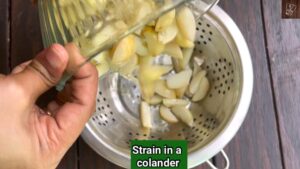 Save the nellikai juice for sharbat
Shake the colander well to strain all the nellikai juice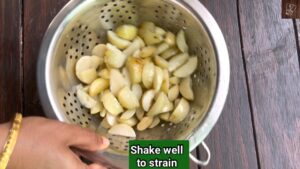 Squeeze and transfer the nellikai to a plate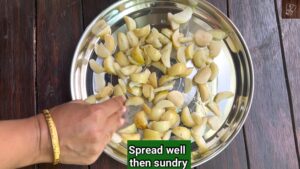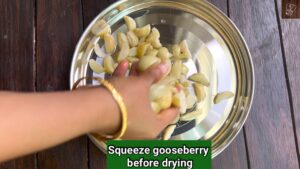 Sundry for 1-2 days till moisture evaporates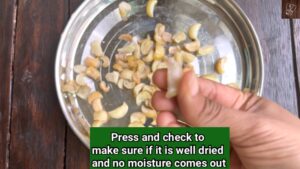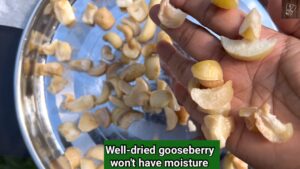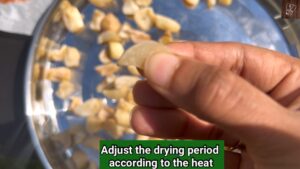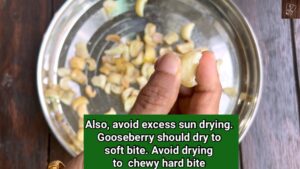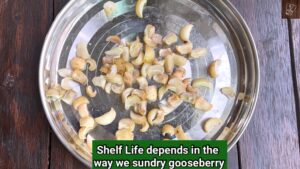 Finally, add powdered sugar; mix well and amla candy is ready