Badusha Recipe | Balushahi Recipe | Badusha sweet | Balushahi | Best Badusha Recipe | How To Make badhusha | traditional Diwali sweet | dessert dishes Indian | Indian sweet | Indian sweet treats | instant Indian sweets | Indian dessert recipes | Indian dessert recipes easy | festival sweets | Diwali sweet recipe | Deepavali sweets | South Indians sweet recipe | traditional Indian sweets | North Indian sweet | best Indian sweets with step-by-step pictures and video recipe. Check out the Badusha recipe. If you like the video pls SUBSCRIBE to my channel.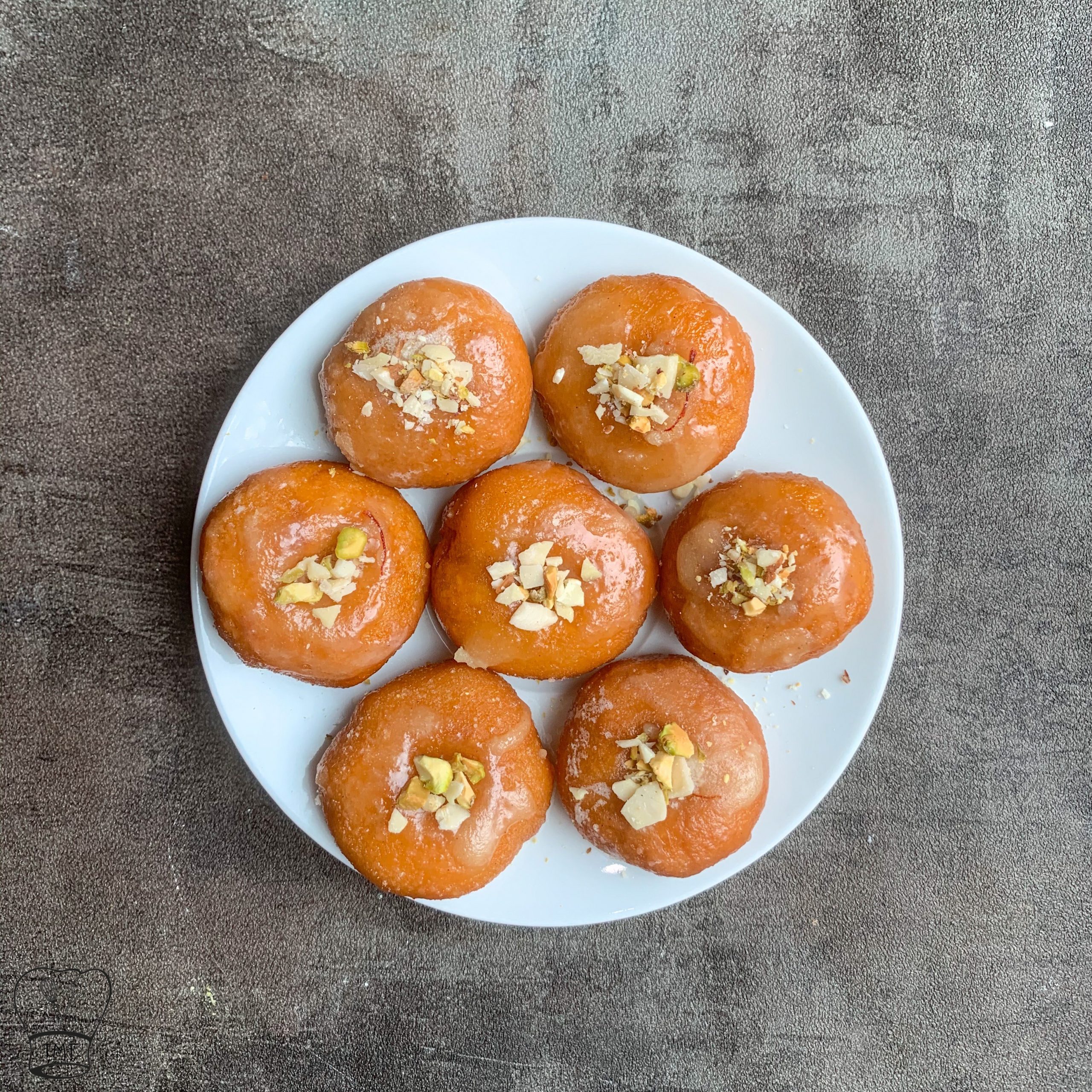 Badusha Recipe | Balushahi Recipe | Badusha sweet | Balushahi | Best Badusha Recipe | How To Make badhusha | traditional Diwali sweet Badusha is a very popular Indian sweet, it is super easy to make and tastes delicious.
What is badusha?
It is a traditional Indian sweet recipe, Sweet is popular in south Indian cuisine as badusha or badhusha or baadhusha or badushah and north Indian cuisine as balushahi. Look wise badusha resembles glazed doughnuts/donuts but taste and texture vary. Traditional badhusha is prepared with maida. Next to poli variety, badusha is my other favorite maida-based sweet recipe.
How to make perfect traditional badhusha?
When it comes to the best badusha recipe we need to follow a few tips and tricks. First is the dough, the second is frying badusha and the third is sugar syrup. If we get everything right, we can make tasty balushahi
How to knead the dough for badhusha?
For best baadhusha texture always knead the dough gently, avoid over kneading. Knead dough results in hard dense badusha and you might lose the layers. Make sure The prepared baadhusha dough is soft and smooth without any cracks. The dough should not be dry or crumbly. knead the dough gently like gulab jamun.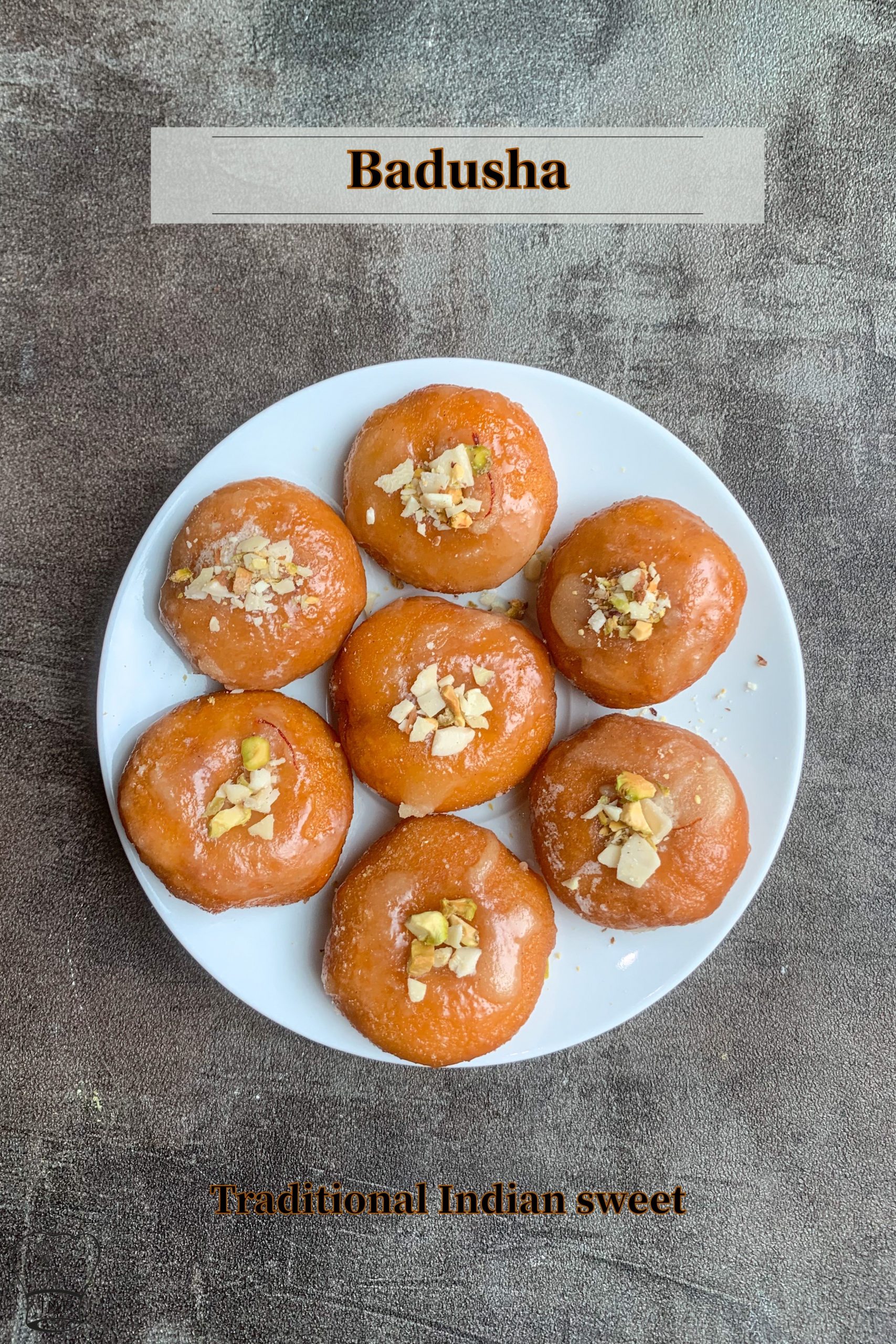 Rolling and flattening badhusha
After proper kneading always covers the dough with a damp cloth to prevent them from drying. It is important to give at least 15 minutes of resting time to the balushahi dough.
After 15 minutes pinch the small position of the dough with light hands, gently roll the dough to a smooth crack-free ball in between your palms. Flatten and make a dent. After making each baadhusha always cover with a damp cloth till frying to avoid the dough from getting dry.
Sugar syrup consistency for Badusha
Sugar syrup is yet another key element for perfect balushahi. Having sweettooth I prefer a 1:2 water to sugar ratio you can adjust the sugar according to your sweetness. For traditional sugar-glazed Badhusha, Sugar syrup must be one-string consistency. If you prefer mild sweet badhusha without a white layer sugar coat you can prepare 1/2 string sticky sugar syrup. If sugar syrup is below the sticky stage then the badhusha will turn soggy, may break, and not remain firm in shape.


RIGHT TEMPERATURE OIL FOR FRYING:
Before frying a batch of baadhusha always test the oil first. After the oil turns medium hot, pinch a small portion of the dough and drop it into the hot oil, if it starts floating upwards a few seconds without changing its color the oil is at the right temperature and ready for deep frying. Add baadhusha in batches and fry. Keep cooking the badhusha on low- medium flame. While frying balushahi be sure not to crowd them. As we fry they will increase in size, so provide enough space in the pan.
Oil shouldn't be
If the baadhusha starts floating upward immediately and turns brown then the oil is too hot. We have to cool the oil so turn off the stove for some time and heat again to the right temperature. if the badhusha don't come floating at all then the oil is not hot enough and needs to be heated a little bit more.
Sugar glaze badhusha
After making all the badusha keep them in an oil filter/colander/paper towel to remove excess oil. Make sure sugar syrup is warm. Avoid piping hot /very hot/ boiling hot syrup as badusha may crack. If the syrup is cold, then also the baadhusha will not absorb the syrup. soak them for at least 10 minutes then place them separated on a tray/plate till they turn to room temperature. I love white sugar coat on top of the badhusha so after soaking all the badusha I generally add one more layer of leftover sugar syrup on top of the badhusha but you can skip it.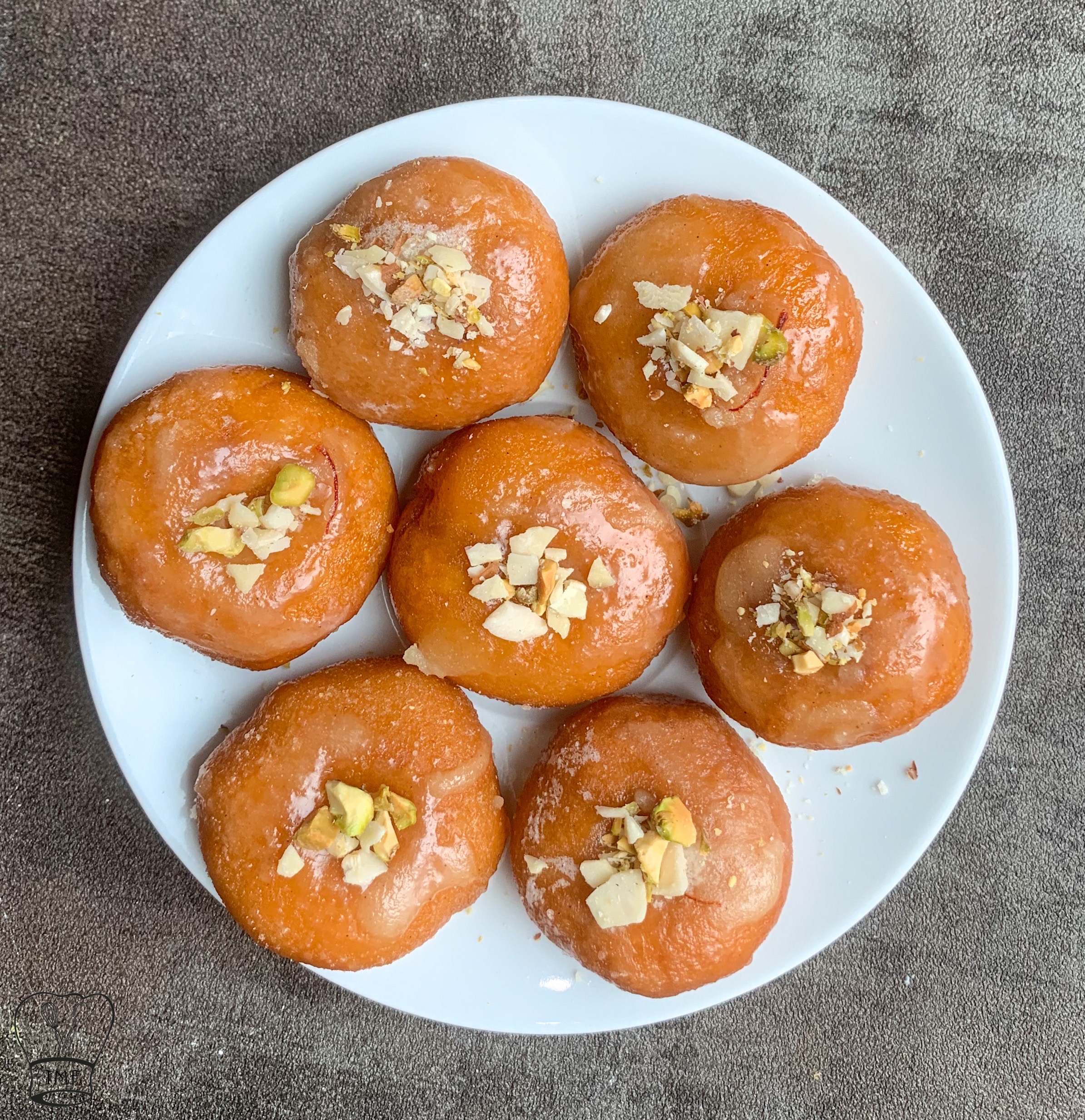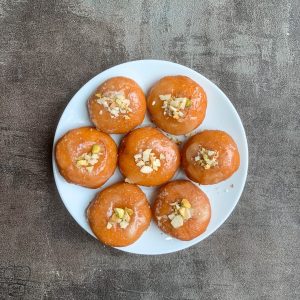 Ingredients
Badhusha dough
1

+ 1/2 cup maida / all-purpose flour

pinch

of salt

½

teaspoon

sugar

½

teaspoon

baking powder

water as required

approximately 1/4 cup

¼

cup

butter/ ghee

2

tablespoon

thick curd

2

tablespoon

oil

oil for frying
for sugar syrup:
1

cup

sugar

½

cup

water

few strands of saffron

¼

teaspoon

cardamom powder
Instructions
Prepare the dough
firstly, in a large mixing bowl take maida, salt, and sugar; mix well

Melt butter/ghee for few seconds

Furthermore add oil, curd, baking powder, and 3 tablespoon of water and mix everything well

Pour the wet ingredients and gently knead the dough

Additionally, add little water and start to make pliable dough without much kneading

cover with a moist damp cloth and rest the dough for 15 minutes

After 15 minutes, slightly knead the dough

pinch a small ball-sized dough, and gently roll a small portion of the dough, and slightly flatten

make a dent at the center with the help of the thumb or a small measuring spoon

Repeat for the entire dough and keep the dough covered in a moist cloth till we fry
Prepare sugar syrup:
Pour 1/2 cup of water and bring to a slight frothy boil

Add sugar and mix well

Furthermore, add a pinch of saffron and bring to a boil

Add cardamom powder, mix well and continue cooking

At one stage the sugar syrup boils well, check for one-string consistency by carefully taking a small portion of the syrup and touch between your finger

Turn off the stove, add a few drops of lemon juice to stop further crystallization. keep the pan aside
Fry Baadhusha
Heat oil and once when the oil is ready keep the flame to low-medium

Deep fry until the badhusha turns golden brown on both sides, flip, and fry for even frying

Place the fried badhusha in an oil filter to remove excess oil
Soak badhusha in sugar syrup
Slightly warm the sugar syrup if they turned cold

Add badhusha in batches and let them soak for 10 minutes

Flip and soak evenly

Transfer the sugar syrup glazed badhusha into a tray /plate greased with parchment paper and place them separately

Repeat and soak the other bathches

When the balushahi is warm garnish with chopped nuts of your choice
Video
Notes
I have used 1/2 teaspoon of baking powder instead, you can use two pinches of baking soda
I have used 2 tablespoon curd and 2 tablespoon oil while making the dough instead, you can use 1/4 cup of curd and skip oil
Avoid adding extra curd/oil/ butter as it might affect badusha texture
Avoid kneading the dough for a long time. Always knead the dough gently
Always rest the dough for at least 15 minutes, then roll badusha
Sugar in the dough helps for nice brown colored badusha. For extra sweetness, adjust the sugar in the sugar syrup but avoid adding extra sugar in the dough
Adjust the sugar according to your sweetness. If you don't want white sugar glaze coat on badusha, you can make 1/2 string sugar syrup
To avoid sugar syrup crystallization I have added little lemon juice, avoid adding more
saffron is optional
Always avoid frying in high flame,for even frying
Adding nuts is optional. If you are adding nuts, add immediately after adding sugar syrup
Always test the oil once then fry badusha
Always fry in low- medium flame,
for even frying
Always keep the badusha in an oil filter for some time then add to sugar syrup
Ingredients:
1 + 1/2 cup maida / all-purpose flour
pinch of salt
½ teaspoon sugar
½ teaspoon baking powder
water as required (approximately 1/4 cup)
¼ cup butter/ ghee
2 tablespoon thick curd
2 tablespoon oil
oil for frying
for sugar syrup:
1 cup sugar
½ cup water
few strands of saffron
¼ teaspoon cardamom powder
to garnish:
Nuts of your choice
How to make Badusha with step by step pictures:
Prepare the dough
firstly, in a large mixing bowl take maida, salt, and sugar; mix well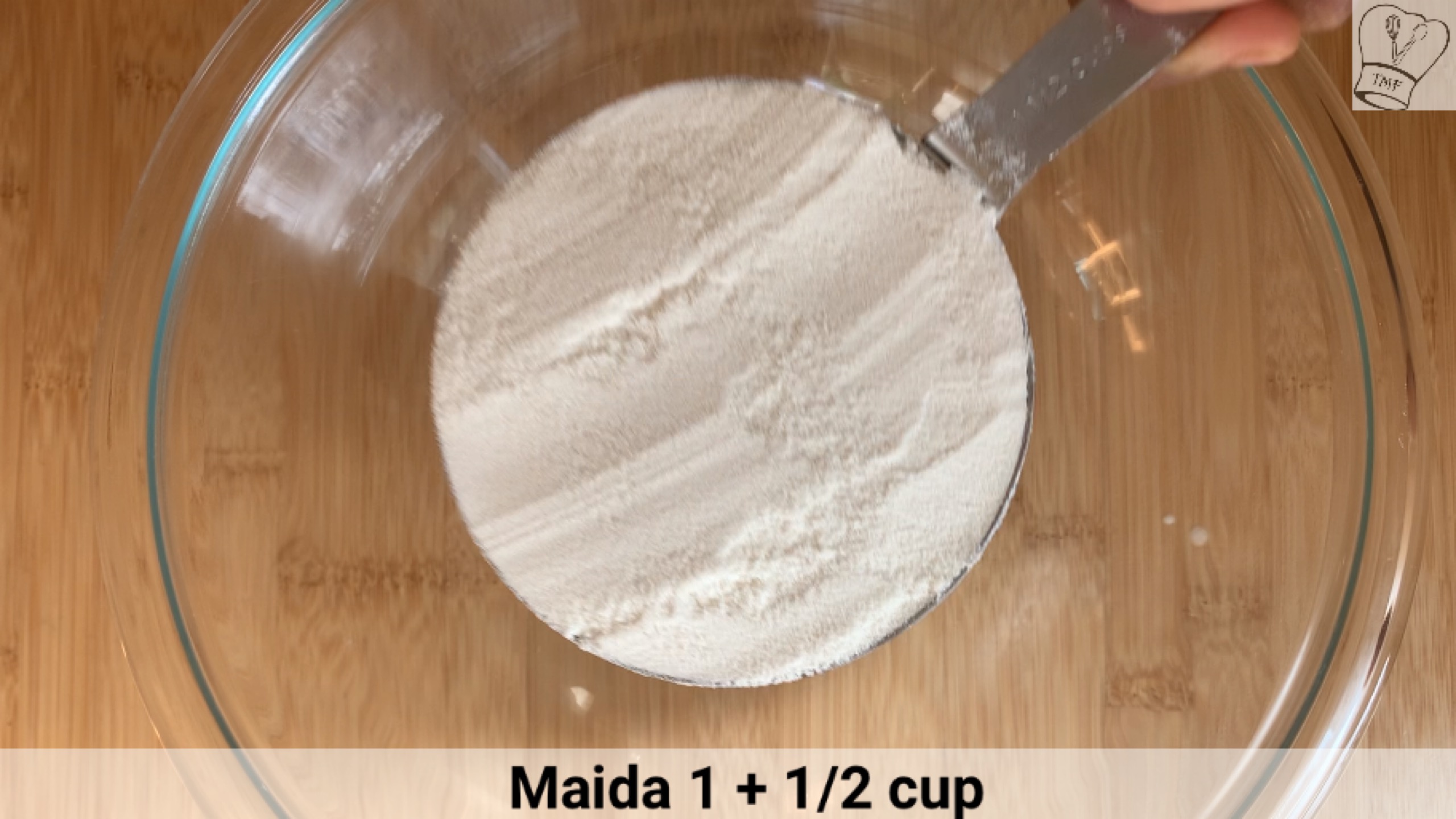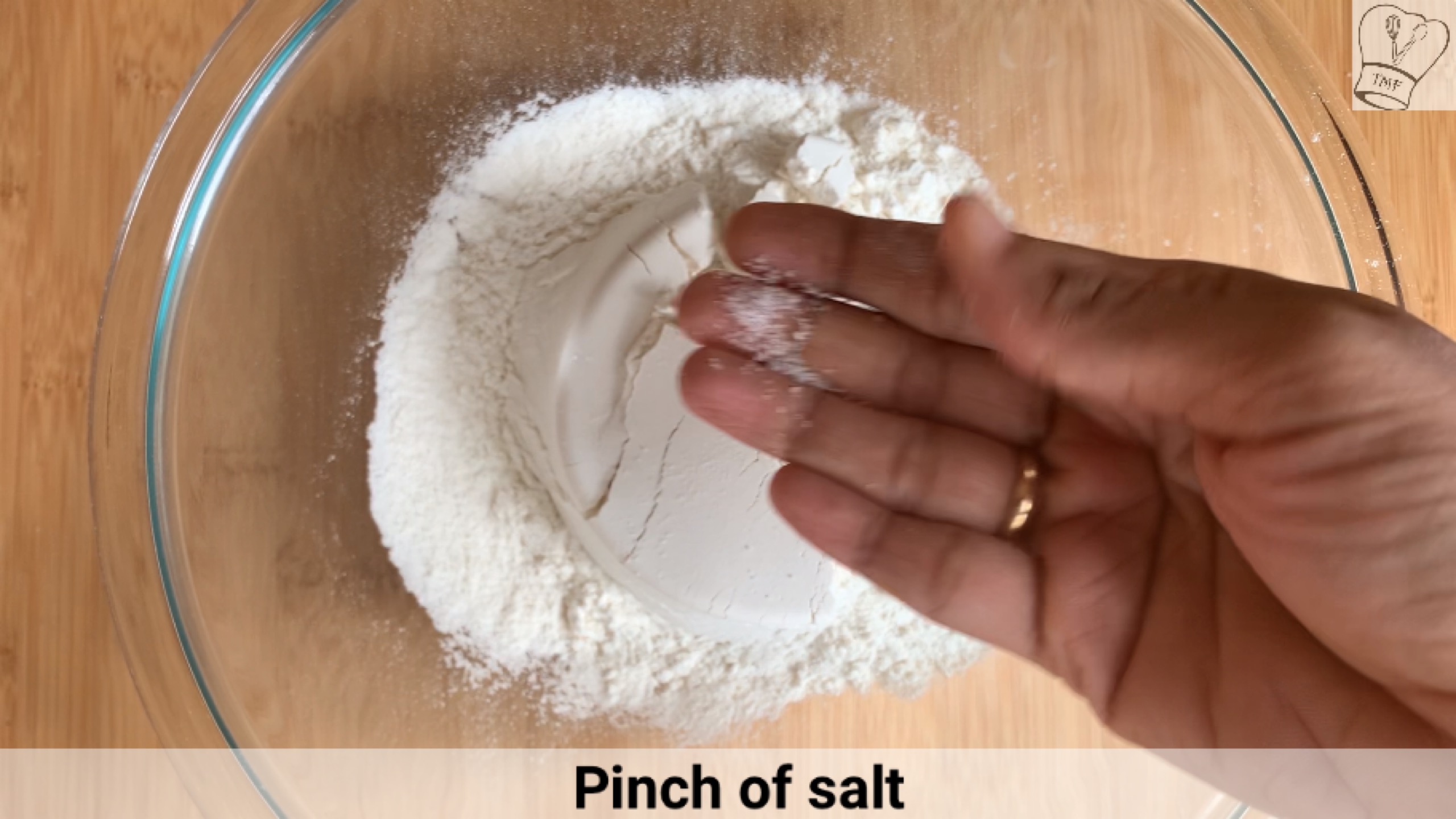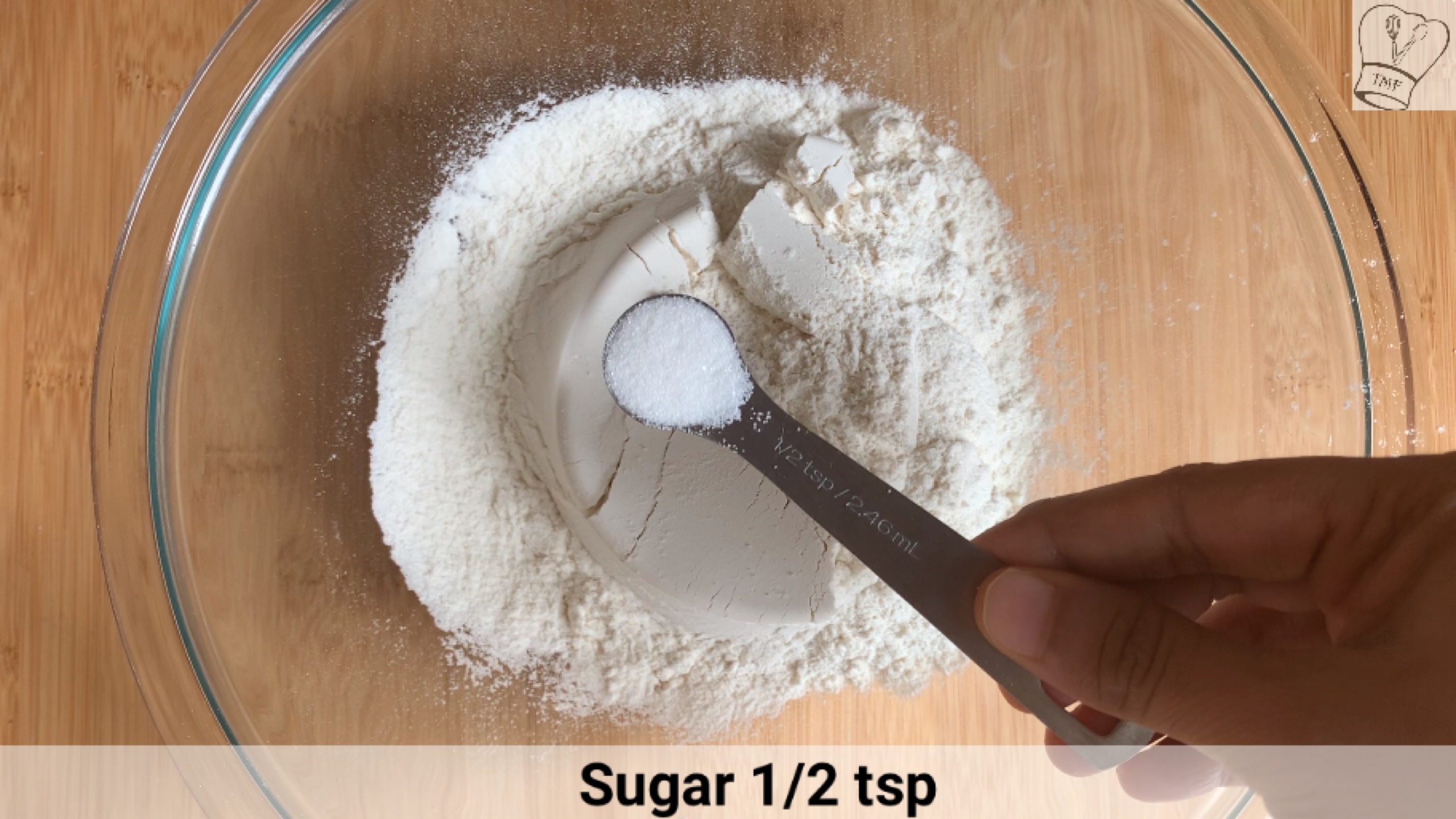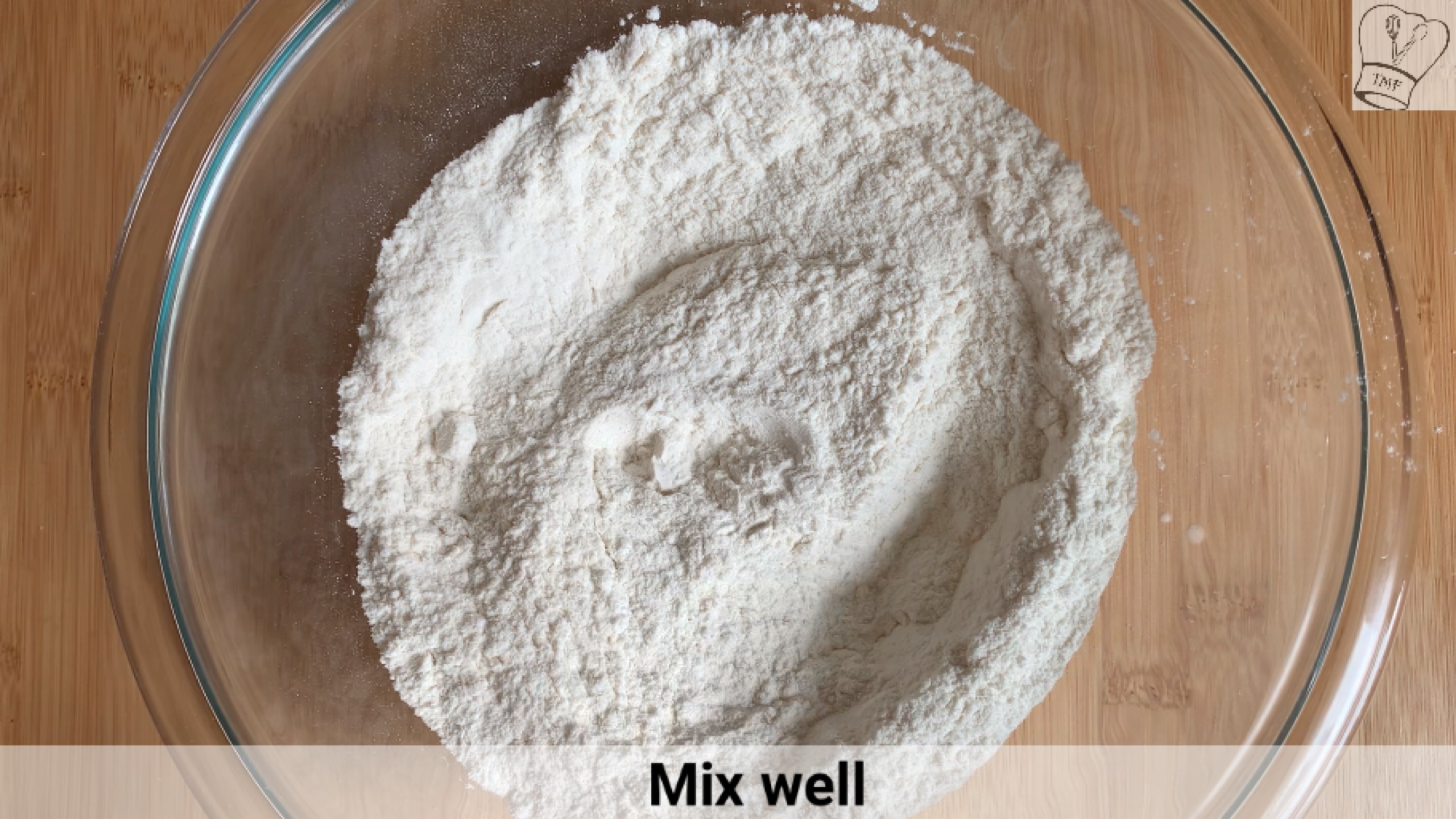 Melt butter/ghee for few seconds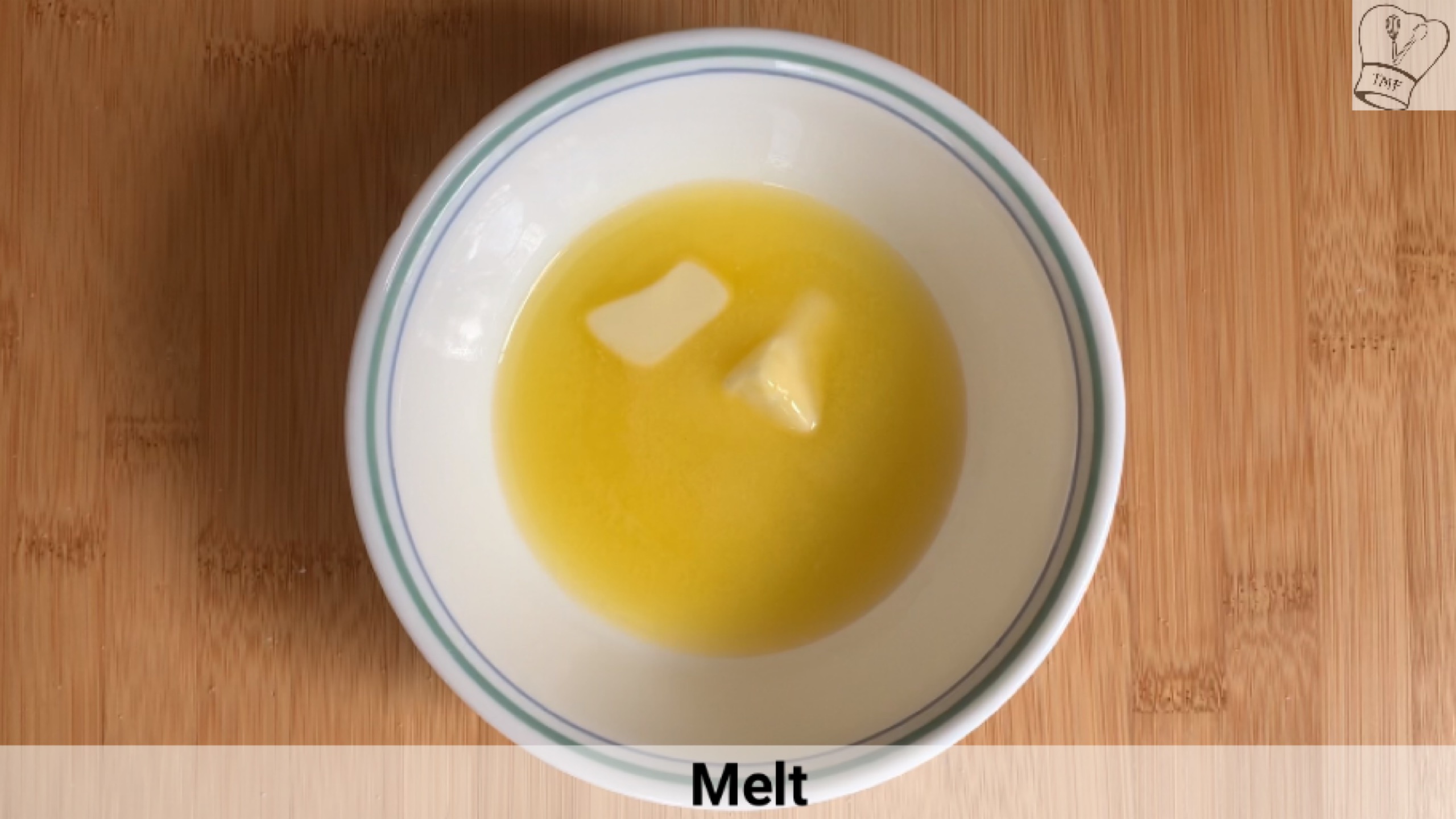 Furthermore add oil, curd, baking powder, and 3 tablespoon of water and mix everything well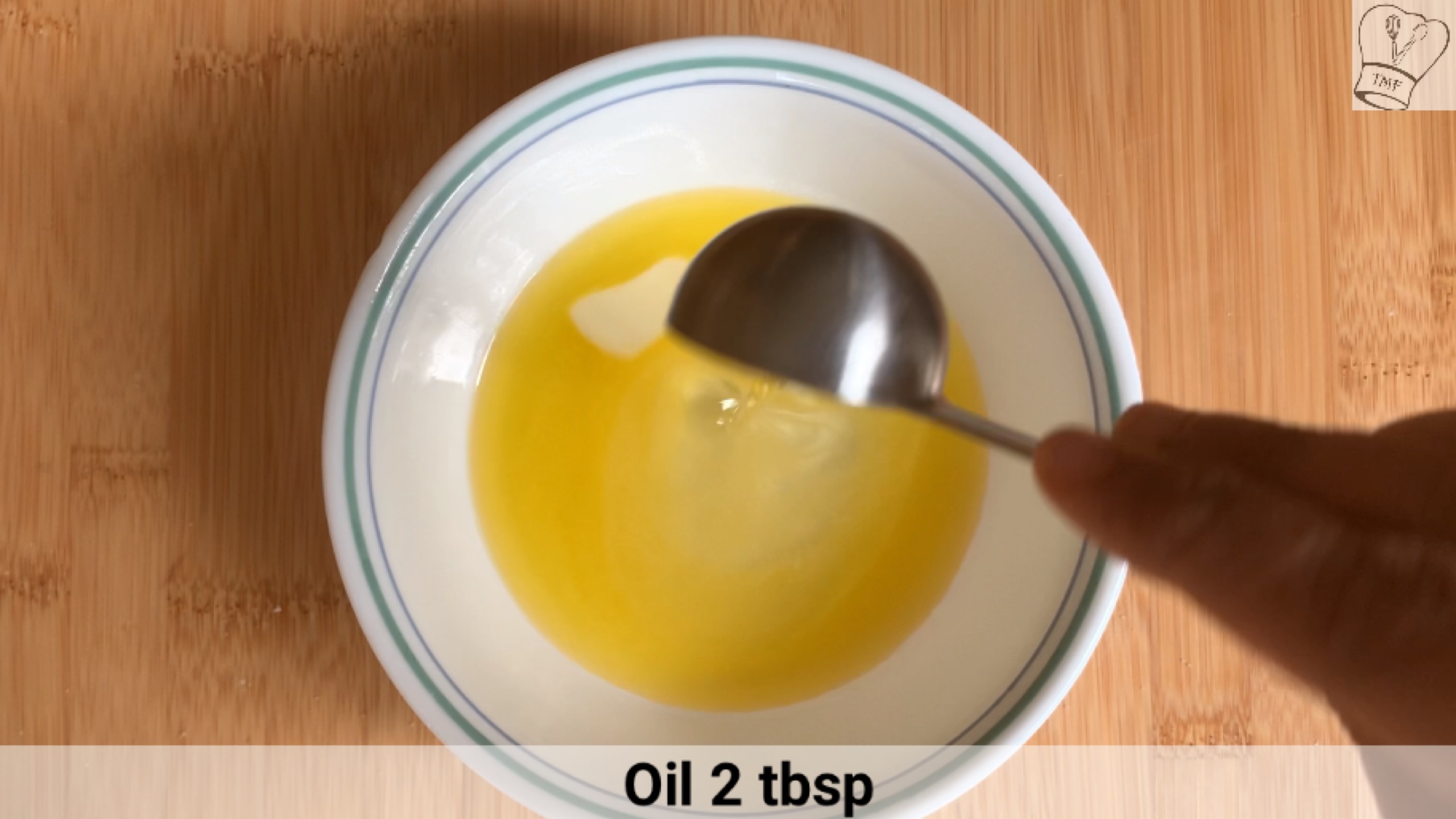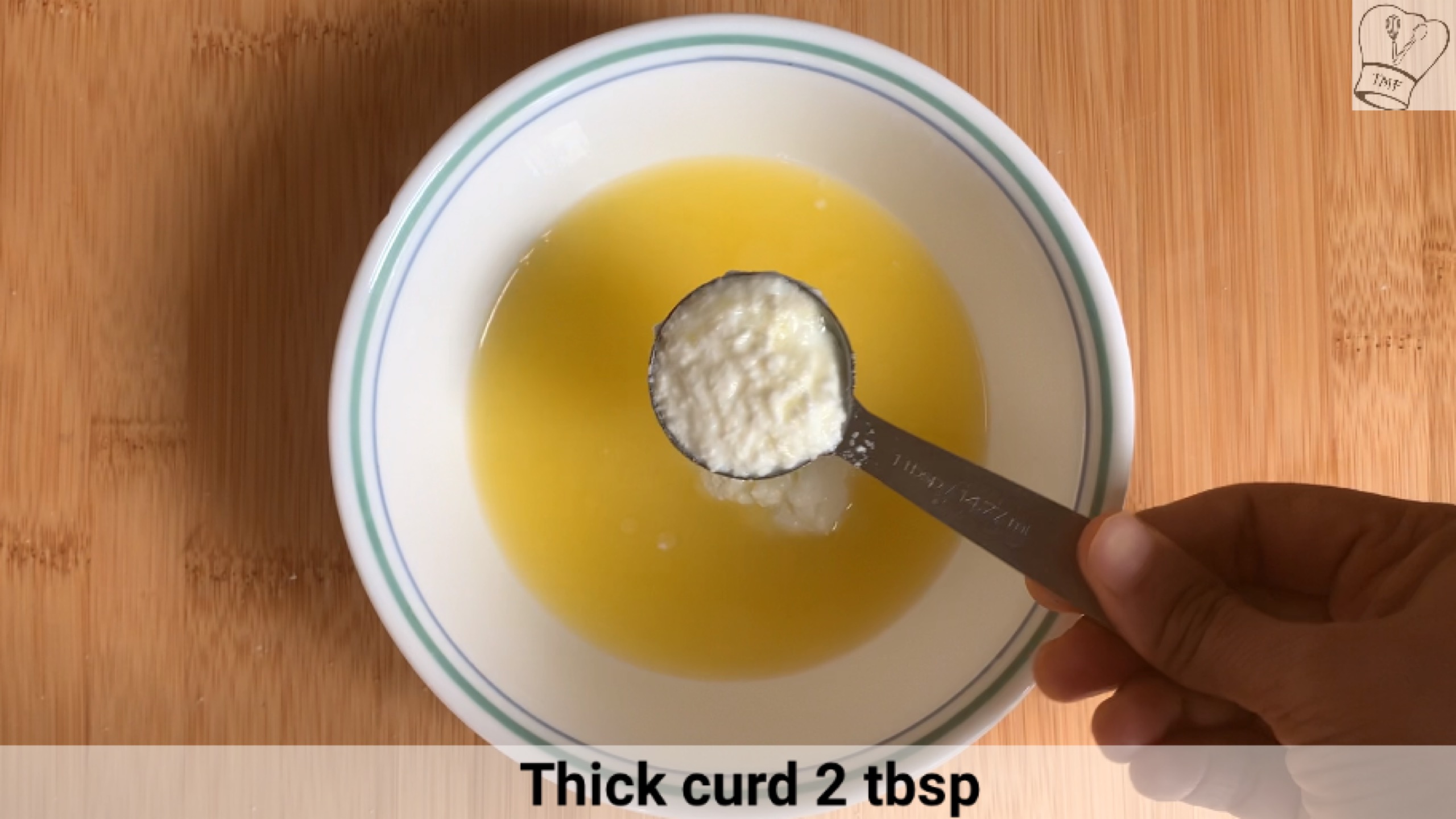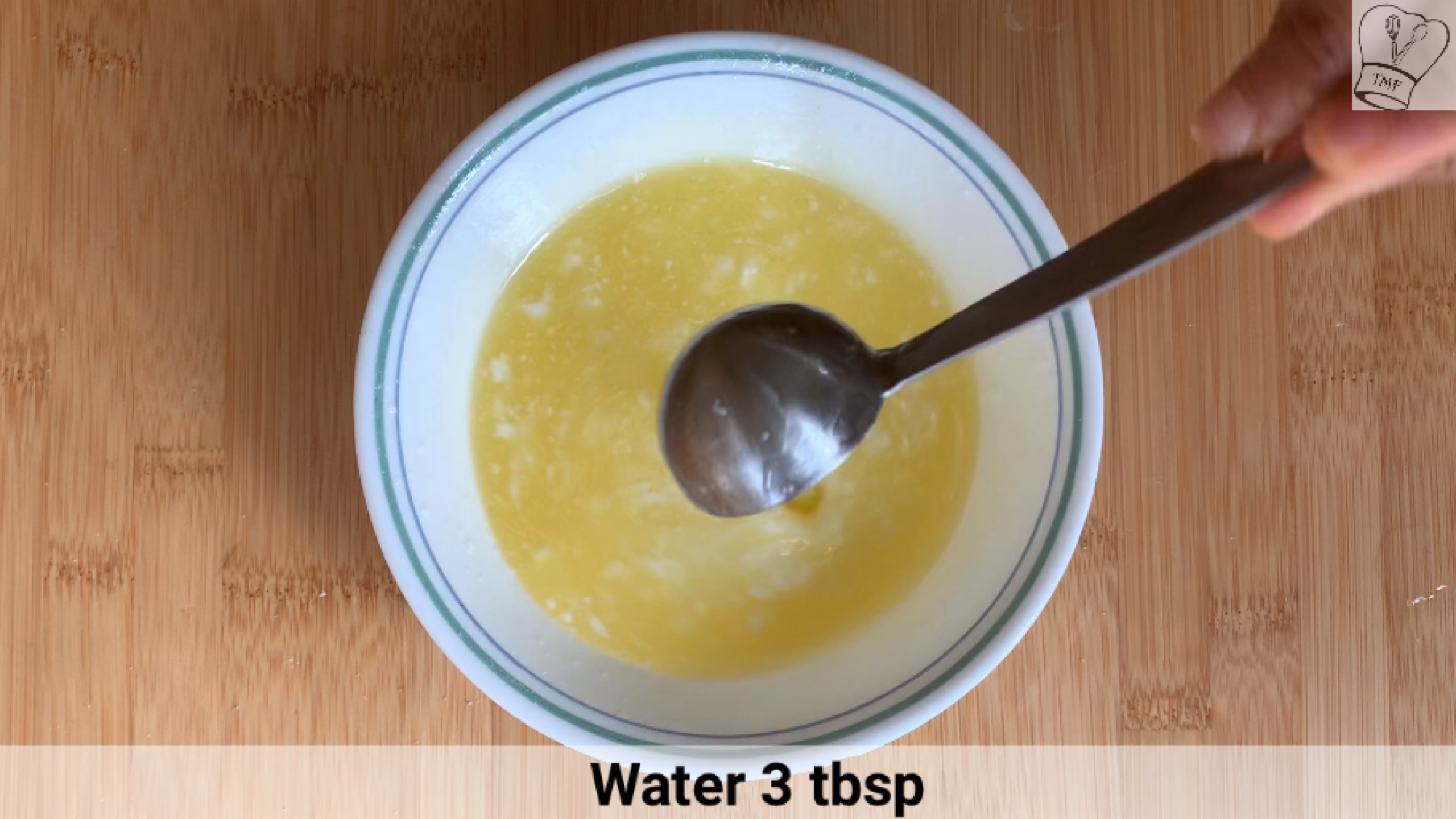 Pour the wet ingredients and gently knead the dough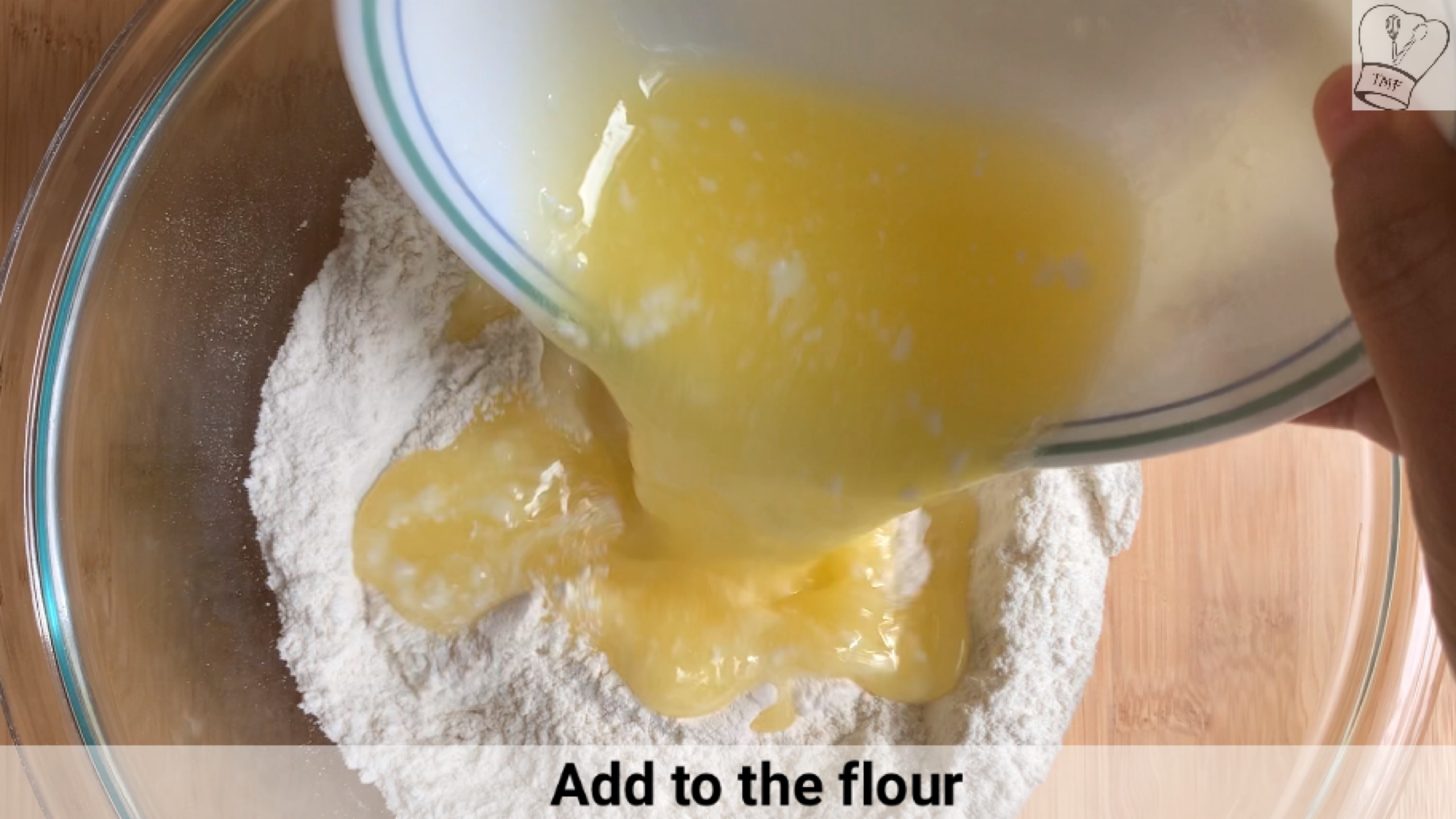 Additionally, add little water and start to make pliable dough without much kneading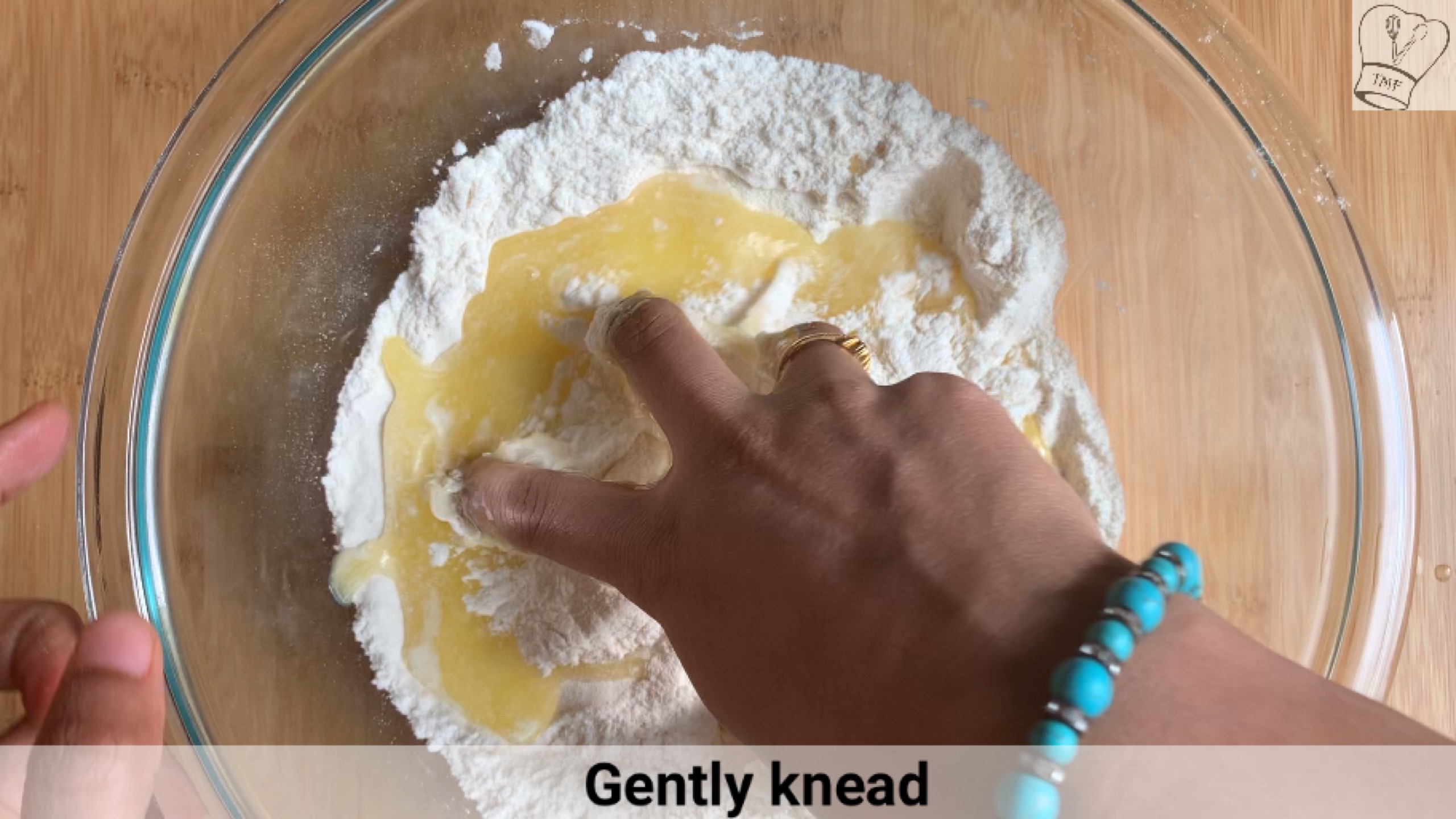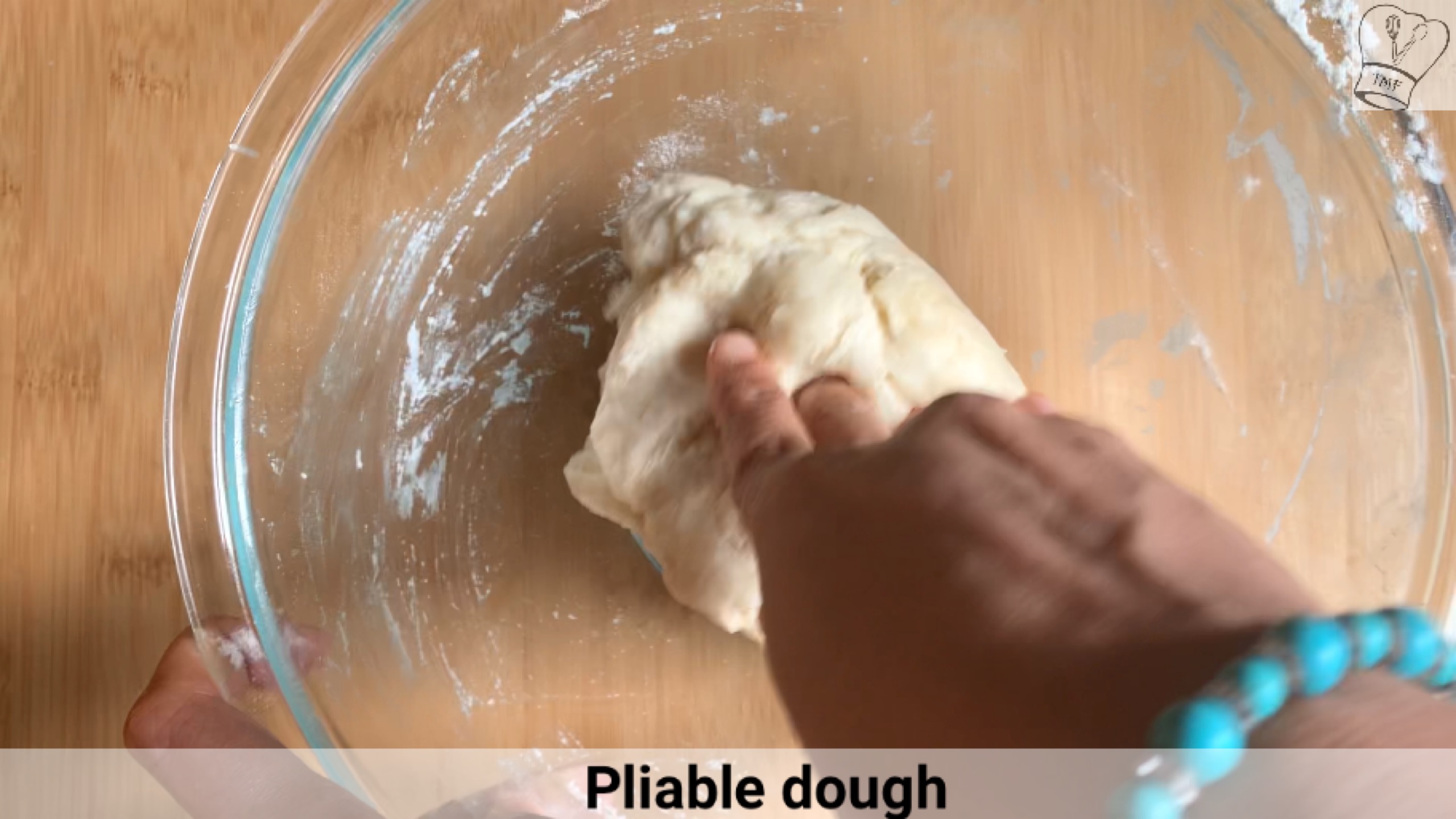 cover with a moist damp cloth and rest the dough for 15 minutes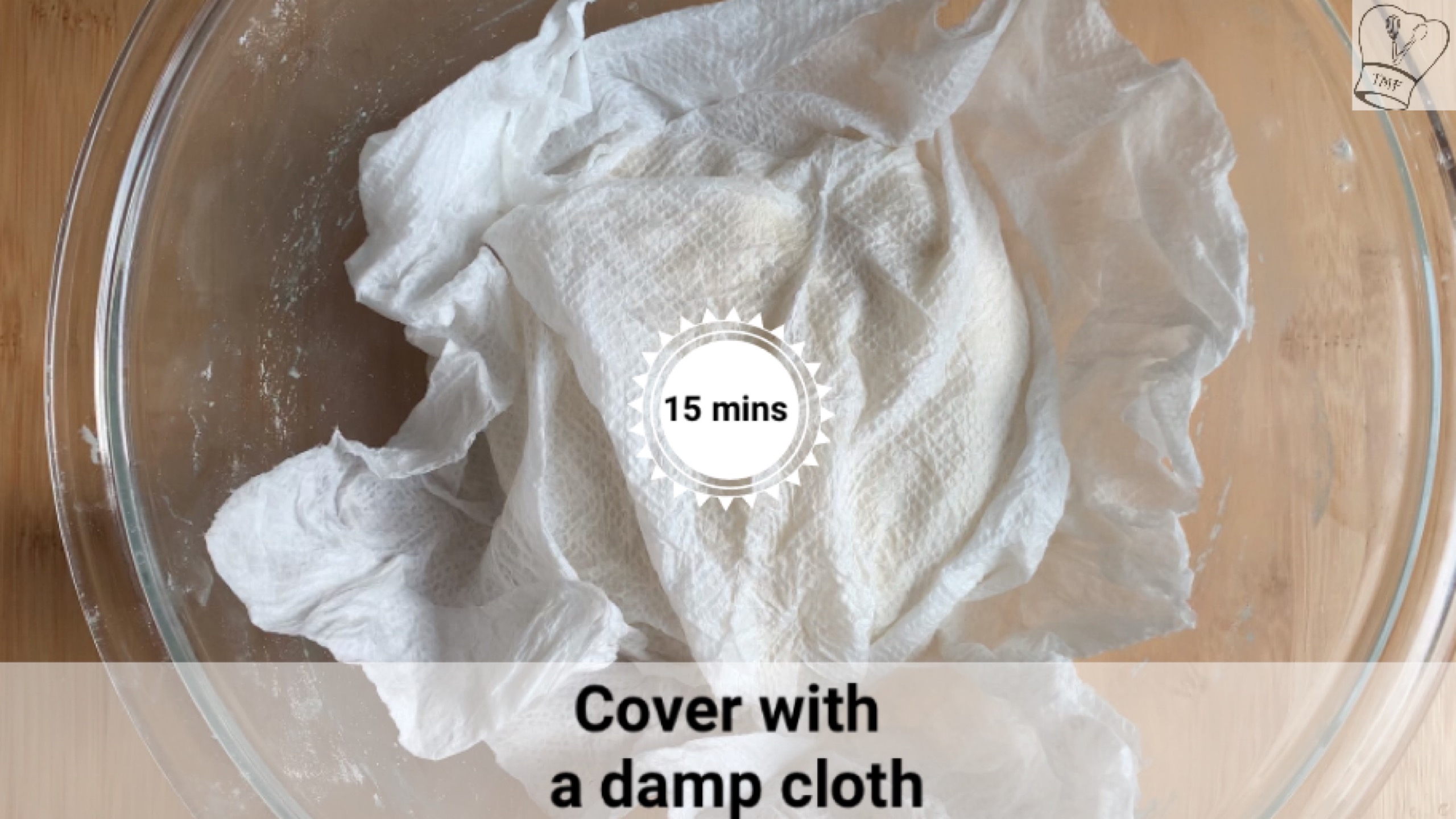 After 15 minutes, slightly knead the dough
pinch a small ball-sized dough, and gently roll a small portion of the dough, and slightly flatten

make a dent at the center with the help of the thumb or a small measuring spoon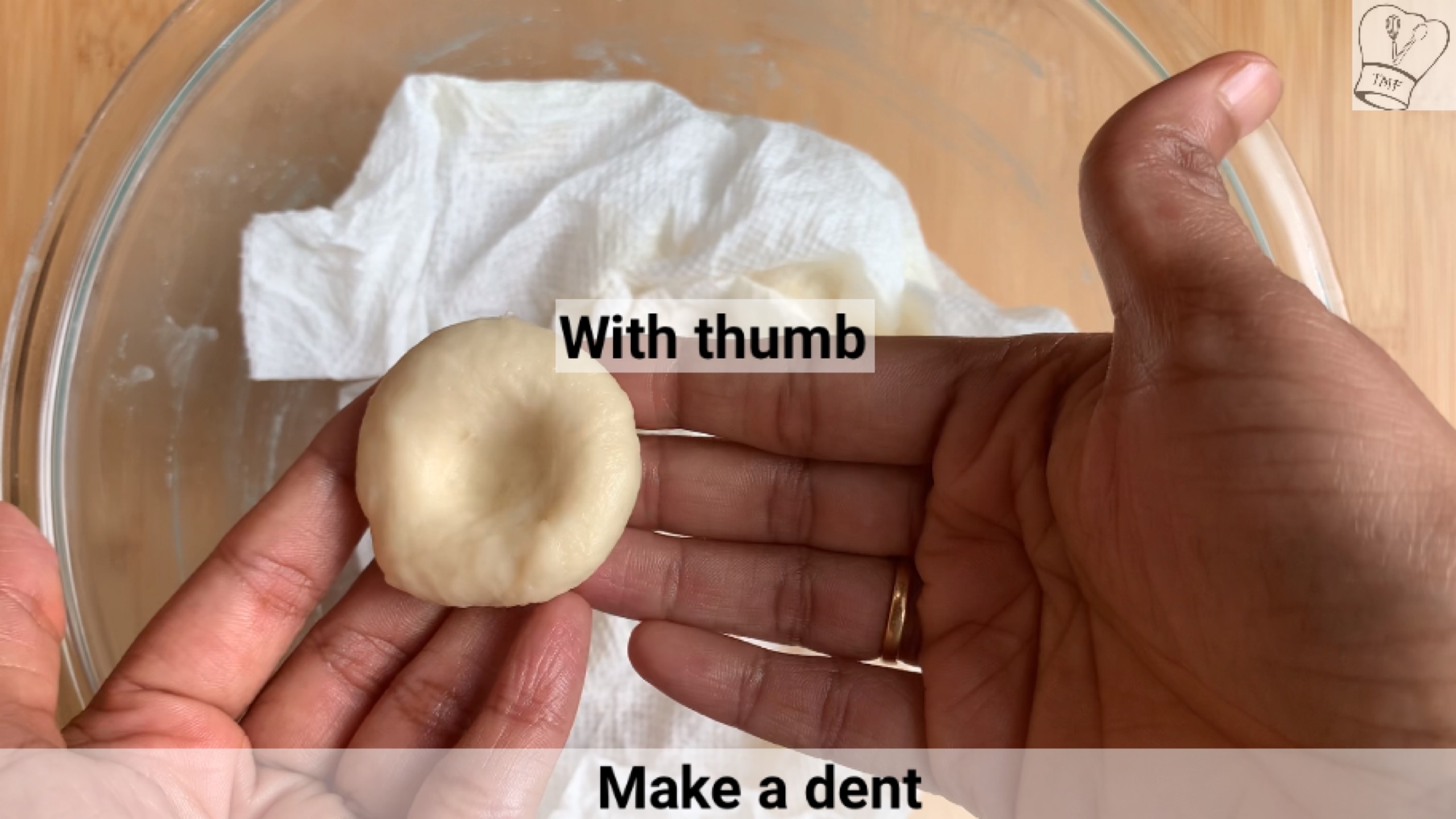 Repeat for the entire dough and keep the dough covered in a moist cloth till we fry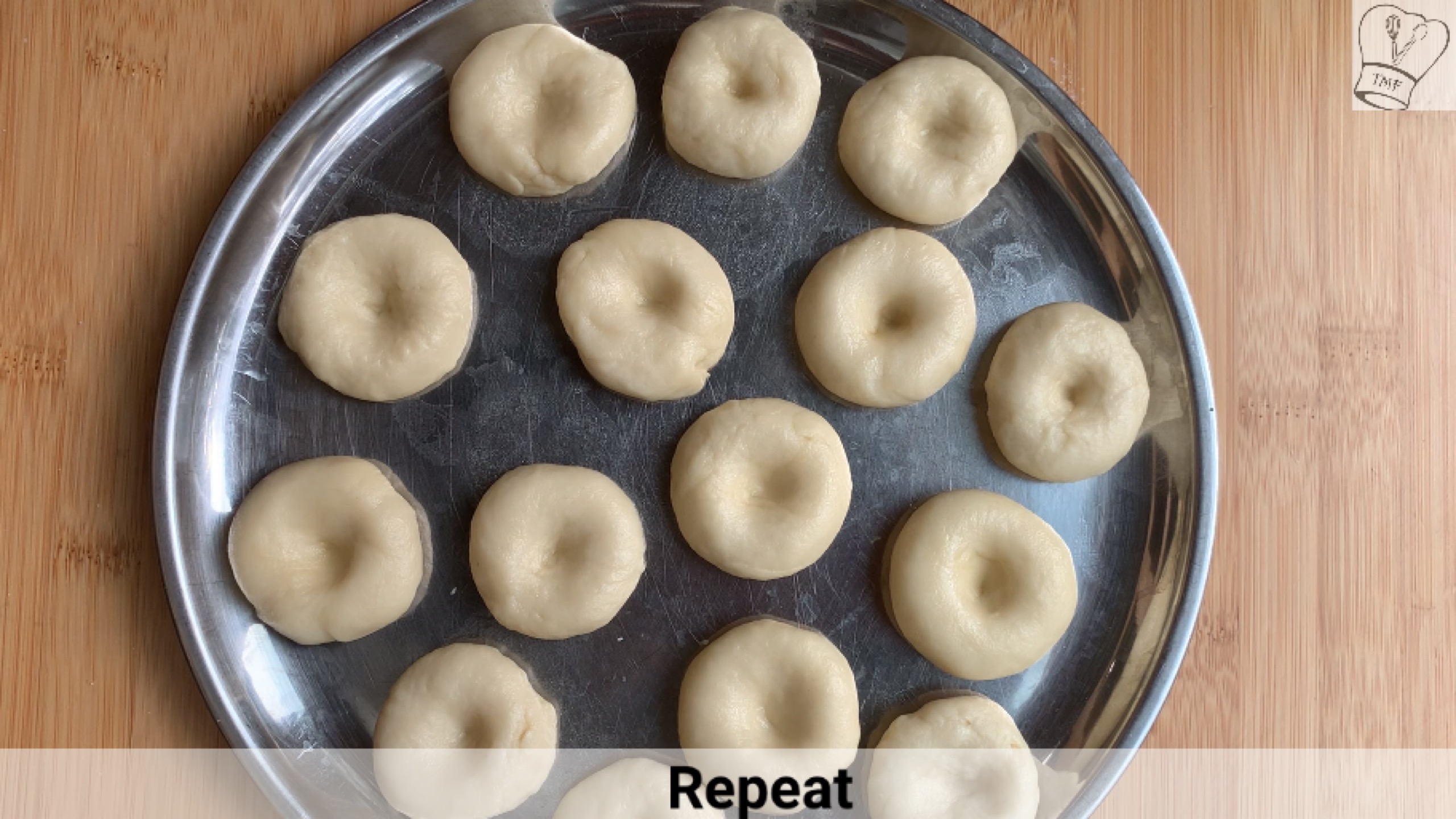 Prepare sugar syrup:
Pour 1/2 cup of water and bring to a slight frothy boil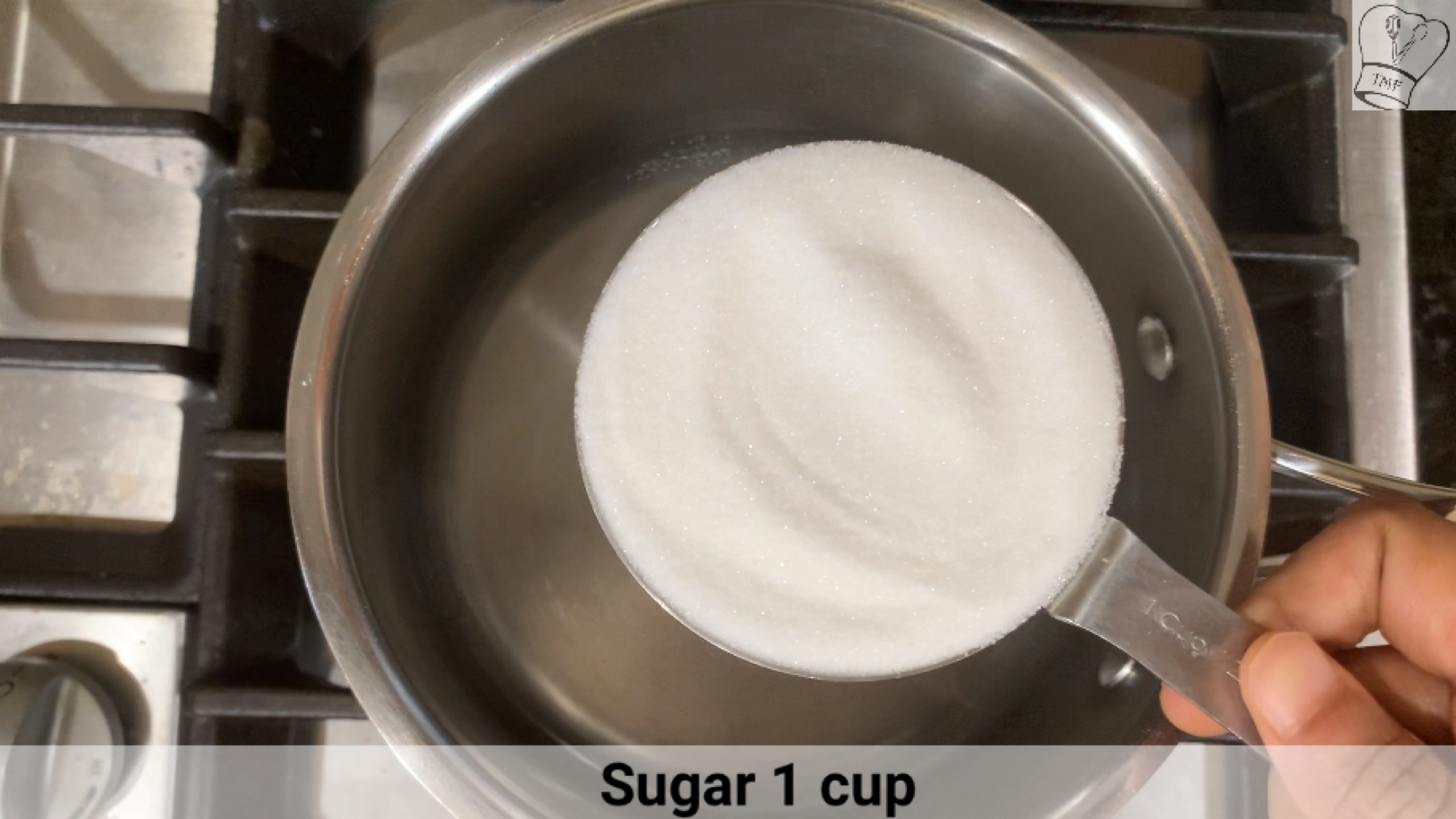 Furthermore, add a pinch of saffron and bring to a boil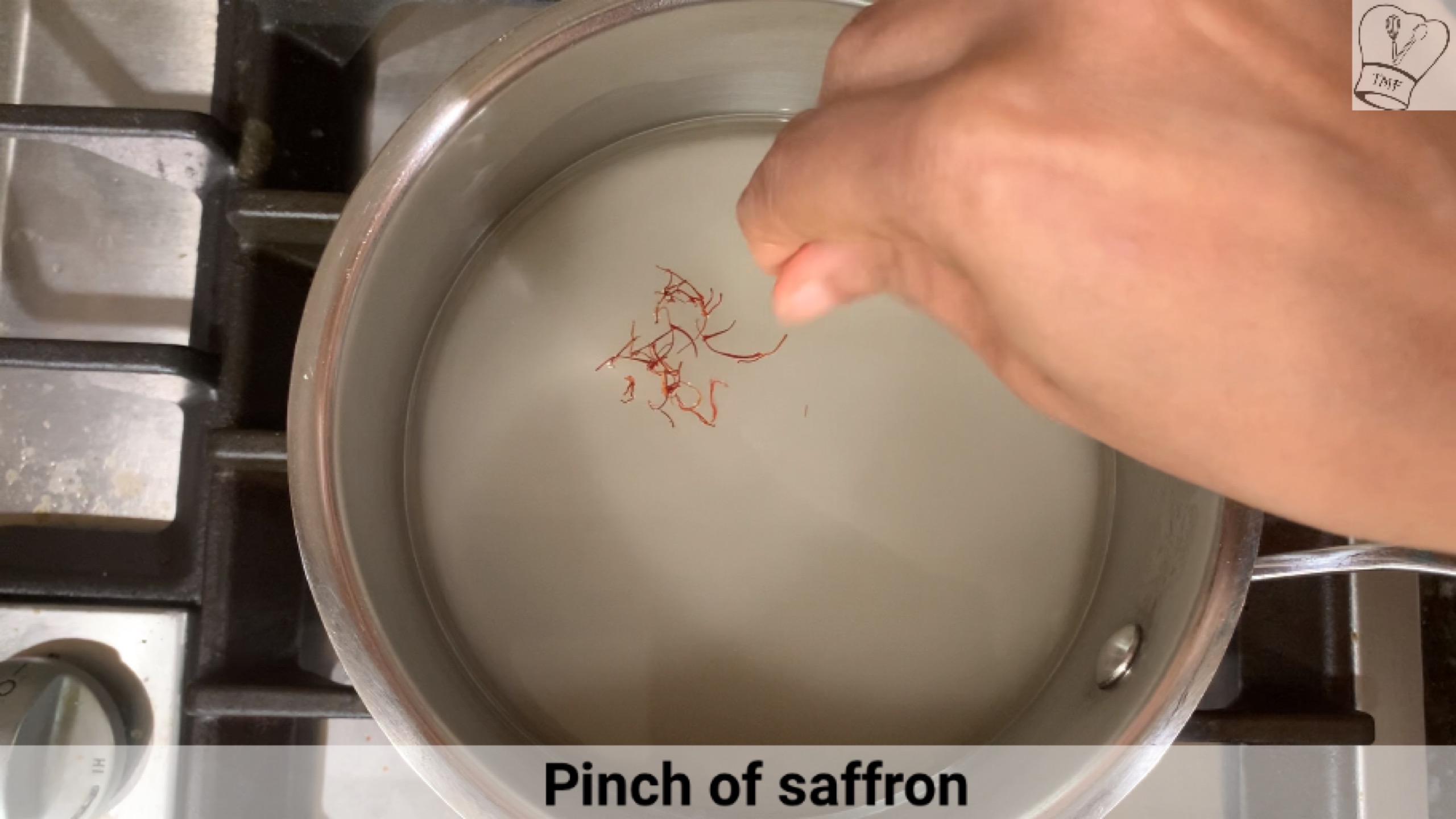 Add cardamom powder, mix well and continue cooking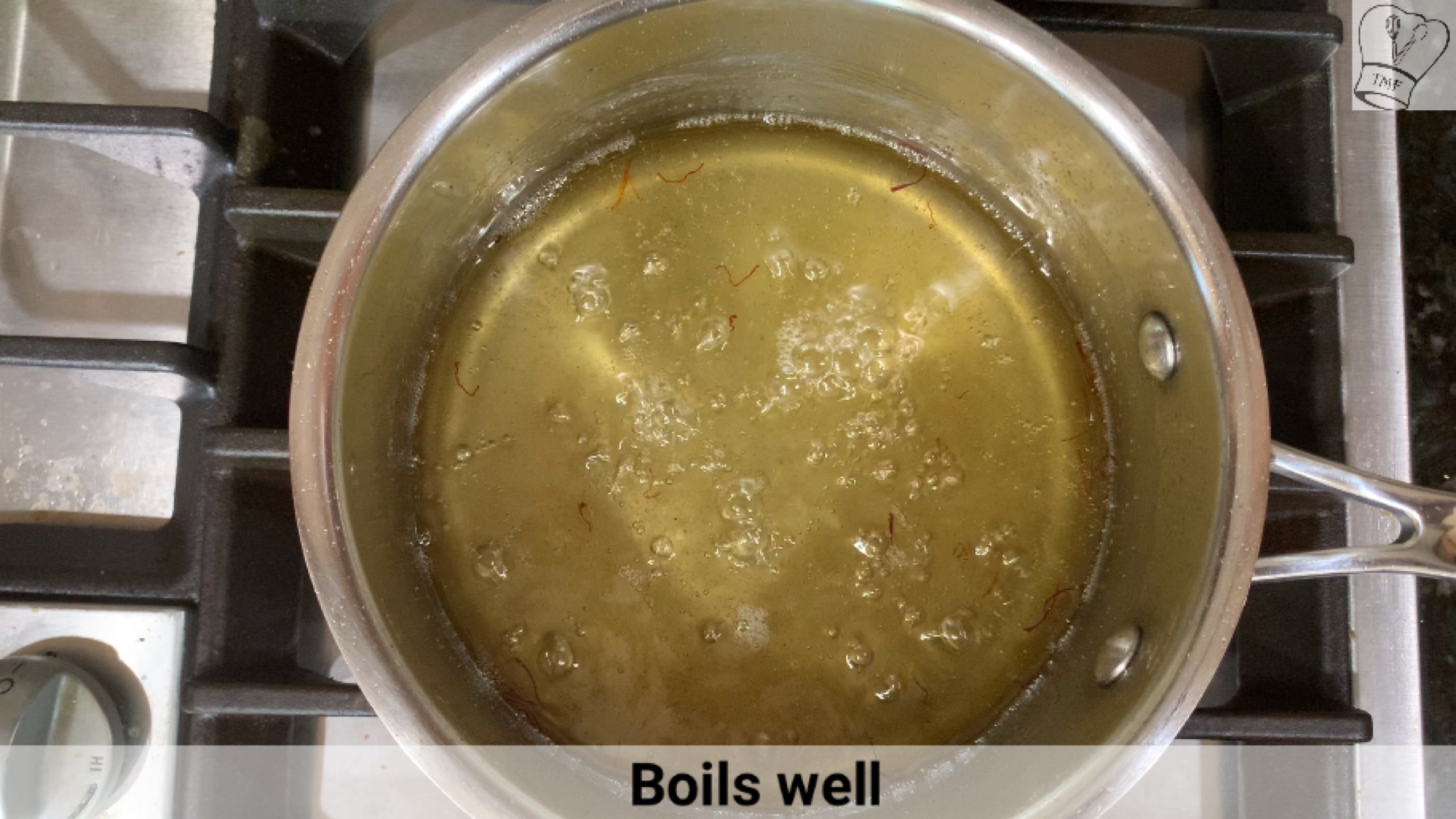 At one stage the sugar syrup boils well, check for one-string consistency by carefully taking a small portion of the syrup and touch between your finger
Turn off the stove, add a few drops of lemon juice to stop further crystallization. keep the pan aside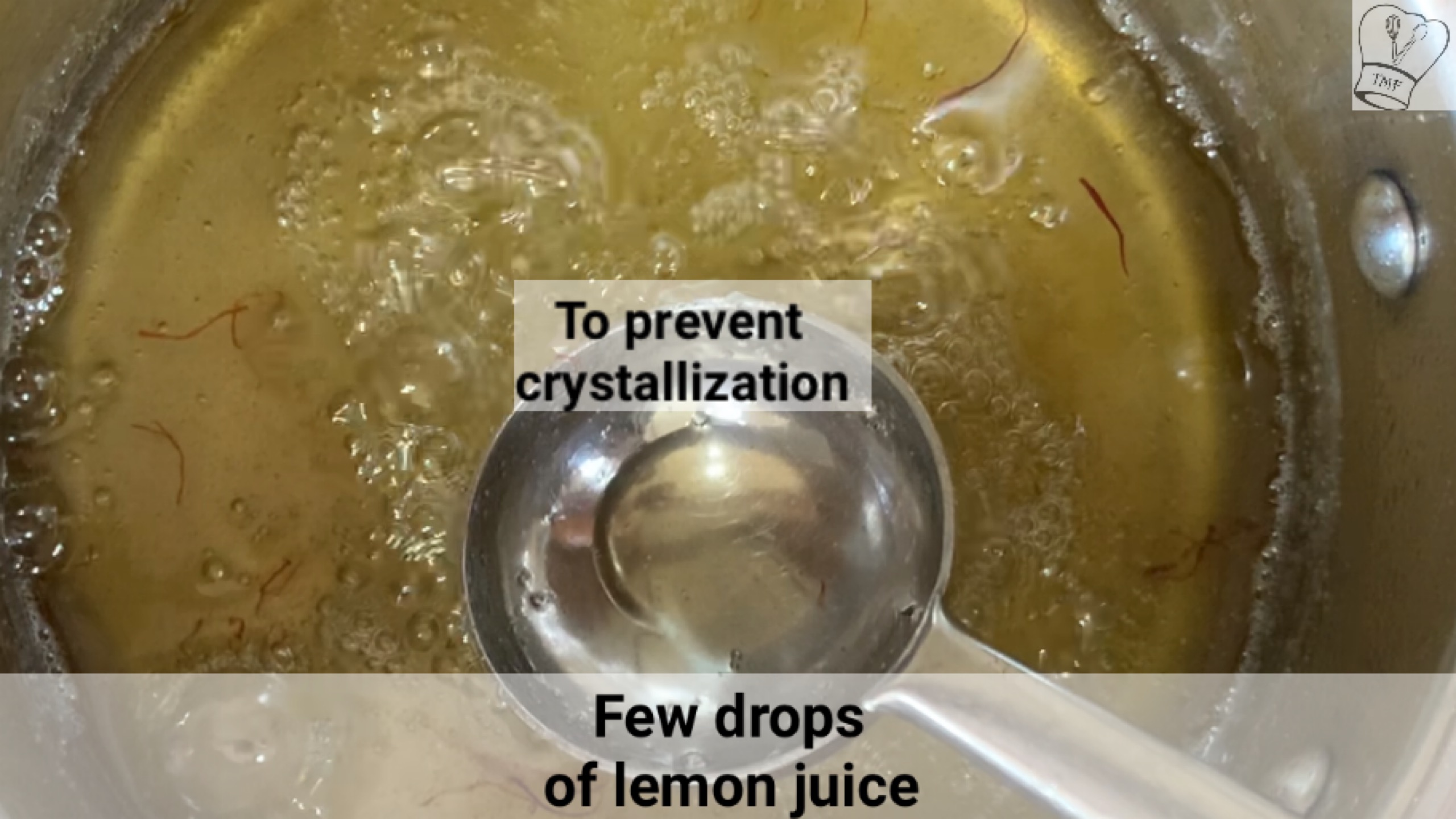 Fry Baadhusha
Heat oil and once when the oil is ready keep the flame to low-medium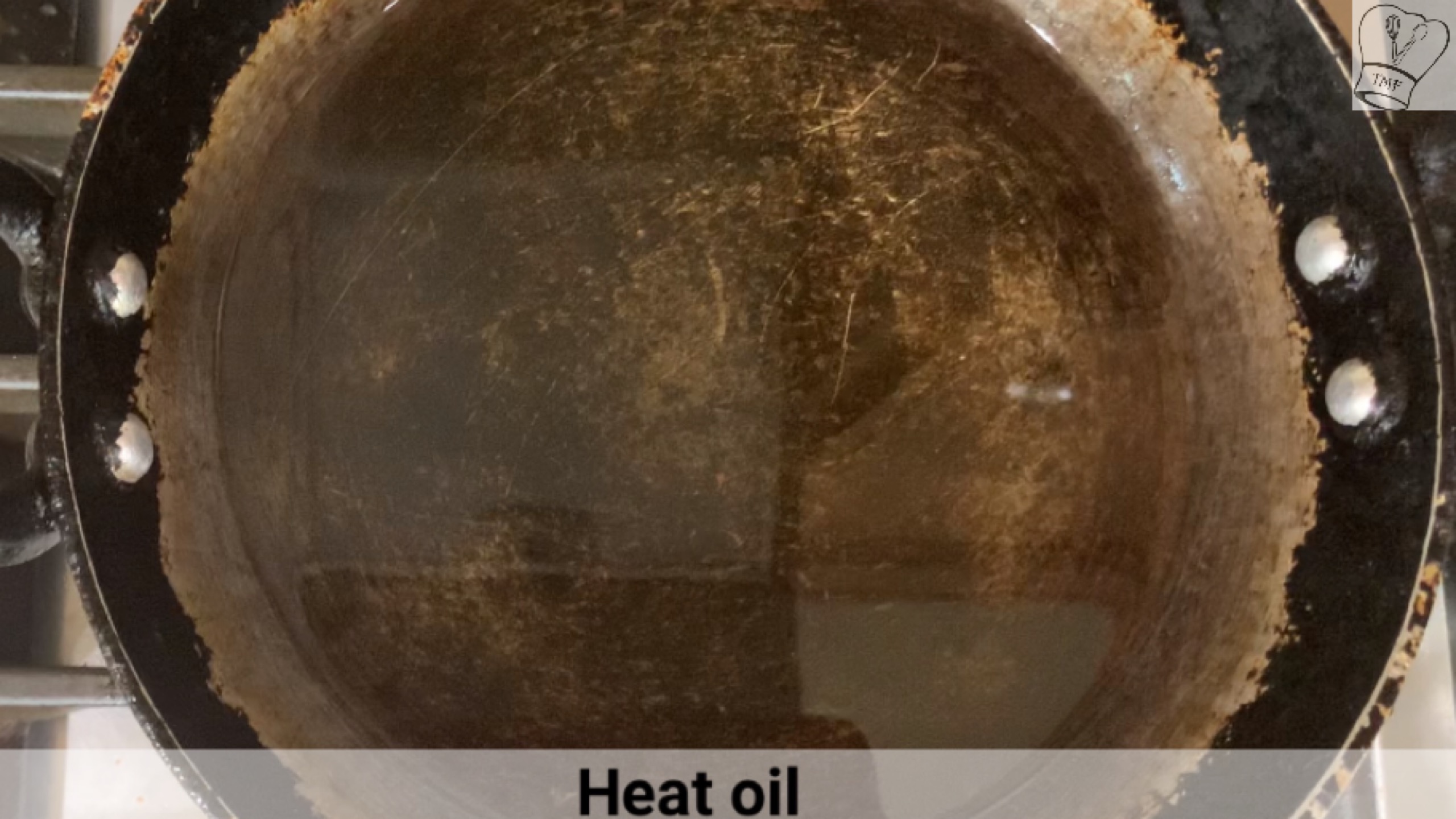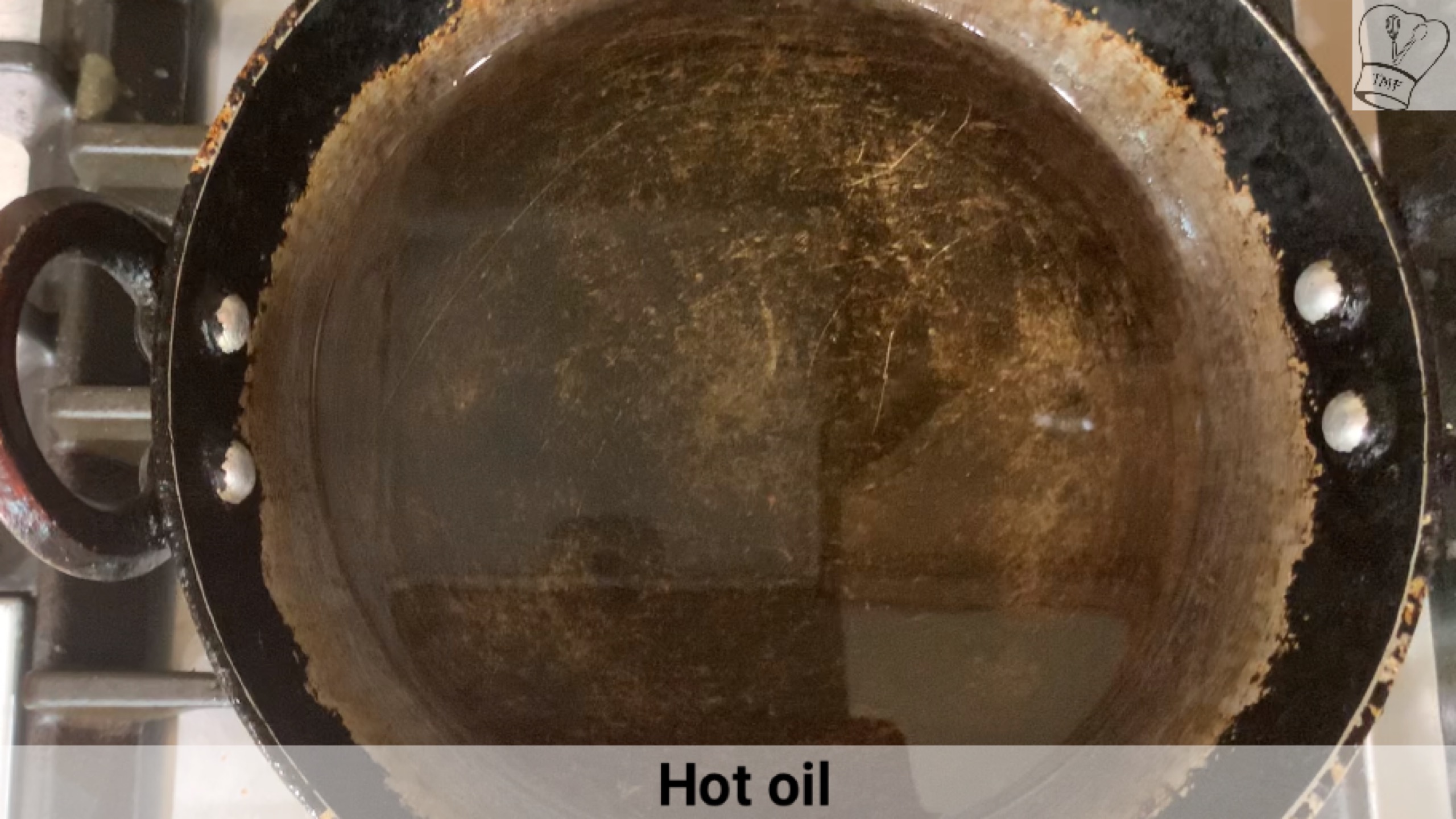 Deep fry until the badhusha turns golden brown on both sides, flip, and fry for even frying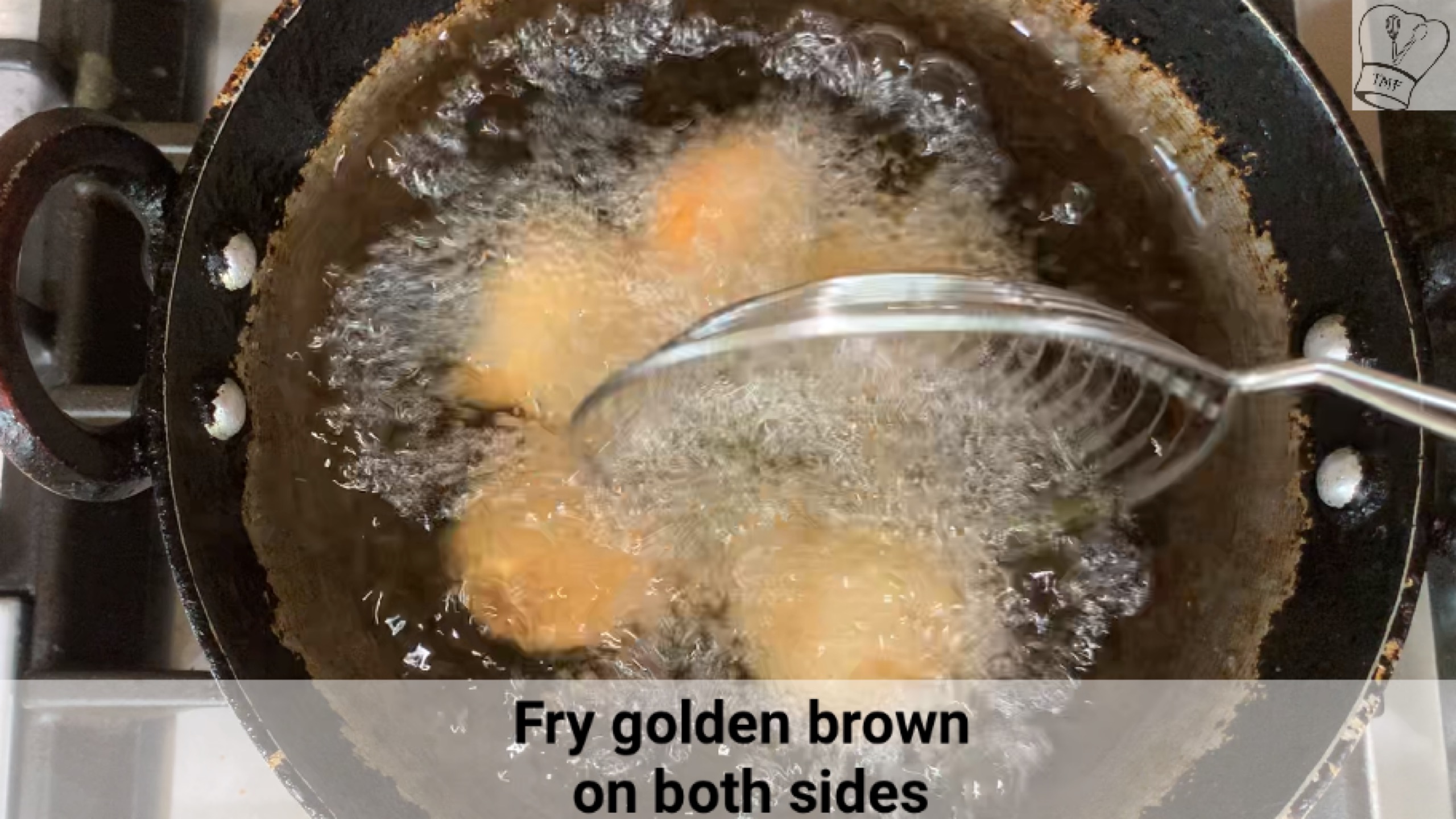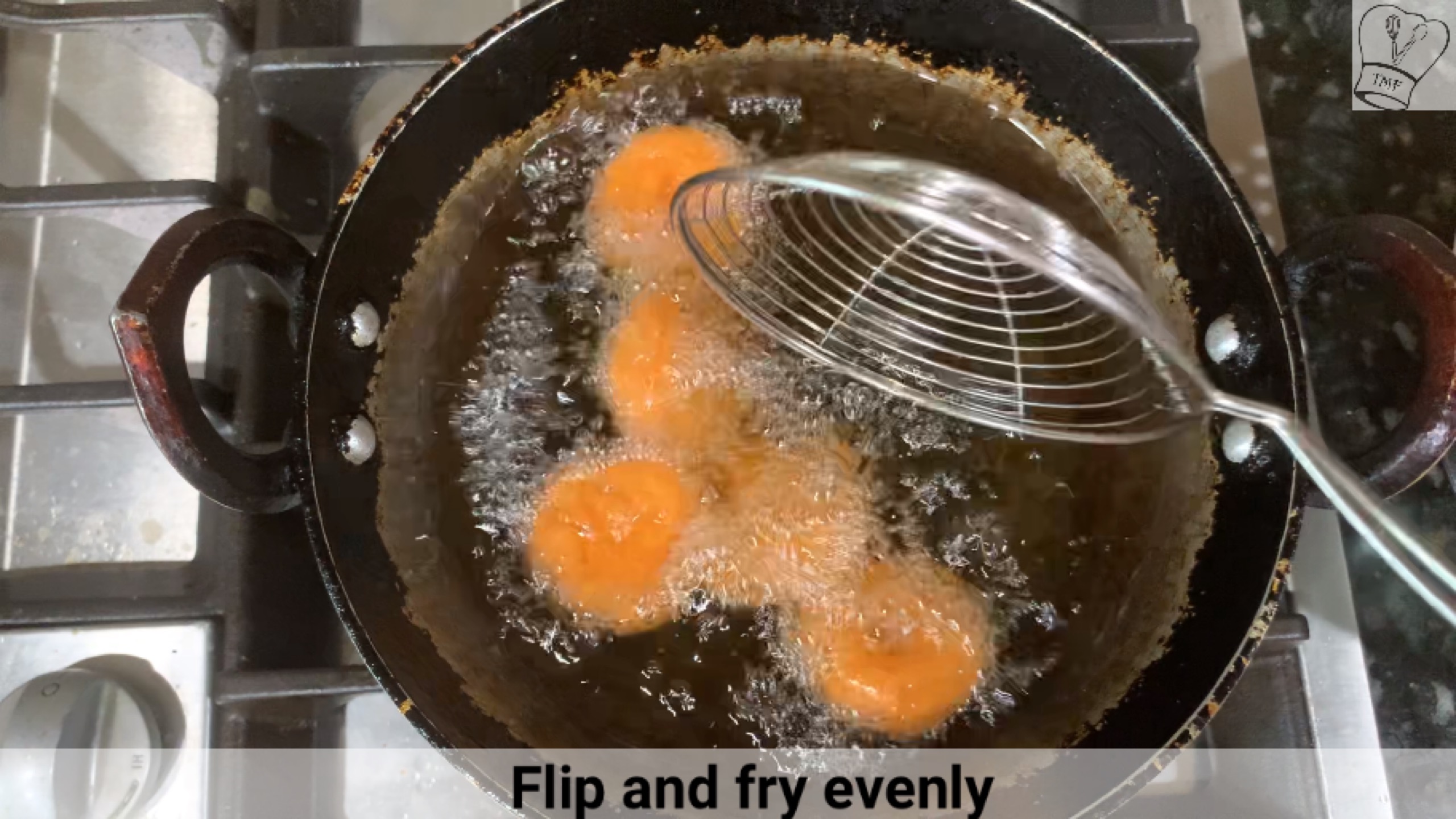 Place the fried badhusha in an oil filter to remove excess oil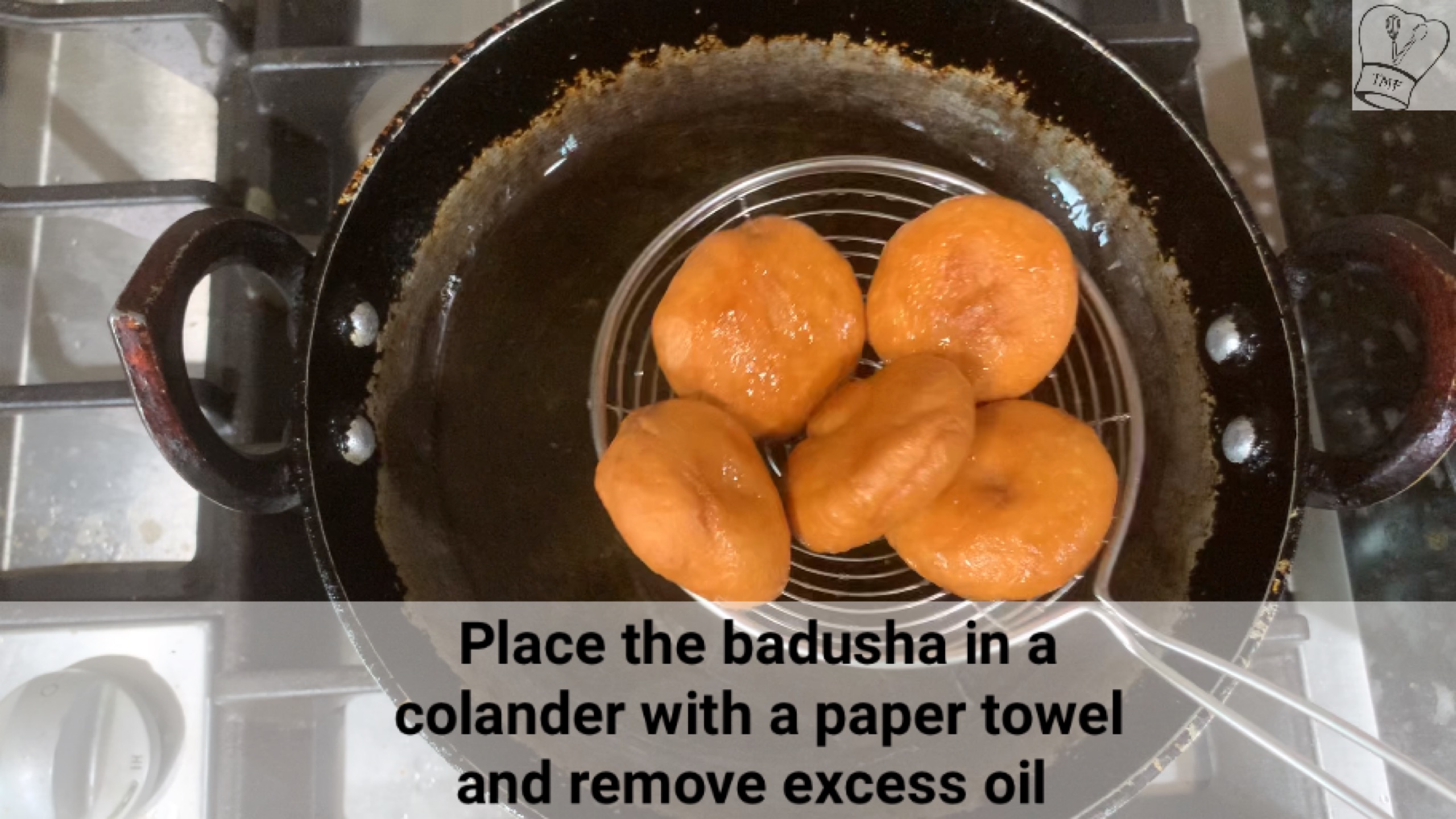 Soak badhusha in sugar syrup
Slightly warm the sugar syrup if they turned cold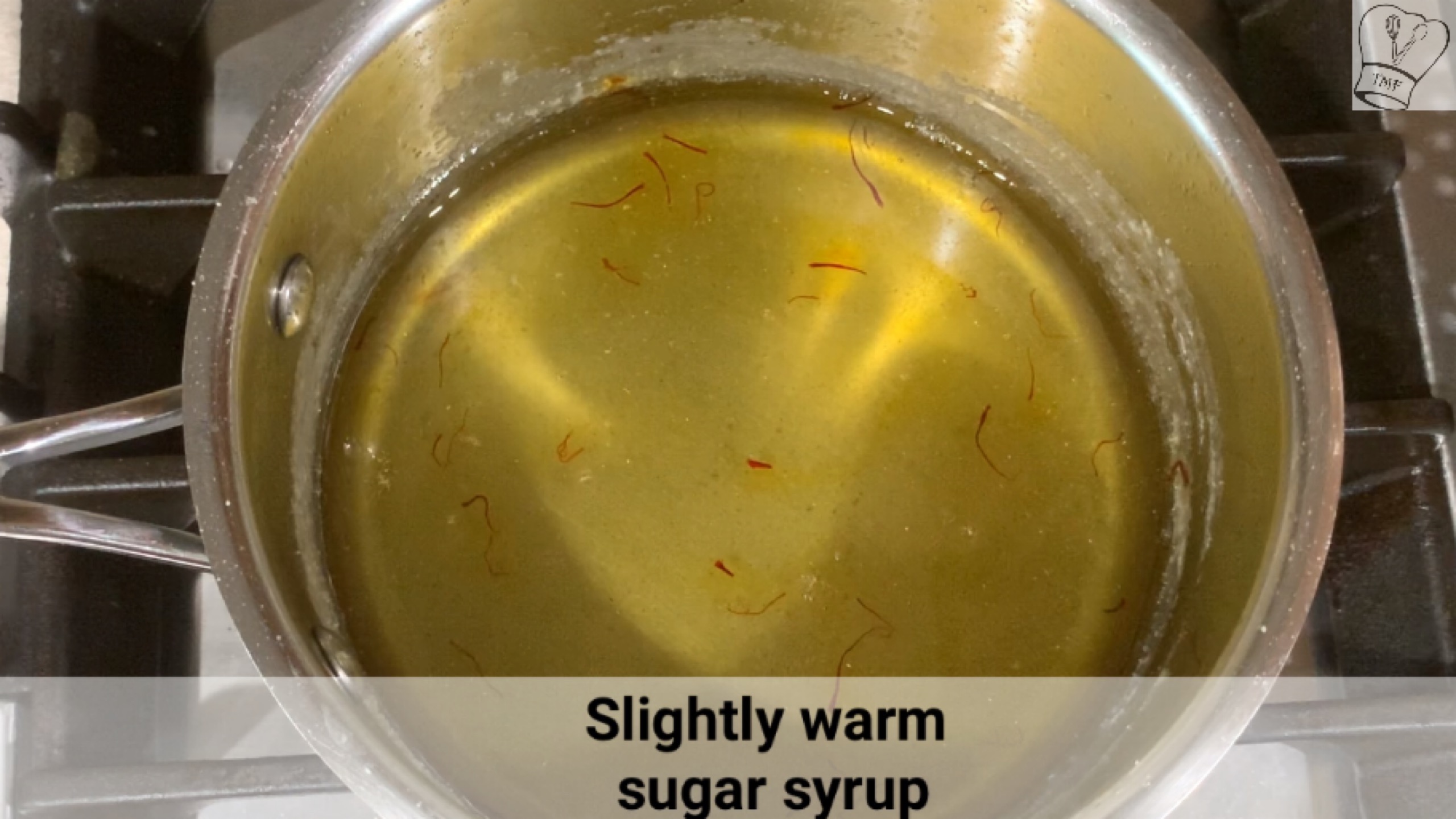 Add badhusha in batches and let them soak for 10 minutes
Transfer the sugar syrup glazed badhusha into a tray /plate greased with parchment paper and place them separately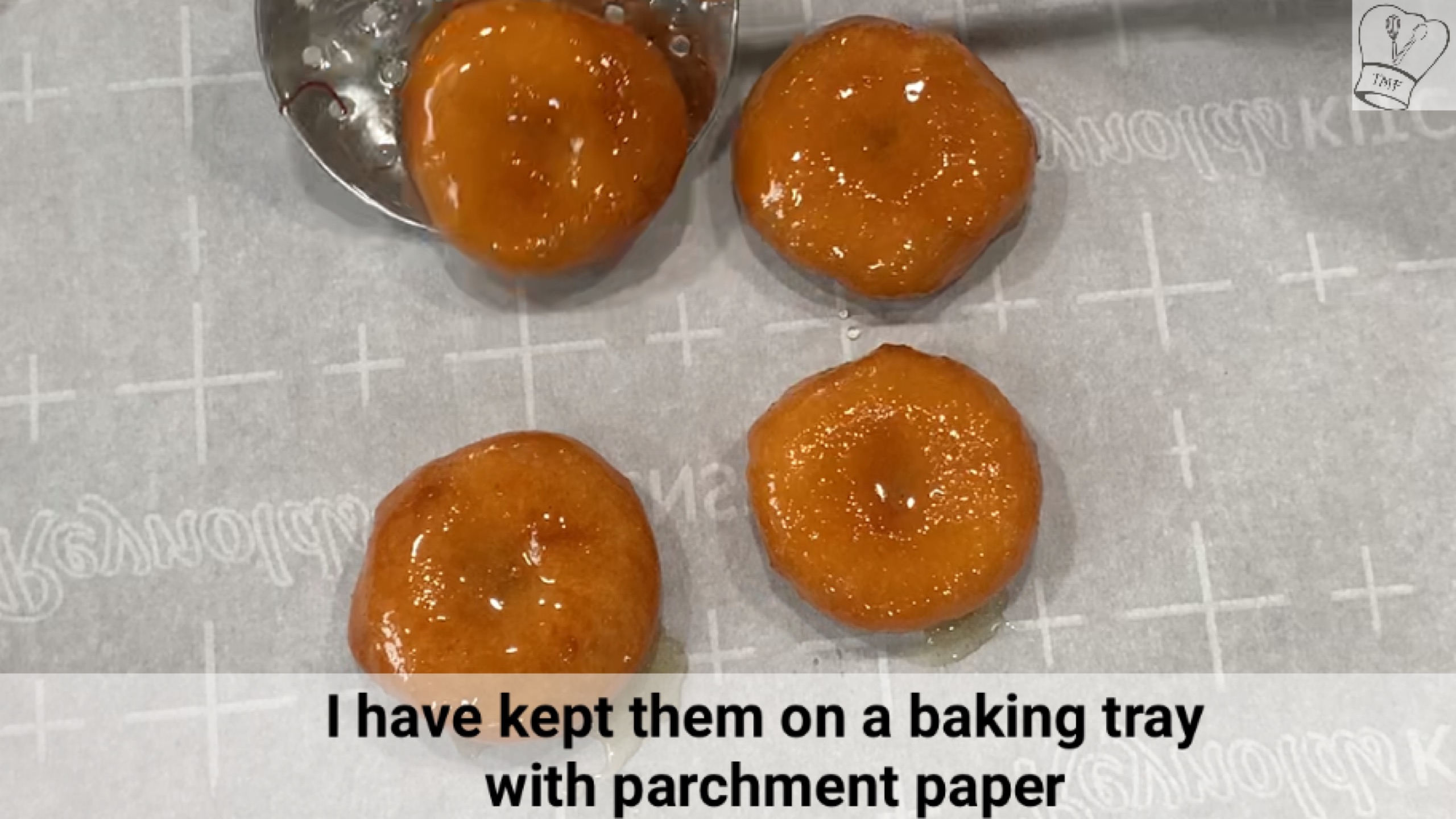 Repeat and soak the other bathches
When the balushahi is warm garnish with chopped nuts of your choice