Baigan Bharta | Bhaigan Barta | Eggplant Curry | roasted eggplant is a side dish prepared with egg plant(big brinjal). The flavour is from broiled Eggplant. Bhaigan barta tastes great with chappati (roti). I like to mix it with rice as well.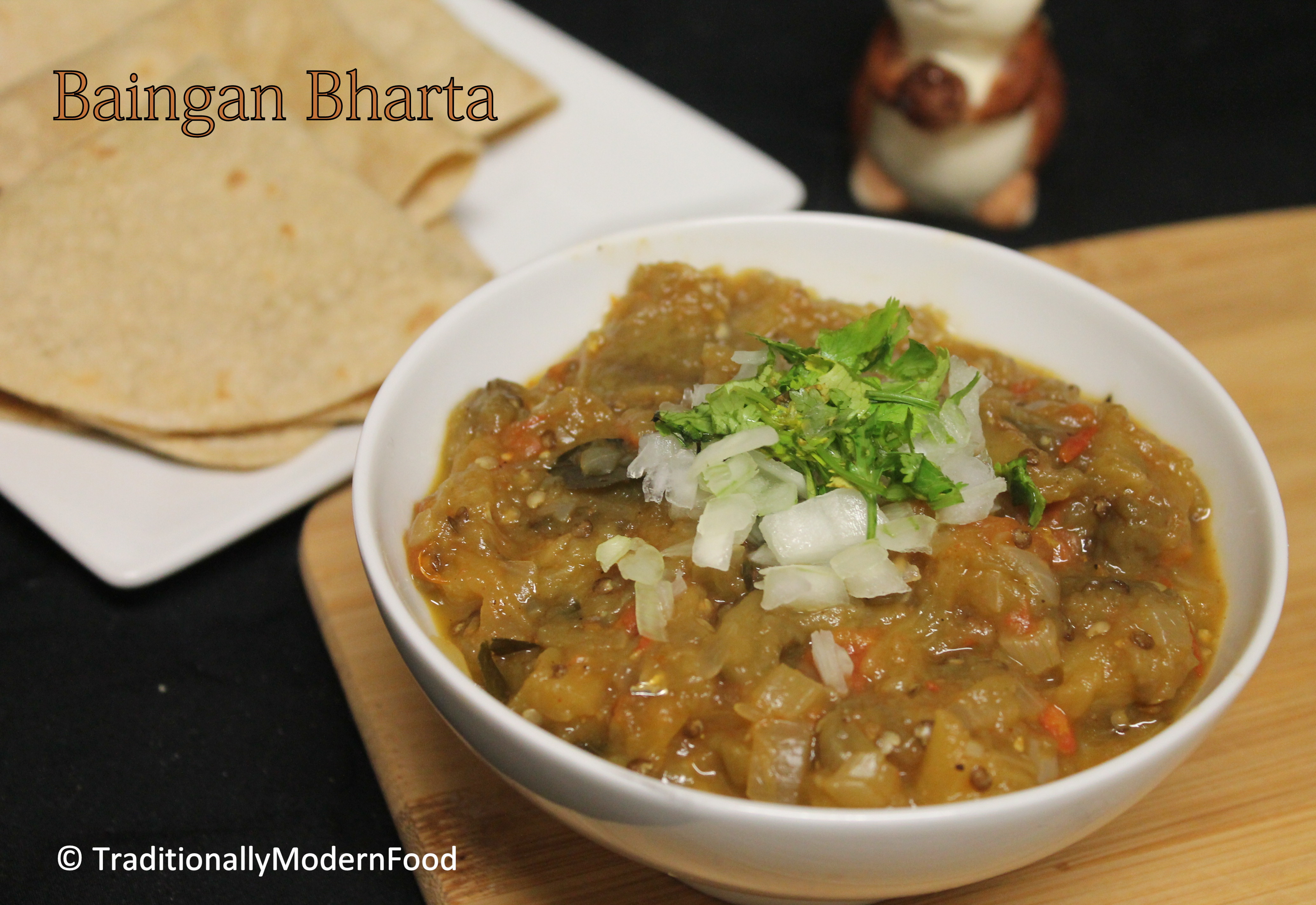 I am one among the few at home who loves brinjal. My husband is not a huge fan of brinjal but at least once in two weeks my grocery cart will have eggplant. Growing up I have enjoyed brinjal in the form of curry, sambar, Kara kuzhambu, gotsu, thogayal etc but my Ammanever prepared gravy for chappati using brinjal.
When I was a kid, every time I go to restaurants, I see baigan bharta in the menu card and always wonder what it is. I see description it says curry with brinjal but never tried it. When I was in college one of my friends ordered this, after tasting the dish I kind of liked it.
Brinjal taste reminded me of "Sutta kathrikai". Later I came to know its also prepared in the same way. Being a big fan of sutra kathitikai flavour I wanted to try making Baigan barta in home. We liked it and now I have one more brinjal recipe approved in home.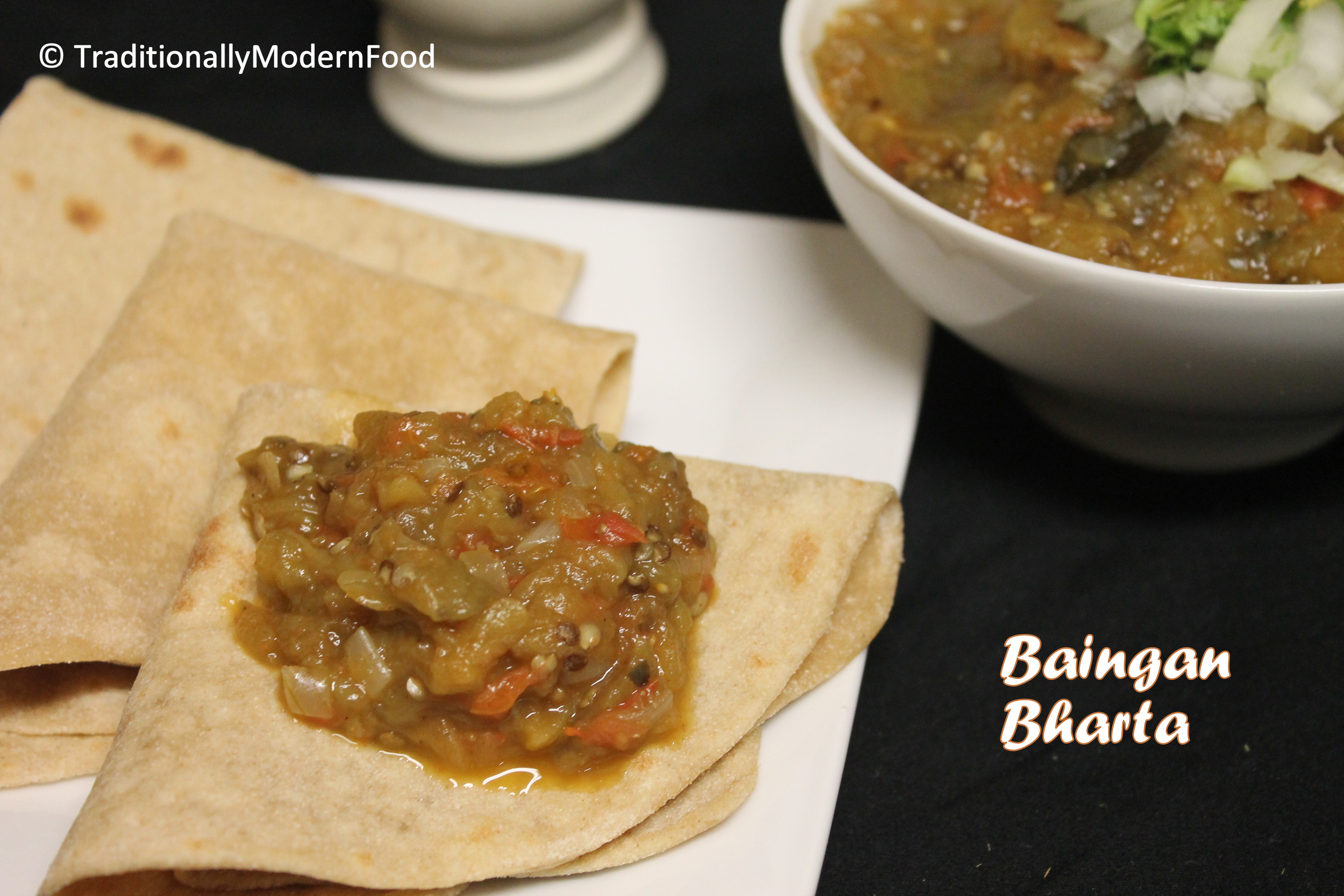 Ingredients
Brinjal/Eggplant/Aubergine - 1 big

Onion - 1

big - finely chopped

Tomato - 3

finely chopped

Ginger garlic paste - 1 tsp

Cumin powder - 1/2 tsp

Coriander powder - 1 tsp

Chilli powder - 3/4 tsp

Adjust according to your spice level

Turmeric powder - 1/8 tsp

Garam masala powder - 1/2 tsp

Coriander leaves - few

Curry leaves - few

Oil - 1 tablespoon + to grease brinjal

Salt - as needed
Instructions
Preheat the oven to 425 degree F. Place aluminium foil over baking tray

Poke holes all around the brinjal using a fork and generously grease the brinjal with oil

Change the oven setting to broil (low) cook till the skin shrinks and its smoked, turning the brinjal in between for even cooking in all sides. It takes around 23 - 28 minutes. Let it cool completely.

Skin comes off easily (oil to do the magic). Roughly chop the birnjal or Mash the pulp with the fork

Add oil to the pan and when oil is hot add curry leaves, ginger garlic paste and sauté for 30 seconds. Add onions and sauté till onions are cooked, and then add tomato

After tomato is cooked, add garam masala, coriander powder, cumin powder, chilli powder, turmeric powder and allow it to cook for 3-5mins2015-04-06

Add brinjal to the tomato onion mixture and 3 tablespoon of water; Cook for 5-6 minutes

Garnish with Coriander leaves and chipped onion and serve hot with roti
Notes
Instead of using oven, brinjal can also be done in stovetop or microwave the brinjals for 4 - 10 minutes till the skin shrinks (Depends on the microwave temperature, mine is 700 watt and it took 7 minutes. Keep an eye after 5 minutes)
Small brinjal can be used of big eggplant in that case cooking time may vary
Green Chilli and Chilli Powder combo can be used for extra spicy version
Can crackle Cumin seeds, in that case skip Cumin powder
Adjust the water quantity according to the consistency you desire your gravy
Ingredients:
Brinjal/Eggplant/Aubergine - 1 big
Onion - 1, big - finely chopped
Tomato - 3, finely chopped
Ginger garlic paste - 1 tsp
Cumin powder - 1/2 tsp
Coriander powder - 1 tsp
Chilli powder - 3/4 teaspoon (Adjust according to your spice level)
Turmeric powder - 1/8 tsp
Garam masala powder - 1/2 tsp
Coriander leaves - few
Curry leaves - few
Oil - 1 tablespoon + to grease brinjal
Salt - as needed
Method:
Preheat the oven to 425 degree F. Place aluminium foil over baking tray
Poke holes all around the brinjal using a fork and generously grease the brinjal with oil
Change the oven setting to broil (low) cook till the skin shrinks and its smoked, turning the brinjal in between for even cooking in all sides. It takes around 23 - 28 minutes. Let it cool completely.
Skin comes off easily (oil to do the magic). Roughly chop the birnjal or Mash the pulp with the fork
Add oil to the pan and when oil is hot add curry leaves, ginger garlic paste and sauté for 30 seconds. Add onions and sauté till onions are cooked, and then add tomato
After tomato is cooked, add garam masala, coriander powder, cumin powder, chilli powder, turmeric powder and allow it to cook for 3-5mins
Add brinjal to the tomato onion mixture and 3 tablespoon of water; Cook for 5-6 minutes

Garnish with Coriander leaves and chipped onion and serve hot with roti