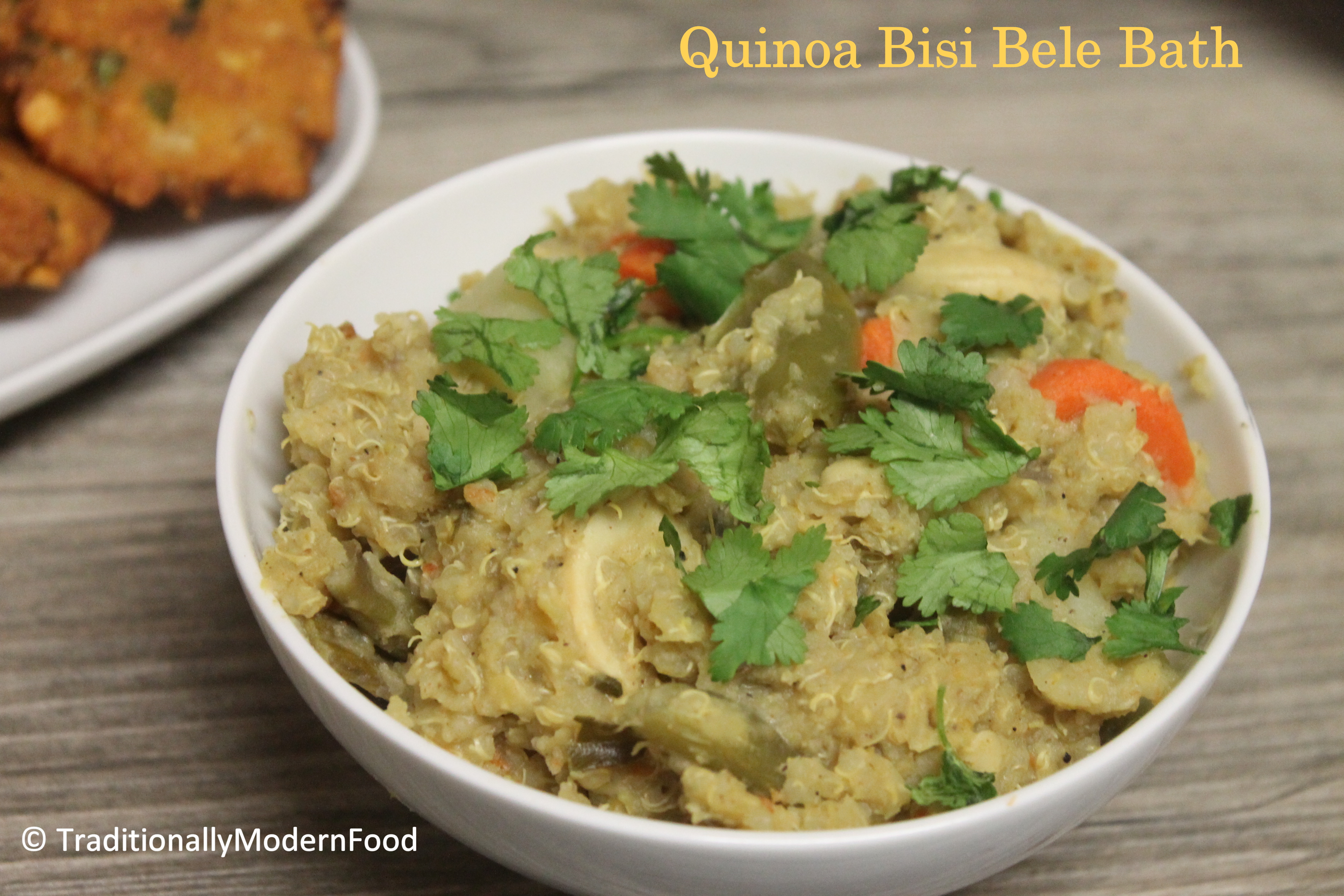 Quinoa bisi bele bath is a flavorful sambar sadam (quinoa). If you are looking for ways to cut down carbs and add some flavours to the quinoa this is one great way. With Indian flavour this is tasty, filling and healthy meal
When I was pregnant, I wanted to reduce Carbs, but rice is our staple food and I couldn't avoid rice. My friend suggested "Quinoa" and asked me to cook rice and Quinoa together. Slowly I started experimenting with Quinoa, tried upma, idli, dosa, panniyaram, quiche etc.
My husband loves Bisi bele bath. Spending many years in Bangalore his favorite weekend lunch is Sambar Sadam. If I ask him what he wants he immediately opt for this. My bisi bele bath is no way close to the authentic one but this is the only way my Amma prepares it and we like it so we follow it. Luckily he likes this way and I sticked to the same recipe.
Usually I use ponni rice/Sona masuri rice for preparing sambar Sadam. One day I wanted to cook bisi bele bath but wanted to try it with quinoa as we got adopted to quinoa taste. as we are use to quinoa taste couldn't find much difference in the taste. Healthy and filling one-pot meal. Quinoa and dal make this a protein rich meal
Checkout other rice varieties in TMF:
Ingredients:
Quinoa - 1/2 cup + 2 tbsp, soaked and drained
Toor Dal - 1/2 cup, soaked and drained
Mixed Vegetable - 2 cups (I used carrots, beans, capsicum and potato)
Ghee - 1 tbsp
Sesame Oil - 1/4 tsp
shallots - 14
Curry leaves - 1 spring
Turmeric powder - 1/4 tsp
Coriander powder - 1/4 tsp
Sambar Powder - 1/2 tsp
Tamarind - 2 tbsp
Roasted Peanuts - 2 tbsp
Cashew - 2 tbsp
Water - 3 cups + 3/4 cup
Salt - to taste
To temper:
Mustard Seeds - 1/8 tsp
Fenugreek - 1/8 tsp
For Bisi Bele Bath spice(makes Approx. 1/4 Cup)
Chana dal (split bengal gram) - 1 tbsp
Cinnamon powder - 1 teaspoon (optional)
Coconut - 3 tbsp, grated
Red chillies - 3
Coriander seeds - 1 tbsp
Peppercorn - 1/4 tsp
Fenugreek - 1/4 tsp
Fennel Seed - 1/4 tsp
Shallots - 3
Oil - 1/2 teaspoon (I used coconut oil)
Method:
Soak dal and Quinoa in water for 30 minutes - 1 hour; and then rinse.
Add oil to the pan, add all the ingredients (Except Coconut) listed under 'For Bisi Bela Bath Powder ' and sauté on low flame for 2 - 3 mins or till they turn golden brown in color. Add coconut after switching off and keep aside to cool. After the ingredients are cooled, add water and blend in a mixer to a fine paste and keep aside
Add Ghee to the Pressure cooker. When ghee is hot, add the items under 'To Temper' and let the mustard seed crackle. Add shallots and saute for 2 minutes, then add vegetables and saute for 5 minutes. Add turmeric powder, coriander powder, sambar powder and give a quick mix. Add the blended paste and mix well
Add quinoa, toor dal, tamarind and mix gently. Saute on medium flame for 1 minute. Add salt, and 3 cups + 1/4 cup of hot water, mix gently. Finally add peanuts, cashew and sesame oil. Pressure cook for 3-4 whistles
Allow the steam to escape before opening the lid. Garnish with Coriander leaves/Boondi/sev/Oma pudi and serve hot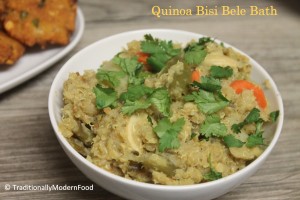 Ingredients
Quinoa - 1/2 cup + 2 tbsp

soaked and drained

Toor Dal - 1/2 cup

soaked and drained

Mixed Vegetable - 2 cups

I used carrots, beans, capsicum and potato

Ghee - 1 tbsp

Sesame Oil - 1/4 tsp

shallots - 14

Curry leaves - 1 spring

Turmeric powder - 1/4 tsp

Coriander powder - 1/4 tsp

Sambhar Powder - 1/2 tsp

Tamarind - 2 tbsp

Roasted Peanuts - 2 tbsp

Cashew - 2 tbsp

Water - 3 cups + 3/4 cup

Salt - to taste

To temper:

Mustard Seeds - 1/8 tsp

Fenugreek - 1/8 tsp

For Bisi Bele Bath spice

makes Approx. 1/4 Cup

Chana dal

split bengal gram - 1 tbsp

Cinnamon powder - 1 tsp

optional

Coconut - 3 tbsp

grated

Red chillies - 3

Coriander seeds - 1 tbsp

Peppercorn - 1/4 tsp

Fenugreek - 1/4 tsp

Fennel Seed - 1/4 tsp

Shallots - 3

Oil - 1/2 tsp

I used coconut oil
Instructions
Soak dal and Quinoa in water for 30 minutes - 1 hour; and then rinse.

Add oil to the pan, add all the ingredients (Except Coconut) listed under 'For Bisi Bela Bath Powder ' and sauté on low flame for 2 - 3 mins or till they turn golden brown in color. Add coconut after switching off and keep aside to cool. After the ingredients are cooled, add water and blend in a mixer to a fine paste and keep aside

Add Ghee to the Pressure cooker. When ghee is hot, add the items under 'To Temper' and let the mustard seed crackle. Add shallots and saute for 2 minutes, then add vegetables and saute for 5 minutes. Add turmeric powder, coriander powder, sambar powder and give a quick mix. Add the blended paste and mix well

Add quinoa, toor dal, tamarind and mix gently. Saute on medium flame for 1 minute. Add salt, and 3 cups + 1/4 cup of hot water, mix gently. Finally add peanuts, cashew and sesame oil. Pressure cook for 3-4 whistles

Allow the steam to escape before opening the lid. Garnish with Coriander leaves/Boondi/sev/Oma pudi and serve hot
Video
Notes
Chop vegetables into big chunks so that they won't became mushy while cooking
Instead of homemade bisi bele bath paste, you can also use bisi bele bath powder available in the stores
If you are using Drumsticks boil them separately, and add it to cooked Bisi Bele bath rather than cooking along with other veggies. This would prevent Drumstick from breaking apart
Pls. Follow TMF social media for recipes updates,