Baked Vellam seedai | Vella seedai with detailed step by step pictures and video recipe. Check out the Baked vella seedai and if you like the video pls SUBSCRIBE to my channel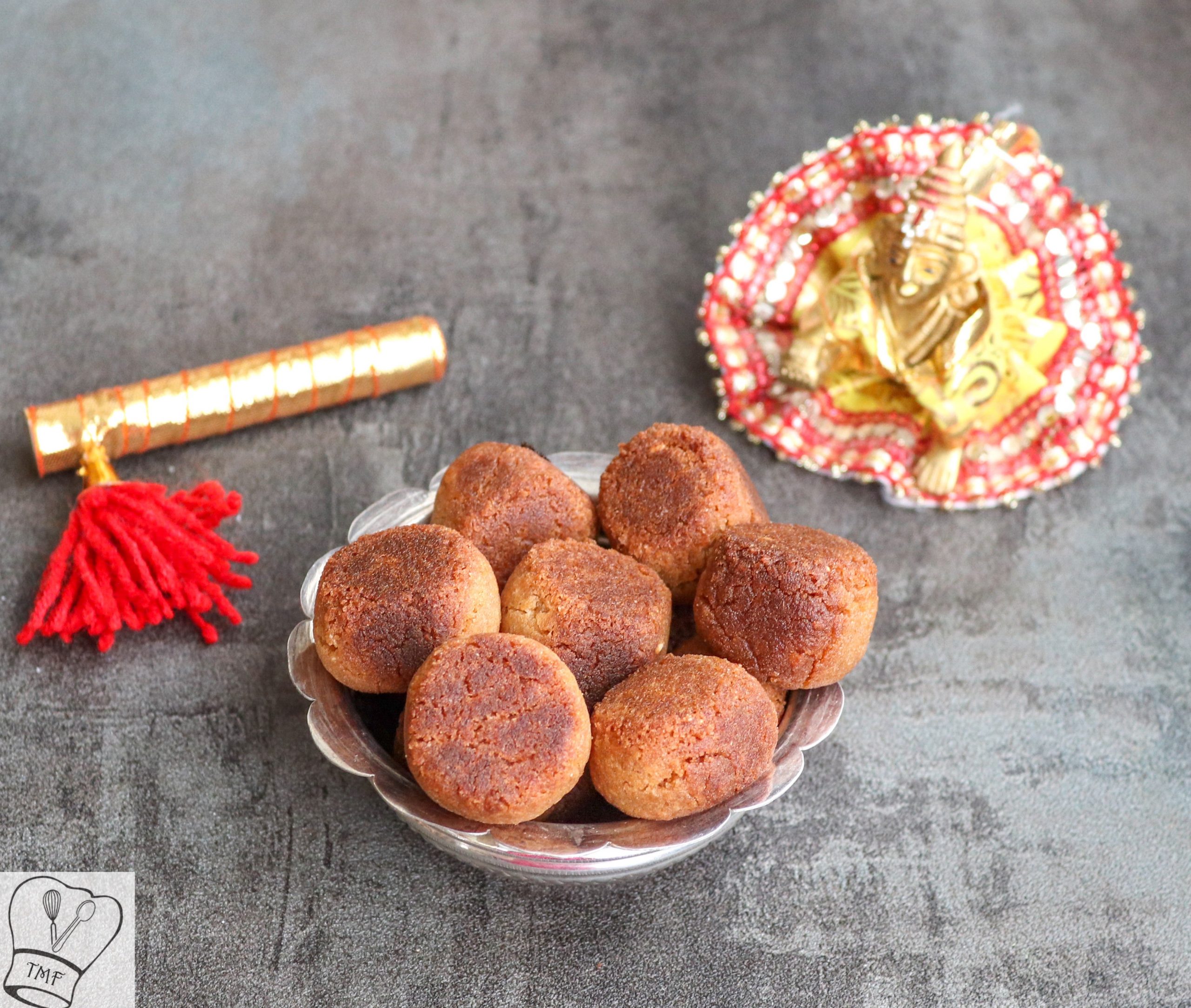 Vella/Vellam seedai is a traditional sweet prepared during Krishna Jayanthi/ gokulashtami. Baked Vella Seedai is prepared with the store brought rice flour and urad dal flour.
Krishna Jayanthi is fast approaching and time for preparing prasadam. This year it is coming during labor day long weekend, so we are traveling. Going to stay in our friend's place. Festivals are extra special when it is celebrated with family and good friends. They have a son and he is 3 months older to Vishvak (my son). It's going to be super fun to dress both kids, prepare prasadam, and a lot more.
Thinking about Jamnashtami I remember Seedai and footprints we draw to welcome kutti Krishna. Last year I prepared all baked prasadam, Uppu, and vellam aval.
I was not satisfied with my last year Vella Seedai so I didn't post it. I greased very little oil so Vella seedai turned pale brown, didn't remind me of the Vellam seedai color and it was a little hard as I over baked.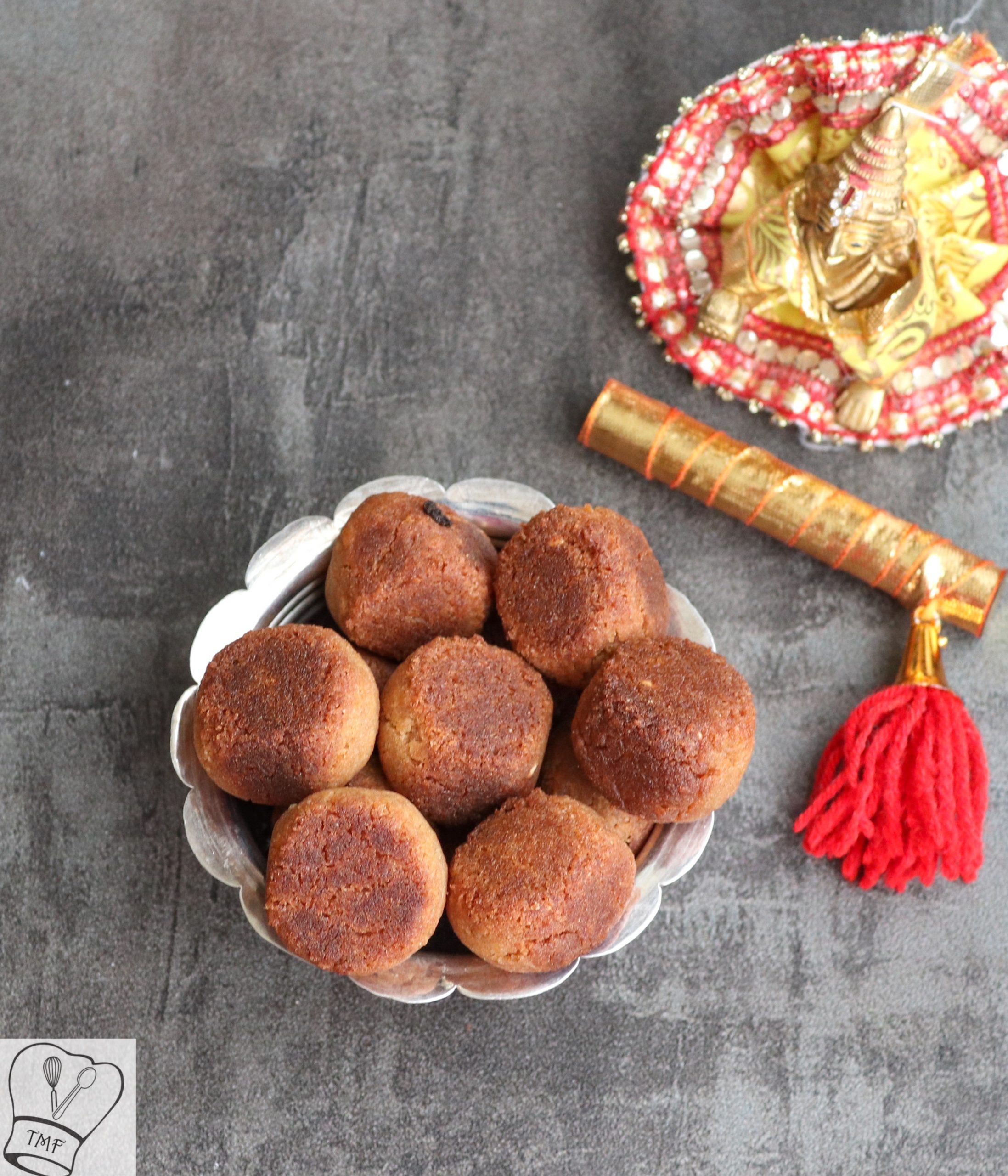 Noted all my mistakes and two weeks back, tried again, and I thought if it flops this time, no more baking Vella Seedai. With few improvisations, finally, I got the texture and the taste.
My husband returned from work, I told him I did Vella Seedai first response from him was "hope you didn't bake it", I smiled and offered him one. He started eating and I was waiting to hear. He finished it and asked me one more and told well you didn't bake!! After tasting this year's seedai, I realized last year Vella seedai got qualified for my bloopers.
Disclaimers: Traditional Deep-fried Vella Seedai is still my favorite. This baked Vella seedai version is an attempt to save time and reduce oil. It is just my personal preference.
Check out my other Krishna Jayanthi Special Recipes,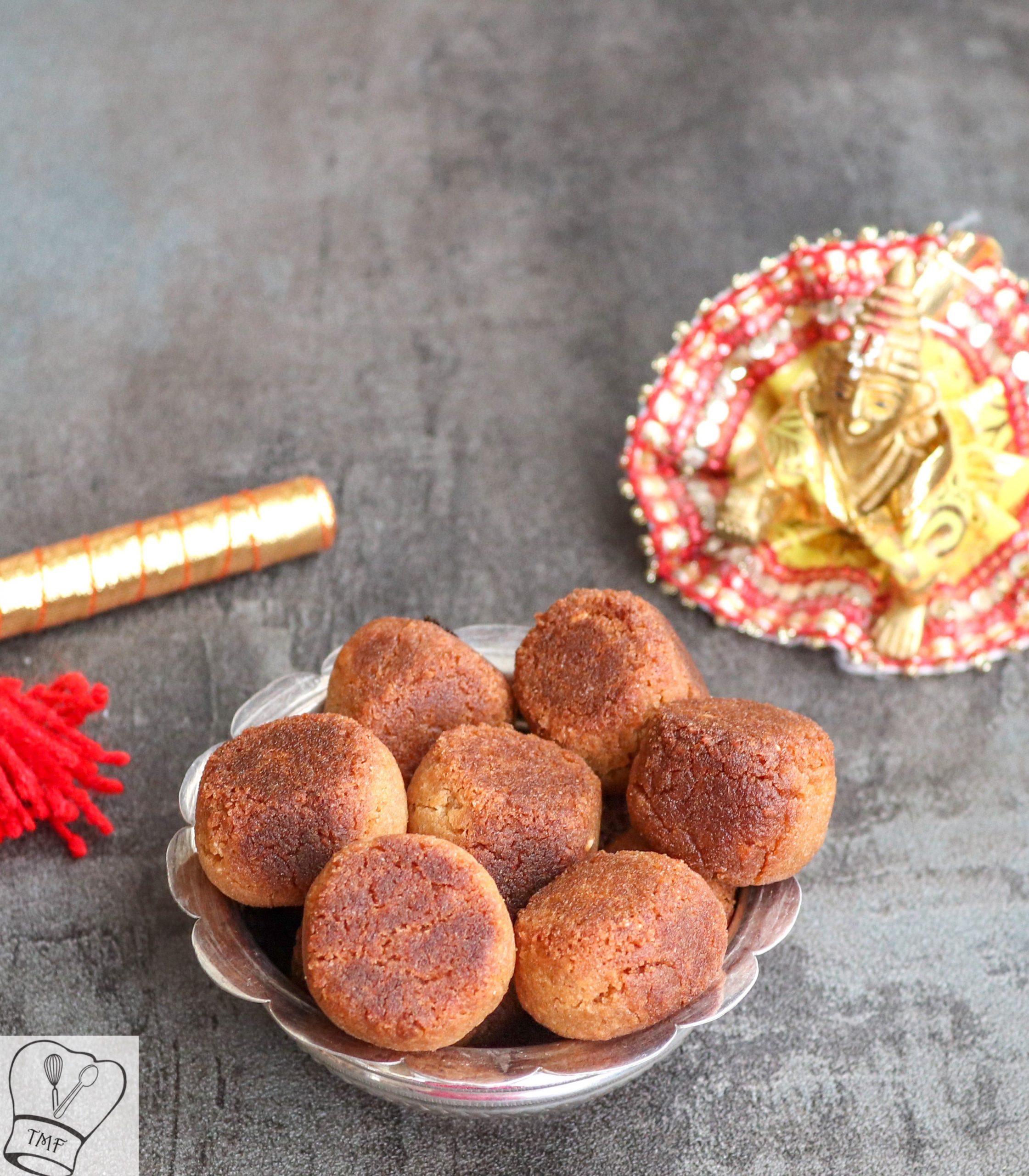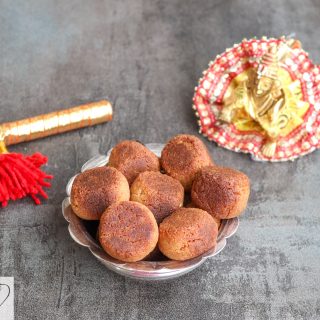 Ingredients
Rice Flour - 1/2 cup

Urad Dal - 2 tbsp

Powdered Jaggery - 1/2 cup

Coconut - 2 tbsp

Cardamom powder - 1/4 tsp

Sesame seed - 1/4 tsp

Hot Water - 1/4 cup

Oil - to grease
Instructions
Dry roast the whole urad dal for 2 minutes or so till the color slightly changes; cool it and grind it into a fine Powder. Alternatively, the store brought urad dal can be used. Just sure it for few seconds after rice flour changes color and switch off

In the same pan, on low flame, dry roast the rice flour; till the colour slightly changes and aroma of rice flour nicely spreads in the kitchen

 Add store brought urad dal flour and give a quick saute. Switch off. Skip this step for homemade urad dal flour 

In a separate bowl combine jaggery and hot water. Let it sit for 5 minutes or till it melt ( Powdered jaggery melts quickly). My jaggery pieces was little big so after 3 minutes I broke the pieces and Microwaved for 1 minutes

Strain the syrup into a non stick / heavy bottomed pan. Add coconut and In medium heat cook the jaggery syrup till it boils

Add sesame seed and cardamom powder let the jaggery syrup boils well

Once the jaggery boils well add flour mix to the jaggery syrup and stir continuously to avoid lumps. Cook till you get a non sticky dough. Cover and rest the dough with a damp cloth

Preheat the oven to 400 F

I have placed parchment paper on baking tray and grease it with oil

Grease both hands with enough oil and take small portion of dough (make sure remaining dough is covered with damp cloth to prevent the dough from getting dry) press it with right hand and roll the dough gently into small balls. Does mine looks like a perfect seedai? well after baking it turned into a shape somewhere between semi - circle and circle. It's baked and of course homemade so ok if its not so perfect, right?:-)

Make seedai and spread on baking tray. Since we prepared the seedai with greased hand the seedai won't be dry, if you feel it's a bit dry, drizzle some oil. The key is not to have any dry side in any seedai

Before keeping the seedai Turn down the oven temperature to 375 degree F

Bake on the preheated oven (375) for 6 minutes. Gently turn the side and grease the dry portion with little oil (Pls be careful while turning sides, its going to be piping hot. I used a spoon to turn)

Continue baking in 375 F for another 6 minutes

Flip and grease the seedai

Turn down the temperature to 350 F and bake for 3 minutes

Grease again and flip

Bake for 3 minutes or until all sides are brown

By this time Seedai may cheat you as if its not done, don't believe it. If you see crumb like inner texture and golden brown outer layer, its done.. Cool it and after 20 minutes It turns into perfect Seedai. Transfer into a airtight container after the Seedai are properly cooled

Pls. Follow TMF social media for recipes updates,

Facebook | Instagram | Pinterest | Twitter | Youtube
Video
Notes
Oven temperature may vary slightly
Don't forget to flip every time and grease before baking
Store brought urad dal flour can be used instead of homemade flour. It need not be sauteed for a long time like homemade flour
Filtering jaggery water is optional if the jaggery you use are without impurities skip that step
If you are frying, the seedai proportion varies - Use 1 cup rice flour and 1 tablespoon urad dal flour. It has to be fried in a medium-low flame, as it will help for even cooking. Heat oil in a pan, When the oil becomes hot gently put the seedai balls to the oil. Cook till the oil sound subsides
Jaggery I used was not paggu vellam eo I used equal amount. If you are using paggu vellam use 1/2 or 3/4 of the quanity
I used store-bought rice flour. Alternatively, you can wash and soak the raw rice for 1-2 hours and dry them in cloth till moisture completely dries, and grind them into a fine powder
If the dough is too soft add little rice flour while cooking
While making ball if dough becomes dry knead it once with oil. Still, if you feel the dough is dry to make balls drizzle few teaspoon of hot water and knead
Instead of using hot water for jaggery syrup you can boil water and jaggery; switch off after the jaggery completely melts and filter
Overdoing the Seedai may result in hard seedai. Seedai is like cookies they get firm up after taking out from the oven, an important note to be kept in mind
Greasing less oil will result in pale brown vellam Seedai but make sure the Seedai is not dry; that will affect the Seedai texture
Cover with damp cloth avoid to the dough from becoming dry
As seedai cooks, it's going to expand and change its shape
Baked Seedai turns slightly big after baking. Adjust the size accordingly
Ingredients:
Rice Flour - 1/2 cup
Urad Dal - 2 tbsp
Powdered Jaggery - 1/2 cup
Coconut - 2 tbsp
Cardamom powder - 1/4 tsp
Sesame seed - 1/4 tsp
Hot Water - 1/4 cup
Oil - to grease
Method:
Dry roast the whole urad dal for 2 minutes or so till the color slightly changes; cool it and grind it into a fine Powder. Alternatively, the store brought urad dal can be used. Just sure it for few seconds after rice flour changes color and switch off
In the same pan, on low flame, dry roast the rice flour; till the color slightly changes and aroma of rice flour nicely spreads in the kitchen
Add store brought urad dal flour and give a quick saute. Switch off. Skip this step for homemade urad dal flour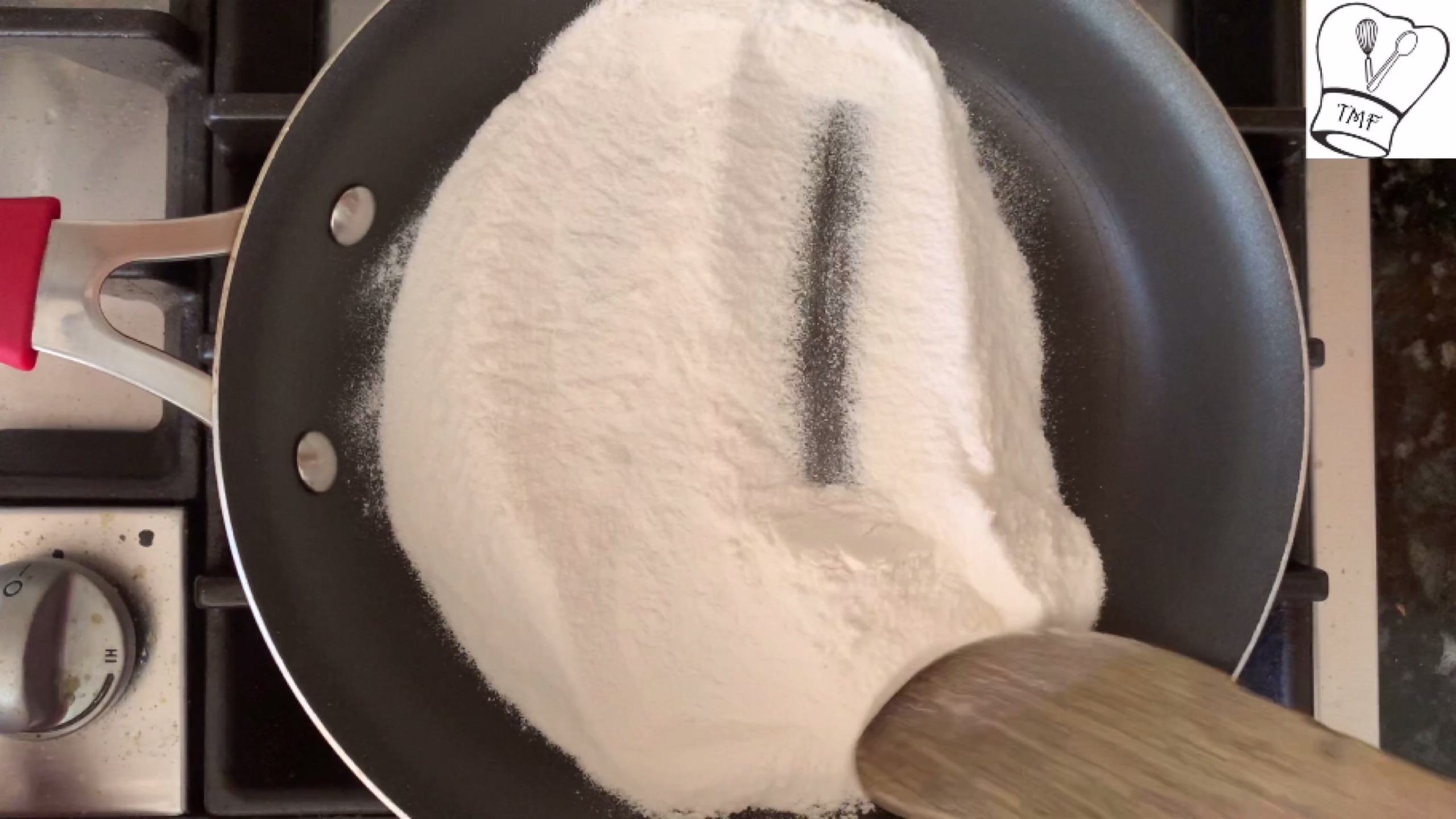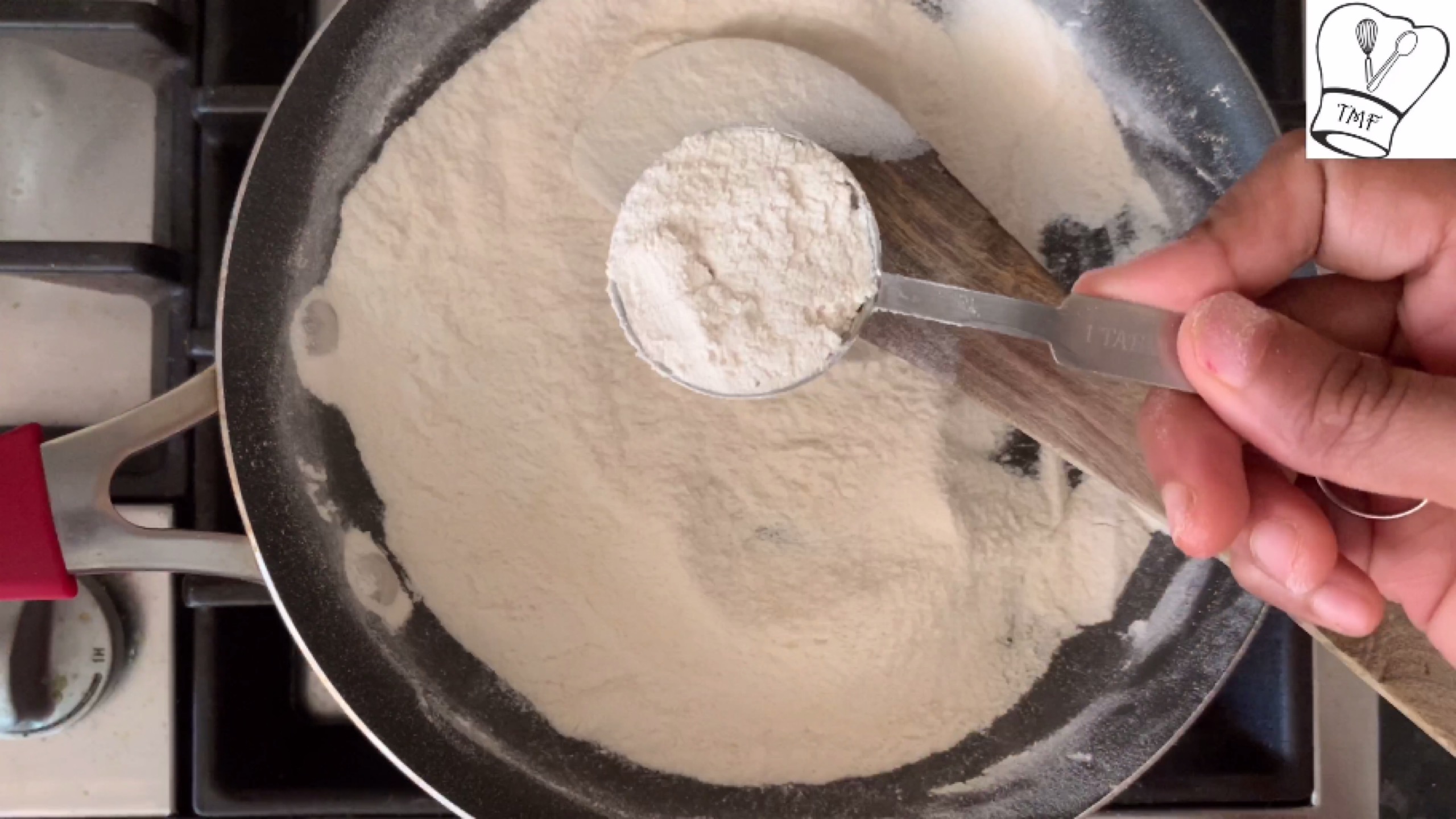 In a separate bowl combine jaggery and hot water. Let it sit for 5 minutes or till it melts ( Powdered jaggery melts quickly). My jaggery pieces was a little big so after 3 minutes I broke the pieces and Microwaved for 1 minute

Strain the syrup into a nonstick / heavy-bottomed pan. Add coconut and In medium heat cook the jaggery syrup till it boils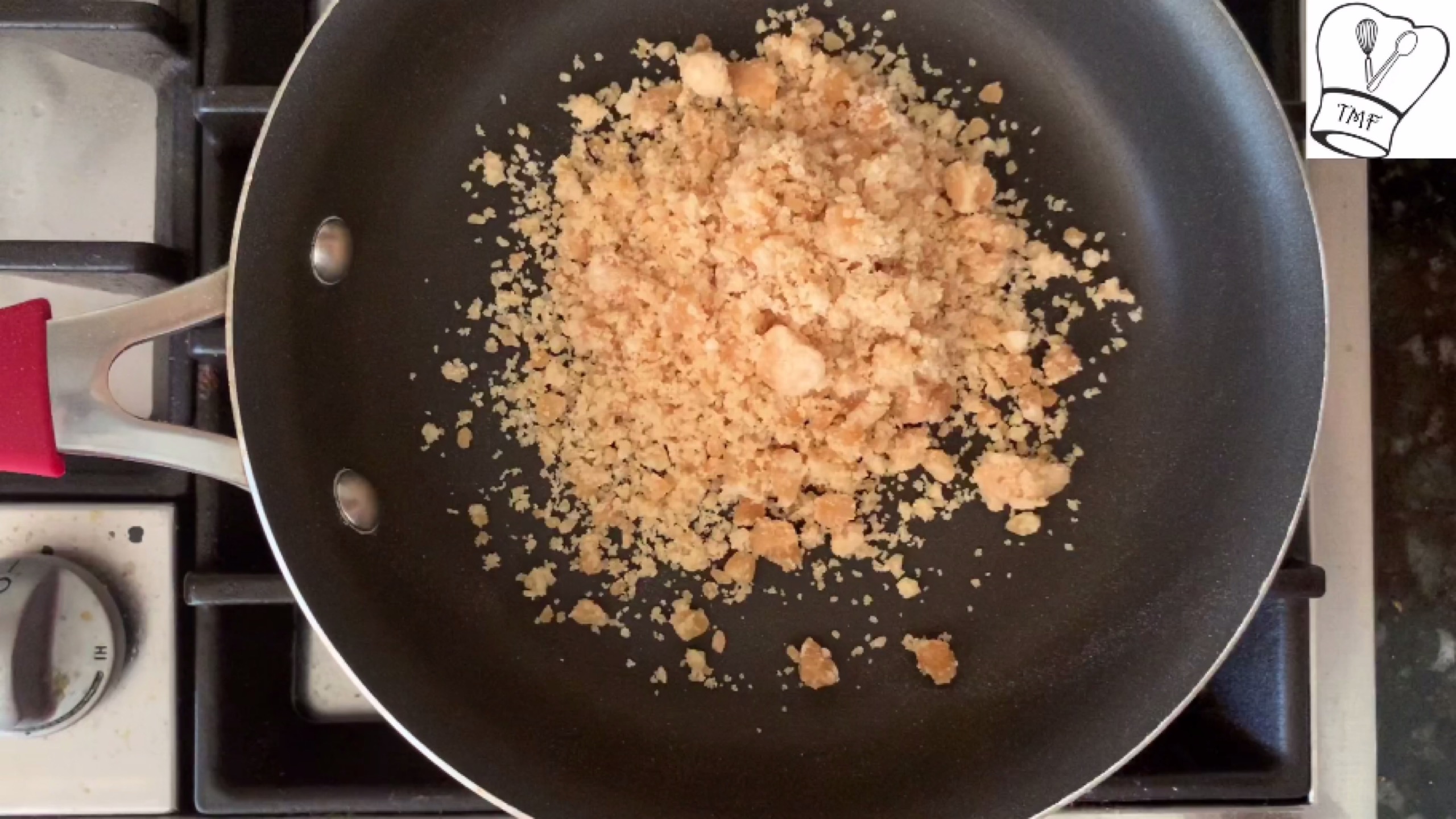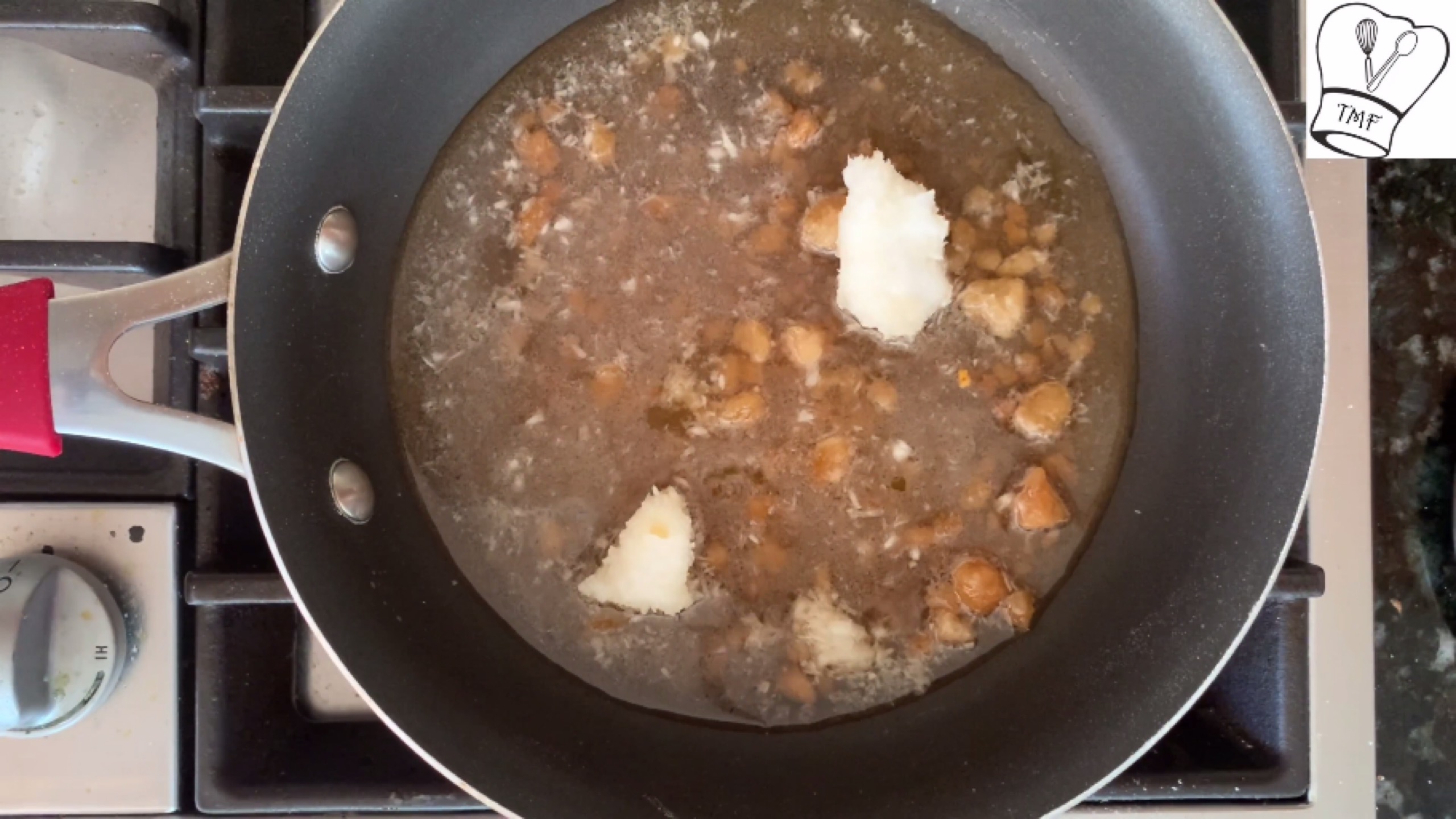 Add sesame seed and cardamom powder let the jaggery syrup boils well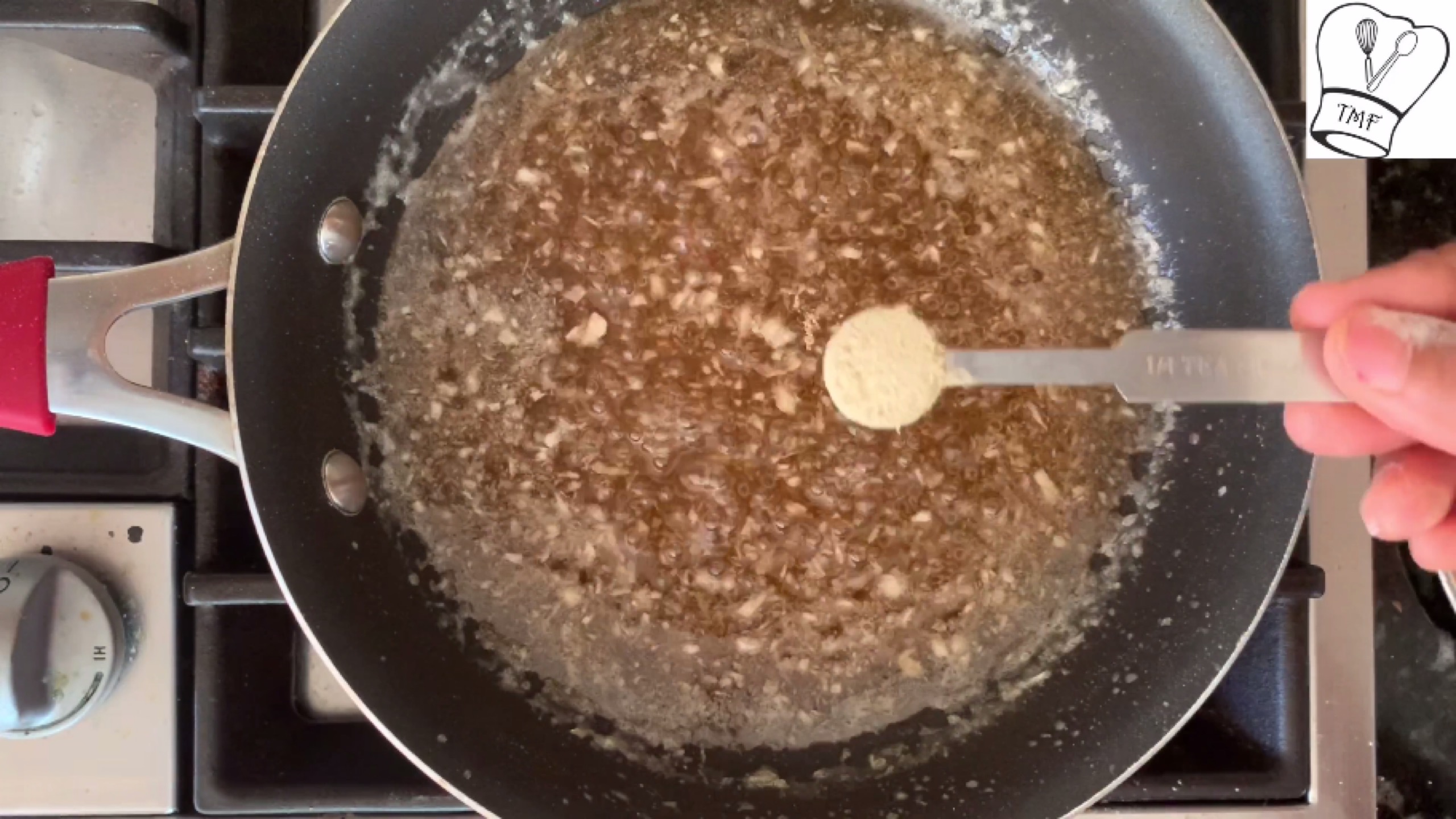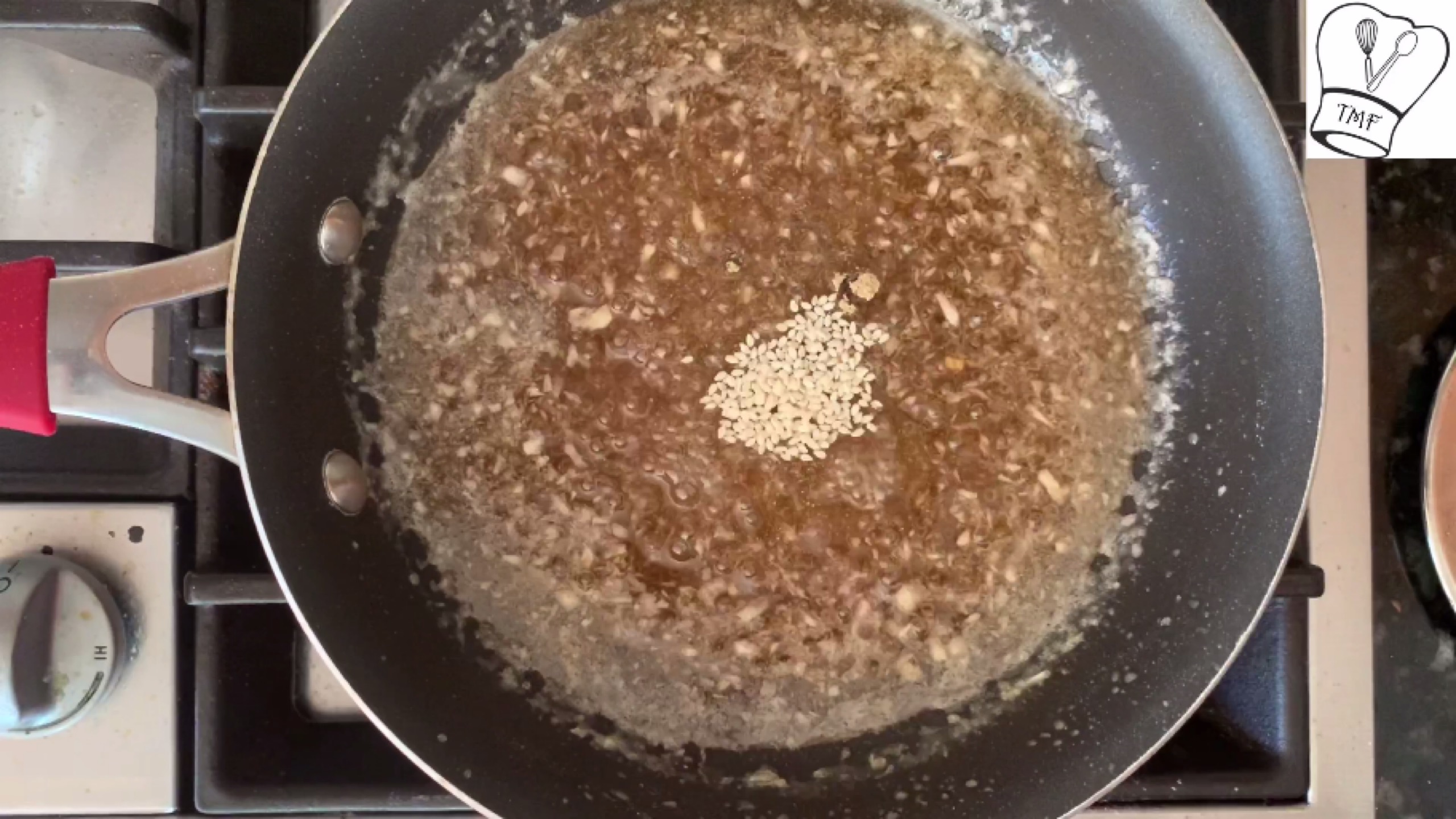 Once the jaggery boils well add flour mix to the jaggery syrup and stir continuously to avoid lumps. Cook till you get a nonsticky dough. Cover and rest the dough with a damp cloth

Preheat the oven to 400 F
I have placed parchment paper on a baking tray and grease it with oil
Grease both hands with enough oil and take a small portion of dough (make sure remaining dough is covered with a damp cloth to prevent the dough from getting dry) press it with the right hand and roll the dough gently into small balls. Does mine look like a perfect seedai? well after baking, it turned into a shape somewhere between semi-circle and circle. It's baked and of course homemade so ok if it is not so perfect, right?:-)
Make seedai and spread on baking tray. Since we prepared the seedai with greased hand the seedai won't be dry, if you feel it's a bit dry, drizzle some oil. The key is not to have any dry side in any seedai
Before keeping the seedai Turn down the oven temperature to 375 degrees F
Bake on the preheated oven (375) for 6 minutes. Gently turn the side and grease the dry portion with little oil (Pls be careful while turning sides, it is going to be piping hot. I used a spoon to turn)
Continue baking in 375 F for another 6 minutes
Flip and grease the seedai
Turn down the temperature to 350 F and bake for 3 minutes
Grease again and flip
Bake for 3 minutes or until all sides are brown
By this time Seedai may cheat you as if it not done, don't believe it. If you see the crumb-like inner texture and golden brown outer layer, it's done.. Cool it and after 20 minutes It turns into perfect Seedai. Transfer into an airtight container after the Seedai are properly cooled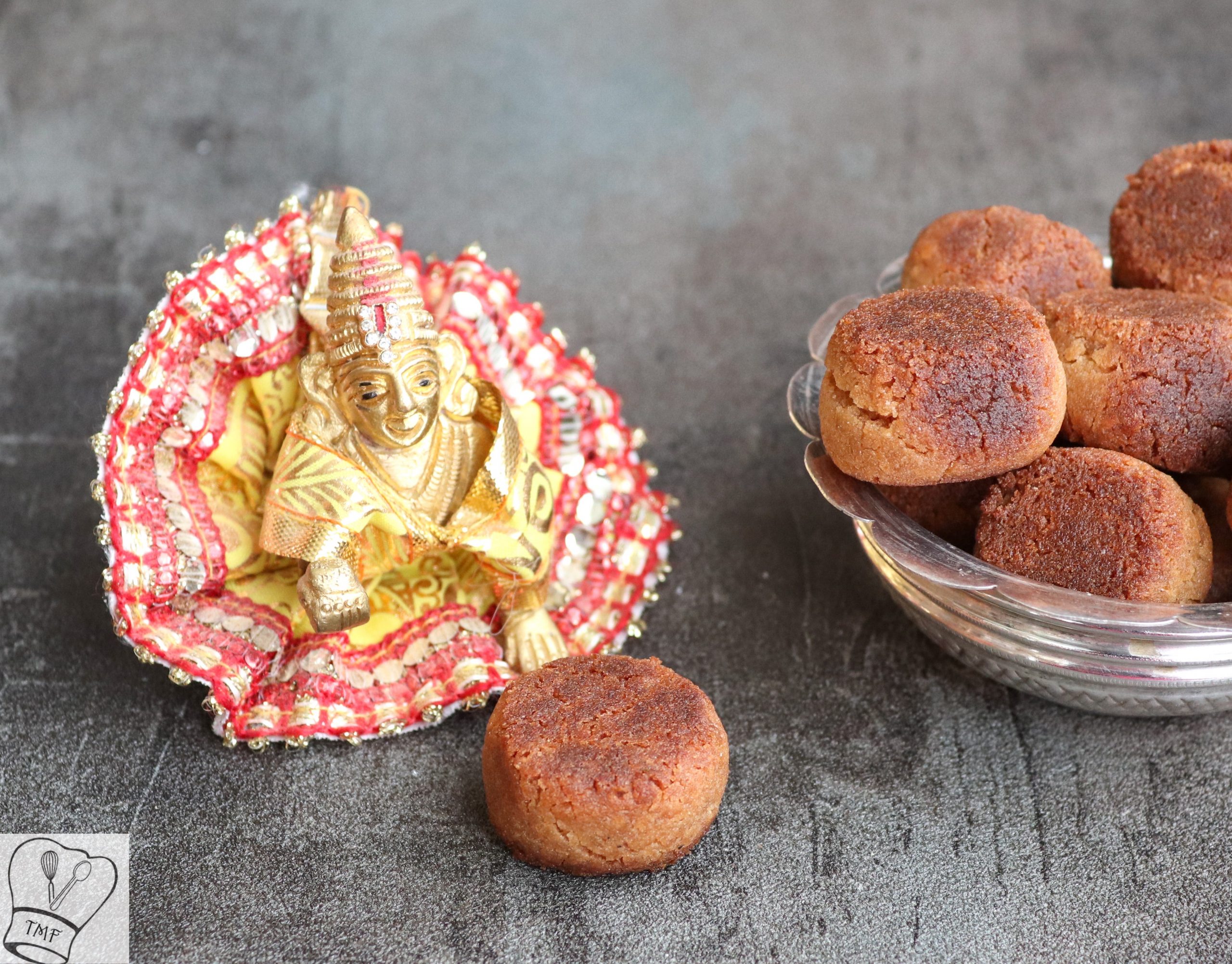 Pls. Follow TMF social media for recipes updates,