Basundi Is a tasty milk based sweet. It is bit time coming compared to the other sweets but tastes good.
Basundi Is my favorite milk-based dessert. During our childhood days, when ever we have extra milk at home, sis and I will ask mom to prepare either Basundi or Palgova.
Being outside India, I miss so many things, and definitely my craving for basundi comes top in the list. The cooking process is long and time consuming, as Basundi is a dessert with lots of malai (thickened milk) and very little milk. It took me 1 hr to cook the milk, so that it is reduced to 1/4 of its volume but all the effort is worth when you taste it.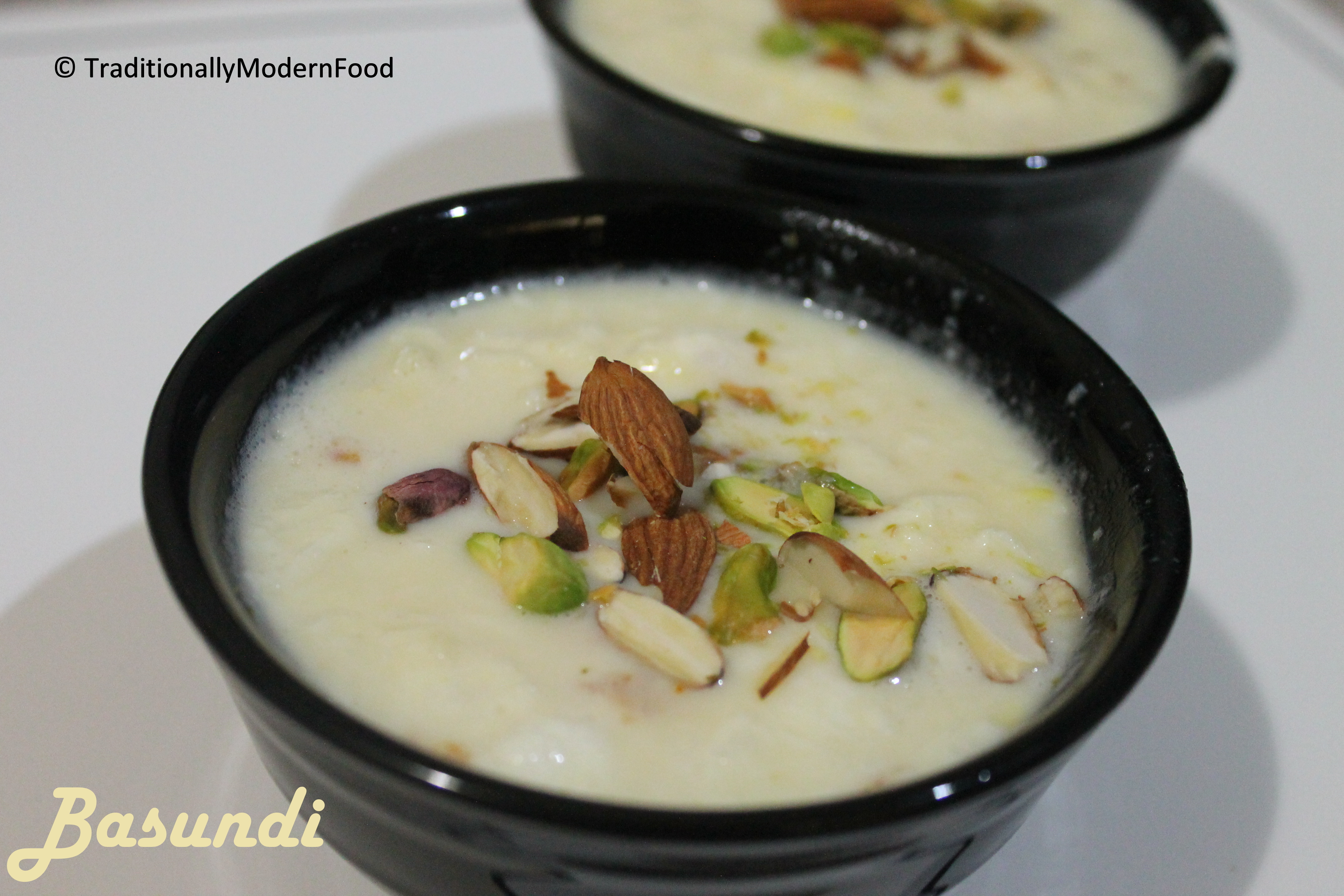 Ingredients
Whole milk - 4 cups

Warm milk - 1 tablespoon

White Sugar - 1/2 cup

Saffron strands - 1/8 teaspoon

Cardamom powder - 1/8 teaspoon

Nuts - according to your taste

I used Almonds and pistachio
Instructions
In a bowl, take 1 tablespoon of warm milk and put saffron strands and keep aside

In a heavy bottomed pan, Pour whole milk and bring it to boil on medium-low heat. Put small spoon in the pan to avoid milk from overflowing and being burnt. While the milk is cooking, stir it in between and scrape out the paal Aadai/ malai (thick fat we get top of the milk, when we boil milk) from the top and sides, and pour it in a separate bowl. Repeat the process every 3 to 4 mins or until thick malai is formed. Continue doing this till the milk quantity reduce to a quarter of the original quantity

Add sugar, cardamom powder and saffron and stir occasionally for 5-8 minutes or till it becomes thick. Switch off the flame. Add malai to the thick milk and refrigrate for 6-7 hours or overnight
Notes
Best way is to prepare Basundi one day before and refrigerate it.Serve basundi chilled, the next day
I have added 1/2 cup sugar,but you can alter the sugar level according to ur taste buds

Basundi:
Preparation Time : 5 mins | Cooking Time : 1 hour | Serves : 2
Recipe Category: Dessert
Ingredients:
Whole milk - 4 cups
Warm milk - 1 tablespoon
White Sugar - 1/2 cup
Saffron strands - 1/8 teaspoon
Cardamom powder - 1/8 teaspoon
Nuts - according to your taste (I used Almonds and pistachio)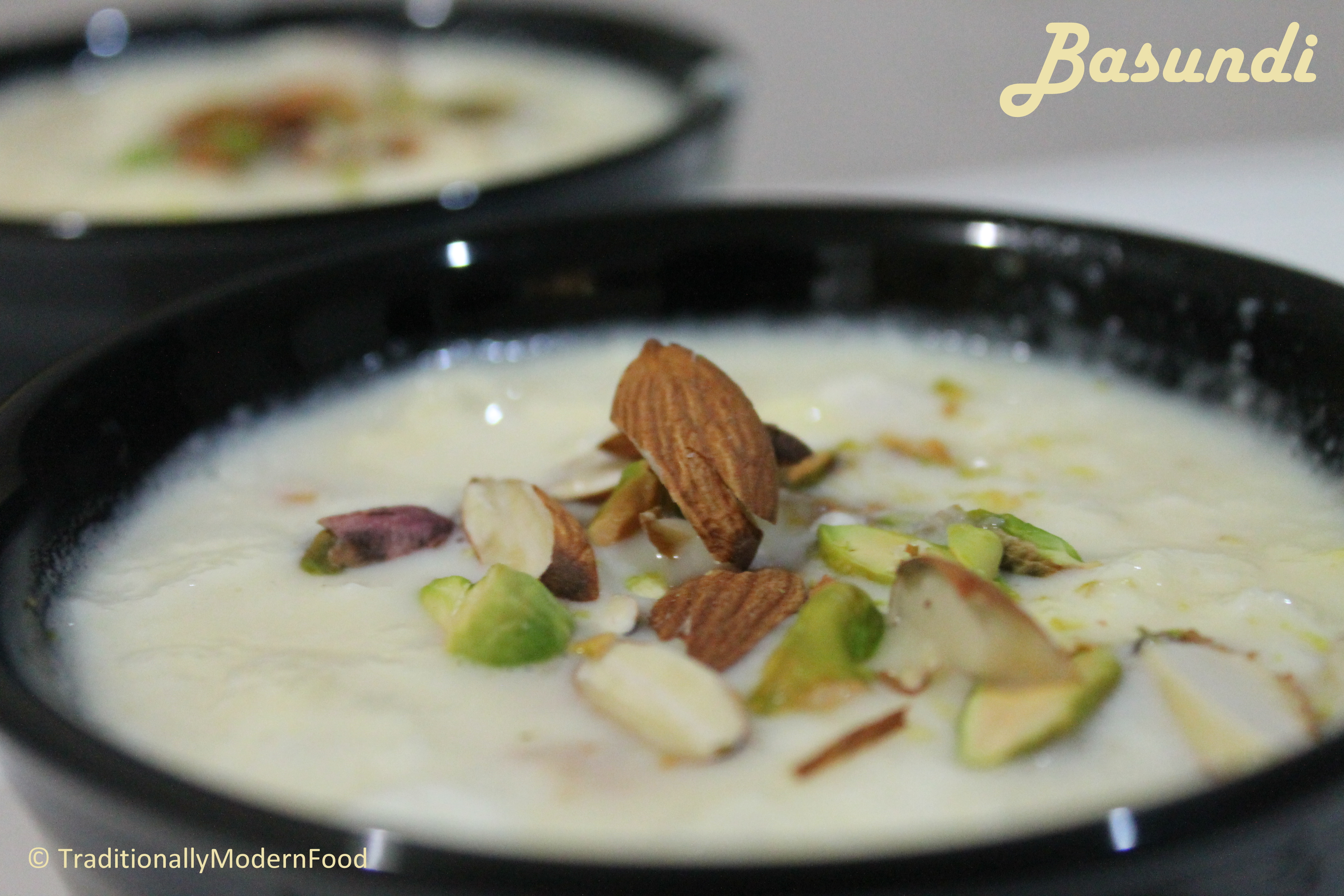 Method:
In a bowl, take 1 tablespoon of warm milk and put saffron strands and keep aside
In a heavy bottomed pan, Pour whole milk and bring it to boil on medium-low heat. Put small spoon in the pan to avoid milk from overflowing and being burnt. While the milk is cooking, stir it in between and scrape out the paal Aadai/ malai (thick fat we get top of the milk, when we boil milk) from the top and sides, and pour it in a separate bowl. Repeat the process every 3 to 4 mins or until thick malai is formed. Continue doing this till the milk quantity reduce to a quarter of the original quantity
Add sugar, cardamom powder and saffron and stir occasionally for 5-8 minutes or till it becomes thick. Switch off the flame. Add malai to the thick milk and refrigrate for 6-7 hours or overnight