Basundi recipe, how to make basundi sweet, easy milk basundi, Gujarati sweet, Maharashtrian sweet, milk sweet recipe, dessert recipe, basundhi, traditional indian sweet recipe, easy 3 ingredients sweet, malai basundi with tips & tricks, north Indian dessert recipe, traditional basundi sweet, no condensed milk, no milk powder, holi special sweet, milk-based Indian sweet with step-by-step pictures and video recipe. Check out the Basundi recipe video. If you like the video pls SUBSCRIBE to my channel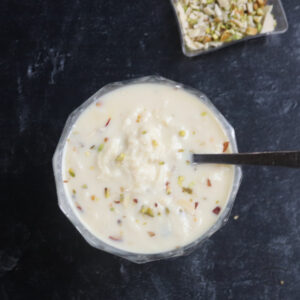 Milk for basundhi
Always use whole fat milk. Avoid low fat milk. I have used cow milk. You can also use buffalo milk.
Traditional basundhi
Traditionally Gujarati special sweet is prepared with just 2 ingredients. Milk and sugar. Creamy Malai makes a rich and tasty sweet. It is a lengthy process but sweet prepared in this traditional method tastes divine.
Can I use contender milk or evaporated milk?
No, I would recommend following this method for authentic taste and texture. For instant rabdi you can use evaporated milk but it will not have malai like this.
Should I collect malai in a separate bowl?
You can scrape the pan sides and collect the malai layer; add it to the boiling milk. I prefer collecting in a separate vessel.
Why I skipped Saffron
I prefer my basundi predominately with milk flavor. If you like saffron flavor add a pinch.
Sweetener
I would recommend white sugar, it gives the perfect north Indian sweet stall style malai-based dish. Adjust the sugar according to your taste
Refrigerate for a few hours then serve
Always cool the basundi completely then store in an airtight
Tips & tricks for best basundi
always use whole-fat cow or buffalo milk

use a heavy-bottomed pan to prevent the milk from sticking to the pan

the spoon prevents the milk from spilling

Mix well in between else the bottom layer might turn brown

Use white sugar for the best taste

Refrigerate for at least 3 hours then enjoy
Ingredients
8 cups Whole milk
3/4 cup sugar
Nuts of your choice
1/8 teaspoon Cardamom powder
how to make basundi with step-by-step pictures
In a heavy-bottomed pan, Pour whole milk and add a small spoon to avoid milk from overflowing and being burnt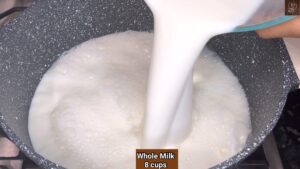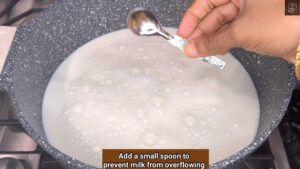 boil milk at low- medium flame
Gather and Collect the malai and scrape out the paal Aadai/ malai (thick fat we get on top of the milk, when we boil milk) from the top and sides; add to it in a separate bowl
Mix well and Repeat the process once every 2-3 mins or until thick malai is formed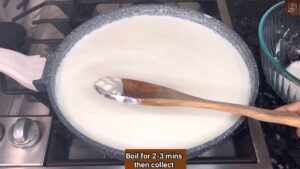 repeat the process till the milk reduce to 1/3 quantity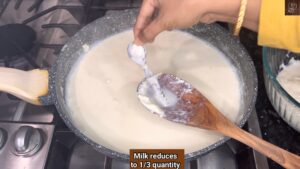 Add cardamom powder and boil for 2 minutes on medium flame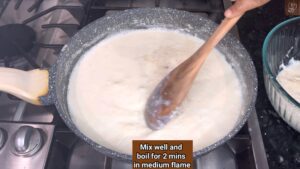 furthermore, add sugar; mix well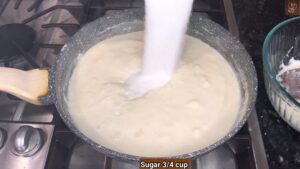 cook for 5-6 minutes or till it becomes thick and the color changes
turn off the flame. Transfer to the bowl containing malai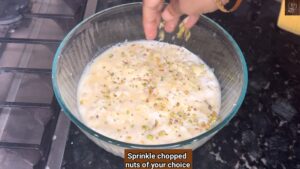 cool completely and refrigerate for at least 3 hours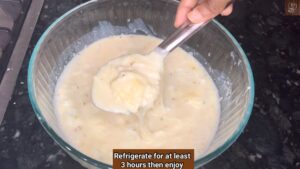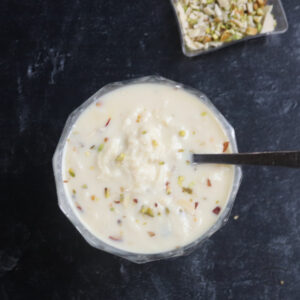 Ingredients
8

cups

Whole milk

3/4

cup

sugar

Nuts of your choice

1/8

teaspoon

Cardamom powder
Instructions
In a heavy-bottomed pan, Pour whole milk and add a small spoon to avoid milk from overflowing and being burnt

boil milk at low- medium flame

Gather and Collect the malai and scrape out the paal Aadai/ malai (thick fat we get on top of the milk, when we boil milk) from the top and sides; add to it in a separate bowl

Mix well and Repeat the process once every 2-3 mins or until thick malai is formed

repeat the process till the milk reduce to 1/3 quantity

Add cardamom powder and boil for 2 minutes on medium flame

furthermore, add sugar; mix well

cook for 5-6 minutes or till it becomes thick and the color changes

turn off the flame. Transfer to the bowl containing malai

cool completely and refrigerate for at least 3 hours
Video
Notes
You can scrape the pan sides and collect the malai layer; add it to the boiling milk. I prefer  collecting the malai in a separate  bowl
I prefer my basundi predominately with milk flavor. If you like saffron flavor add a pinch
I would recommend white sugar, it gives the perfect north Indian sweet stall style malai-based dish. Adjust the sugar according to your taste
Always cool the basundi completely then store in an airtight
Tips & tricks for best basundi
always use whole-fat cow or buffalo milk
use a heavy-bottomed pan to prevent the milk from sticking to the pan
the spoon prevents the milk from spilling
Mix well in between else the bottom layer might turn brown
Use white sugar for the best taste
Refrigerate for at least 3 hours then enjoy. Overnight gives the best flavor